ZnO Nano-Rod Devices for Intradermal Delivery and Immunization
1
Department of Pharmacy, National University of Singapore, Singapore 117583, Singapore
2
Department of Electrical Engineering, National University of Singapore, Singapore 117583, Singapore
3
Department of Physics, National University of Singapore, Singapore 117551, Singapore
4
NUS Graduate School for Integrative Sciences and Engineering, Centre for Life Sciences (CeLS), Singapore 117456, Singapore
5
Department of Microbiology, National University of Singapore, Singapore 117545, Singapore
6
School of Materials Science and Engineering (MSE) & Lee Kong Chian School of medicine (LKCmedicine), Nanyang Technological University, Singapore 636921, Singapore
7
Department of Pharmaceutics, Utrecht Institute for Pharmaceutical Sciences, Faculty of Science, Utrecht University, Universiteitsweg 99, 3584 CG Utrecht, The Netherlands
8
NUSNNI-NanoCore, National University of Singapore, T-Lab, Blk E3-05-29, 2 Engineering Drive 3, Singapore 117581, Singapore
*
Authors to whom correspondence should be addressed.
Received: 23 March 2017 / Revised: 9 June 2017 / Accepted: 9 June 2017 / Published: 15 June 2017
Abstract
Intradermal delivery of antigens for vaccination is a very attractive approach since the skin provides a rich network of antigen presenting cells, which aid in stimulating an immune response. Numerous intradermal techniques have been developed to enhance penetration across the skin. However, these methods are invasive and/or affect the skin integrity. Hence, our group has devised zinc oxide (ZnO) nano-rods for non-destructive drug delivery. Chemical vapour deposition was used to fabricate aligned nano-rods on ZnO pre-coated silicon chips. The nano-rods' length and diameter were found to depend on the temperature, time, quality of sputtered silicon chips, etc. Vertically aligned ZnO nano-rods with lengths of 30–35 µm and diameters of 200–300 nm were selected for in vitro human skin permeation studies using Franz cells with Albumin-fluorescein isothiocyanate (FITC) absorbed on the nano-rods. Fluorescence and confocal studies on the skin samples showed FITC penetration through the skin along the channels formed by the nano-rods. Bradford protein assay on the collected fluid samples indicated a significant quantity of Albumin-FITC in the first 12 h. Low antibody titres were observed with immunisation on Balb/c mice with ovalbumin (OVA) antigen coated on the nano-rod chips. Nonetheless, due to the reduced dimensions of the nano-rods, our device offers the additional advantage of excluding the simultaneous entrance of microbial pathogens. Taken together, these results showed that ZnO nano-rods hold the potential for a safe, non-invasive, and painless intradermal drug delivery.
View Full-Text
►

▼

Figures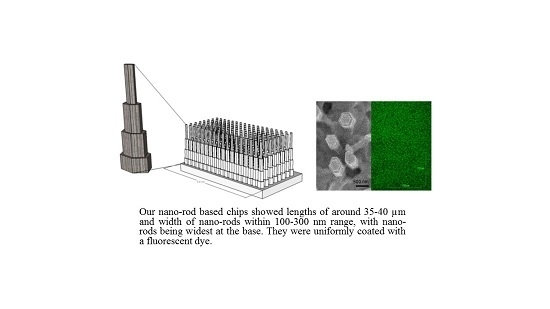 Graphical abstract
This is an open access article distributed under the
Creative Commons Attribution License
which permits unrestricted use, distribution, and reproduction in any medium, provided the original work is properly cited (CC BY 4.0).

Share & Cite This Article
MDPI and ACS Style
Nayak, T.R.; Wang, H.; Pant, A.; Zheng, M.; Junginger, H.; Goh, W.J.; Lee, C.K.; Zou, S.; Alonso, S.; Czarny, B.; Storm, G.; Sow, C.H.; Lee, C.; Pastorin, G. ZnO Nano-Rod Devices for Intradermal Delivery and Immunization. Nanomaterials 2017, 7, 147.
Note that from the first issue of 2016, MDPI journals use article numbers instead of page numbers. See further details here.
Related Articles
Comments
[Return to top]