Bioactive Molecules Release and Cellular Responses of Alginate-Tricalcium Phosphate Particles Hybrid Gel
1
Convergence Institute of Biomedical Engineering and Biomaterials, Seoul National University of Science of Technology, 232 Gongneung-ro, Nowon-gu, Seoul 01811, Korea
2
Department of Chemical and Biomolecular Engineering, Seoul National University of Science of Technology, 232 Gongneung-ro, Nowon-gu, Seoul 01811, Korea
3
Advanced Biomaterials and Tissue Engineering Center, Huazhong University of Science and Technology, Wuhan 430074, China
*
Author to whom correspondence should be addressed.
Received: 7 October 2017 / Revised: 7 November 2017 / Accepted: 13 November 2017 / Published: 14 November 2017
Abstract
In this article, a hybrid gel has been developed using sodium alginate (Alg) and α-tricalcium phosphate (α-TCP) particles through ionic crosslinking process for the application in bone tissue engineering. The effects of pH and composition of the gel on osteoblast cells (MC3T3) response and bioactive molecules release have been evaluated. At first, a slurry of Alg and α-TCP has been prepared using an ultrasonicator for the homogeneous distribution of α-TCP particles in the Alg network and to achieve adequate interfacial interaction between them. After that, CaCl2 solution has been added to the slurry so that ionic crosslinked gel (Alg-α-TCP) is formed. The developed hybrid gel has been physico-chemically characterized using Fourier transform infrared (FTIR) spectroscopy, scanning electron microscopy (SEM) and a swelling study. The SEM analysis depicted the presence of α-TCP micro-particles on the surface of the hybrid gel, while cross-section images signified that the α-TCP particles are fully embedded in the porous gel network. Different % swelling ratio at pH 4, 7 and 7.4 confirmed the pH responsiveness of the Alg-α-TCP gel. The hybrid gel having lower % α-TCP particles showed higher % swelling at pH 7.4. The hybrid gel demonstrated a faster release rate of bovine serum albumin (BSA), tetracycline (TCN) and dimethyloxalylglycine (DMOG) at pH 7.4 and for the grade having lower % α-TCP particles. The MC3T3 cells are viable inside the hybrid gel, while the rate of cell proliferation is higher at pH 7.4 compared to pH 7. The in vitro cytotoxicity analysis using thiazolyl blue tetrazolium bromide (MTT), bromodeoxyuridine (BrdU) and neutral red assays ascertained that the hybrid gel is non-toxic for MC3T3 cells. The experimental results implied that the non-toxic and biocompatible Alg-α-TCP hybrid gel could be used as scaffold in bone tissue engineering.
View Full-Text
►

▼

Figures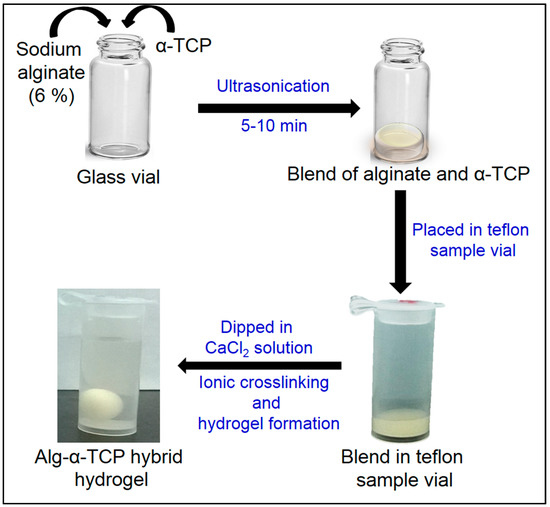 Figure 1
This is an open access article distributed under the
Creative Commons Attribution License
which permits unrestricted use, distribution, and reproduction in any medium, provided the original work is properly cited (CC BY 4.0).

Share & Cite This Article
MDPI and ACS Style
Das, D.; Bang, S.; Zhang, S.; Noh, I. Bioactive Molecules Release and Cellular Responses of Alginate-Tricalcium Phosphate Particles Hybrid Gel. Nanomaterials 2017, 7, 389.
Note that from the first issue of 2016, MDPI journals use article numbers instead of page numbers. See further details here.
Related Articles
Comments
[Return to top]