Open Access This article is
freely available
re-usable
Communication
Controlled Mechanical Cracking of Metal Films Deposited on Polydimethylsiloxane (PDMS)
1
Chair of Large Area Optoelectronics, University of Wuppertal, Rainer-Gruenter-Str. 21, Wuppertal 42119, Germany
2
Institute of Electronic Devices, University of Wuppertal, Rainer-Gruenter-Str. 21, Wuppertal 42119, Germany
*
Author to whom correspondence should be addressed.
Academic Editors: Ming-Tsang Lee, Te-Hua Fang and Chien-Hung Liu
Received: 25 May 2016 / Accepted: 7 September 2016 / Published: 9 September 2016
Abstract
:
Stretchable large area electronics conform to arbitrarily-shaped 3D surfaces and enables comfortable contact to the human skin and other biological tissue. There are approaches allowing for large area thin films to be stretched by tens of percent without cracking. The approach presented here does not prevent cracking, rather it aims to precisely control the crack positions and their orientation. For this purpose, the polydimethylsiloxane (PDMS) is hardened by exposure to ultraviolet radiation (172 nm) through an exposure mask. Only well-defined patterns are kept untreated. With these soft islands cracks at the hardened surface can be controlled in terms of starting position, direction and end position. This approach is first investigated at the hardened PDMS surface itself. It is then applied to conductive silver films deposited from the liquid phase. It is found that statistical (uncontrolled) cracking of the silver films can be avoided at strain below 35%. This enables metal interconnects to be integrated into stretchable networks. The combination of controlled cracks with wrinkling enables interconnects that are stretchable in arbitrary and changing directions. The deposition and patterning does not involve vacuum processing, photolithography, or solvents.
Keywords:
cracking; control; stretchable; PDMS; lithography; silver; electroless deposition
Acknowledgments
P.G. acknowledges funding by the Emmy-Noether-Programm of the DFG (Deutsche Forschungsgemeinschaft).
Author Contributions
A.P., L.S., O.K., T.J. performed the experiments; P.G. conceived and designed the experiments; P.G. and T.R. wrote the paper.
Conflicts of Interest
The authors declare no conflict of interest.
Abbreviations
The following abbreviations are used in this manuscript:
| | |
| --- | --- |
| PDMS | polydimethylsiloxane |
| UV | ultraviolet |
| ELD | electroless deposition |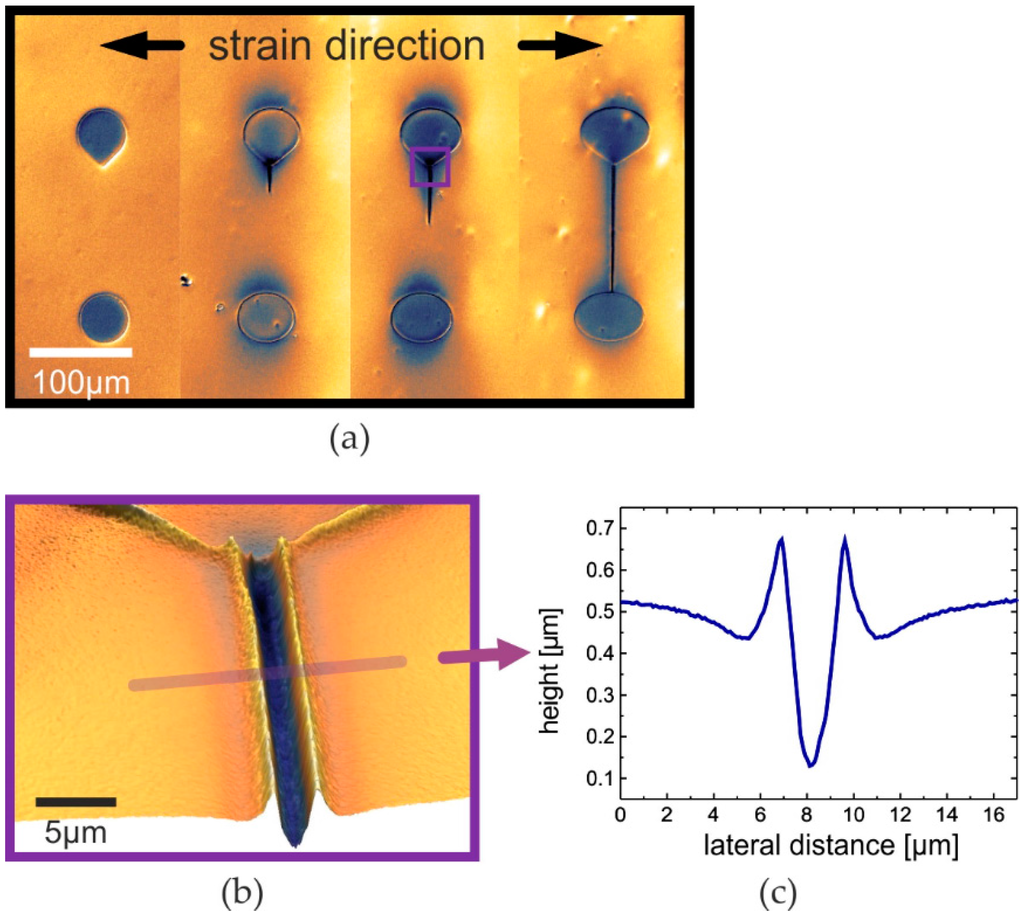 Figure 1. The idea of controlled cracking. Surface profiles from white light interferometry of soft islands on a hardened PDMS surface under various strain; (a) increasing strain (left to right) leads to controlled cracking at the tip of the upper island and crack tip propagation towards the bottom island until the crack is fully stabilized (right); and (b) a controlled crack with (c) the corresponding height profile.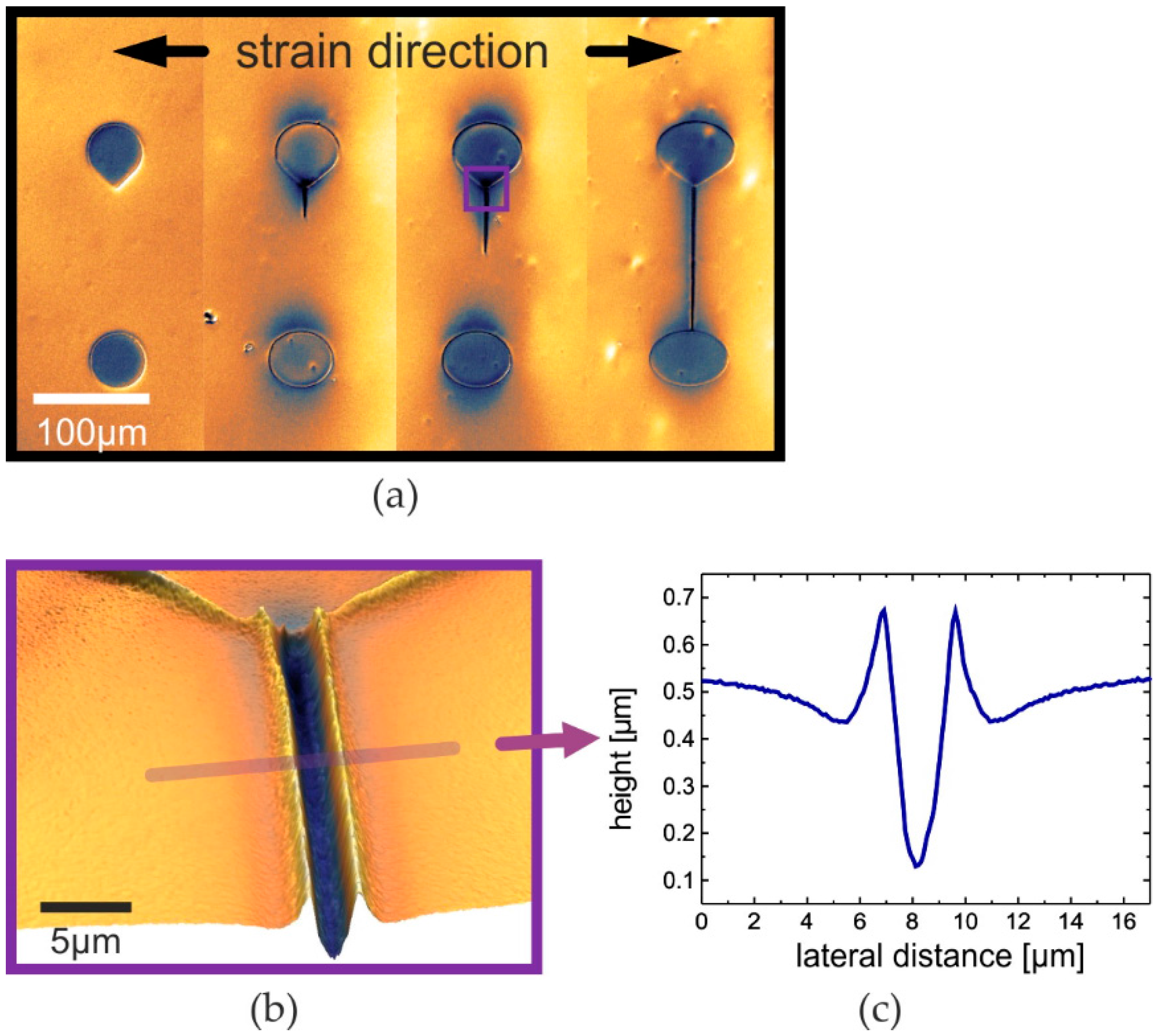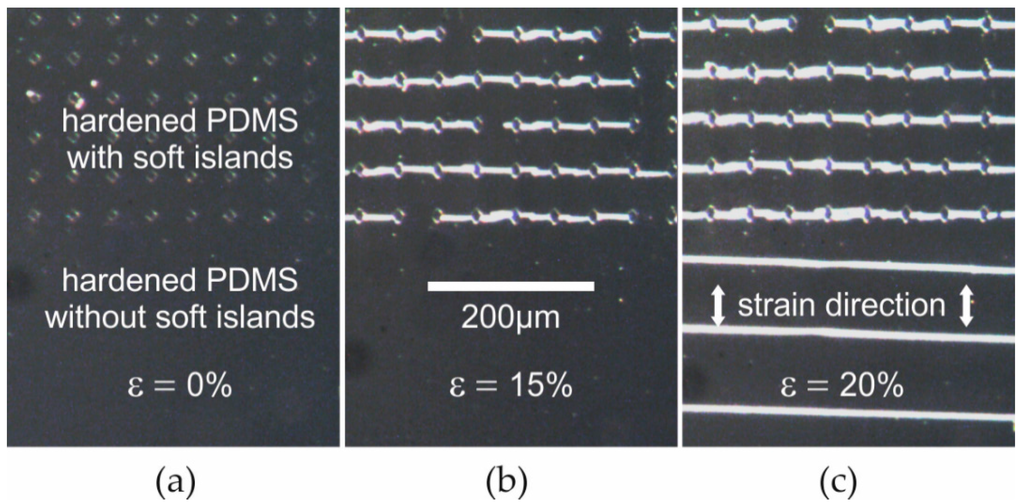 Figure 2. Optical micrographs of PDMS surface treated with UV (30 J·cm−2): top area: including untreated soft islands (distance of 45 µm), bottom area: homogeneously-hardened; micrographs taken after application of strain (direction shown in c) of 0% (a); 15% (b); and 20% (c).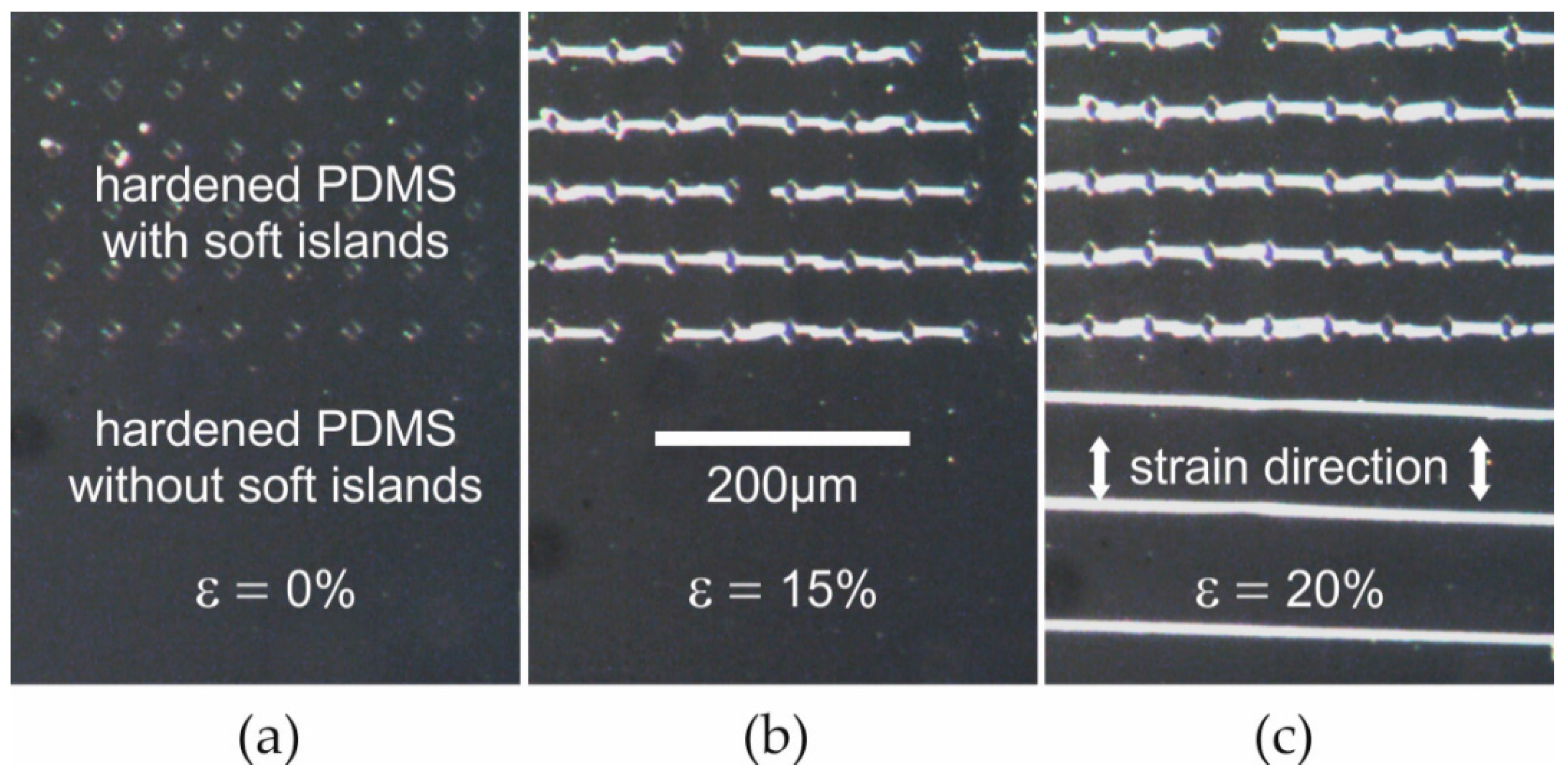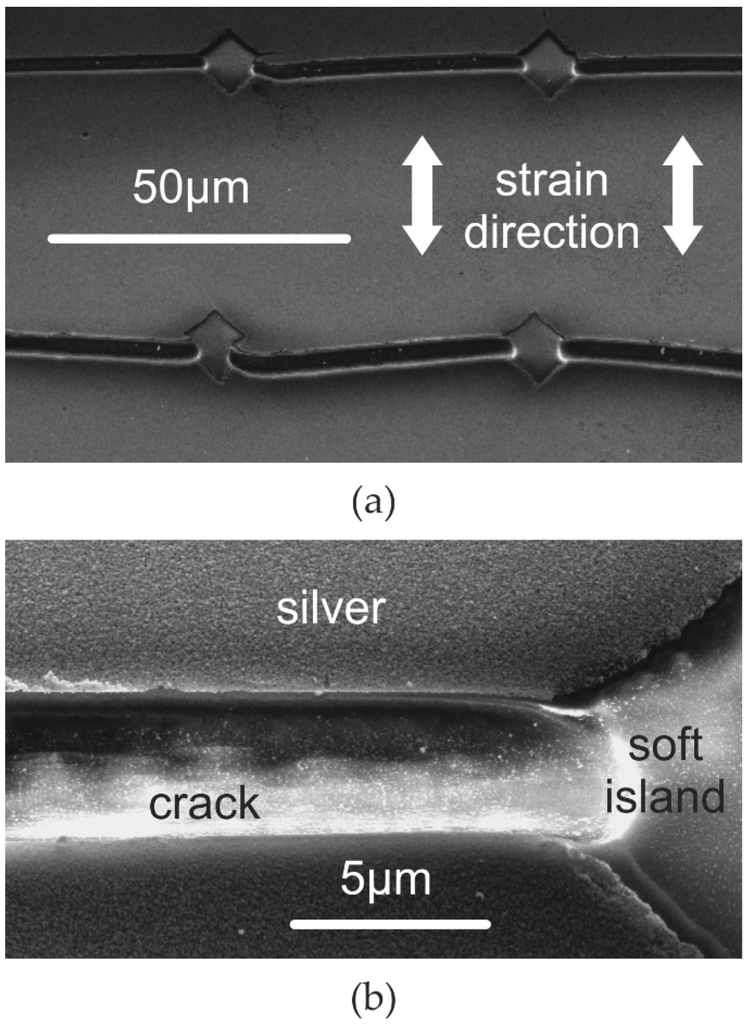 Figure 3.
Scanning electron micrographs of PDMS surface with controlled cracks kept under tensile strain of 10% during silver deposition and at the same strain during electron microscopy: (
a
) four soft islands after controlled cracking; (
b
) a single controlled crack and the transition between crack and soft island (note, in contrast to
Figure 2
, the pattern shown here is coated with silver).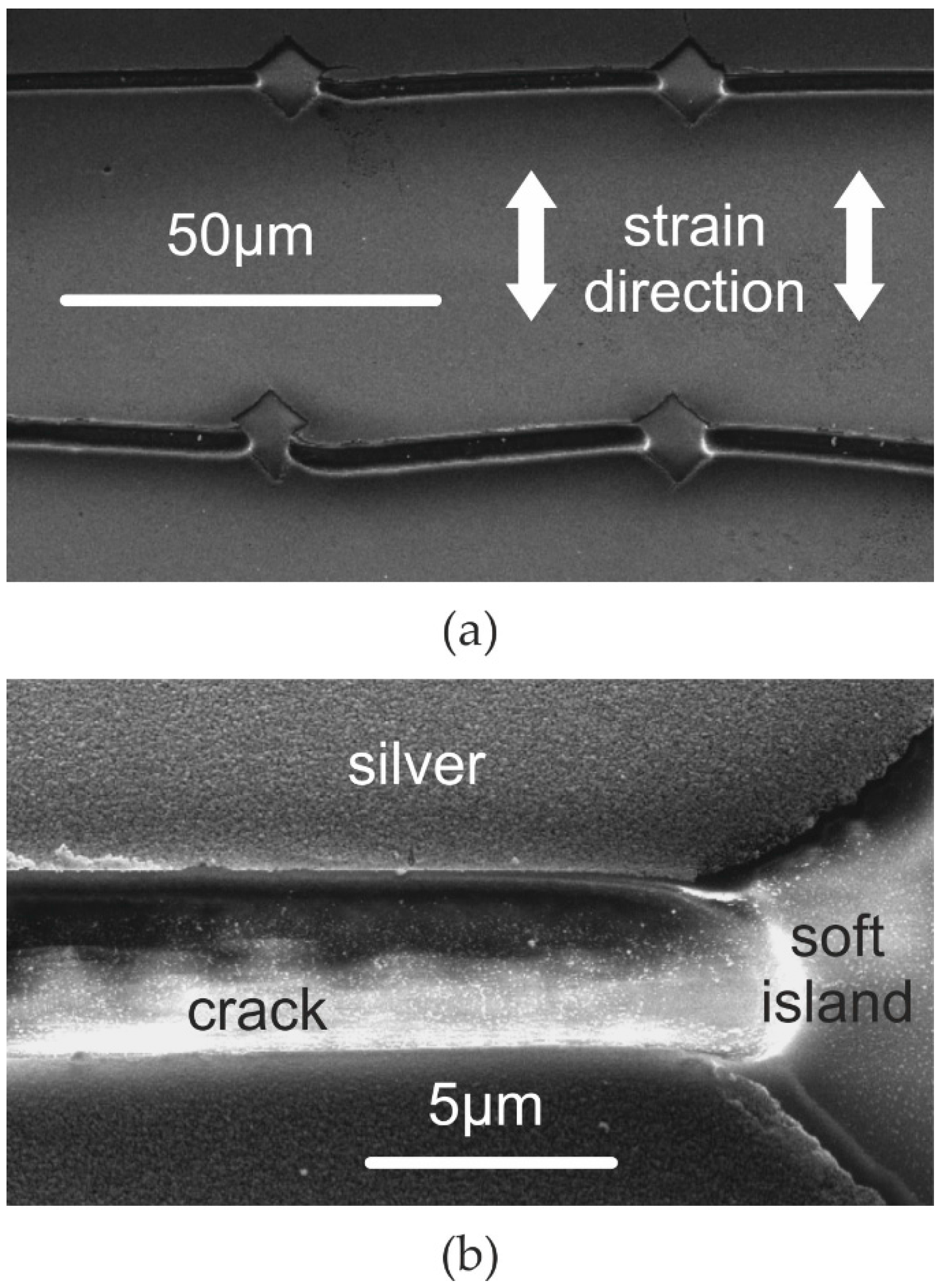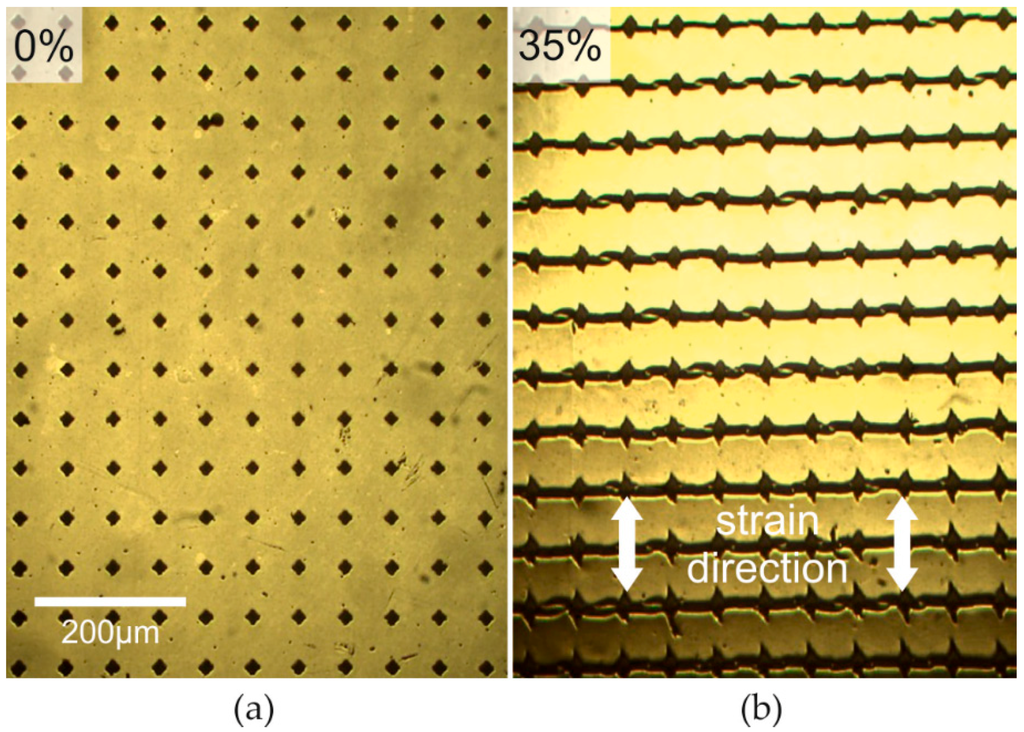 Figure 4.
Optical micrographs of silver film deposited on the PDMS surface treated with UV (30 J·cm
−2
) including untreated soft islands (compare
Figure 2
a, top area, island distance: 45 µm): before (
a
), and after, mechanical stretching by 35% (
b
).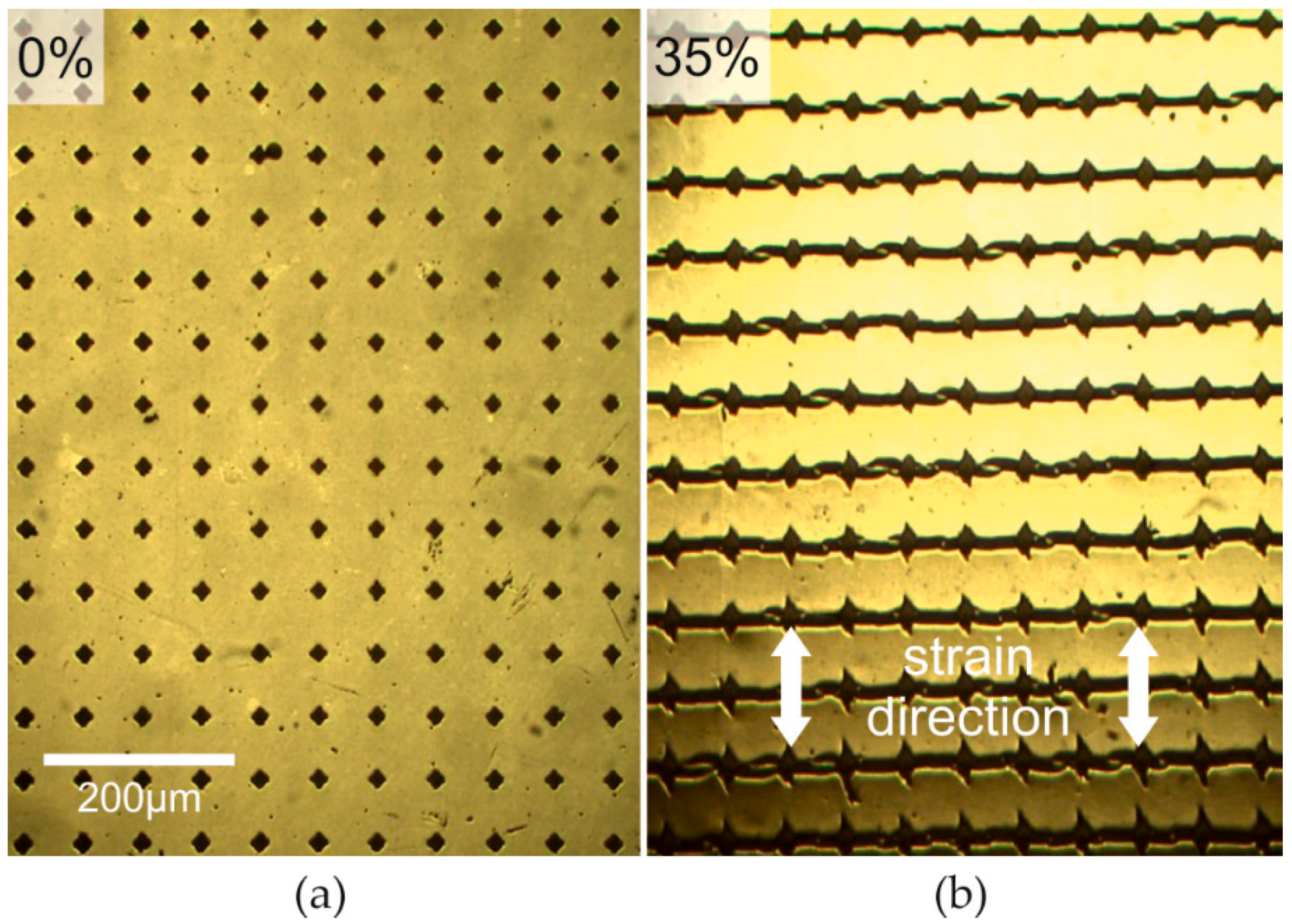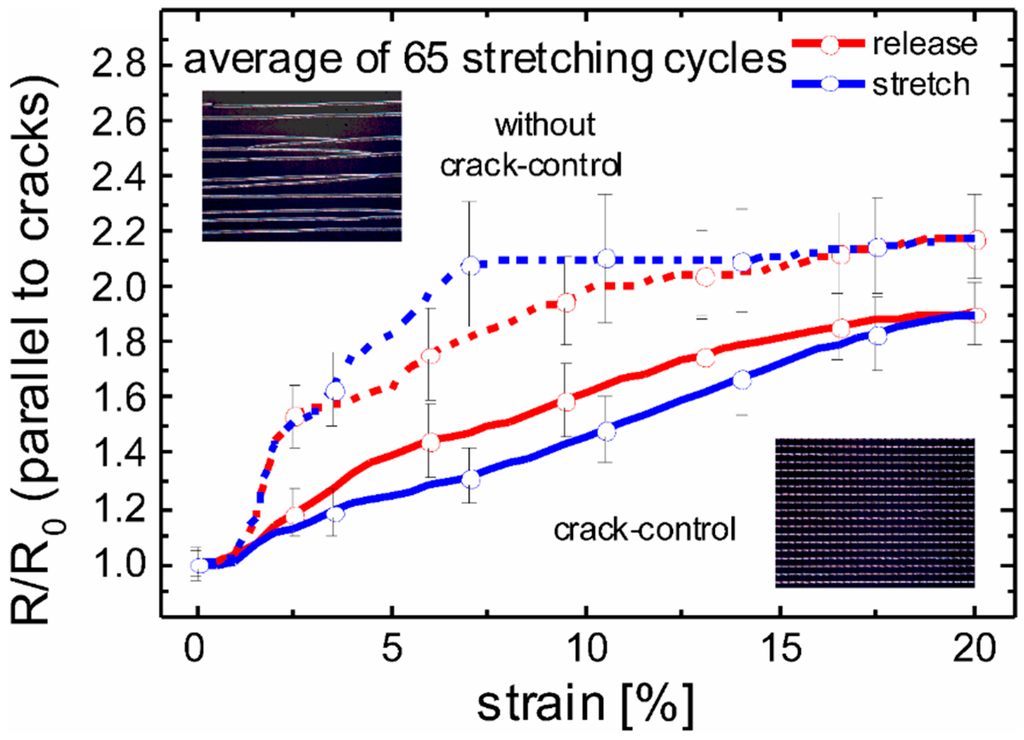 Figure 5. The change of the resistance in the direction parallel to the cracks during stretching perpendicular to the cracks; the two upper curves show the resistance change of a metal film without crack-control. The two lower curves show that crack-control results in a smaller resistance change under strain. The inset micrographs show the corresponding silver films after stretching. The length of the tested interconnects was about 7 mm.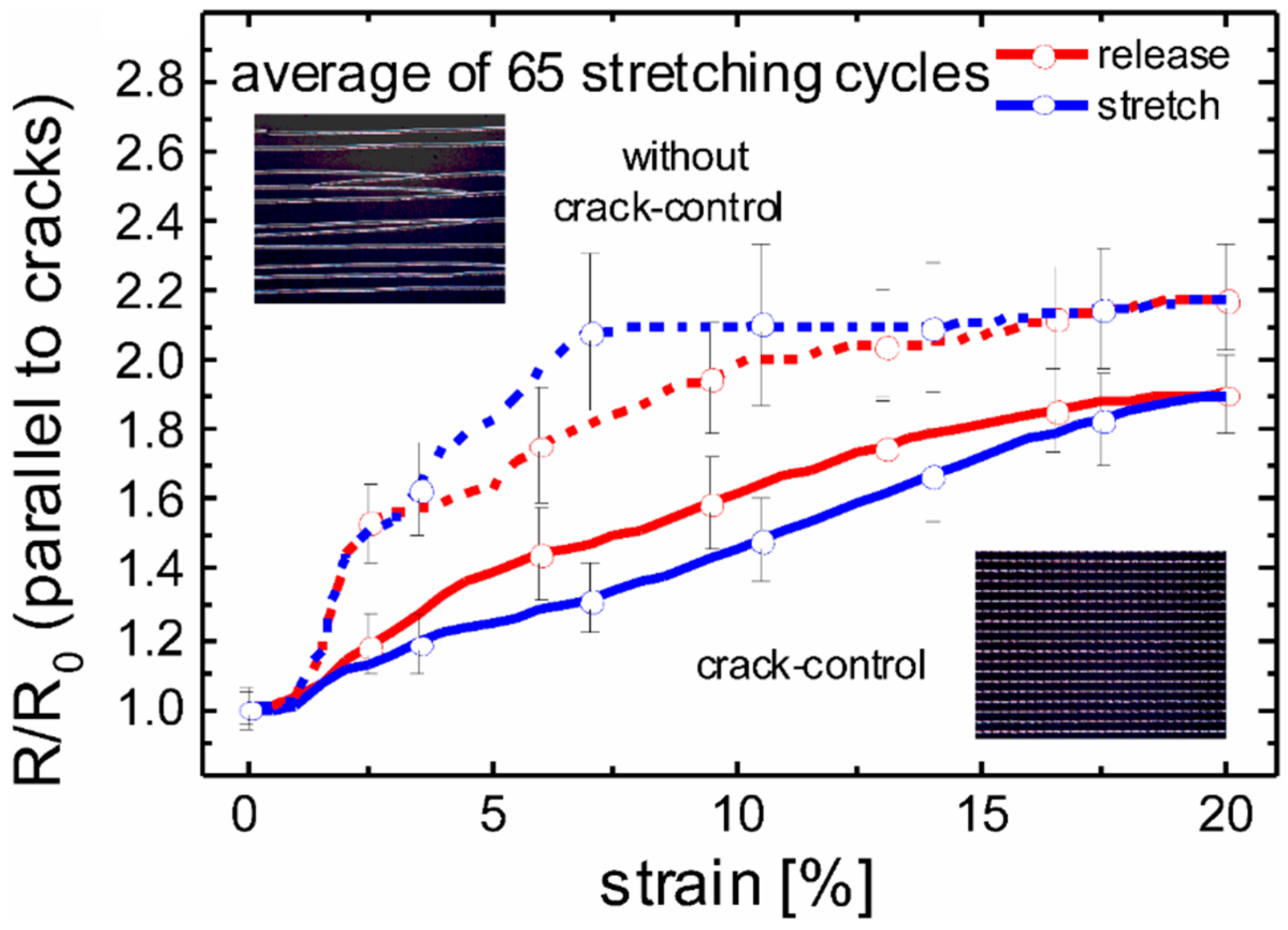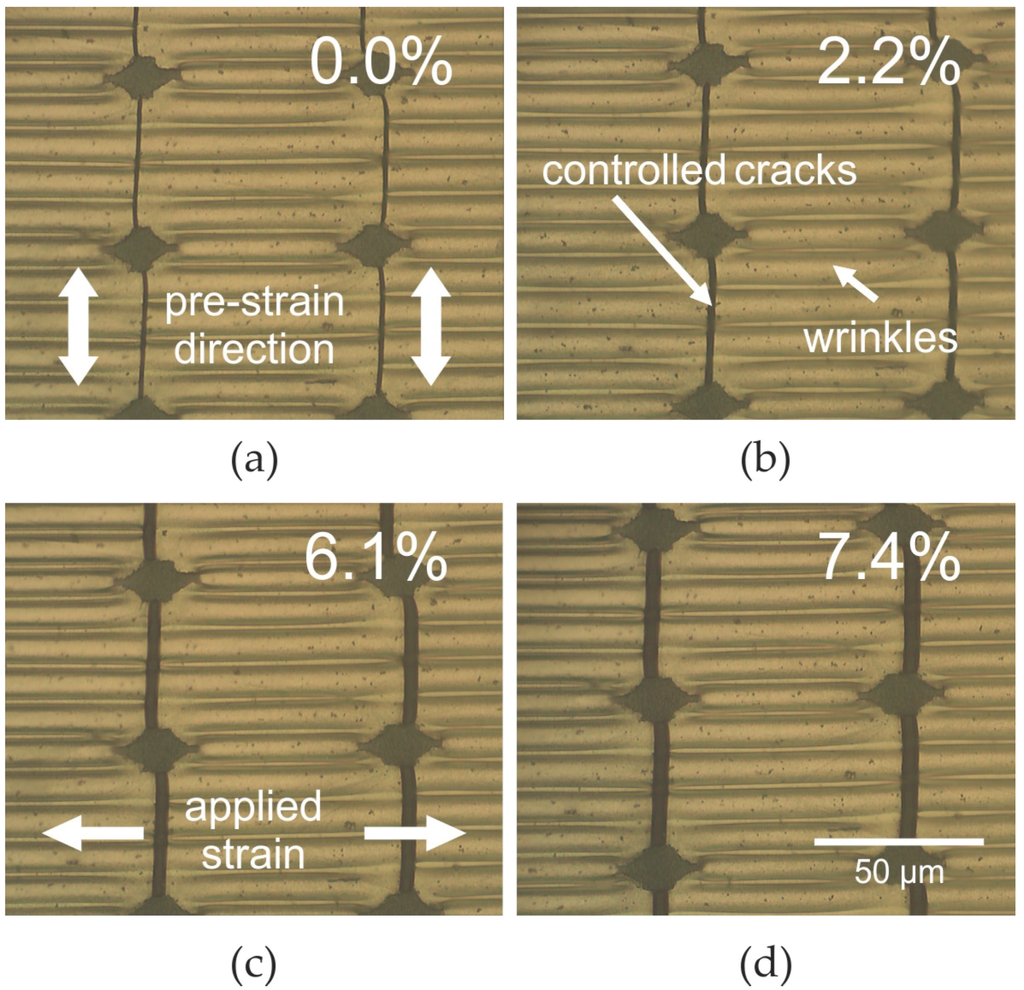 Figure 6. Optical micrographs of silver film containing controlled cracks and wrinkles under various strain of (a) 0%, (b) 2.2%, (c) 6.1%, and (d) 7.4%.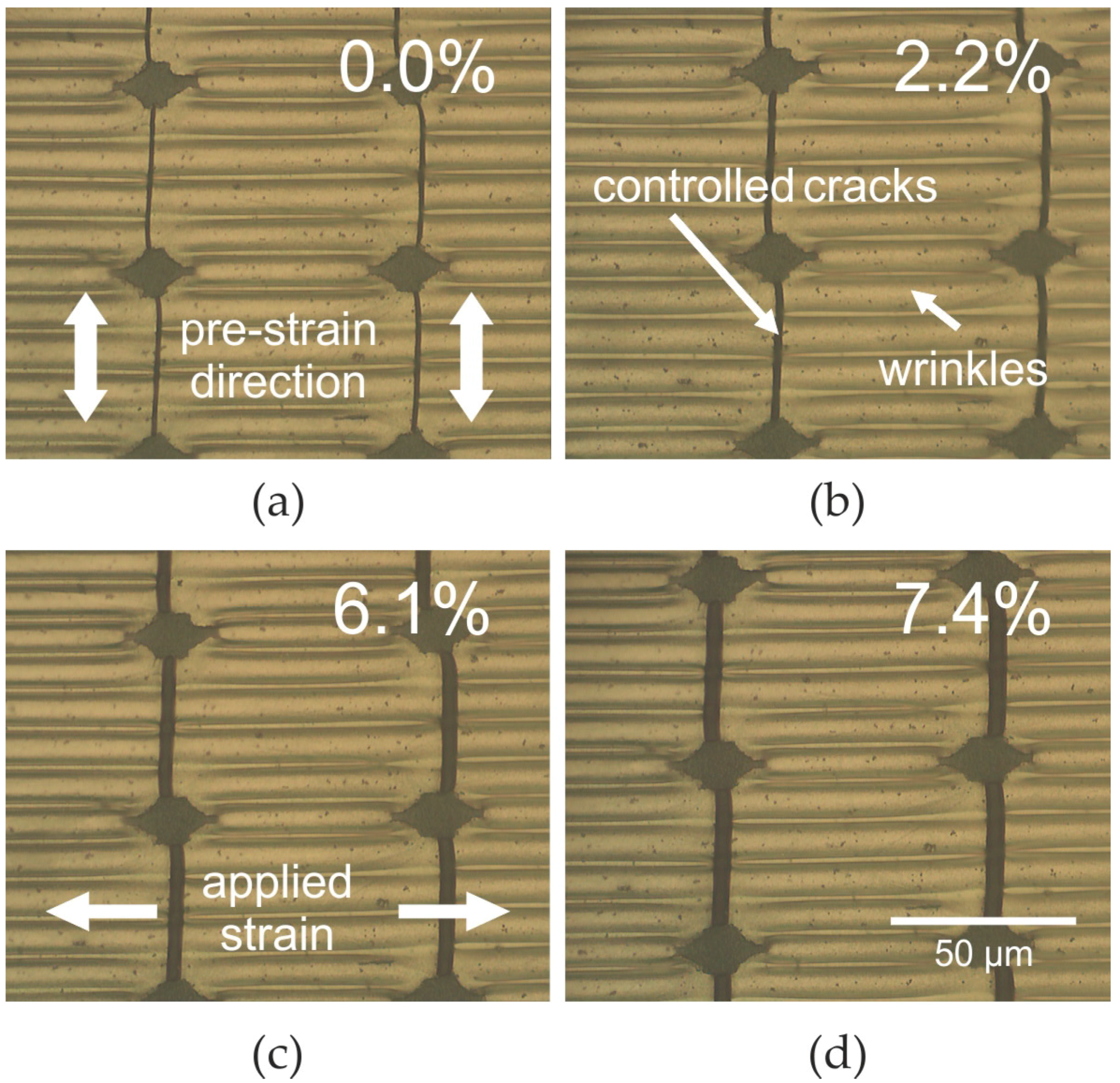 © 2016 by the authors; licensee MDPI, Basel, Switzerland. This article is an open access article distributed under the terms and conditions of the Creative Commons Attribution (CC-BY) license (http://creativecommons.org/licenses/by/4.0/).