Open Access This article is
freely available
re-usable
Commentary
Dynamism of Stimuli-Responsive Nanohybrids: Environmental Implications
1
Department of Civil, Architectural, and Environmental Engineering, University of Texas, Austin, TX 78712, USA
2
Department of Environmental and Global Health, Center for Environmental and Human Toxicology, University of Florida, Gainesville, FL 32611, USA
*
Author to whom correspondence should be addressed.
Academic Editor: Robert Tanguay
Received: 30 April 2015 / Accepted: 4 June 2015 / Published: 16 June 2015
Abstract
:
Nanomaterial science and design have shifted from generating single passive nanoparticles to more complex and adaptive multi-component nanohybrids. These adaptive nanohybrids (ANHs) are designed to simultaneously perform multiple functions, while actively responding to the surrounding environment. ANHs are engineered for use as drug delivery carriers, in tissue-engineered templates and scaffolds, adaptive clothing, smart surface coatings, electrical switches and in platforms for diversified functional applications. Such ANHs are composed of carbonaceous, metallic or polymeric materials with stimuli-responsive soft-layer coatings that enable them to perform such switchable functions. Since ANHs are engineered to dynamically transform under different exposure environments, evaluating their environmental behavior will likely require new approaches. Literature on polymer science has established a knowledge core on stimuli-responsive materials. However, translation of such knowledge to environmental health and safety (EHS) of these ANHs has not yet been realized. It is critical to investigate and categorize the potential hazards of ANHs, because exposure in an unintended or shifting environment could present uncertainty in EHS. This article presents a perspective on EHS evaluation of ANHs, proposes a principle to facilitate their identification for environmental evaluation, outlines a stimuli-based classification for ANHs and discusses emerging properties and dynamic aspects for systematic EHS evaluation.
Keywords:
stimuli-responsive; adaptive nanohybrids (ANHs); nano-EHS; nanotoxicity
1. Introduction
During the past decade, material science at the nanoscale has witnessed the emergence of a new wave of research and development that has shifted from single passive nanostructures to complex hierarchical nanosystems [
1
]. Such hierarchical structures are designed via hybridization of multiple nanoscale entities or by conjugation of a nanomaterial with heterocyclic organic coatings. These nanohybrids (NHs) exhibit enhancement in their individual component properties [
2
] and are driving the frontier of material science development with applications in biomedicine [
3
,
4
], electronics [
5
,
6
], optical imaging [
7
,
8
], water quality management [
9
,
10
], controlled drug delivery [
11
,
12
], biomedical systems and devices [
13
,
14
,
15
] and energy-related applications [
16
,
17
,
18
]. Such applications demand multifunctionality, necessitating the design and development of adaptive and responsive materials where manifestation of material properties evolves in a more predictable and controllable fashion in response to the surrounding environment or stimuli. Hybridized or conjugated nanostructures are suspected to present complexity in nano-EHS [
2
,
19
,
20
]. The dynamism of the adaptive nanohybrids (ANHs) will likely introduce an additional degree of uncertainty and complexity to nano-EHS,
i.e.
, dynamic time-dependent evolution of the soft coating.
The necessity to achieve "on demand" control over material functionality and the ability to functionalize nanomaterials with unique combinations of organic polymer blocks have encouraged the design and synthesis of stimuli-responsive nanoparticles [
21
] or ANHs. Today's drugs are not only required to optimize targeted delivery, but are also designed to manifest superior control over their release [
22
]. A complex combination of multiple soft organic blocks allows for achieving such molecular-level control in response to an environmental stimulus, e.g., pH [
12
], ionic strength [
23
], solvent polarity [
24
], heat [
25
], magnetic [
26
] or electric field [
27
], light [
28
] and sound [
29
], and enable their applications in targeted drug delivery, development of artificial muscles and sensing materials, robotics and molecular electronics [
30
,
31
]. Next generation molecular electronics and bio-engineered applications are more encouraged to employ such stimuli-responsive ANHs and, thus, necessitate careful assessment of their potential environmental and toxicological consequences.
Stimuli-responsive ANHs are composed of well-studied nanostructures, e.g., carbonaceous [
10
,
32
] and metallic [
16
,
27
,
33
], as well as polymeric [
34
,
35
,
36
] materials, however, with a complex soft-layer at the exterior. EHS studies on nanoscale metal or metal oxide particles, as well as on carbonaceous nanomaterials have been aimed at correlating EHS responses of nanomaterials (NMs) with their properties, such as size, shape, surface chemistry, electronic structure and surface charge [
37
,
38
,
39
,
40
,
41
,
42
]. The role of NM surface functionality,
i.e.
, of both covalent surface moieties and of soft polymeric/surfactant coatings, on aggregation, deposition, transformation and toxicity has also been evaluated [
41
,
43
,
44
,
45
,
46
]. However, the coatings considered were rather passive in a given environment. Complexity and uncertainty in EHS of ANHs will likely arise from the dynamic nature of the surface coatings, as their surface conformation and participation in potential ligand exchange will evolve over time in presenting their chemical functionalities to the surrounding environment and biological species, while responding to the external stimuli. If a soft surface coating is composed of multiple functional blocks where one or more of these blocks respond to an external stimulus (e.g., exfoliate or compress in response to the stimuli), the aggregation/deposition (where steric interaction will dynamically change) and toxicity (cells or species interacting with the exposed block will evolve dynamically) assessment will need to account for such dynamism to accurately assess their EHS.
This article presents a perspective on EHS assessment of ANHs. The paper will first propose a principle for identifying ANHs and will outline a stimuli-based classification for these materials. Emerging properties and the dynamic aspects of the coatings and their influence in controlling nano-EHS will be discussed, which will allow for a critical analysis of the fate, transport, transformation, and toxicity assessment of these novel horizon materials in an aquatic environment.
2. Principle for Discerning ANHs
Since ANHs involve surface-coated metallic, carbonaceous or polymeric NMs, discerning the differences between passive and adaptive nanostructures is important in directing EHS efforts appropriately. Here is the first attempt to lay down the principle for identifying ANHs. This principle is derived from earlier NH foundational work [
20
].
"
Conjugated nanostructures composed of carbonaceous, metallic, or polymeric materials when coated with a soft chemically bound exterior polymeric layer, resulting in core-shell type hybrids that respond to external stimuli that have enhanced properties or multifunctionality, can be identified as adaptive nanohybrids or ANHs.
" This principle includes ANHs composed of metallic, carbonaceous or polymeric NMs and NHs functionalized with stimuli-responsive coronas or polymers [
47
,
48
,
49
,
50
] (
Figure 1
a) and NMs suspended or loaded with linear and branched stimuli-responsive co-polymers or cross-linked polymer networks [
35
,
51
,
52
] (
Figure 1
b). ANHs in which stimuli-responsive coatings are covalently bonded to drug molecules [
53
] or to metallic NMs with tunable properties [
25
] (
Figure 1
c) and polymer brushes grafted [
54
] or strongly bonded via sulfur bonds [
47
] can also be included.
This principle would exclude selection of the following as ANHs; (i) NMs and NHs with coatings that are not stimuli responsive (e.g., NHs comprised of dihydroxotin(IV) porphyrin-functionalized single-walled carbon nanotubes (SWNTs) [
7
], NHs composed of quantum dots (QDs) and cytochrome P450 [
5
] and NHs containing carbon nanotubes (CNTs) and CdSe QDs [
8
]); (ii) that are not covalently bound (e.g., QDs coated with thermo-responsive [
55
] or pH-responsive polymers [
56
] by simple ligand exchange methods); and (iii) those that will detach from the NM surfaces upon environmental contact (e.g., NHs of a poly(styrene) (PS) core and a multi-armed pH-responsive weak polyampholytic poly(2-vinylpyridine)-
b
-poly(acrylic acid) diblock copolymer [
57
] or at mesoporous silica nanoparticles (MSNPs) capped with poly(propylene imine) dendrimers through reducible disulfide bonds that enable detachment upon stimulus [
58
]). This principle will facilitate the identification of ANHs for nano-EHS evaluation. However, further modification or amendment of the stated principles will likely be required as advances are made in the research and development of similar new materials.
Figure 1.
Representation of adaptive nanohybrids (ANHs): (
a
) pH-responsive poly(acrylic acid) (PAA) on mesoporous silica nanoparticles (MSNPs) [
59
]; (
b
) AgNPs embedded in a thermo-responsive network attached to poly(styrene) (PS) and poly(
N
-isopropylacrylamide) (PNIPA) cross-linked with
N
,
N'
-methylenebisacrylamide (BIS) [
51
]; and (
c
) photo-responsive Cu-doped ZnO NPs on multi-walled carbon nanotubes (MWNT) [
60
].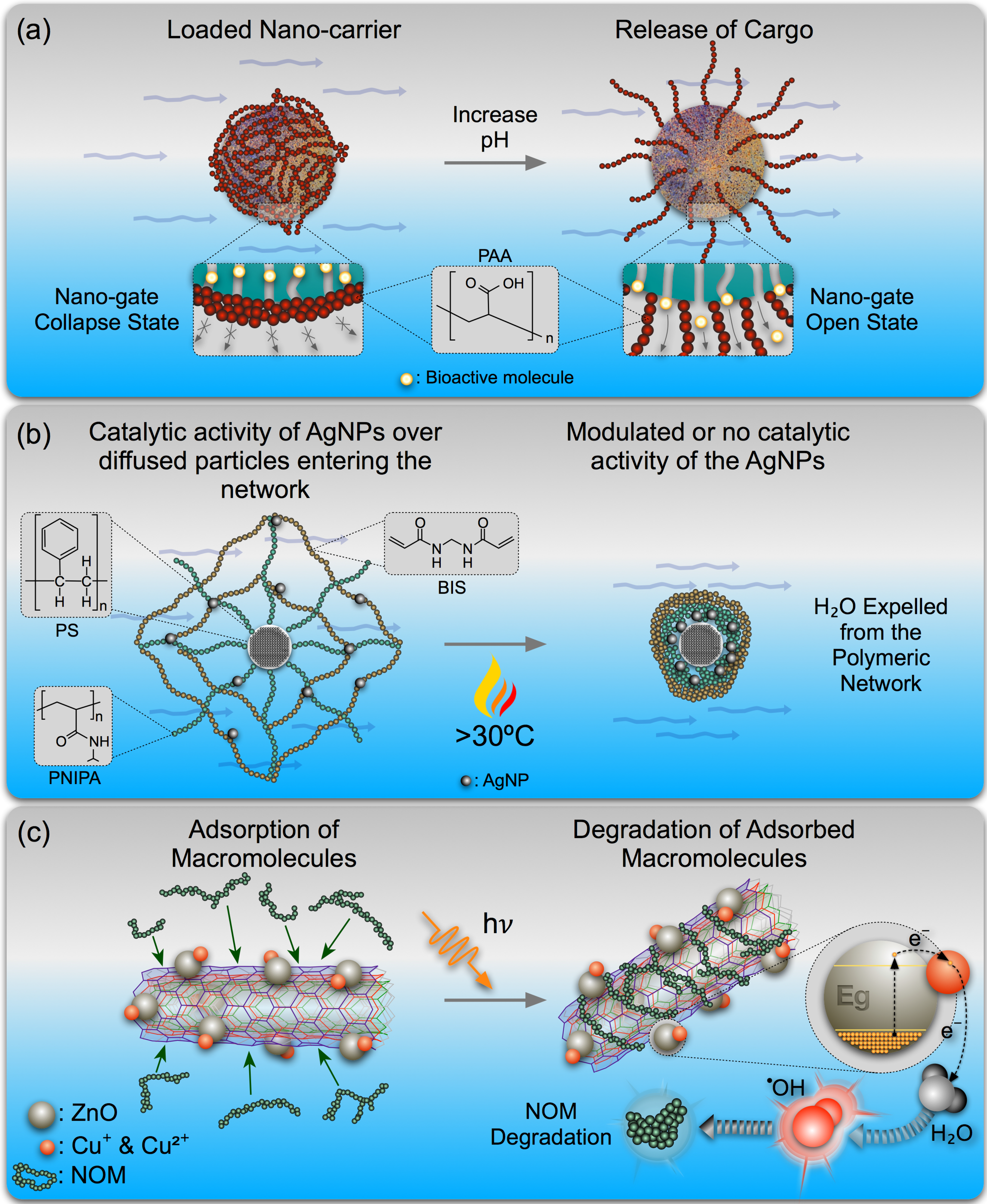 3. Classification of ANHs
The behavior of ANHs is controlled by the external stimulus that can cause the exterior coatings to shrink/swell and to change the optical, mechanical or luminescence response of the nanostructure, to name a few. Although the field of ANHs is relatively new, there are numerous opportunities to design new nanosystems with single- or multi-stimuli-responsive attributes. The following discussion classifies ANHs on the basis of stimuli that invoke responses from the particles. A comprehensive literature search has been performed to identify relevant ANHs. A total of 812 publications from 1996 to 2014 were retrieved and classified using the Web of Science® search engine. After a list of relevant terms was identified, a search algorithm was designed using wildcards and Boolean operators, in combination with a title field tag, as the search criteria to limit the results to the most relevant studies in ANHs.
Figure 2
shows the rapid growth rate of this ANH field as reflected by the near exponential increase in publication number over the past ten years.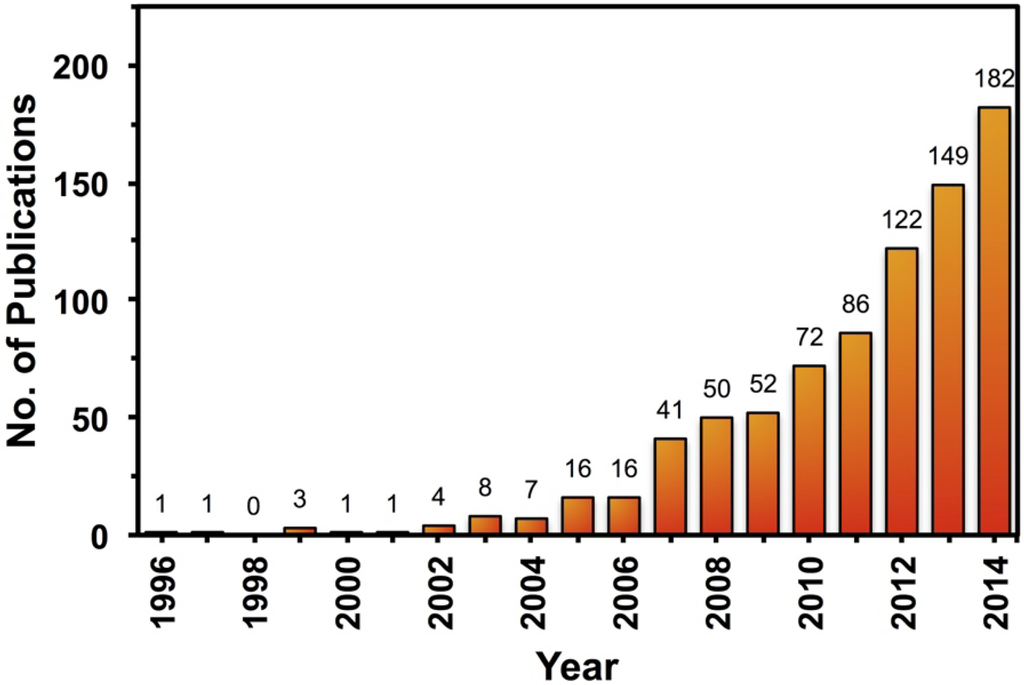 Figure 2. Number of publications per year on ANHs in the Web of Science® according to our search criteria (TI = (nanomaterial* or nano-material* or nanoparticle* or nano-particle* or nanostructure* or nano-structure* or nanohybrid* or nano-hybrid*) and TI = (stimul*-respons* or *responsive or stimul*) and TI = (pH or light* or photo* or thermo* or temperature* or heat or ion* or chem* or salt* or *magnet* or *electri* or *sound or acoustic or *sonic* or redox* or glucose* or gluta* or enzym* or thiol* or radiat* or multi*)).
Follow-up searches were performed for each individual stimulus of concern,
i.e.
, for pH-, photo-, thermo-, ion-, chemical-, salt-, magneto-, acoustic-, redox-, glucose-, glutathione-, enzyme-, thiol-, radiation- and multi-stimuli-responsive materials. Results reveal the relative importance of each of the stimuli in the contemporary ANH literature. The distribution of ANH publications based on the most relevant stimuli is shown in
Figure 3
a, which identifies that pH, temperature and photo-responses as the most prominent stimuli in ANH design and development.
Stimuli-responsive soft-layers enable ANHs to perform switchable functions and show considerable changes in their physical and chemical properties in response to small changes in their environment. The classification of ANHs can be done in a number of ways. Here, we present a classification scheme based on key environmental stimuli, namely pH-, thermo-, photo- and multi-stimuli-responsive ANHs.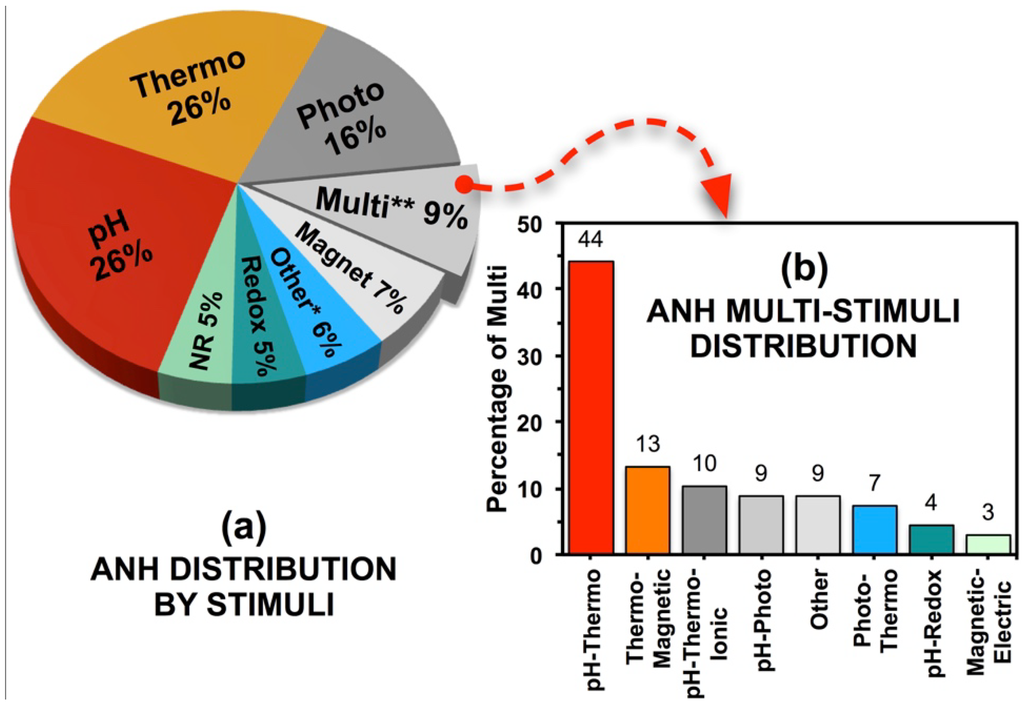 Figure 3. (a) Distribution of ANH publications based on stimuli. ** Includes: ionic, chem, salt, electri, sound, redox, glucose, gluta and enzyme as keywords. NR: not relevant. (b) Distribution of ANH publications on multi-stimuli. Other includes: pH-enzyme, pH-glucose, glucose-pH-thermo, photo-thermo-magnetic and ultrasound-pH-magnetic multi-stimuli publications.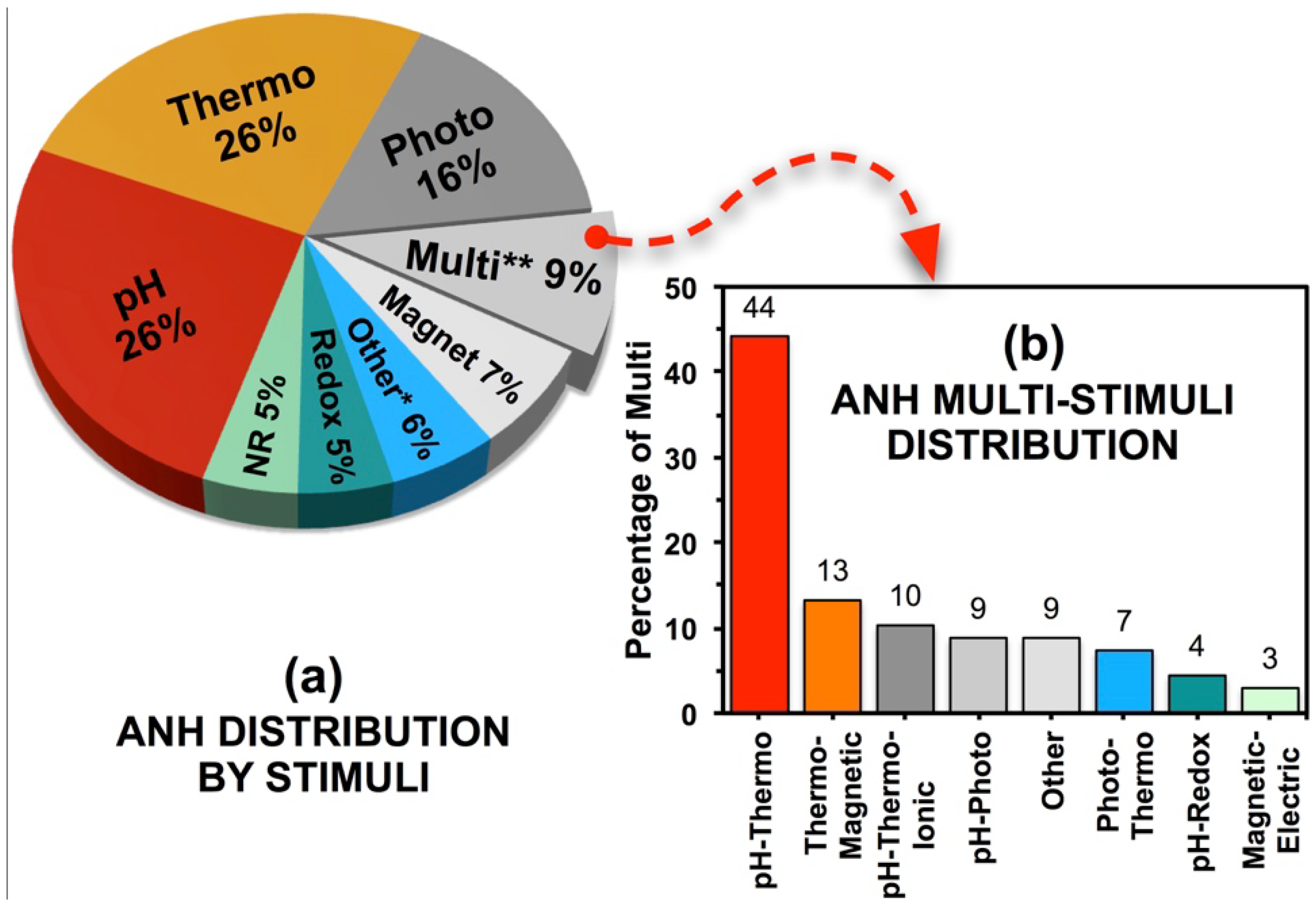 3.2. Thermo-Responsive
Due to the simplicity of control, temperature is one of the most widely-used external stimulus in ANHs design. Temperature can trigger response from ANHs coated with thermo-responsive polymers that contain hydrophobic (e.g., methyl, ethyl and propyl) moieties. The properties of thermo-responsive polymers are governed by the lower critical solution temperature (LCST), defined as the temperature at which the polymer undergoes a phase transition from a soluble to an insoluble state [
36
,
61
]. In general, the solubility of most of the polymers increases with the increase in temperature; however, in the case of polymers that exhibit LCST, an increase in temperature decreases the water solubility due to hydrophobic associations of polymer molecules and a reduction in hydrogen bonding between polymer and water molecules [
70
].
Temperature-responsive polymers can be classified depending on the mechanism and chemistry of the polymer groups: (1) poly(
N
-alkyl substituted acrylamides), e.g., poly(
N
-isopropylacrylamide) (PNIPA), with an LCST of 34.5 to 35 °C [
71
,
72
]; and (2) poly(
N
-vinylalkylamides), e.g., poly(
N
-vinylcaprolactam), with an LCST of about 31 to 38 °C, depending on the molecular weight and concentration of the polymer [
73
,
74
]. PNIPA has been widely studied for its ability to switch surface wettability, which consists of fluctuations in the competition between intermolecular and intramolecular hydrogen bonding below and above the LCST, hydrophilicity and hydrophobicity, respectively [
75
].
For instance, the optical and light scattering properties of AuNPs are known to be altered by the conformational and chemical changes of their thermo-responsive polymer shells, and this property is exploited in the design of ANHs. AuNPs can be functionalized with cross-linked poly(2-(2-methoxyethoxy)ethyl methacrylate) (PMEO2MA). The thermo-responsive coating undergoes a phase transition from a hydrophilic water-swollen state to a hydrophobic globular state, when heated above its LCST. Such changes result in modification of the light scattering properties of the nano-system and cause a change in the turbidity of the gel network of PMEO2MA [
25
]. Different degrees of swelling at high and low temperatures influence the range of applications of core-shell ANHs. AuNPs encapsulated in a thermo-responsive microgel (e.g., PNIPA) are used as catalysts in the electron-transfer reaction between hexacyanoferrate(III) and borohydride ions. The thermo-sensitive PNIPA network acts as a "nano-gate" that can be opened or closed to a certain extent, thereby controlling the diffusion of reactants toward the catalytic core; such is the control of the catalytic activity of the encapsulated AuNPs via temperature modulation [
76
]. Similarly, AgNPs, when embedded in a thermo-responsive polymeric network of PNIPA cross-linked with
N
,
N
'-methylenebisacrylamide, can dictate the dissolution properties of the ANHs [
51
]. Metallic NPs are fully accessible to reactants at low temperature (as the polymer is exfoliated). However, at higher temperatures, the rate of reactions is considerably slower, due to the shrinkage of the thermo-responsive polymer network [
51
].
3.3. Photo-Responsive
Light stimulation and response is a particularly useful external trigger to efficiently manipulate ANH responses. A number of parameters (light intensity, time of exposure and wavelength) can be tuned for a specific target, which allows designing a wide selection of stimuli-responsive ANHs. Photo-responsive, particularly, photo-cleavable polymers, e.g., PNIPA-
o
-nitrobenzyl alcohol-poly(4-substituted-3-caprolactone) [
77
], poly(methyl methacrylate)-poly[poly(ethylene glycol) methyl ether methacrylate] [
78
] and P4VP-poly(methyl methacrylate) [
79
], have received attention in recent years, since they can be degraded into smaller molecular fragments by irradiation. These photo-responsive polymers are used for the synthesis of ANHs and applied as nano-carriers for drug delivery [
77
] and as photodynamic therapeutic agents [
80
].
Photoisomerizable molecules, such as azobenzenes, have been incorporated to macromolecules to produce macroscopic changes in the polymeric material. Azobenzene is a well-known photo-responsive molecule that has been widely used in a diverse set of optical devices and to achieve multifunctionality; e.g., photo-switching [
81
], photo-optical image recording [
82
] and molecular detection [
83
]. The azobenzene moieties can undergo reversible photo-isomerization between the stretched
trans
(E-isomer) and the bent
cis
(Z-isomer), when exposed to light at a certain wavelength (alternating irradiation in the visible (465 nm) and UV (350 nm) range) or heating and can lead to considerable changes in molecular shape, size and dipole moments [
81
]. Thus, the azobenzene photo-responsive group allows for photo-controllable self-assembly of block copolymers and other photo-responses of lower molecular weight molecules. For instance, controlling the interparticle space between particles by reversibly bringing out the
trans-cis-trans
isomerization of photo-responsive molecules containing an azobenzene moiety incorporated into networks of benzyldimethyl-stearyl-ammonium chloride and octadecylamine capped AuNPs results in changes from red to blue in the optical spectra of the surface plasmon peak position of the NH network [
84
]. Similarly, NMs coated with polyaniline (PANI), a conducting polymer possessing interesting electronic, electrochemical and optical properties, can be prepared by incorporating the photosensitive coumarin moieties into a 2-acrylamido-2-methyl-1-propanesulfonic acid copolymer micelle. The resulting ANH exhibits reversible photo-cross-linking and photo-decrosslinking behavior upon irradiation with UV [
85
].
Other examples include bipyramidal DNA nanocapsules based on photo-responsive oligonucleotides that release AuNPs when photo-irradiated, via strand displacement mechanism [
86
]. Such release is guided by reversible cage-opening that depends on the wavelength of the photo-irradiation (
i.e.
, from visible to UV). Aminopropyl-silsesquioxane (POSS-NH2) has been employed to functionalize graphene oxide (GO) sheets. The combination of the GO sheets with POSS-NH2 produces a hybrid silicon/graphite-based NP, which when exposed to visible light, exhibits dielectric or insulating behavior, rendering a photoconductive response [
87
].
3.4. Multi-, Bio- and Other-Stimuli Responsive Nano-Systems
Many ANHs are designed with polymer blocks that respond to more than one stimulus or are only responsive to biological stimuli (
Figure 3
a,b). pH and redox are two of the strongest stimuli in such multi-stimuli platforms that are designed for cancer treatment [
88
]. Other examples of a multi-stimuli ANH platform include a multilayer film (layer-by-layer) formed around PEGylated NPs (
i.e.
, thiolate synthesized via self-condensation of 3-mercaptopropyltrimethoxysilane) and light-sensitive azobenzenes that respond to pH, light and ionic strength, simultaneously [
89
]. Such ANHs have the potential applications as multi-responsive nano-carriers for drug delivery or as drug-releasing films. Similarly, switchable drug-release nano-platforms utilizing degradable poly(ether urethane) generate ANHs that respond to changes in temperature, pH and redox potential [
90
]. A triple-stimuli of temperature, pH and magnetism can trigger responses from poly(
N
-isopropylacrylamide-co-methacrylic acid)-coated magnetic SiNPs [
91
]. Similarly, responsive polycarbonate membranes have been prepared with the combination of multi-responsive PNIPA and AuNPs to create responsive valves for the spatiotemporal delivery of bioactive agents, cell array and advanced cell culture. The synthesized membranes showed, experimentally, a switch in response to temperature and light and achieved differences in fluid flow [
92
].
ANHs that are designed to respond to other stimuli include those that respond to biological molecules, such as glucose [
93
], where insulin is released via poly(vinyl alcohol) and poly(
N
-vinyl-2-pyrrolidone) with pendent phenylboronic acid moieties and applied for diabetes treatment. Similarly, glutathione [
94
] is used as cancer therapy agents, where hollow SiNP carriers of doxorubicin respond to stimulus for the release of treatment agents. Biocatalytic enzymes are also employed for diagnostics, drug targeting and drug release, where proteases are employed as cleavers [
95
]. ANHs that respond to biochemical stimuli are of great importance if released to the environment; however, the literature is not as elaborate.
4. EHS Implications
The following section will discuss the role of select environmental stimuli (pH, temperature and photo-activity) in influencing the behavior and toxicity of emerging ANHs, with a focus on the aquatic environment. We will consider what we have learned from studying passive NMs in predicting how the environment should be considered with respect to ANH behavior and toxicity.
The nano-EHS community needs to consider the modification of the strategies on assessing these dynamically-evolving stimuli-responsive ANHs. The underlying assumption of uniform surface properties in theoretical models and experimental assessment falls apart for these new sets of materials. The assumptions of potential transformation in the environment are also not applicable, as some of these ANHs will certainly undergo transformation, if exposed to the relevant stimulus. Furthermore, parameters that are otherwise ignored in nano-EHS, e.g., temperature, will require more attention in the case of these ANHs. New experimental tools are likely required to monitor the dynamic evolution of the coatings under changing stimuli conditions. The current state-of-the-art techniques mostly assess equilibrium processes and are not capable of evaluating time-dependent changes in surface properties.
Acknowledgments
Research reported in this publication was supported by the National Institutes of Health under Award Number R01HL114907 and the National Science Foundation under Award Number CBET1236029. The content is solely the responsibility of the authors and does not necessarily represent the official views of the National Institutes of Health or National Science Foundation.
Author Contributions
The manuscript was written with the contributions of all authors: EHS implications: N.B.S., J.P.T., T.S.A., J.B. and H.C.; ANH definition, classification, analysis and figures: N.B.S., J.P.T. and L.S.R.
Conflicts of Interest
The authors declare no conflict of interest.
© 2015 by the authors; licensee MDPI, Basel, Switzerland. This article is an open access article distributed under the terms and conditions of the Creative Commons Attribution license (http://creativecommons.org/licenses/by/4.0/).