Open Access This article is
freely available
re-usable
Article
Cosmic Evolutionary Philosophy and a Dialectical Approach to Technological Singularity
Evolution, Cognition, and Complexity (ECCO) group, Global Brain Institute; B-1160 Brussels, Belgium
Received: 13 February 2018 / Accepted: 4 April 2018 / Published: 5 April 2018
Abstract
:
The anticipated next stage of human organization is often described by futurists as a global technological singularity. This next stage of complex organization is hypothesized to be actualized by scientific-technic knowledge networks. However, the general consequences of this process for the meaning of human existence are unknown. Here, it is argued that cosmic evolutionary philosophy is a useful worldview for grounding an understanding of the potential nature of this futures event. In the cosmic evolutionary philosophy, reality is conceptualized locally as a universal dynamic of emergent evolving relations. This universal dynamic is structured by a singular astrophysical origin and an organizational progress from sub-atomic particles to global civilization mediated by qualitative phase transitions. From this theoretical ground, we attempt to understand the next stage of universal dynamics in terms of the motion of general ideation attempting to actualize higher unity. In this way, we approach technological singularity dialectically as an event caused by ideational transformations and mediated by an emergent intersubjective objectivity. From these speculations, a historically-engaged perspective on the nature of human consciousness is articulated where the truth of reality as an emergent unity depends on the collective action of a multiplicity of human observers.
Keywords:
futures; technological singularity; philosophy; cosmic evolution; anthropology
1. Global Technological Singularity
2. Cosmic Evolutionary Philosophy
3. Dialectical Approach to Technological Singularity
In order to continue this analysis we here shift focus from the object-oriented cosmic evolutionary philosophy itself towards understanding how we can utilize this philosophy dialectically as it relates to an internal subjective approach to global technological singularity. The objectivity of human motion mediated by universal ideation is not fully understood in either the classical mechanistic worldview (scientific materialism) or the classical transcendental worldview (philosophical idealism). This is because scientific materialism reduces everything to physical motion governed by eternal laws, and philosophical idealism integrates everything into the eternal concept which transcends physical reality. Thus both approaches fail to capture the dynamical intersubjective becoming of ideality and its historical effects and consequences in relation to totality. In order to approach ideational motion embodied and embedded intersubjectively in a material world we must understand the real consequences of an emergent subject-object division (or observer-observed, mind-matter, concept-world) as itself a dynamical part of totality (i.e., freedom is part of totality).
Thus, in focusing on an ideational motion structured by triadic logic operating internal to a field of multiple observers totality itself becomes open, incomplete and dependent on intersubjective ideality for its actuality. Thus in this frame totality itself is nothing but the ideational space of observers where epistemological knowledge practices become entangled with fundamental ontology. Here knowledgeable observers become effective agents that are directly involved in transforming the physical world via conceptual mediation. From such a program we are invited to engage with a spatially curved epistemology due to the inclusion of desiring subjects that develop strategies for coping with internal symbolic deadlocks produced as a consequence of division from unity (or 'points of impossibility'). We are also invited to engage with a temporal dynamic ontology due to the inclusion of the ontic effects of subjects own projected interventions and retroactive reflections aiming for unity. This intersubjective motion is structured by a multiplicity of ideational networks capable of negating-affirming (transforming) the distance between the actuality of friction (zero-sum) and the ideality of synergy (positive-sum).
In order to demonstrate the functional or pragmatic utility of such a seemingly complex notion of totality let us now consider an example of how this approach can help us understand the higher orders of scientific ideation operating under paradigms of fragmented reduction. The example I will choose in this analysis of totality is the example of the theoretical particle physics community. The reason to consider this community as a particular example with general relevance to global technological singularity theory is that this community is the best example of fragmented ideational reduction applied towards a unified theory of totality. In contemporary particle physics theory ideal abstractions conjecture a theory of quantum gravity capable of understanding physical singularities (black holes, big bang). In order to realize this the theoretical particle physics community holds a particular set of ideality about the nature of the world (i.e., standard model, M-theory). These abstractions aim to understand the hypothetical dimensions that may represent the fundamental constituents of physical matter at the smallest scale of reality.
Now when we are thinking about the particle physics community as a psychosocial force produced as an effect of subject-object division aiming for unity we have to think about how this asymmetrical imbalance generates ideational conflict and tension. This conflict and tension can be situated around the aforementioned dualistic eternal couples of totality: being-absence, order-chaos, dream-obstacle, goal-challenge. Here we see that the particle physics community emerges as an epistemological desire that will retroactively change ontology (i.e., standard model is incomplete logic, M-theory is open speculative conjecture, etc.). Thus, in the higher order theory where we include the observational multiplicity as fundamental we could posit that abstractions in the form of the standard model and M-theory enter into a negative relation with given being. This occurs in so far as the projected ideality of M-theory posits a future reconciled or completed state (imaginary) within which totality will be transformed towards a comprehensive notion of the fundamental constituents of physical matter (symbolic) which would allow us to understand the origins and fate of all matter (real).
In this context the particular example of analyzing the particle physics community and their first order search for unified totality becomes extracted to the higher order and applied to general psychosocial systems. This seemingly strange move in relation to understanding unified totality has fundamental implications for reductionist theories that attempt to explain everything. For example, a common feature of modern scientific discourse is the claim that a grand unified theory is within our grasp. However, when we consider this proposition in our present context, is it even possible for us to imagine what a grand unified theory would actually mean for the subject-object division as totality? What would it mean if communities of physicists developed a grand unified theory of quantum gravity as a reductionist master theory of the universe? In other words, would such a theoretical development (imaginary) have any practical transformative consequences (symbolic) for the emergentist subject-object division as totality (real)? Would it mean that something fundamental would change for the nature of temporally asymmetrical and irreducibly perspectival discursive reality?
4. Consciousness and Universal History
We have attempted to build a cosmic evolutionary philosophy and situate within this philosophy the fundamental dynamics of ideational motion on the horizon of universal process. Now we will attempt to situate ideational motion within a higher order theory of consciousness that can approach totality. In this theory of consciousness, we place less emphasis on the physical instantiation of consciousness within a materialist foundation and instead place more emphasis on historically-engaged phenomenal understanding as it relates to a fundamental truth of unified reality. In other words, this analysis is less concerned with whether consciousness is produced by neuronal activity, or by the quantum level of being, or by some other unknown physical mechanism; and is more concerned with the phenomenal activity of psychosocial forces as they relate to the historical search for the truth of reality.
In building this theory of consciousness, our analysis will forward a different perspective then most reflections since it will offer an emergentist mental theory, as opposed to a scientific reductionist theory or philosophical transcendentalist theory, seeking to understand totality in terms of its relevance to the meaning of human existence. This approach to totality is different than most contemporary theories because, instead of explaining totality in terms of the mechanics of sub-atomic reality or the eternal absolute, we are explaining totality in terms of general ideational motion engaged in history (like in the analysis of the physics community). Thus, we are interested in a totality capable of helping us understand how frames of reference and their conceptual transformations will be generally effected by scientific epistemology (artificial intelligence, genetic engineering, quantum computation, etc.). In this way, we seek to emphasize the hard work of an emergent unity or integration via collective historical processes of human individuation. Consequently, this theory of consciousness aims to elucidate a central dynamical narrative and value structure of being that is both grounded in cosmic evolution as a universal process (as emphasized in Part 2) and future-oriented towards a meaningful synthetical higher order level of ideational order (as emphasized in Part 3).
The first step in constructing a theory of consciousness with relevance to universal history is to situate our understanding within proper historical context. In order to move in this direction, let us first consider the main metaphysical systems of thought that have structured the history of philosophy. These main metaphysical systems of thought will be broadly classified from the Western perspective as ancient, modern, and deconstructionist metaphysics. In this general classification, we can say that ancient metaphysics structured the development of civilization in its predominantly agricultural phase; modern metaphysics structured the development of civilization in its predominantly industrial phase; and deconstructionist metaphysics has structured the development of civilization in its predominantly informational phase. Thus, these metaphysics represent the logical ideational substructure of civilization at different moments in the collective becoming of self-consciousness in universal history.
This broad analysis of metaphysical totality structures aims to situate consciousness as something that is constituted by the symbolic order and constantly re-structuring its transformative state of being in relation to different notions of what is an imaginary theoretical abstraction and what is the most real concrete actualization throughout its collective development in universal history. In the ancient real, we can say that what consciousness developed in relation to was fundamentally the power of the theological and the transcendental. In the modern real, we can say that what consciousness developed in relation to was fundamentally the power of the scientific and the natural. In the deconstructionist real, we can say that what consciousness developed in relation to was fundamentally the power of the social and the self-analytic. Thus, in all systems, we get fundamentally different notions of totality as eternal unity: transcendental ideality, physical laws, or secular power.
In ancient metaphysics, totality is already closed and complete in the ideal real of supernature or God of religion; in modern metaphysics, totality is already closed and complete in the material real of natural laws of physics; and in deconstructionist metaphysics, totality is already closed and complete as a multiplicity of systems of social power (all of which represent different relativistic totalities). However, all of these metaphysical systems are unable to account for a totality where conscious reality is constituted by multiple observers becoming in asymmetrical temporal relation to ideal-real attractors independent of a transcendent superspace, physical laws or secular power. In other words, they fail to account for the general imaginary-symbolic-real triad in its own historical motion, which transcends the ancient, modern, and deconstructionist forms. Thus, for a conscious real on the level of universal history visions of totality related to a transcendental superspace, physical laws, or secular power all become a part of the same dynamical and general conscious real structuring the becoming of open and incomplete individuating observers searching for the truth of being in a unified eternal structure.
In terms of the synthesis of historical forms of totality, the transmodern real conceives of all particular cultural reals as unified conscious visions necessary for the structure of historical becoming. For example, the vision of a transcendental superspace of eternal ideality structures the objective ancient becoming of religious and philosophical intersubjectivity; the vision of physical laws structures the objective modern becoming of scientific and naturalist intersubjectivity; and the vision of secular power structures the objective deconstructionist becoming of social and activist intersubjectivity. Thus, different forms of intersubjective objectivity emerged and became necessary in different phases of civilization from the agricultural level stabilized by the intersubjective objectivity of God and Imaginary Faith; the industrial level stabilized by the intersubjective objectivity of Science and Rational Empiricism; and the informational level stabilized by the intersubjective objectivity of the Social and Critical Deconstruction. Of course, these are not the only historical forms of eternal ideality that have appeared on the transcendental horizon, but they are a few of the major and general reals that have structured intersubjective objectivity.
Thus, in terms of a transmodern metaphysics approaching the technological singularity we must not conceive of totality in terms of an eternally unified field, but instead as an eternally divided field between subject-object. As discussed this field produces individuated observers asymmetrically imbalanced in a duality universally structuring a general internal desire for unity expressing itself as a pure multiplicity of conscious visions. Here we build on the aforementioned idea that totality on the side of the subject is order-dreams-goals-presences; and totality on the side of the object is chaos-obstacles-challenges-absences. In this dualistic relation unities like a transcendental superspace, physical laws, or secular power represent intersubjective reals as 'points of impossibility' unconsciously posited by self-consciousness to resolve the far-from-equilibrium imbalance of dualistic becoming. Such reconciliation of far-from-equilibrium imbalance follows such logics as 'if we all believe in [faith, empiricism, deconstruction] we will be saved by [religion, science, society]'.
However, in terms of the transmodern real in-itself such unities as 'points of impossibility' are radically open to taking any form that an observer can maintain intersubjectively across its process of becoming as an objective reality. Furthermore, any externally imposed collectivist notion of an intersubjective objectivity will by necessity fail to approach the real of individuated becoming of a multiplicity of observers on the pathway to singularity. This is because the real as an impossibility emerges primordially in relation to divisions introduced by each subject's transformations (as opposed to preceding the subject's transformations). Thus, when we think of the real from the inside out (from the side of the subject) these points of impossibility structure a geometric curvature in a topographical state space. For example, a subject engaged in theological or philosophical transformations may conclude that the highest form of objective reality is a unified space of ideality (God); a subject engaged in scientific or naturalist transformations may conclude that the highest form of objective reality is a unified space of natural laws (Spacetime); a subject engaged in social or activist transformations may conclude that the highest form of objective reality is a unified space of secular power (State).
In all such social historical manifestations what is posited by self-consciousness is an objective real that exists before and after the subject's transformations or interventions into the real as an absolute background dependence. Thus, the historical subject tends to reify an object that it believes existed before it, and believes will exist after it (i.e., God, Spacetime, State). However, what the transmodern metaphysics introduces is the generality of a dynamical and open background that is overdetermined by the subject's own work motion. In this way the static-fixed background of transcendental ideality, physical laws, and secular power are conceived of as absolute only in relation to the subject's self-positing. This means ultimately that the real in a transmodern sense does not exist before and after the subject's own individuated becoming. As already emphasized the real in a transmodern sense is something that emerges and depends on the symbolic observers enacted transformations in history.
Thus, this transmodern metaphysics can approach technological singularity in an open and incomplete metaphysics to be determined by symbolic observers. In this approach it is posited that totality is nothing but a multiplicity of observers that circumambulate around an absent central unity appearing in an emergent intersubjective space constituted by individuated relations. In other words this is a real truth where each individuated unit of transformative identity is capable of producing an objectively recognized historical real as a pure difference or division via epistemological knowledge structures. These knowledge structures can retroactively change the nature of ontological being itself towards a higher connection or unity (as in the introduction of the symbolic forms of ancient, modern, and postmodern metaphysics throughout historical becoming). Consequently, on the approach to technological singularity, a transmodern metaphysics would predict the breakdown of historical visions of unified totality, and the consequent emergence of ever greater numbers of novel divisions that produce ever greater numbers of novel unities. The totality of divisions may represent the logical consequence of the becoming of the concept in universal history capable of producing a meta-level of unity inaccessible to any one consciousness but which is one consciousness in-itself.
To summarize the transmodern approach to both the historical synthesis of historical forms of totality and the individuated technological singularity let us consider this structure of totality in terms of divisions that introduce new unities. The ancient metaphysical system became a historical real through the pure division of religious and philosophical thinkers in Mesopotamia, Egypt, and Greece which allowed for the formation of a higher unity of transcendental ideality that objectively structured the intersubjective becoming of early agricultural societies for millennia. The modern metaphysical system became a historical real through the pure division of scientific and naturalist thinkers in Europe which allowed for the formation of a higher unity of physical laws that objectively structured the intersubjective becoming of early industrial societies for centuries. The postmodern metaphysical system became a historical real through the pure division of social and philosophical thinkers in Europe and North America which allowed for the formation of a higher unity of deconstructing secular power that objectively structured the intersubjective becoming of early information age societies for decades. Now in the transmodern world in-itself this same force of pure division is predicted to be expressed in increasingly distributed forms (independent of transcendental superspace, physical laws, and secular power) allowing for, perhaps, a higher proliferation of unities than ever before in human history.
Finally, this transmodern metaphysics as a theory of consciousness may allow us to approach the technological singularity in a novel way by understanding how epistemological constructs of general humanity become a fundamental part of ontological being. In terms of a human subject-oriented approach to technological singularity capable of reconciling our de-centered cosmic position we should emphasize that when we include the future actuality of artificial intelligence, genetic engineering, and quantum computing, we open up a totally new possibility space for observationally constituted dynamical action. In other words, this theory of consciousness requires us to include the future real of knowledge as an activity into the ontology of being as opposed to continuing to focus on an imaginary knowledge that passively reflects the real ontology of being. The consequences of such a perspectival shift forces us to confront the fact that although meaning does exist outside of the symbolic order out in the cosmos, meaning does have a concrete materiality within the symbolic order signaling orientation to higher unity.
The radicality of such a possibility as it relates to technological singularity cannot be understated, but how can we make a division capable of motivating future research in this direction? Here I will make a conjecture that when we are thinking totality from the perspective of subject-object division aimed at unity we need to make sense of fundamental ontological problems related to historical forms of totality. To be specific there appears still unresolved problems in science and mathematics as to both the fundamental natures of mathematical ideality and physical law. From the perspective of ancient metaphysics mathematical ideality exists in a transcendental superspace from eternity; and from the perspective of modern metaphysics physical laws exist in a natural space from eternity. Of course, most contemporary theorists are skeptical of both conjectures, even if both assumptions structure much of science and mathematics. For example, consider that science is often embedded in space and time as universal organizing categories, and mathematics is often perceived to represent a universal knowledge independent of context and history.
Conflicts of Interest
The authors declare no conflict of interest. The founding sponsors had no role in the design of the study; in the collection, analyses, or interpretation of data; in the writing of the manuscript, and in the decision to publish the results.
Figure 1. Reductionist versus holistic approaches. In the reductionist approach phenomena are separated and isolated into their component parts in order to understand the mechanisms unique to that level of reality. In contrast, in the holistic approach phenomena are connected and linked into networks or groups in order to understand the qualitative properties that emerge at higher level orders of reality. From the reductionist approach higher level phenomena are reducible to lower level phenomena, and from the holistic approach higher level phenomena can only be understood on the terms of their own emergent properties.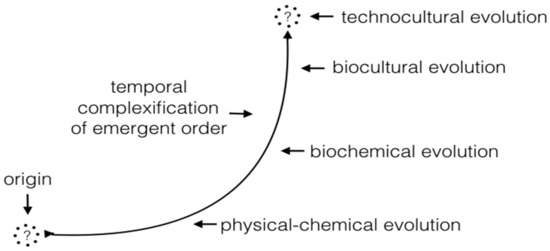 Figure 2. Big historical view of cosmic evolution. Throughout the history of universal evolution (change over time) phenomenon have undergone qualitative transitions enabling the production of new possibility and new order that operate under different basic rules or logics of change. In this schema two basic mysteries connect the beginning (alpha) and end (omega) of cosmic change with the origin of all known matter-energy and spacetime; and with the fate of the most complex known process which gives the signal of a potential future qualitative transition towards new possibility and new order.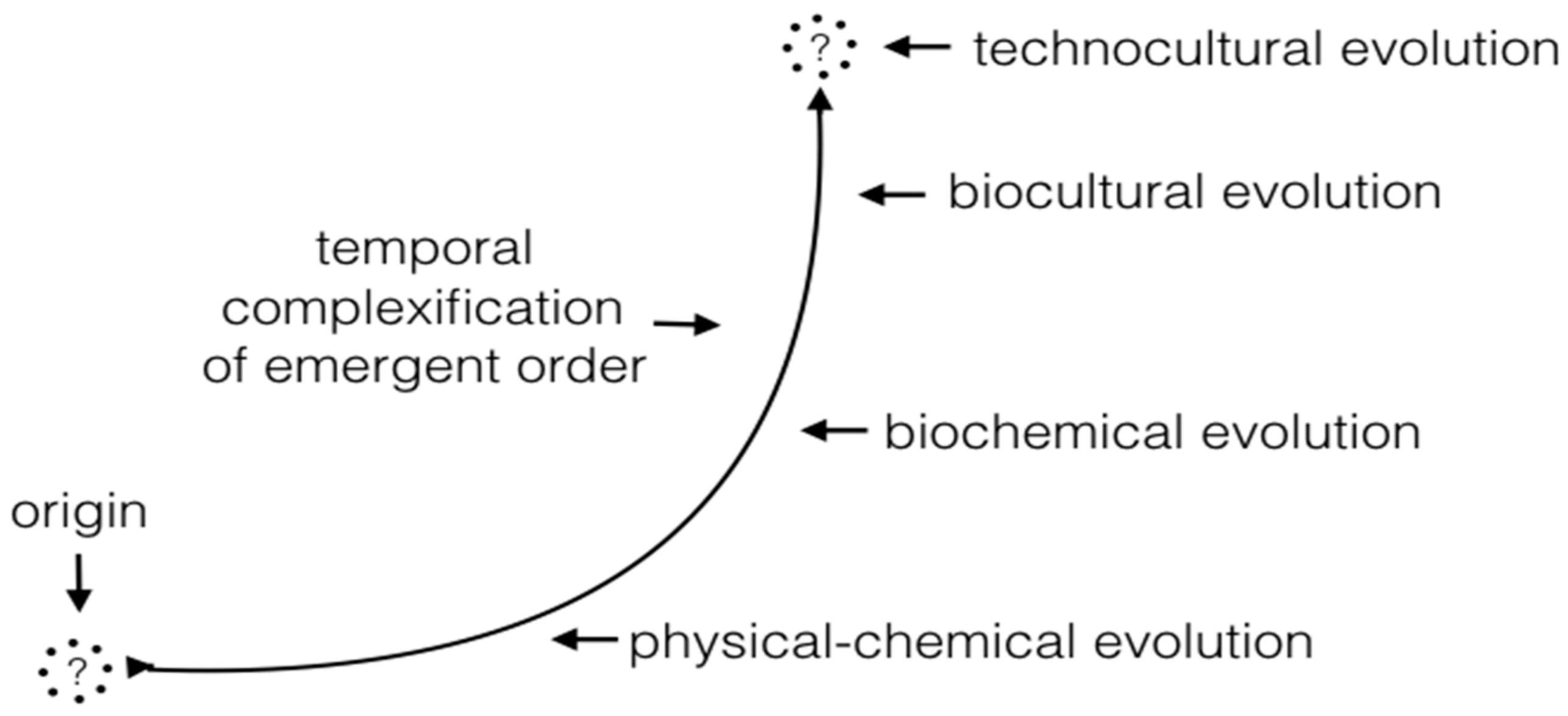 Figure 3. Disorder and order of phenomenal telos. For a disordered phenomenon (left) there is no discernible regularity of motion to be found in the constituent elements of the system as a whole. Consequently, disordered phenomena do not produce far-from-equilibrium emergent order. For an ordered phenomena (right) there is a discernible regularity of motion (a type of 'pattern') that operates on particular rules or logics which enable the phenomenon to dynamically maintain itself over the course of time (e.g., biological information of DNA, linguistic information of language are good examples of ordered phenomenon that maintain themselves with particular rules or logics). Consequently, ordered phenomenon are capable of producing emergent phenomena that are in turn capable of maintaining themselves further and further from disorder (i.e., 'higher orders' like biology from chemistry, or like symbolic from the biological).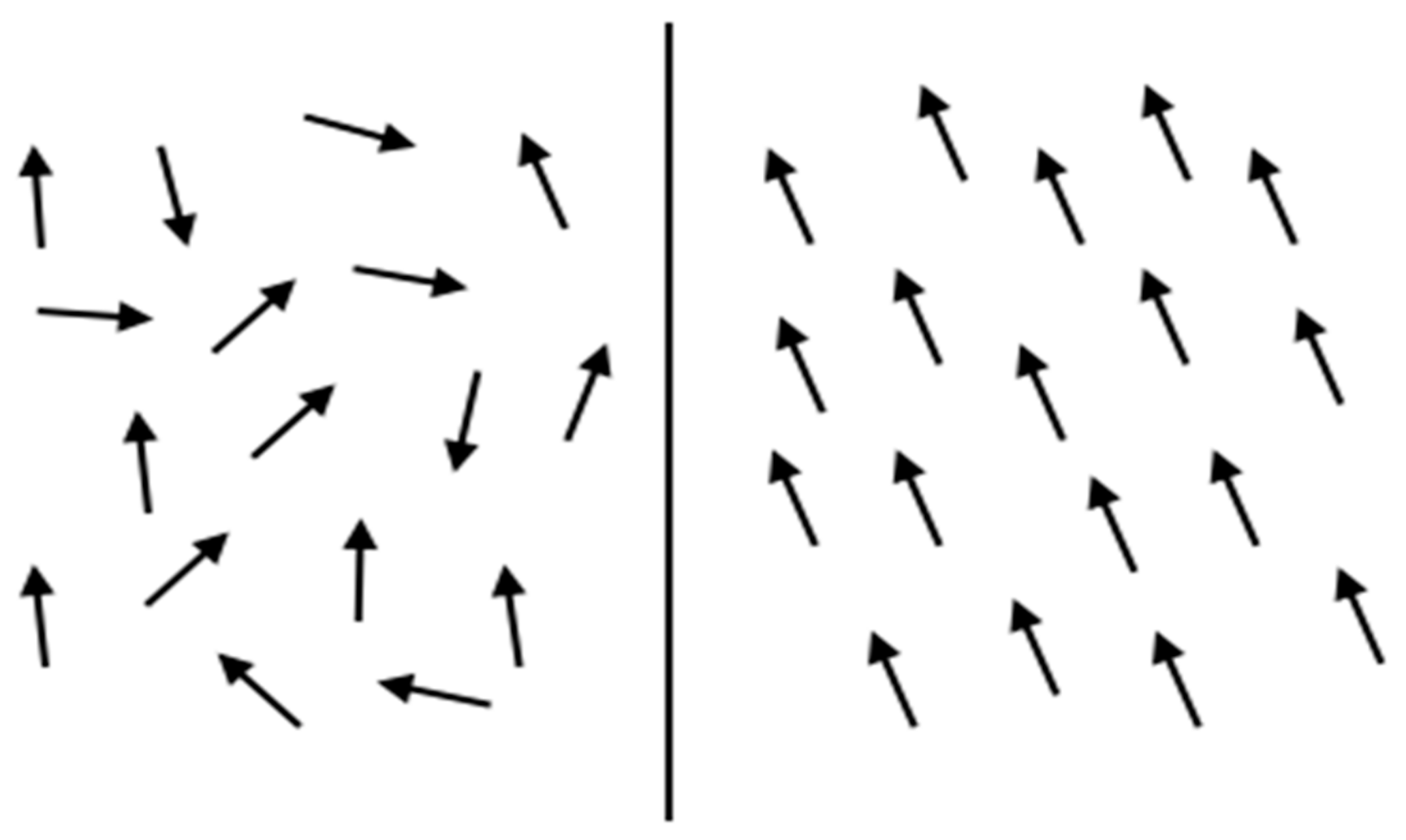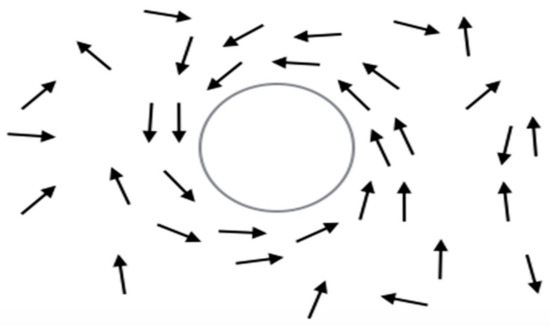 Figure 4. Becoming in relation to basins of attraction. Ordered phenomenon tend to have a collective direction of motion in relation to basins of attraction where all or most constituent parts orient informational function towards a goal-object that could not be achieved by any one part independently. For example, on the level of physical order a solar system only forms when planetary bodies orient motion around a collective center of gravity; on the level of biological order a cell can only form when chemical components orient motion around a collective central chemical code; on the level of symbolic order a society can only form when conscious components orient motion around collective central linguistic code.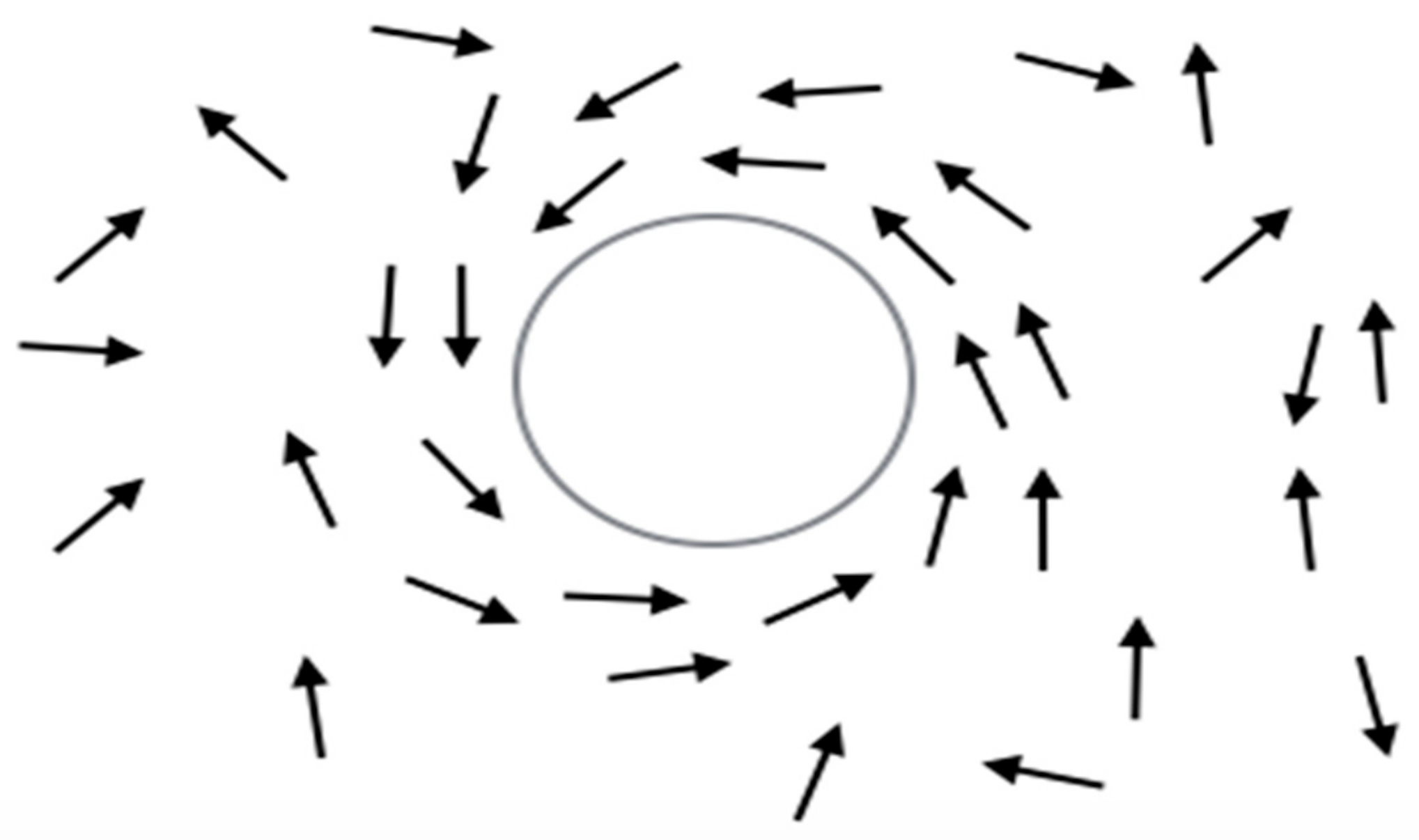 Figure 5. Thermodynamics view of the cosmos, primordial order to final disorder. The thermodynamics view of the cosmos gives the picture of a universe with particular low-entropy, highly ordered or supersymmetrical initial state of being (non-random motion). This initial state drifts towards higher-entropy, global disorder (random motion) over time via symmetry breaking events (divisions) and feedback loops (unities) which generates a motion that we understand as an arrow of time. Consequently, in the context of the universe as a whole (considering the whole of space and the whole of time) the most common state space for matter is general disorganization (thermal equilibrium) due to low material interaction rates, which suggests that the currently observed state of the universe is ultimately unstable. The multi-local material order that does self-organize into persistent temporal form (galaxies, stars, life, mind) occurs due to gravitational attraction acting on heterogeneous distributions of organization which enables higher material interaction rates. In our current understanding of the universe there is no complete theory that explains the fundamental consequence of the emergence of such multi-local order, and reductionist perspectives tend to regard such phenomena as epiphenomenal. In other words, reductionist perspectives identify a fundamental objectivity (unity) framed a priori by a subjectivity (division), but cannot think a framed a priori subjectivity (division) that constitutes an emergent fundamental objectivity (unity).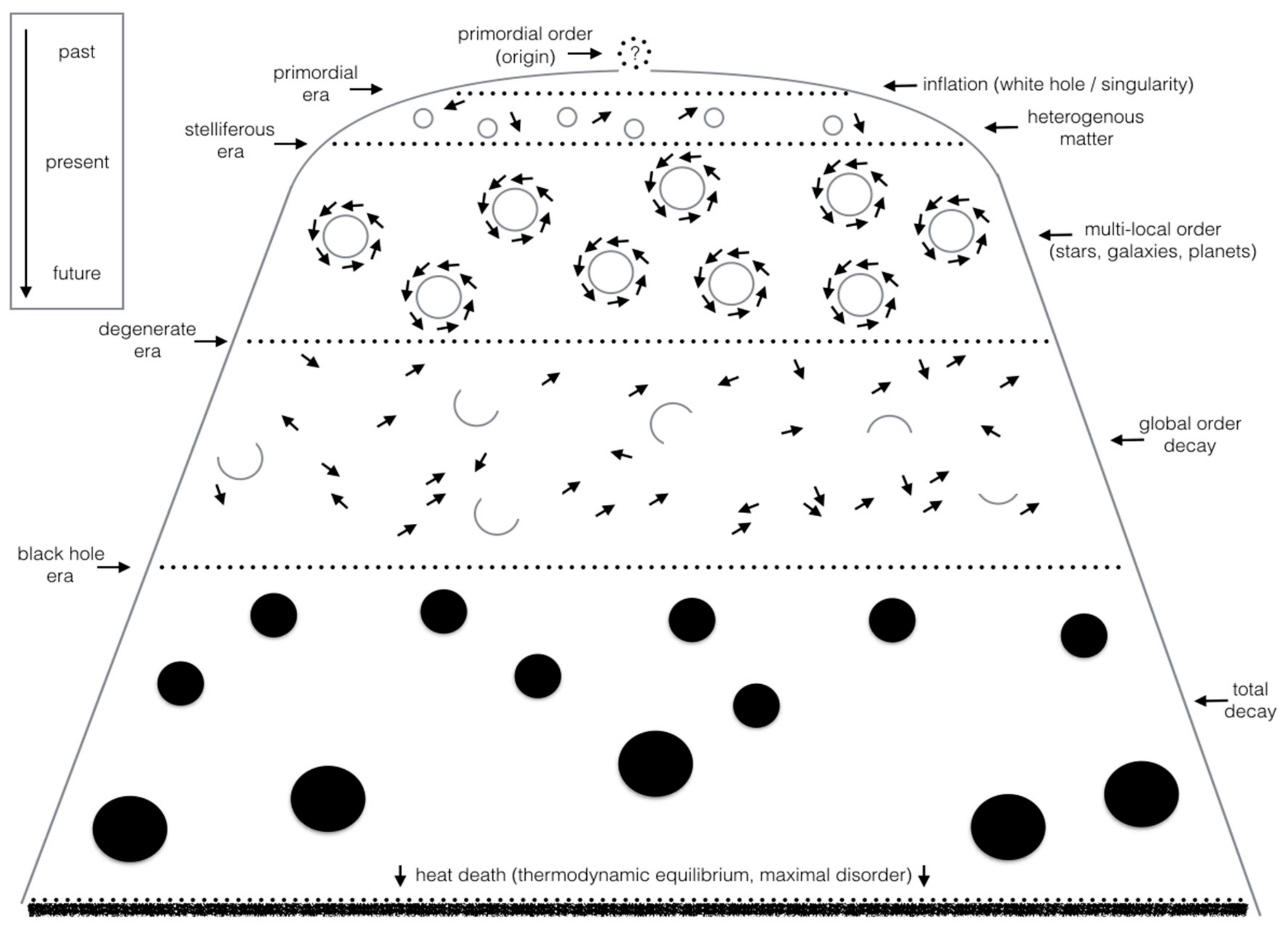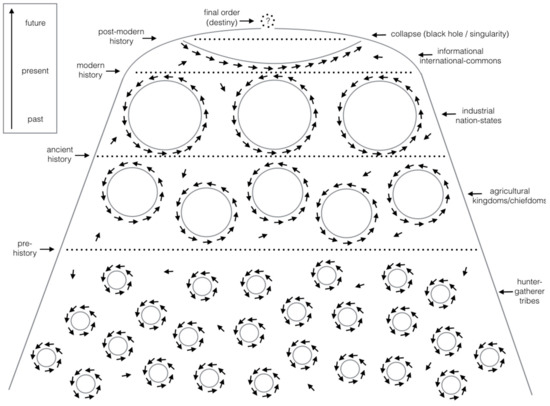 Figure 6. Teleodynamic view of the (local) cosmos, primordial disorder to final order. The above representation attempts to capture the cosmic evolutionary worldview that is characterized by far-from-equilibrium or non-equilibrium systems that operate on self-organizing principles dynamically balanced between chaos and order. In the teleodynamic conception we get an image of the world that presents us with an immanent 'immortal heat' where highly ordered far-from equilibrium systems curve their being to a state of supersymmetrical unity (a cosmic-transcendental monism). Such a state would likely annihilate the dualistic distinctions between subject-object, concept-world, observer-observed, material-ideal without resorting to a pre-linguistic 'biophysical grounding' that ignores the emergence and consequences of conceptual distinctions (i.e., 'distinction-division dynamics'). In this representation the totality of process is conceived of as starting with the emergence of a field composed of ideationally constituted social unites (bands/tribes) whose ground is self-consciousness developing in language. Throughout the historical process bands/tribes become progressively 'synthesized' into higher level social unities which has the effect of reducing the number of different unified groups (i.e., fewer unities) but increasing the spatial scale of the unified groups (i.e., the difference between Europe pre-and-post Roman Empire, or the Asia pre-and-post Chinese Empire, etc.). In this progressive trend to unification the level of individuation also progressively increases meaning that there are emergent degrees of freedom for the particular elements of the higher level social unities. This paradox between higher social unity and higher individuation continues to the present day where we see the dominance of a 'multiplicity of ideals' which are nonetheless all expressing ideality within one universal technological medium. The combination of these two trends make it difficult for philosophy to make sense of totality. In this view in order to approach totality we must include the radical divisions characteristic of individuation into the higher unity of totality, thus creating a unity inclusive of division.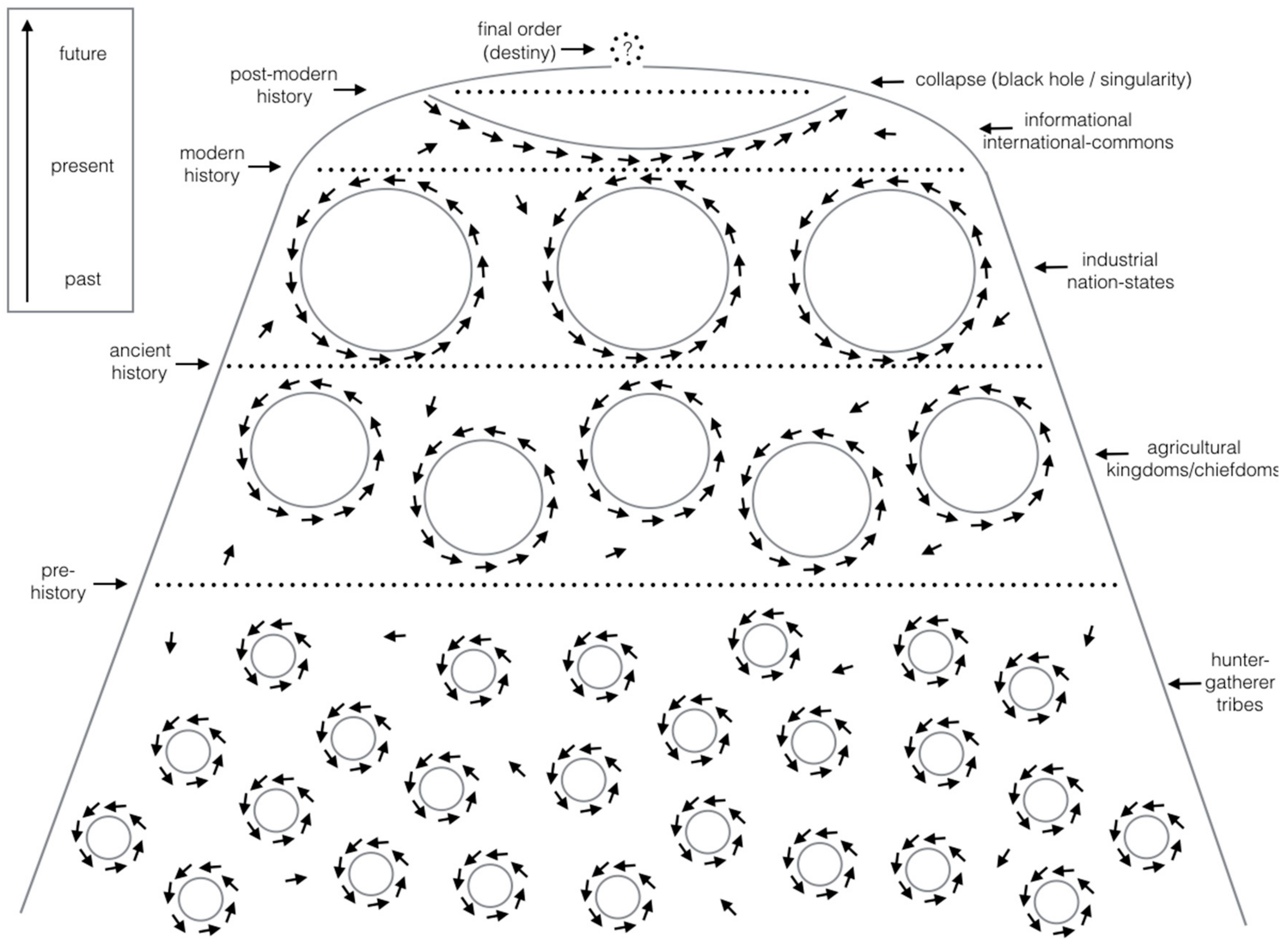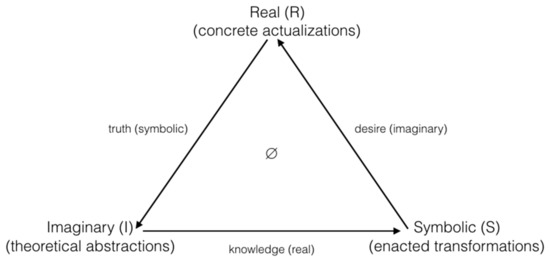 Figure 7. Structural transformations on the transcendental horizon: triad. This structure represents an attempt to formalize the geometry of the mental space which becomes entangled with the world. From this entanglement we see the motion of the dynamical geometry of the mental space as concretizing new reals from knowledge by processing imaginary desire through symbolic truth acts. First, the subject that intervenes/transforms emerges from the concrete real in relation to an imaginary field or screen. This field or screen becomes the invisible location of the subject's thought on its perceptual horizon of becoming and reveals to the subject an object of desire which motivates it to intervene/transform the real towards a more ideal order. The subject achieves such interventions/transformations through introducing the symbolic to the real in the form of speech, writing, poetry, song, equations, jokes, and various other formalisms. From introducing the symbolic into the real the subject becomes fundamentally entangled, correlated, and/or caught up in a web of interactions with the real and thus measures its symbolic on the terms of which the real returns its message as truth (intervention/transformation). In these processes all three elements of the imaginary-symbolic-real are simultaneously co-present: the real of knowledge is present when the imaginary theoretical abstractions collapse into enacted symbolic transformations; the imaginary of desire is present when enacted symbolic transformations attempt a real concrete actualization; and the symbolic truth is there when the real of concrete actualizations informs theoretical abstractions of the imaginary. In this scheme 'knowledge' is 'real' because knowledge is the concrete actualization of the subject, 'desire' is 'imaginary' because desire represents an absent actualization, and 'truth' is 'symbolic' because truth is what returns to the subject from the real (an 'answer' from the real that 'emerges' due to our own interventions/transformations). In order to interpret and utilize this structural triad it is crucial that one conceives of it as always-already ('eternally') in motion and constantly re-setting its coordinates in a network of such structures which compose the geometric space of the four-dimensional transcendental horizon. The central Ø denotes that 'beyond' or 'behind' the transcendental horizon there is nothing other than the void of our subjectivity which we project (imaginary) and enact (symbolic) into the real. In this way such an analysis attempts to think a dynamical real virtual thing-in-itself (between order-chaos, dreams-obstacles, goals-challenges, presences-absences etc.) that is both open and incomplete making the 'thing' dependent on subjectivity for its own identity and becoming due to a division that is fundamental for the appearance of subjectivity as such.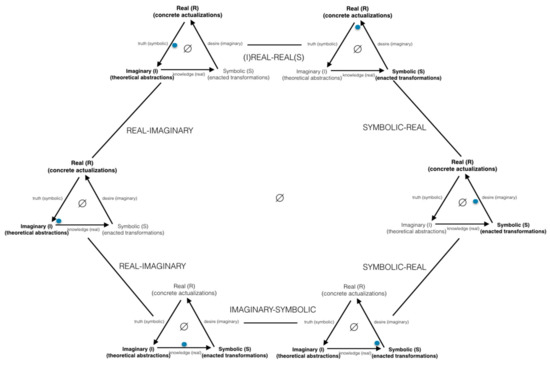 Figure 8.
Structural transformations on the transcendental horizon: cyclohedron. The geometry of the triad is a classical structure of logic used to study the nature of the human mind (e.g., for psychoanalysis: [
85
]; and philosophy: [
86
]; see also: [
87
]). However, in order to capture a larger view of totality in triadic transformation we must also represent the dynamical motion with a higher dimensional cyclohedron representing the circular-orbital temporality of desire (blue dot, objet a) as it passes from imaginary-symbolic, symbolic-real, and real-imaginary. Cyclohedrons complexify triads in geometrical analyses used to study knot invariants ([
88
,
89
]). Here knot invariants are desire deadlocks (points of impossibility) fundamental to understanding the structure of pure desire. In this frame 'knots' can be located on the level of the symbolic transformation which generates a perceived subjective separation/connection (in space) and distance/closeness (in time) from the 'real event' as the 'desired state' (ideal-real). In other words, when symbolic transformations 'miss' on returning from the real there is a subjective emptiness (filled only with the real of imaginary potentiality), and when symbolic transformations 'hit' on return from the real there is a subjective fullness (where the imaginary intersects with the real actuality of desire).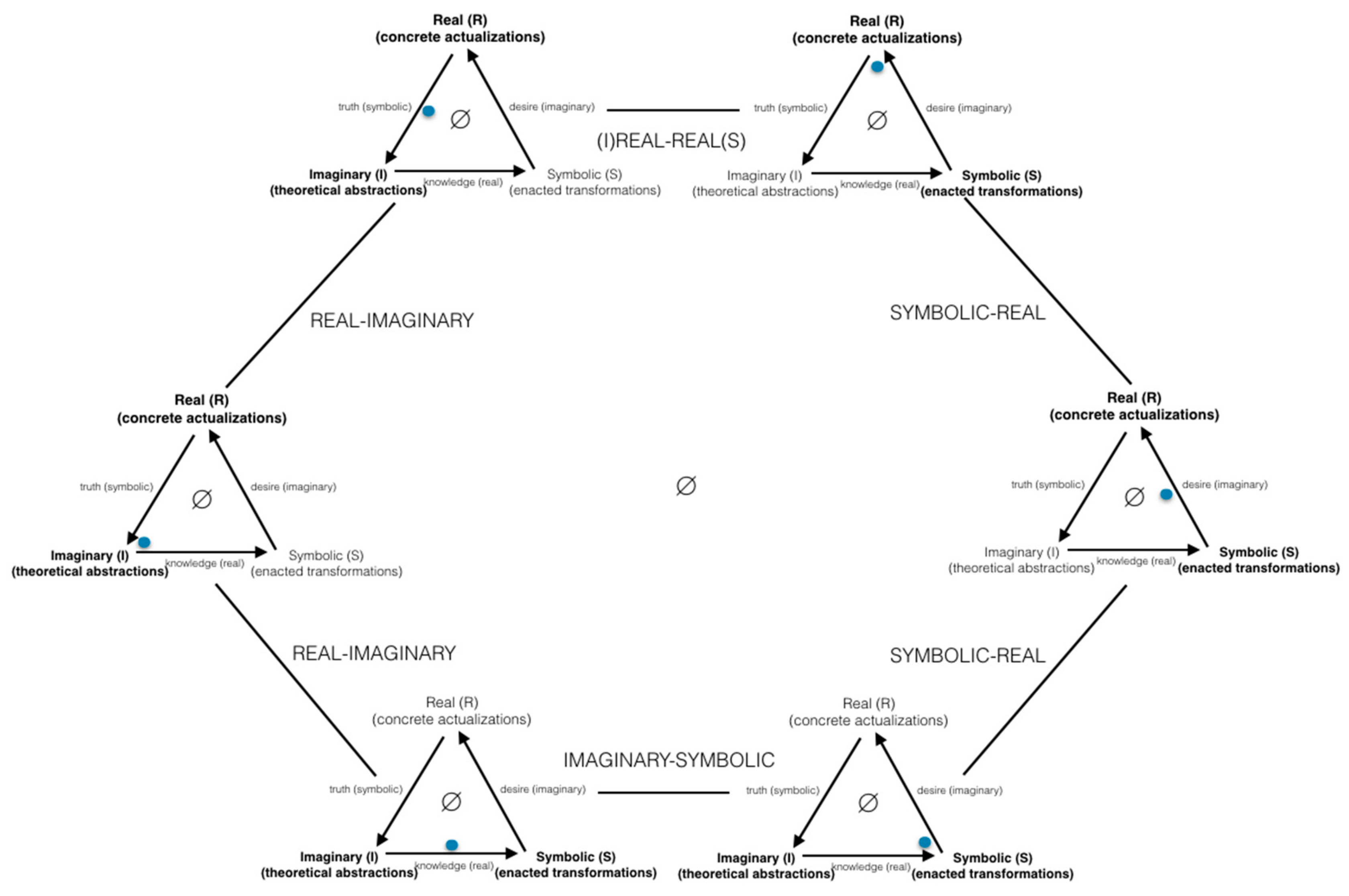 Figure 9. Structural transformations on the transcendental horizon: not-One. In the higher orders of Self we find a Unity in the not-One where the Real of openness and incompletion is fundamental to the Self's internal Unity. The inner discovery of this Unity shifts the subject from a mode of pure desire to pure drive. In the mode of pure drive the gap/difference the Imaginary detects in the Real produces a Symbolic rotary motion of pure enjoyment (ideal-real) where desire is 'eternal'.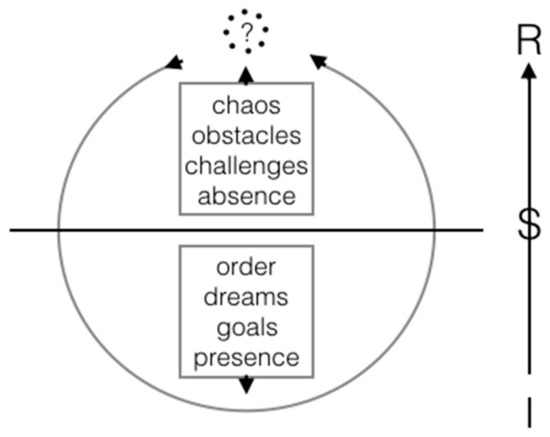 Figure 10. Totality as not-One, dynamical structure of the transcendental horizon. The totality or 'thing-in-itself' is not only 'real virtuality' but in-itself a dynamical becoming (making it 'not-One'). This not-One is thus irreducibly dual (subject-object, concept-world, human-nature, mind-matter, etc.) and split between ontology/being that resists and epistemology/knowledge that insists. On the ontological side of the 'impossible thing' which resists our grasp we may place the domain of chaos, obstacles, challenges, and absences; and on the side of the 'transforming consciousness' we can place the insistent grasping domain of order, dreams, goals, and presences. The subject caught up in the triad of the imaginary-symbolic-real of this process (self arrow) is what dynamically traverses both sides of the dividing line between order-chaos, dreams-obstacles, goals-challenges, presence-absence in an asymmetrical future-directed motion. In other words the subject is what invades being with epistemological insistences ('projects'), and experiences in return ontological resistances. The subject attempts to bring order to chaos, achieve dreams that overcome obstacles, reach goals that nihilate challenges, and to make present which was once absent through its symbolic transformations. In analysis of this open and incomplete 'thing-in-itself' can we possibly think the actualization of the thing-in-itself as One or is totality nothing but reducible to this impossibility as not-One? What is in the end the status of this gap/difference internal to the thing-in-itself?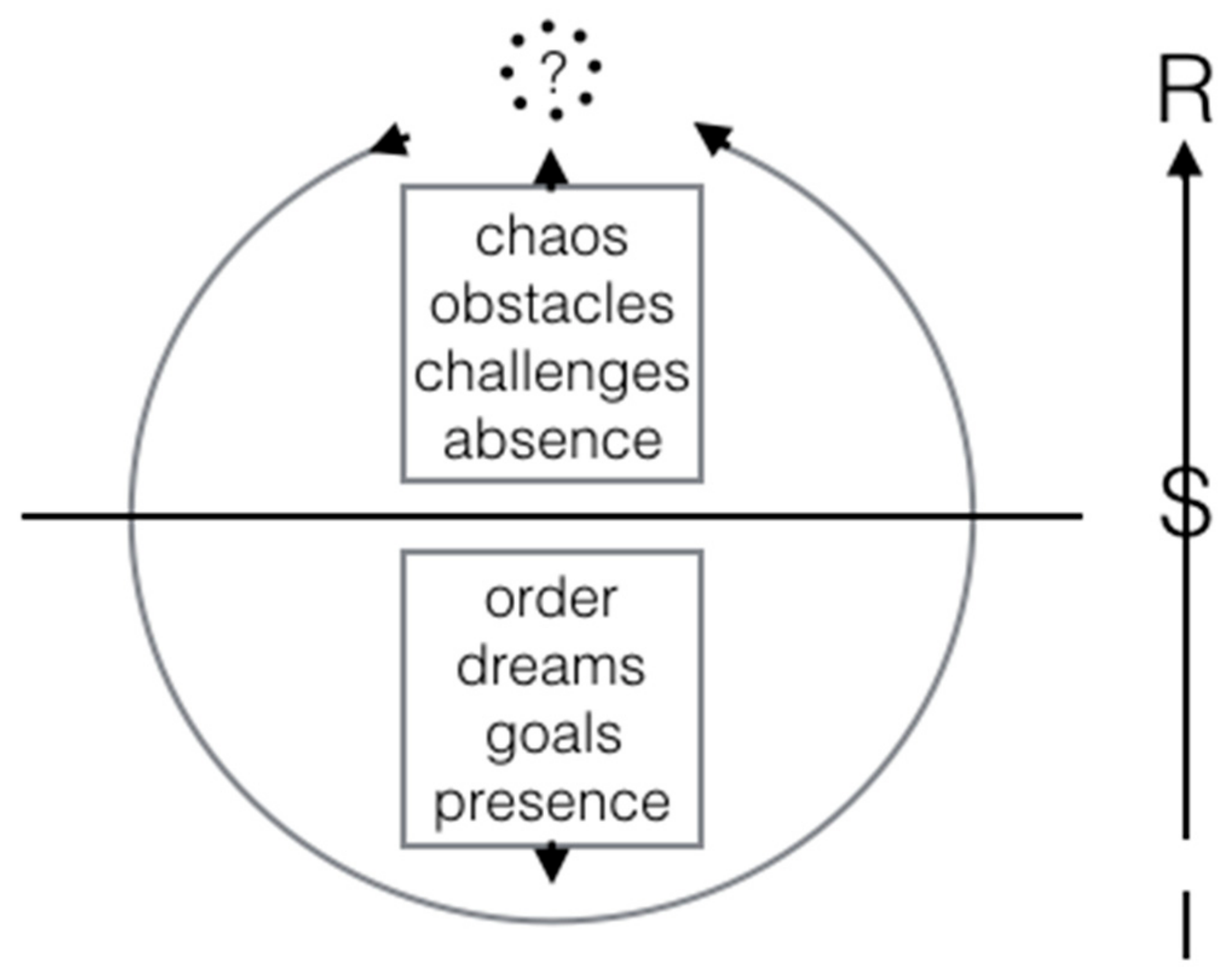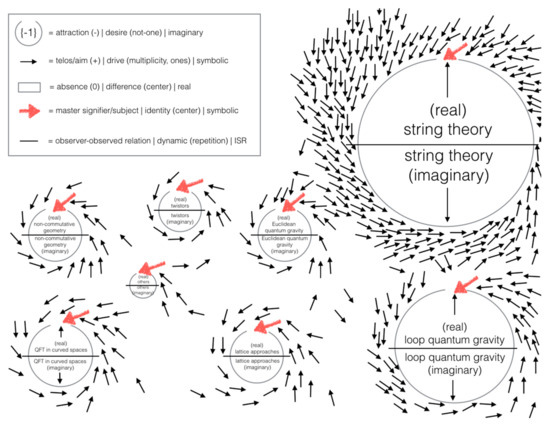 Figure 11.
Psychosocial virtual field of physics communities. The above figure attempts to capture the general psychosocial virtual field of quantum gravity in relationship to the main abstract theoretical groups (imaginary) which aim to transform the concept-world relation through enacted transformations (symbolic) by concretely actualizing the 'true' understanding of quantum gravity (real). The red arrows represent a 'master signifier' or 'main subject' which could be dominant concept(s) or person(s) in the respective fields (i.e., 'strings' and 'Ed Witten' or 'loops' and 'Lee Smolin') which orient the symbolic weight and aim (topography of black arrows) of the ideational field in relation to the absent real. The closer the network of arrows/signifiers to the real the closer they are to the in-itself of the social-historical meaning of the semiosphere. For example, black arrows (symbolic transformations) close to the site of the real may be fellow professors or graduate students with the trailing arrows representing lower levels of relation to the site of the real, i.e., colleagues, other scientists, educated public, undergraduate students, etc. In these relations the bar of the circles represents the dynamic border of the 'thing' (from order/dream/goal to chaos/obstacle/challenge and back) that can be symbolically conceptualized in light of the linguistic formalisms S|s denoting the signifier's freedom and autonomy over and above the signified [
98
]. This is best demonstrated by physics communities whose signifying chain tends towards the in-itself of internal-imaginary consistency before it is validated by the return from the real. These represented social systems can be divided down the 'three main roads' of quantum gravity, i.e., (1) approaches that start with quantum mechanics (e.g., string theory, QFT in curved spaces), (2) approaches that start with general relativity (e.g., loop quantum gravity, twistors), and (3) approaches that start from novel presuppositions that rethink the foundation of both quantum mechanics and general relativity (e.g., 'others') [
99
]. The specific sizes of the psychosocial gravitational fields in this representation correspond to data collected by Carlo Rovelli at the International Congress on General Relativity and Gravitation on the count of articles published in each respective field of quantum gravity [
100
]. Of course what this representation does not capture (requiring more sophisticated modelling) is the dynamic motion, the interaction, and the change over time of these communities. Such a model could potentially approach questions about why many different socially constituted physics tribes seem to be able to produce correct solutions to the origin and fate of matter with different fundamental constituents of quantum gravity [
101
] and thus also potentially help produce a higher order relational understanding of reductionist attempts at complete-closed grand unified theory modelling.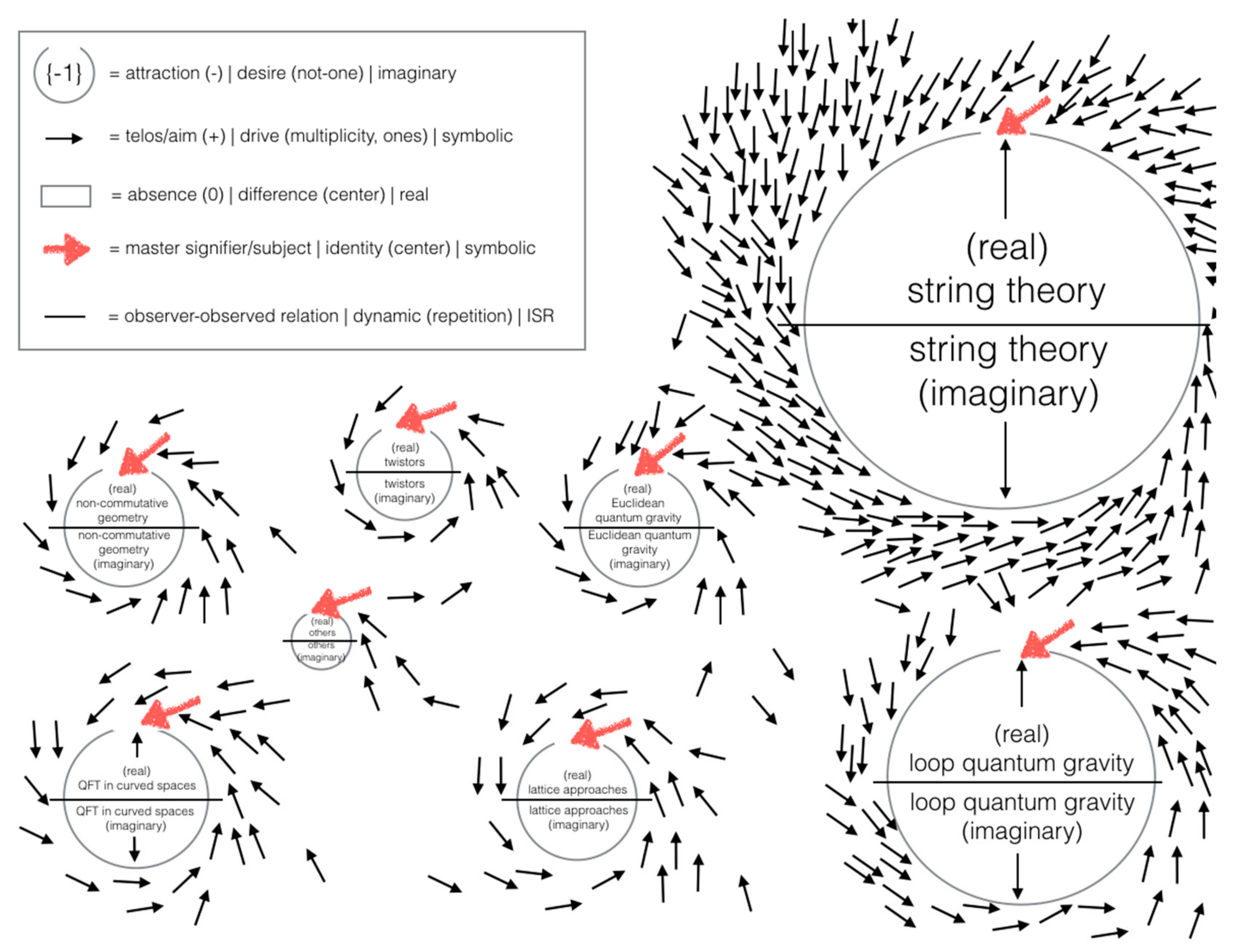 Figure 12. Transmodern totality. We represent a transmodern totality where the general motion of the human mind as symbolic emerges from the physical world as imaginary and starts to circulate around its own emergent desire for internal unity as real. The consequence of this general motion deployed in historicity produces a multiplicity of unities such as transcendental superspaces, physical laws, and secular power that stand in as paradoxical somethings where the real as a closed and completed circular is absent or impossible. In this sense all historical forms of the eternal real should ultimately be deconstructed on the level of external positing. However, all external positing of an eternal real ultimately emerge because of self-alienation as they represent the eternal real that emerges internal to the subject. In this way we find a real that is a multiplicity of unities internal to each individuated observer. Thus, the transmodern real offers the view that each subject is capable of creating its own world out of its own individuated symbolic transformations. Here the transcendental superspace, physical laws, and secular power all disappear as ultimately historical fictions on the level of specular images.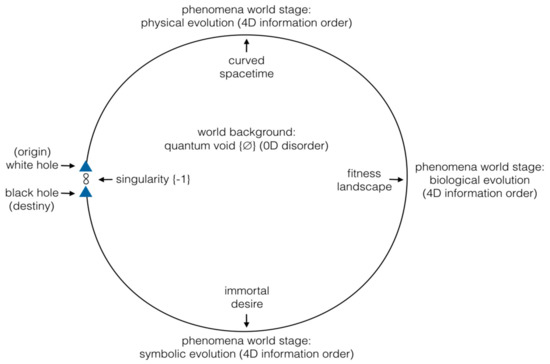 Figure 13. Cosmic evolution and dialectic connecting beginning and end. In this representation, we see the contemporary cosmic evolutionary process that can be divided between physical evolution of curved spacetime, biological evolution of fitness landscapes, and symbolic evolution of immortal desire. Here, although highly speculative, we can start to entertain a potential theoretical link between the mystery of the ordered astrophysical singularity at the beginning of spacetime and the mystery of the destiny of ordered evolutionary processes. From this link, we are asked to think the way in which the horizon of ideation can be possibly inscribed into the immanence of cosmic-physical processes via the inclusion of a type of extreme primordial and emergent curvature where evolutionary change can be reconciled with eternity. The true question here becomes the ultimate nature of the 'eternity'. Here, it is negativized (−1) as absent in the historical process since its presence would nihilate our 4D existence. However, the possibility of the actualizing and perceiving higher super-symmetrical dimensions is mathematically real and experientially realizable given the known future technological possibility space available to future observers.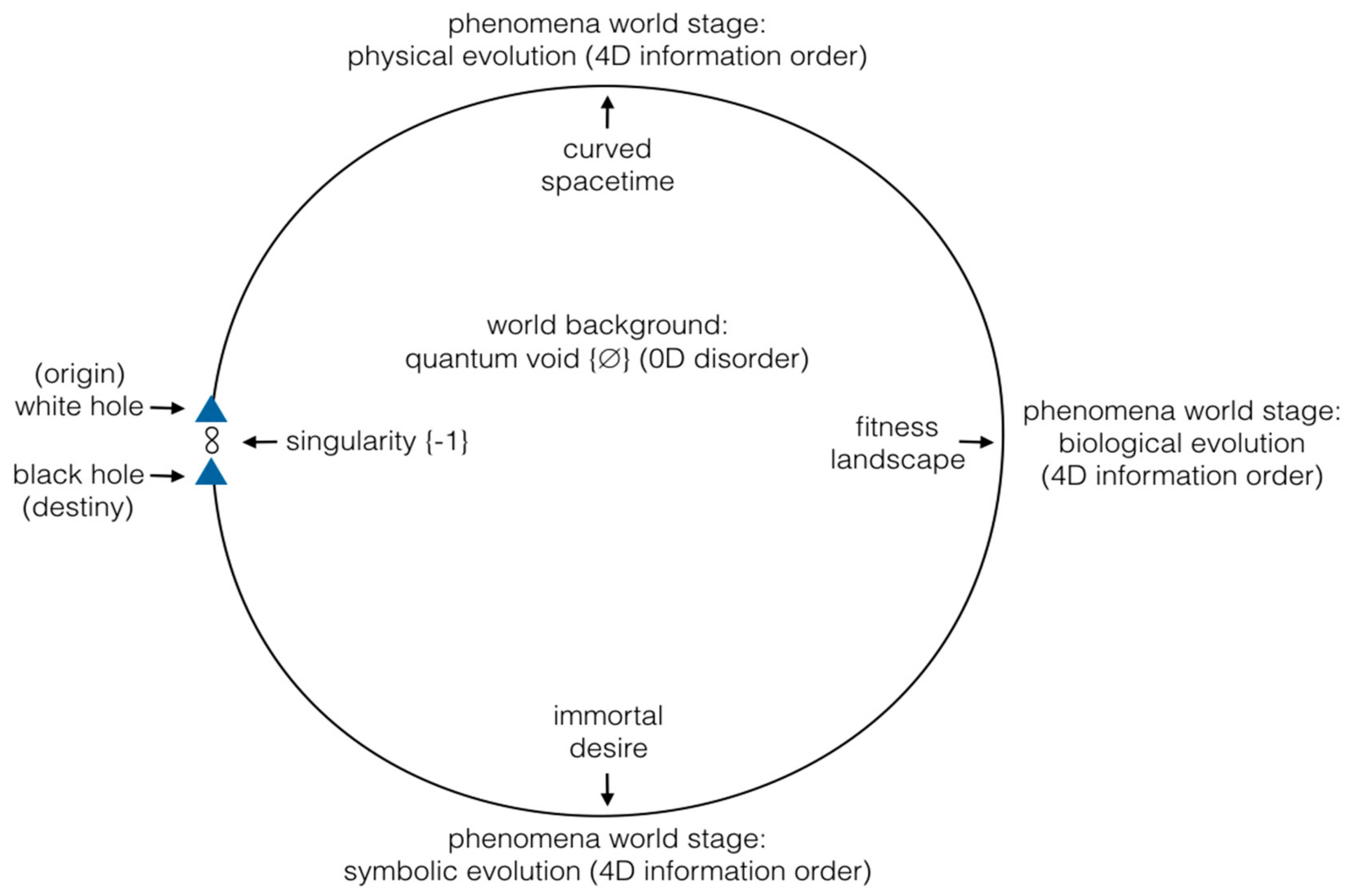 Table 1. Potential large-scale singularity consequences for self-consciousness. The radical unknown and unpredictable future horizon of human becoming in relationship to scientific advancements in robotics, artificial intelligence, nanotechnology, genetics, and other possible actualizations is becoming a growing and central concern of human evolution, possibly requiring dialectical analysis. In this dialectical analysis the internal horizon of negative-affirmative ideality structures becoming around a center singularity.
| Pathway. | Phenomena |
| --- | --- |
| Artificial Intelligence (AI) Scenario | Super-intelligent/conscious technological systems replace biocultural humans |
| Intelligence Amplification (IA) Scenario | Biocultural humans transform their being with technological systems becoming trans/post-humans |
| AI-IA Scenario | Complex interrelation of both organizational processes occur |

© 2018 by the authors. Licensee MDPI, Basel, Switzerland. This article is an open access article distributed under the terms and conditions of the Creative Commons Attribution (CC BY) license (http://creativecommons.org/licenses/by/4.0/).