Open Access This article is
freely available
re-usable
Article
Impact of Religious Self-Identification and Church Attendance on Social Distance toward Muslims
1
Department of Sociology, Faculty of Humanities and Social Sciences, University of Split, Poljička Cesta 35, 21000 Split, Croatia
2
Department of Psychology, Faculty of Humanities and Social Sciences, University of Split, Poljička Cesta 35, 21000 Split, Croatia
†
These authors contributed equally to this work.

Received: 19 March 2019 / Accepted: 4 April 2019 / Published: 17 April 2019
Abstract
:
In the context of our work, we want to point out how religion has multiple social functions and as such, under certain circumstances, can serve as a fertile soil for distance and closeness. The aim of this study was to explore the impact of religious self-identification and church attendance on social distance toward Muslims. We applied a questionnaire to students of the University of Split, the city which is geographically in vicinity of the complex of ethnic and religious context of Bosnia and Herzegovina. The results showed that religious self-identification and church attendance significantly influence the level of social distance toward Muslims. Believers showed a significantly higher level of social distance, in comparison to respondents who belong but not believe, and others. Respondents who attend church daily or once a week have also a higher level of social distance in comparison to respondents who attend church monthly or rarely and those who never attend church. We have tried to explain the reasons for such research findings, relying on various national, cultural, religious and psychological factors that have been present in the last twenty years after the war in this region.
Keywords:
social distance; political religion; religion self identification; church attendance; Islam; Muslims; Christian
1. Introduction
We have accessed the empirical data collection within a multiple theoretical framework. The first part analyzes social distance in the socio-historical cultural context and intertwined realationship between religion and nation in Croatia and its product—political instrumentalization of religion i.e., political Catholicism, while the second deals with theory of social distance and religious factors of social distance.
1.1. Social Distance and Context of Social Integration
Stereotypes and demonizing metaphors—political Catholicism as well as any ideology does not endorse scientific argumentation but uses phrases, slogans and stereotypes. For the purpose of Catholic integrism, sacred texts are used and they are overly synchronously interpreted. History is full of mythological images of ourselves as victims and full of demonizing metaphors and images of others.
Anti-Communism—one of the main components of the current Croatian political Catholicism is anti-communism manipulated by various traders and perpetrators.
Pre-council Catholicism—political Catholics do not accept the Council or make it very selective. The Church (in Croatia) is a prehistoric entity today, and political Catholicism overcomes the conceptual Christianity, and the tradition overcomes modernity.
In this sense, our important subject of the research refers to the religiosity that insists less on Christian teaching, theology, and much more on the rituals and symbols which had been internalized through specific religious self-identification and Church attendance.
Since social distance is closely related to the broader socio-political situation, it is not necessary to over-emphasize the influence of the current geopolitical situation in the Middle East and the omnipresence of "Islamic terrorism" in daily media life of the West as well as of the Republic of Croatia. These phenomena certainly can (and probably they have already done it) create the environment and the overall socio-political context for developing negative attitudes toward Muslims and Islam in the West as well as its satellite countries (which Croatia certainly is).
1.2. Self—Identification and Religious—Practice in the Context of Social Integration
Furthermore, aforementioned research was conducted during spring 2015, or around half a year before the arrival of the refugee wave in Croatia. Since our research was carried out during the migration and refugee crisis that have been shaking Europe (and thus also Croatia) and since the research was done during the increasingly frequent terrorist attacks in European cities, we were interested in attitudes and opinions about Muslims under changed circumstances, i.e., whether and to what extent there is an impact of religion self-identification and church attendance on social distance shown toward them.
2. Methods
Religious self-identification of respondents is measured by the continuum of six offered categories—I am a convinced believer and accept all that my religion teaches; I am religious, though I do not accept all that my religion teaches; I think a lot about it, but I am not sure whether I believe or not; I am indifferent toward religion; I am not religious, although I have nothing against religion; I am not religious and I am opponent to religion—each respondent classifying herself/himself in one of them.
The scale of religious self-identification has been used since the 1960s by the Institute for Social Research in Zagreb. In the first research of religiosity in the Zagreb region in 1968, B. Bosnjak and S. Bahtijarevic took the scale over from the Center for the Study of Religion at the "High School for Sociology, Political Science and Journalism" in Ljubljana. The reasons for the use were comparative; namely, such a scale made it possible to distinguish also the levels within the category of religious and category of non-religious subjects as well as those in-between these two types of relationship to religion (uncertain and indifferent ones) (
Bezinović et al. 2005
).
The second studied independent variable of religious practice can be taken as an indicator of the degree of belonging to a particular religious group, but it should be observed separately because there are typologies of practical believers with a low sense of belonging to the community (in many churches of modern society, both Catholic and Lutheran) (
Acquaviva and Pace 1996
). It was included in this research in order to gain insight into the frequency of attending church or religious ceremonies.
Based on previous research (
Blažević Simić 2011
;
Malenica 2007
;
Marinović Jerolimov 2008
), we assumed that religious distance is widespread in terms of religious self-identification and religious practice of respondents, in which (1) convicted believers and (2) those who regularly attend religious practices will show greater distance to Muslims and Islam.
2.1. Questionnaire, Procedures and Participants
For our research measuring instrument, we chose a survey questionnaire, which is often used in sociology as a tool for collecting and analyzing the views and opinions of a large number of respondents.
The questionnaire consisted of 29 questions, mostly closed type, and besides the standard questions and possible answers, the Bogardus social distance scale and Likert scale were used for individual variables (with the range of answers 1—I completely disagree to 5—I completely agree). The concept of social distance refers to a continuum that moves from intimate relationships through indifferent to hostile ones while the scale consists of seven classifications and the respondents indicate one that they consider to be appropriate to their position.
As far as the distance toward social groups is concerned, the continuum begins with the classification of readiness to have a close relationship through marriage, which represents the most intimate degree of closeness, and ends with the classification of exclusion from the state that represents the highest degree of distance toward that group. Generally, in surveys using this scale, it is assumed that the scale is evenly graded so that respondents, marking one of the seven offered responses, accept all other responses that are less intimate than the indicated response in terms of the degree of closeness.
However, we decided to use a modified Bogardus scale consisting of nine assertions. In fact, it was a synthesis of Bogardus and Likert scales with the offered answers from 1 (I completely disagree) to 5 (I completely agree). Therefore, each classification is separate and each of them shows the degree of agreement. We have based our criticisms on three cognitions of the Bogardus scale: (1) assumption of equal intervals between the points of the scale, (2) assumption that each point is necessarily above the other preceding it, and (3) the fact that we can only test the reliability with the awkward test–re-test technique. Our revisions were an attempt to increase the reliability and sensitivity of the scale itself, though, by accepting some of the items listed, respondents do not necessarily have to accept all other items included in the same scale. Although this modification so far has not been applied in sociological methodology (and, hence, it is not accepted as valid and reliable), in this way, it is possible to measure values for each social distance indicator separately, avoiding discussion of the equal intervals between the scale points. In addition, it gave the respondents possibility to express an attitude for each statement separately without being forced to accept or reject it absolutely.
For the purpose of this paper, a probabilistic, stratified sample of 286 respondents (
n
= 286) was identified, all of whom are students of the University of Split, although it would be interesting to see data for the entire population of Split or Croatia in the near future. In our case, the control stratums in the sample were represented by a certain study orientation of our students so that the sample was divided into four categories: students of social sciences, humanities, natural sciences and technical sciences. This suited the individual goals and hypotheses of our paper.
As far as sample structure is concerned, 39 percent of men and 60 percent of women participated in the study, while 1 percent of respondents did not answer this question. The sample was stratified by the type of study orientation, so that following students participated in the study: students of humanities (24.5 percent), social sciences (27 percent), natural sciences (25 percent) and technical sciences (23.5 percent).
Most of them were second-year students (40 percent) and third-year students (39.5 percent). The highest percentage of the respondents said their mothers (guardians) finished a secondary vocational school (54.5 percent) or had a higher education or university degree (22 percent), while 54 percent of respondents indicated that their fathers finished a secondary vocational school. Additionally, 14.5 percent of respondents said their fathers had a higher and 20.5 percent high education degree. In the categories of the poorest household by monthly income (less than HRK 2000), there are 4.5 percent of respondents in total, while the other categories are more evenly represented. Nevertheless, as expected, the highest percentage (35.5 percent) of respondents are classified into the middle category (HRK 6000.01–10,000).
Furthermore, the sample consists of mostly Catholics (81.5 percent), while no respondent declared herself/himself an Orthodox, Muslim or Jewish, the three most represented religious groups in Croatia. Still, 3 percent of respondents belonged to another religion but no one indicated which one. On the scale of religious self-identification, 38 percent of respondents are identified as convinced believers, while 35.5 percent of them are religious people who do not accept all that their religion teaches. Finally, 37 percent of respondents regularly (daily or weekly) go to church.
2.2. Statistical Analysis
Regarding the relation to Muslims, the total score on social distance was measured by the responses to questions about hypothetical real-life situations. The highest total score on nine items on a five point Likert type scale could be 45 and the lowest could be 9. Data analysis was performed using RStudio (ver. 1.1.463, RStudio, Boston, MA, USA) and R language (
R Core Team 2013
).
Categorical variables were expressed as numbers and percentages. Continuous variables were expressed as the means and standard deviations. Analysis of variance (ANOVA) was used to test the differences in total social distance mean score among three different levels of religious church attendance and religious self-identification variables. The religious church attendance variable divided respondents into three groups: those of them who attend church daily or once a week; monthly or rarely; and those who never attend church. Previously, a religious self-identification variable divided respondents into three groups: believers, belong but do not believe, and others.
3. Results
The results indicate that as many as 17.5 percent of respondents would not accept Muslims as Croatian citizens. The same percentage applies to having Muslim neighbors, with a slightly higher percentage (18 percent) of the disapproval of a Muslim boss at respondents' work. The highest rates of disagreement were obtained for questions of accepting Muslims in their families through marrying them or letting their children marry them (46.5 percent), leading the country (38 percent), having Muslims as relatives through marriage of family members (31 percent) and having Muslim teachers of their children (47 percent).
On the other hand, the smallest distance was obtained in terms of accepting Muslims for socializing (15 percent) and as colleagues at work (11 percent). Thus, almost half of the respondents do not accept marriage with another person if the person is a Muslim, or only a quarter of the respondents (26.5 percent) is ready for it, and the same percentage of respondents cannot assess whether they would accept the marriage or not. Acceptance of Muslim relatives is fairly more pronounced, but, still, almost one third of respondents (31 percent) disagree with this option. On the other hand, almost one third of the respondents would not allow (17.5 percent) or did not know if they would allow (13.5 percent) Muslims to be citizens of Croatia. Still, here we would like to emphasize that these results about accepting marriage with Muslims are not necessarily the result of anti-Muslim sentiments. It is probably that highly religious people of all religions prefer family marriages within their own religious cohort. Thus, that reality is possibly a factor in total social distance scores.
In the second step, we made an analysis of social distance toward Muslims according to two important variables: church attendance and religious self-identification. There were differences in responses and acceptance of Muslims in real-life situations according to questions on social distance scale.
Figure 1
shows that more than 80 percent of students who never attend church accept Muslims in each situation in real-life. For example, 92 percent of them accept that Muslims could teach their children while 83 percent accept that Muslims could be members of their families. On the other hand, only 33 percent of respondents who attend church daily or once a week accept a Muslim as a family member and 66 percent of them accept that Muslims could teach their children.
The second important variable in the research was religious self-identification.
Figure 2
shows that at least 76 percent of respondents who are not believers accept the Muslims in any real-life situation. For example, 92 percent of them accept that Muslims could be their friends while 87 percent accept that Muslims could teach their children and 76 percent that Muslims could be their life partner or married to their children.
The results are quite different in respondents who are believers or respondents who belong but do not believe. Believers accept Muslims in 30 percent of cases as life partners or in marriage with their children while 50% of them would accept Muslims to marry with their family members and 61% accept that Muslims could teach their children.
These results were the reason for significant difference in total score on social distance, which was expressed as a sum of responses on each situation. There were statistically significant differences between religious self-identification groups (F = 14.14,
p
< 0.001).
Figure 3
shows that believers showed statistically significant difference (
p
< 0.01) in social distance mean score (28.1) in comparison to respondents who belong but do not believe (33.5) and others (34.5).
There were also significant impacts of religious service attendance on social distances toward Muslims.
Figure 4
shows that respondents who go to church daily or once a week have a lower level of social distance mean score (28.8) compared to respondents who attend church monthly or rarely (32) and those who never attend church (36.4).
Similar to the ANOVA results on the self-identification variable, there was a statistically significant difference among these scores (F = 12.14,
p
< 0.001). Post hoc analysis shows that respondents who attend church daily or once a week statistically significantly differ from those who attend church monthly or rarely and those who never attend church.
4. Discussion
At the beginning of the discussion, it is necessary to point out that the obtained results on the one side can be understood on the descriptive level and on the other side within the differences in social distance values in regard to mentioned predictors (religious self-identification and religious practice). Therefore, we consider that the analysis of our results needs to be divided into two levels: the first focuses on (1) understanding of the descriptive data of the distance toward Muslims, while the other is directed on (2) social distance differences in regard to the two observed dimensions of religiosity (religious self-identification and religious practice).
The first one we consider as more under the influence of global context that implies the influence of the socio-historical situation of Europe and Western civilization, while the other has more been influenced by local context and the associated social phenomena and processes arose from complex interactions and interrelationships in the latter 30 years in Croatia and former Yugoslavia. Thus, the first level relates to the relevance of the data obtained and analyzes in the European context while the second relates to the national context, which is related to the social and political situation in the Republic of Croatia, and the implications that our results have within it.
Of course, we must not lose sight of the fact that this national context is a part of a wider European context, so it is impossible to strictly specify and isolate it from the continental and even the global context. On the other hand, the socio-political situation in the Republic of Croatia is of particular importance for European context not only because it (since 2013) is one of the members of the European Union, but also because Croatia, given its geographic position and border with Bosnia and Herzegovina, has an important strategic role. The importance of this role is not only manifested in political or economic aspects, but also in the socio-cultural one. For this reason, we would like to offer this research as a small, but significant, scientific contribution to the current social problem.
(1) Why are the values of the distance (at the descriptive level) such as they are?
(2) Why do respondents who declare themselves as convicted believers (accept everything that Christianity teaches) and those who regularly attend religious rituals show greater distance toward Muslims?
Those prejudices make the Other become suspicious of the bad things in a certain society caused by completely different reasons and features, which leads to stereotypes toward the Other and the different. Therefore, the researched question addressing the relationship with Muslims should be viewed as a problem of relationship with the Other. It is a problem that is present in both Croatia and Europe because as society we still do not accept and do not realize that the Other is different and can have and has different opinions, values, culture and customs.
The results of the research also could be improved by introducing better multicultural education into the curriculum of the Croatian educational system and asking for the potential need to implement (paradigmatical) reforms, in which the key emphasis should be placed on the model and efficiency of the system as well as on the satisfaction of the participants who are key factors. In doing so, efficiency should not be determined (solely) by economic parameters and market laws, but primarily by the humanistic efforts that should direct children on their way to adulthood. A necessary option here is the introduction of new subjects and models of education. It is a necessary to change the paradigm, the approach to the Other.
The discussion of transculturality is crucial for human relationships, encounters of cultures, and ultimately the establishment of dialogue as a means of potential reconciliation of different attitudes. If we apply the discussion of transculturality to the relationship between Christians and Muslims, we can notice that, in practice, we are far away from the ideals invoked through this concept. Openness, co-operation, and dialogue with other cultures seem to be too big a bite for today's Europe, which is increasingly being closed in itself due to the current events.
5. Conclusions
In conclusion, we want to mention once again that different dimensions of religiosity may have different impacts on social phenomena and thus on the development of distance. Studies have shown that traumatic childhood experiences, insufficient intercultural education, upbringing in single-parent families, life attitudes, (non)existence of contact with minority groups of a particular society may also influence prejudices toward others (
Allport and Kramer 1946
). Thus, there are a number of factors that should serve as control variables in the research. Therefore, here, we want once more to emphasize that in our work the influence of religiosity as such has not been investigated, nor its spiritual, experiential or intellectual dimension, nor its consequential influence on individual and social morality. We should bear in mind that mere adherence to religious teachings (i.e., subjective, personal appraisal of it) as well as the continuity of religious practice could become a form without content, especially when they are not accompanied by experiential, intellectual and consequential processes.
As a result, we are aware of the limitations and disadvantages of our own work. This primarily applies to the method and instrument used in the research of such a demanding phenomenon as well as the sample itself. However, the research conducted can be seen as a kind of pilot project, and the results obtained can serve as a basis for further (qualitative) research and as an overview of the situation related to the social distance of students in Split toward Muslims. On the other side, our findings could be of great use to policy makers. Regardless of whether EU macro-policies or micro-policies at the national level are concerned, the form of application should be the same; it should include a series of actions and new research "from above" as this is ultimately one of the tasks of policy-makers—to monitor, analyze and understand the developmental processes of a given society and, in accordance with the results and knowledge gained, to plan and implement developmental strategies that will direct the already present processes.
Finally, we are aware of the difficulties and the problems that lie ahead because of multiple—social, cultural, political, religious and value—intergroup differences. Likewise, we are aware that this paper is by no means a complete or completed whole, but marks the beginning of a search for answers, both to those issues that were defined before conducting the research as well as to the issues this paper has generated in its results and conclusions.
Ultimately, we hope that our research will enrich the literature in the field of sociology of religion and religious (Christian and Muslim) dialogue, help break the stereotypical perceptions and prejudices as well as political instrumentalization of religiosity, not only in the context of distance toward Muslims but also to the Other in general. This is of great importance for all of Europe, but especially for its southeast region.
Author Contributions
Conceptualization, K.M. and V.K.; Methodology, K.M. and V.K.; Software, G.K.; Formal Analysis, G.K.; Investigation, K.M., V.K. and G.K.; Writing—Original Draft Preparation, K.M., V.K. and G.K.; Writing—Review & Editing, K.M., V.K. and G.K.; Visualization, G.K.
Funding
This research received no external funding.
Conflicts of Interest
The authors declare no conflict of interest.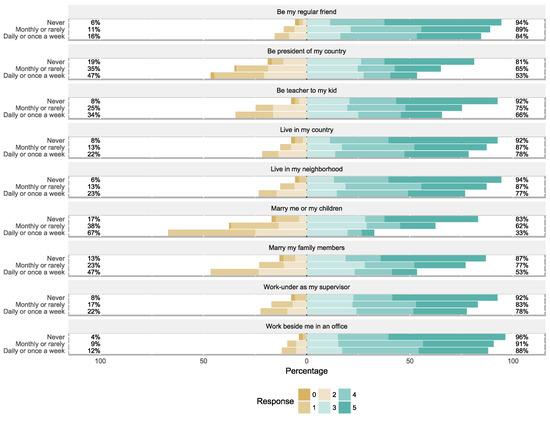 Figure 1. Differences in responses of acceptance of Muslims in real-life situations according to church attendance.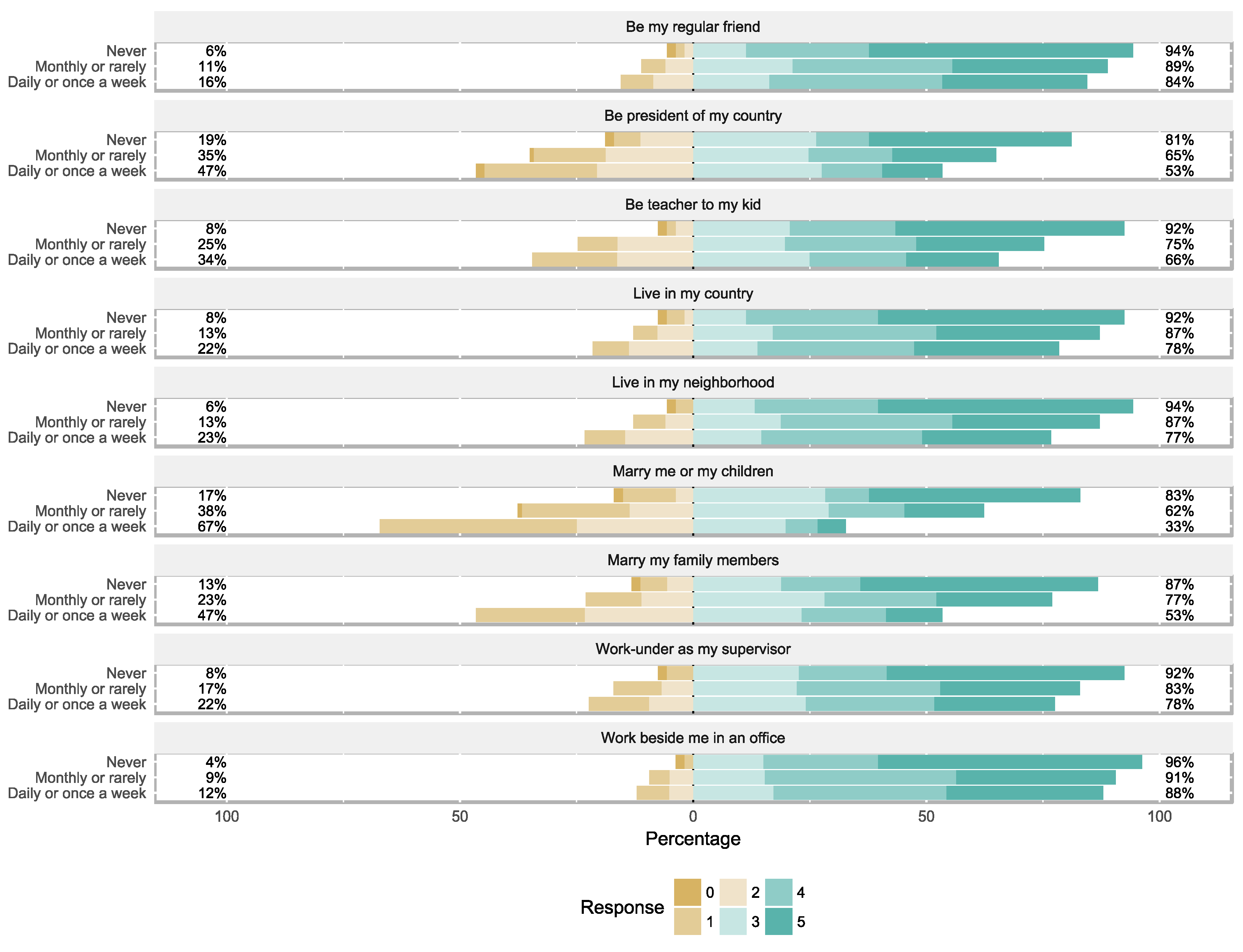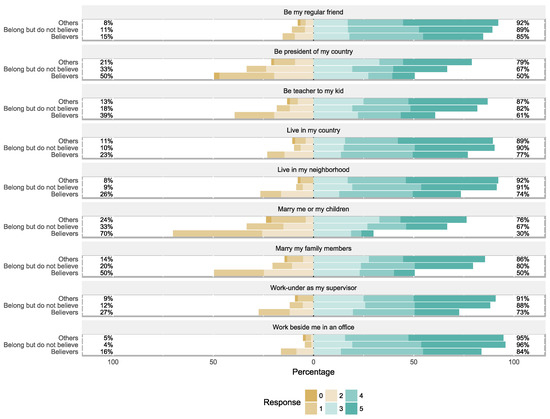 Figure 2. Differences in responses of acceptance of Muslims in real-life situations according to religious self identification.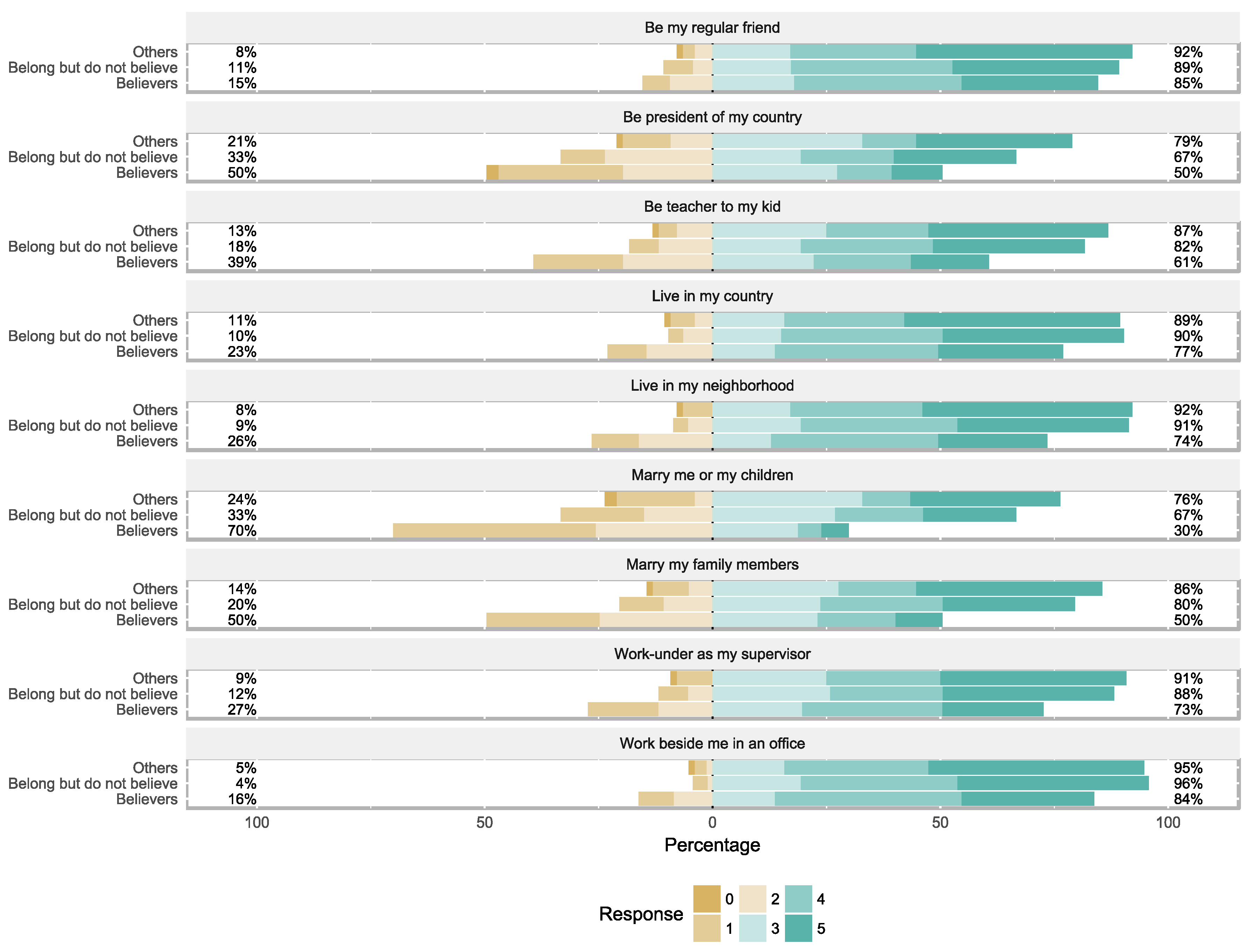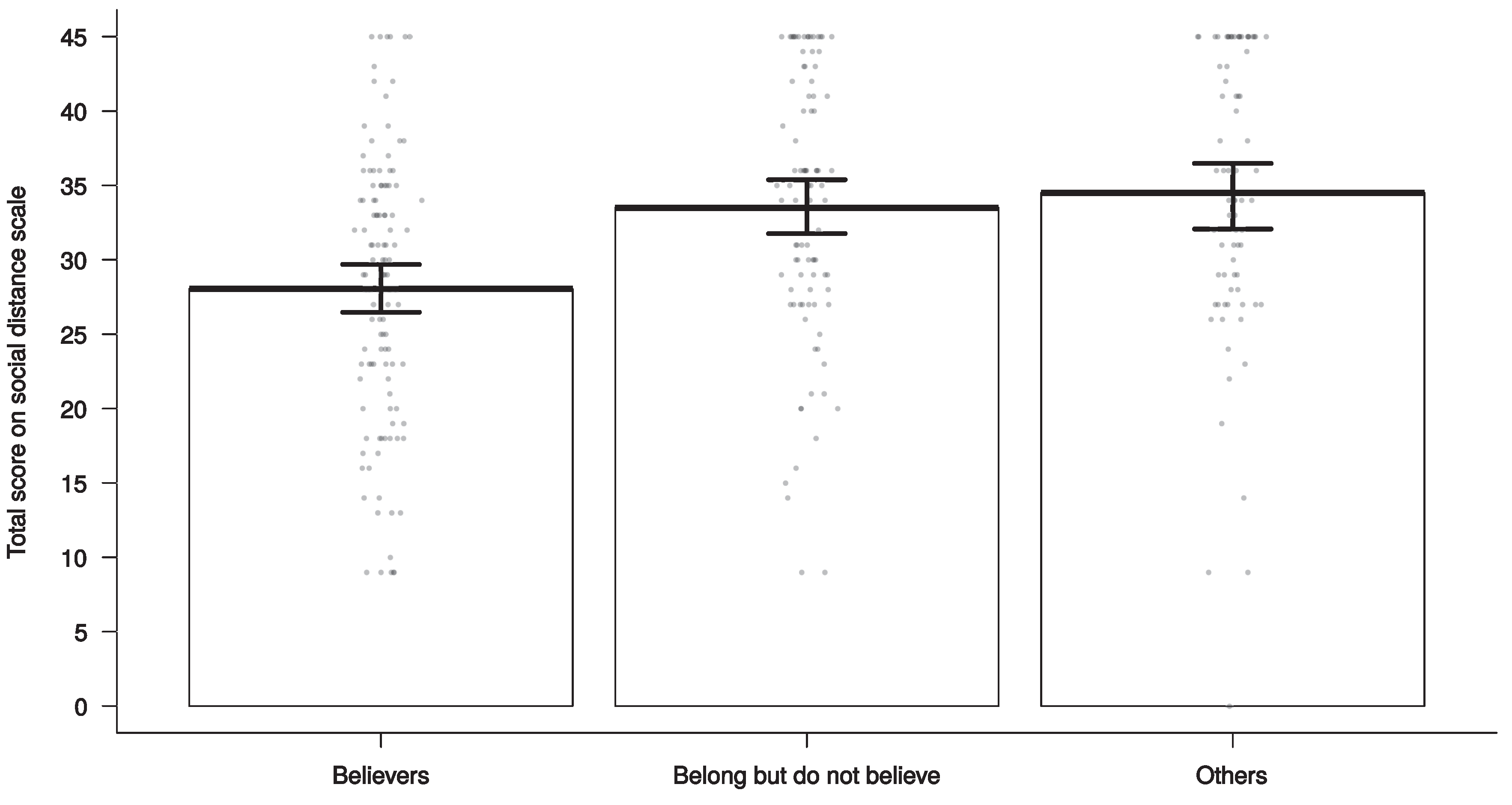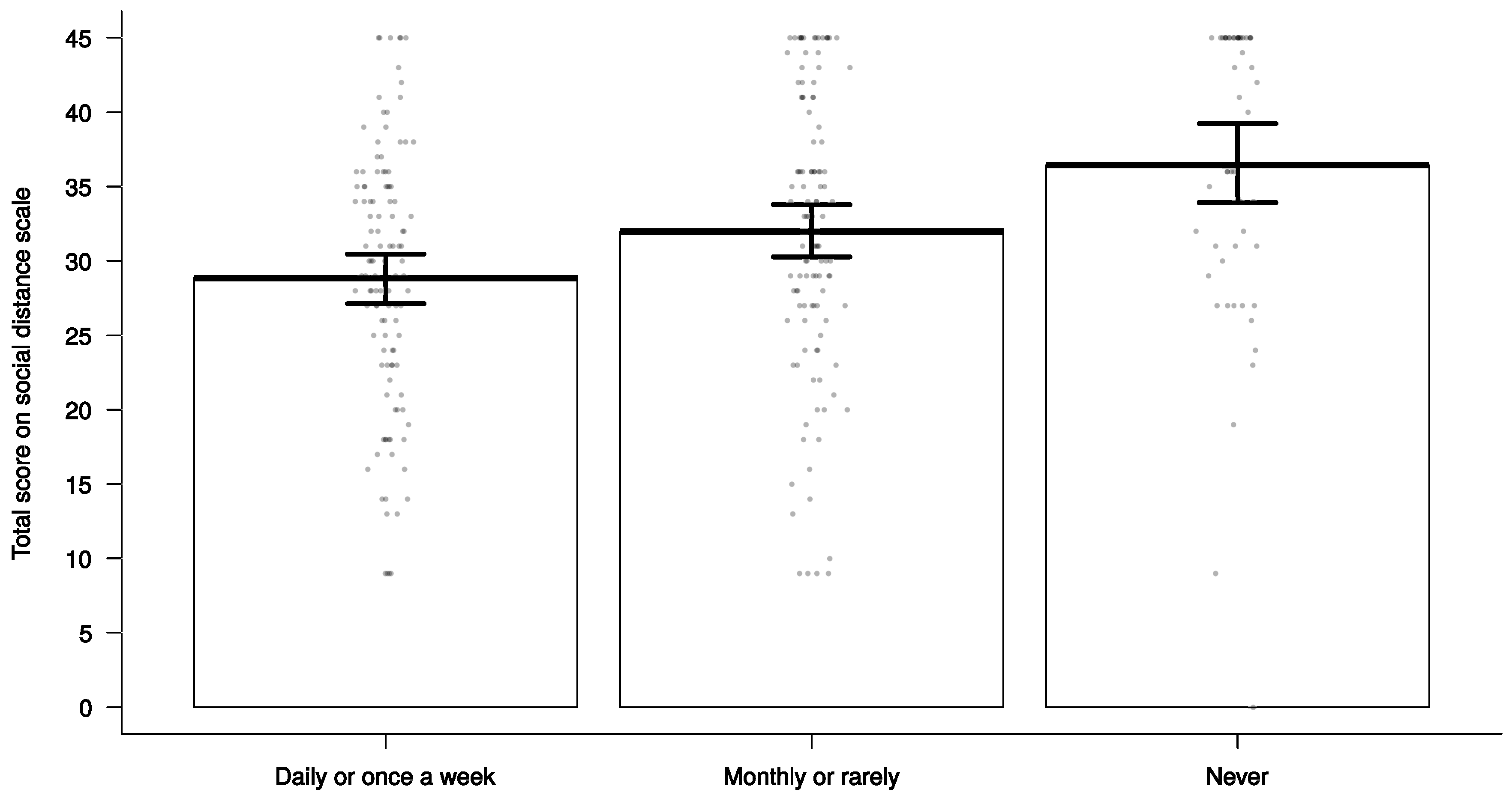 © 2019 by the authors. Licensee MDPI, Basel, Switzerland. This article is an open access article distributed under the terms and conditions of the Creative Commons Attribution (CC BY) license (http://creativecommons.org/licenses/by/4.0/).