Open Access This article is
freely available
re-usable
Article
Heterogeneous Organizational Arrangements in Agrifood Chains: A Governance Value Analysis Perspective on the Sheep and Goat Meat Sector of Italy
1
Faculty of Bioscience and Agro-Food and Environmental Technology, University of Teramo, 64100 Teramo, Italy
2
ALISS, UR1303, INRA, F-94205 Ivry-sur-Seine, France
3
Department of Economics and Law, University of Cassino and Southern Lazio, 03043 Cassino, Italy
*
Authors to whom correspondence should be addressed.
Academic Editors: Paulina Rytkönen, Javier Sanz Cañada and Giovanni Belletti
Received: 13 March 2017 / Accepted: 23 May 2017 / Published: 26 May 2017
Abstract
:
In the Italian agrifood sector, one observes heterogeneity in the types of quality certification processes. This heterogeneity cannot be explained by standard governance theories like transaction costs economics (TCE). We use the governance value analysis (GVA) perspective that synthesizes TCE and a resources-based view (RBV), to suggest that the observed heterogeneity in organizational forms is a result of heterogeneous differentiating strategies that farms have pursued in the face of competitive pricing pressures. To empirically test GVA, data are obtained using a survey methodology on lamb meat produced by local farms in the Abruzzo region of Italy, challenged by price-costs squeeze. Our empirical test evidences the relevance of the adopted approach, enlightening different organizational arrangements, strictly linked to both the strategic positioning and to the farms' resources and core competencies.
Keywords:
governance value analysis; LAFs governance; quality schemes; sheep sector; geographical indications
2. Theoretical Background
3. Methodology
3.1. Sample and Methodology Description
The sector under study is the sheep and goat meat produced in the Region of Abruzzo (Italy). This is a specialised area, even though it has been witnessing a continuous decline. As a matter of fact, a real collapse in the number of farms throughout the region (−64%), in addition to a significant decrease in the number of heads (−25%), has been observed in the last two censuses of Italian agriculture (referring to years 2000 and 2010). This trend characterizes the smallest and less specialized farms and marks the entire region, differently from the national situation where the number of heads seems to remain constant. The average size of the farms (32 to 66 animals per farm) is still much lower than that at the national level (132.7 animals per farm) or in Central Italy (165.5).
The Abruzzo Region boasts a long tradition in the field of pastoralism, and has a high appreciation by the consumers. Nevertheless, the region is a net importer of live sheep and goats and represents nearly 20% of total Italian purchases of this product.
The census data of 2010 reveal a dichotomous structure of sheep breeding: on the one hand, small and unspecialized farms (with very few animals per holding), and on the other hand, large farms with a number of animals in line with the national context.
In order to analyse the organizational arrangements, data have been collected through a direct and structured survey (developed in 2014, see
Appendix A
). The survey was conducted through a questionnaire organized into four parts:
-

general information (number of heads, rearing, autochthonous breeds, use of transhumance, etc.);

-

supplier and upstream relationships;

-

quality management (quality of product, labels, geographical indication, process quality management);

-

farm diversification.
We submitted the questionnaire through face-to-face interviews. Moreover, in order to acquire further information, qualitative interviews with regional experts and with the Regional Association of Breeders (ARA) were realized. The survey was carried out in cooperation with ARA. After conducting a pilot survey and in-depth interviews with some stakeholders in the Abruzzo Region, we made some minor adjustments to the questionnaire.
Through this direct investigation, it has been possible to collect data on 101 farms in the region, for a total of 35,980 heads (2013), representing 3.1% of the farms in the Abruzzo Region and more than 17% of the animals at a regional level. Farms were casually extracted from the list of the those registered in the regional association of breeders and 50% of the farms registered were included. Consequently, our sample may be considered as representative of farms under the control of the regional body in charge of the control over ovine and goat breeding. The sample has been processed through post-stratification methods and strata have been ascribed by this sample, which sensibly reduces the variability of the estimators.
The farms extracted were professional, on account of their average dimension, which is about 350 heads per farm [
30
].
In order to acquire further information, our sample was matched with the latest Italian agriculture census. This permitted the inclusion of a significant number of issues: the breeding system, type of farming (wild, semi-wild, extensive rearing, etc.), animal feed and supply methods, organic certification, adoption of technological innovation (as mechanization, milking mechanization and milk refrigeration), development of multifunctional activities, management skills, quality controls, and market channels.
Data collected represent the basis for the application of the GVA approach (
Figure 1
).
As far as resources and competencies are concerned, by adapting Ghosh and John's indication, three main categories of resources were considered. They are further synthesised in
Table 2
. As far as tangible resources are concerned, they take into account the structural characteristics of the farms, represented by the number of heads, types of farming (professional activity), type and composition of the family farm, standard output, and diversification in agricultural and non-agricultural activities. With respect to family composition, family farms have been distinguished according to the phase of life cycle of the manager (young, mature, old), the presence of children, and the presence of farmers' assistants (either young or not) [
31
].
Intangible resources refer to the technology, quality, and management control system. Therefore, aspects concerning the presence of the management control system and the adoption of quality processes control have been analysed through the presence of a specific certification scheme, the CUF-meat, a control system employed to monitor the quality of meat at a farm level. Members must adapt to traditional farming, with typical breeds reared on pasture, feeding based on breast milk until weaning, and feeding with fodder and other typical cereals in the fattening phase.
Furthermore, human resources are divided up into basic skills and entrepreneurial skills, according to Rudmann et al.'s classification [
32
]:
○

basic skills refer to the farmers' competencies on farm management (professional and managerial skills). Accordingly, the presence of autochthonous breeds in the farm; to this end, the practice of wild, semi-wild, extensive, or intensive breeding, and the presence of the transhumance system, have been considered. To evaluate managerial competencies, we have considered the adoption of the S.A.T.A. system (Technical Assistance Service to Breeders), which provides breeders with specific experts with the purpose of encouraging the business organization and the achievement of management efficiency.

○

entrepreneurial skills include: (a) opportunity skills (capability to exploit opportunities), (b) cooperation and networking skills, and (c) strategy skills. For the purpose of our paper, opportunity skills are synthesised by the capability of gaining access to a rural development policy (revealed by the farm's application for rural policy funds). As far as strategy skills are concerned, investments in quality schemes (geographical indications, quality labels, and organic farming) and diversification into agricultural and non-agricultural activities are considered.
According to Ghosh and John's perspective depicted in
Figure 1
, positioning, that is the value proposition, is synthesized by the presence of differentiation strategies through the participation in quality systems. Four types of differentiation strategies have been identified:
-

adhesion to the "Buongusto" brand (private and local brand of Regional Association of Breeders, ARA) label; it is a collective mark associated with a quality code of practices;

-

adhesion to the protected geographical indication (PGI "Agnello del Centro Italia");

-

adhesion to both Buongusto and PGI labels;

-

no quality marks.
According to our hypothesis, positioning influences the attributes of transactions, resulting in different modes of governance [
14
]. The positioning strategies may result in a 'commitment intensive' as, for example, in the qualification of agricultural products.
As said before, Raynaud and Valceschini [
11
] point out that relevance and credibility are the main characteristics of these strategies, probably raising governance costs and boosting discriminant alignment mechanisms aiming at value creation. Consequently, diversified supply chain governance may emerge as a response to diversified attributes, characterising each strategic positioning. As a matter of fact, adhesion to certification (either CUF-meat and SATA, or PGI certification) implies different transaction attributes to be respected. Therefore, various organizational adjustments and, consequently, a different supply chain governance, may emerge.
In order to test the mode of governance, specific questions on distribution channels (wholesalers, retailer, short supply, etc.) and the type of governance structures (ownership of quality signal and coordination vertical relations) were submitted.
In order to verify the modes of governance, a multivariate analysis (cluster analysis and correspondence analysis) has been carried out, in order to identify homogeneous farms with reference to positioning, available resources, and the mode of governance. Cluster analysis is a method of farms' classification that is able to aggregate farms with homogeneous strategies related to positioning/mode of governance. Through multiple correspondence analysis (MCA), a reduced set of factors is extracted in order to reduce the complexity of the variables. MCA is a way to apply the typical Correspondence analysis singular value decomposition algorithm to the so-called "super-indicator matrix", the boolean table in which the rows denote the categories of the survey variables [
33
]. The Chi-squared distances between the rows of that matrix are based on the variation of the counts of the set of responses of the units, as the sum of the squared differences between their own row data [
34
].
Clustering procedure has been carried out through the SPAD 3.21 program, by following a hierarchic procedure according to the Ward methodology of aggregation (with 10 iterations with mobile centres). The choice of the three clusters is drawn on the dendrograph, the main graphical tool for looking at a hierarchical cluster solution [
35
]. This clustering method reveals the groups with the lowest internal inertia and the highest external inertia.
A description of each cluster only takes into account statistically significant variables (
p
≤ 0.05). Active variables are listed below with possible categories.
Illustrative variables concern the average dimension of the farm (physical and economic), diversification of farming activity, type of breeding, and annual family work.
3.2. Characteristics of the Sample
The farms under investigation hold different quality positions. The sample is described in
Table 3
and includes four categories of quality schemes: 22.8% are in a PGI scheme (PGI "Agnello del Centro Italia"), 10.9% adhere to the Buongusto brand, 14.9% participate in both schemes, and 51.5% are not taking part in any quality scheme. It has to be noted that the interviewed farms of the PGI category account for 40.4% of all Abruzzo's farms included in the PGI "Agnello del Centro Italia".
The farms without any quality brand have a lower propensity to implement and use systems leading to improvements in the control process, like CUF-Meat, whereas the propensity is higher for the farms with Buongusto certification. Among the quality management systems, the SATA certification is highly adopted, above all in farms with double certification (PGI and Buongusto), even though non-certified farms present a relatively good level of this SATA certification.
The Buongusto members have a larger share of organic farms (27.3%), even if the share is quite similar to farms producing PGI meat (26.1%). The farms that display more traditional attributes are those with the Buongusto label, with a higher rate of autochthonous breeds (47.5%), while practices of transhumance are mainly realized by farms with both Buongusto and PGI certifications.
Farms with Buongusto certification mainly sell their production through wholesalers; nonetheless, they also sell to local butchers, restaurants, and directly front door farms. Wholesalers are linked to ARA (Regional Association of Breeders) through a specific private company (named SCA—
Servizi Commerciali Allevatori
), specifically created to sell the product to large retailers. Nearly 20% of Buongusto farms directly sell to large retailer buyers. The "only PGI certificated" farms sell the product to specialised wholesalers in the PGI supply chain; moreover, they verify whether each supplier adheres to the standard.
4. Results
Multivariate Analysis
Through a multiple correspondence analysis (MCA), we have taken into account 22 variables; eight active and 14 illustrative (eight qualitative and six quantitative). The choice of multiple correspondence analysis is due to the preponderance of qualitative variables, with respect to quantitative variables. On the basis of the factors extracted, a cluster analysis has been carried out, with the aim of aggregating homogeneous farms, whilst at the same time obtaining the highest heterogeneity among the groups. Eighteen factorial axes have been created with a total sum of eigenvalues equal to 2.25 (
Table 4
). First, three factors have been considered to build up the following cluster analysis. These factors explain a total inertia of 32.16%. In order to correct this value of inertia and make it more reliable for the first factors, we have made reference to Benzècri [
36
]:
By applying the formula, the first three factors may explain a total inertia of 80.6%, thus confirming a minimum loss of information.
Following this, cluster analysis aggregates homogeneous farms in relation to the active variables used in the analysis. A clear misalignment in the modes of governance emerges, attributable to both the presence of quality marks and to the resources available at the farm level, which discriminates organizational arrangements.
Table 5
points out the test value of the three factors extracted to create clusters, which are significant for each cluster of homogeneous farms. By taking into account the test values, a description of the cluster on the basis of the three factors is statistically robust.
The first factor (10.9%) points out the positioning/resources couple. It demonstrates, on the one hand, the presence or absence of value proposition, strictly linked to the endowment of resources and competencies. Consistent with the GVA perspective, the absence of value proposition, that is of a quality mark, characterises the smallest farms (less than 100 heads per farm) that are equipped with a very low level of either tangible or intangible human resources. On the other hand, the presence of resources and competencies in the farm typifies the use of quality brands, more specifically farms with either Buongusto or both Buongusto and PGI brands. The second factor (10.2%) is coherent with the theoretical perspective accepted here: it couples positioning decisions and modes of governance. More precisely, this factor highlights dedicated modes of governance strictly associated with specific brand strategies. The third factor (8.4%) describes the presence of intangible resources in the farm. More precisely, it evidences the adoption of quality process control tools (CUF-MEAT scheme).
On the basis of the previous factors, the following cluster analysis has aggregated farms into three homogeneous clusters. Neither outliers nor highly skewed data have been found; accordingly, it has been possible to extract robust clusters. An interesting element of our empirical analysis concerns the homogeneity between a farm's positioning and consequent supply chain governance.
I cluster—Local quality oriented farms with coordinated mechanisms of governance
The first cluster includes 17.9% of farms, with an average size (301–500 heads) and prevailingly managed by young farmers without young helpers. These farms' value proposition consists of strategies of specific quality, based on geographical indications, by using the Buongusto label (local label − value test = 2.7), and sometimes joined with the PGI marks as tools to qualify their products (value test = 5.2). To accomplish credible commitments of the strategy, a coordinated governance mechanism is evident, in the form of relational bilateral governance, in which farms have to trade their products within a supply chain coordinated by the regional association of breeders, through a specified type of wholesaler (value test = 7.1).
To better comprehend this form of governance, a resource-based perspective is of help: the farms of this cluster raise only autochthonous livestock (value test = 1.8) and they are provided with a SATA certification (value test = 1.6) demonstrating adequate managerial skills and competencies. Moreover, specific quality is granted through quality control systems, based on specific rearing techniques, making use of traditional and local feeding systems (CUF-MEAT certification − value tests = 1.6).
II cluster—farms with specific mark and dedicated mechanisms of governance
In the second cluster, 21.8% of farms have been extracted, characterized by the presence of both big farms (>500 heads (value test = 2.2) and, to a lower extent, farms of an average size (value test = 0.6). A clear combination of value proposition and mode of governance emerges: as confirmed by the high value test (7.9), farms of the cluster adopt a specific differentiation strategy, based on protected geographical indication (PGI). This strategic positioning choice brings about a diverse and dedicated mode of governance. Moreover, to qualify their products further, farmers have adhered to organic methods of production. As a consequence, coherently with the GVA model, a specific mode of governance fits with this value proposition. More precisely, as said in the methodological note, the PGI farms trade the product through specialised wholesalers in the PGI supply chain (value test = 5.9), by checking out the respect of specific quality standards. The analysis of key resources evidences the presence of the quality product certification, but, differently to the first cluster, SATA has not been identified as a key factor.
III cluster—farms without either quality strategies or specific governance mechanisms
The third cluster includes the majority of farms, comprising 60.3% of the total. They are mainly small farms, managed by elderly people and in a few cases, by young farmers. In these farms, no value proposition has been put forward: as a matter of fact, these farms make use of no label (value test = 8.0) to market their products and make use of either a generic mode of governance (value test = 3.7) or alternative food networks. Consequently, they sell meat through "generic" wholesalers and/or through direct selling (value test = 2.21). The analysis of internal resources provides possible explanations concerning difficulties adopting specific quality strategies. The location in the elderly phases of the life cycle, above all in the absence of generational renewal, limits the propensity to adopt differentiation strategies. Moreover, the scarcity of both tangible and intangible resources hampers other value propositions (no CUF meat or SATA certifications).
In order to synthetize previous information and to size up the role of each variable, we have positioned the clusters and included other key-variables on the basis of factorial coordinates. To this end, in
Figure 2
, the horizontal axis reports the factorial coordinates of the first factors (label/resources) extracted from the correspondence analysis, while, on the vertical axis, factorial coordinates of the second factor (label/mode of governance) are calculated. Factorial coordinates are obtained on the basis of chi-squared distances, delivered by the Burt matrix (Escoutier*).
A differentiation among clusters, explainable according to our theoretical perspective, emerges. Clusters 1 and 2 are clearly positioned in the area where value proposition is "supported" by the presence of core competencies and internal resources. Differences between the two clusters emerge in terms of strategizing calculus: farms in the first cluster pursuit a regional brand strategy, with the aim of serving local-regional markets. Farms of the second cluster aim at valorising their product through the adhesion to a geographical indication (PGI). This implies the choice of a larger market, thanks to the availability of large cattle and to the entrepreneurial profile of the manager, usually the young manager of a family farm.
On the contrary, the third cluster evidences a reduced level of resources. Consequently, it is positioned in the area where no brand strategies are adopted.
5. Discussion and Conclusions
Relational bilateral governance characterizes the farms of the clusters, even though two clusters provide qualified partners, while the third one works in generic circuits with non-written contracts and generic conditions to be respected.
Acknowledgments
Authors would like to thank Mrinal Ghosh for very useful suggestions. This work is part of the project "Caratterizzazione e miglioramento degli indici salutistici e sicurezza alimentari delle produzioni lattiero ovine tipiche abruzzesi a marchio di origine," supported by a grant from Rural Development Plan 2007–2013 (MISURA 1.2.4) Regione Abruzzo. Project manager Giuseppe Martino. The authors are grateful to "Associazione Regionale Allevatori d'Abruzzo" for their kind cooperation.
Author Contributions
The presented research was conjointly designed and elaborated. The discussion was realized conjointly by all authors and all authors contributed equally to the writing of this paper. All authors have read and approved the final manuscript.
Conflicts of Interest
The authors declare no conflict of interest. The founding sponsors had no role in the design of the study; in the collection, analyses, or interpretation of data; in the writing of the manuscript, and in the decision to publish the results.
Abbreviations
| | |
| --- | --- |
| ARA | Regional Association of Breeders |
| CUF | Control system quality of meat |
| LAFs | Localised agrifood systems |
| GVA | Governance value analysis |
| PGI | Protected Geographical Indication |
| RBV | Resources-based view |
| SATA | Technical Assistance Service to Breeders |
| VPMGA | Value Portfolio and Multifunctional Governance Analysis |
| TCE | Transaction costs economics |
Appendix A
Date ___________________  Data collector ___________________
Farm name
Municipality        Address
Identification Code


Number of heads:.......




Race...


  

Type of tenure:

Family farming   ⎕ No. of workers...........
  With salaried workers       ⎕ No. of workers.........
    Cooperative          ⎕ No. of workers.............
    Other             ⎕ No. of workers............
  

Certifications:

 CUF Milk ⎕ CUF Meat ⎕ SATA ⎕
  "Buongusto Agnello d'Abruzzo" brand ⎕
    "Agnello del Centro Italia" PGI    ⎕
Organic farming certification (related to breeding crops)             ⎕
In transition towards organic farming certification (related to breeding crops)   ⎕
Organic livestock certification                        ⎕
In transition towards organic livestock certification               ⎕
 
Breeding system


Wild (without any building)    ⎕  Semi-wild (with buildings but not stables)  ⎕ 
Extensive (stabled and on pasture)  ⎕  Grazing months per year
Intensive (only stabled)  ⎕
 
Transhumance towards mountain pastures:

  NO ⎕ YES ⎕
Municipality
Place
Distance
    

Meat marketing


    Average weight of selling/slaughtering lambs ______   Average age of the lambs (days) _______
  Selling to dealers       ⎕ __ % of heads
  Direct selling within the farm shop  ⎕ __ % of heads
  Other types of direct selling:    ⎕ __ % of heads
  

- Ethical Purchasing Groups

  ⎕
  

- Farmers' markets

      ⎕
  

- Personal delivery

      ⎕
  

- Internet

        ⎕
  

- Other (specify)

     ⎕
Butchers' shops  ⎕  __ %
Retailers   ⎕  __ %
Restaurants   ⎕  __ %
Other (specify) ________________________ ⎕ __ %
Milk production and selling


Milking:  NO ⎕ YES  ⎕
Milk selling  NO ⎕ YES  ⎕
Dairy within the farm:  NO ⎕ YES ⎕
 
Wool selling

  NO ⎕ YES ⎕
 
Distribution of farm land used for breeding
Crops..........
Ha..........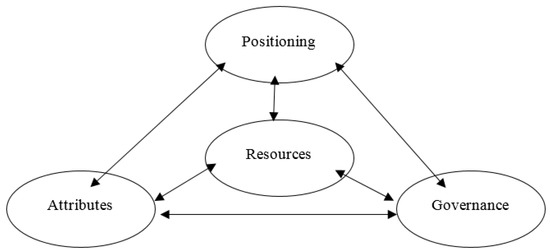 Figure 1.
GVA model, processed from Ghosh and John [
24
] (p. 56).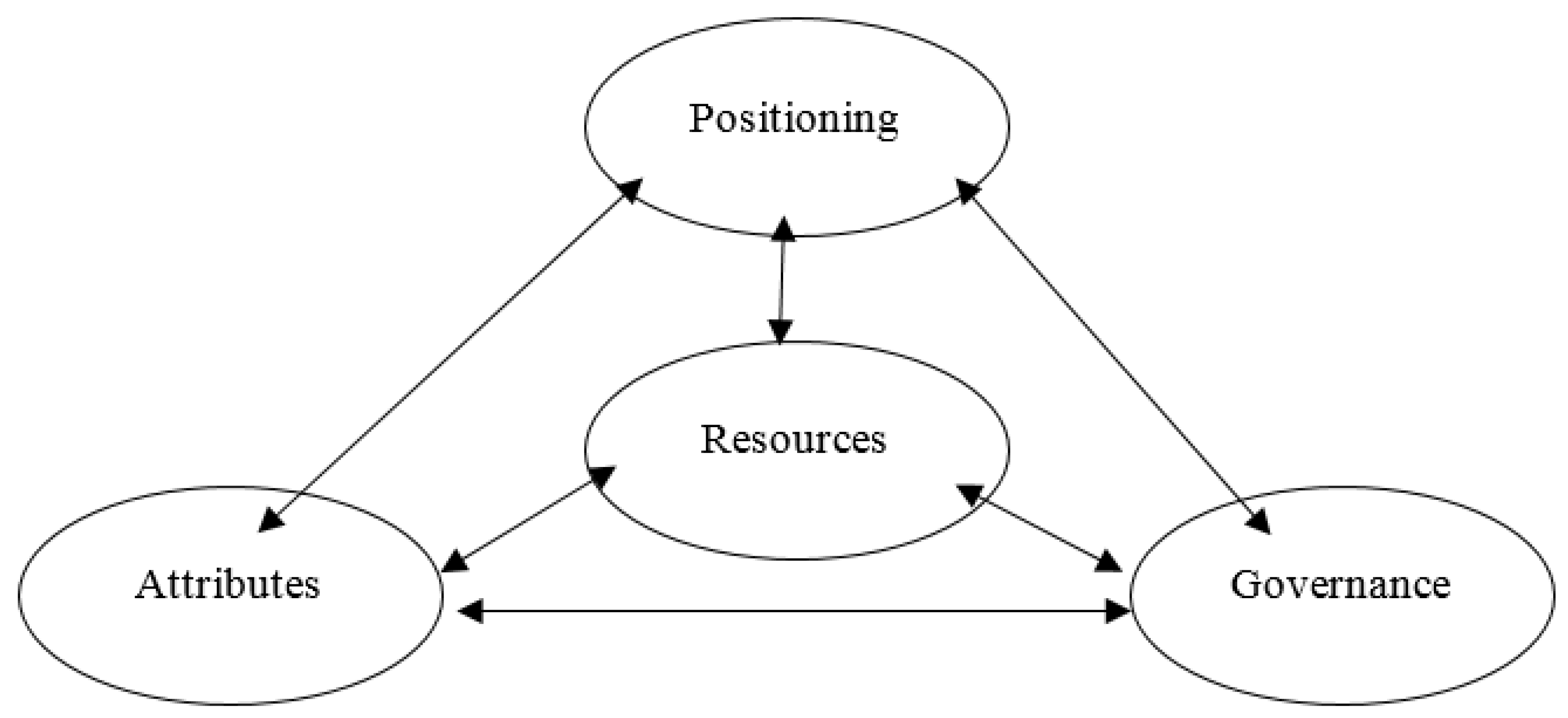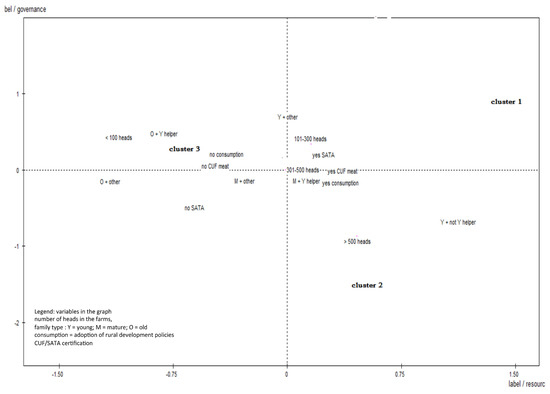 Figure 2. Distribution of clusters and key variables on the basis of the first two factorial coordinates.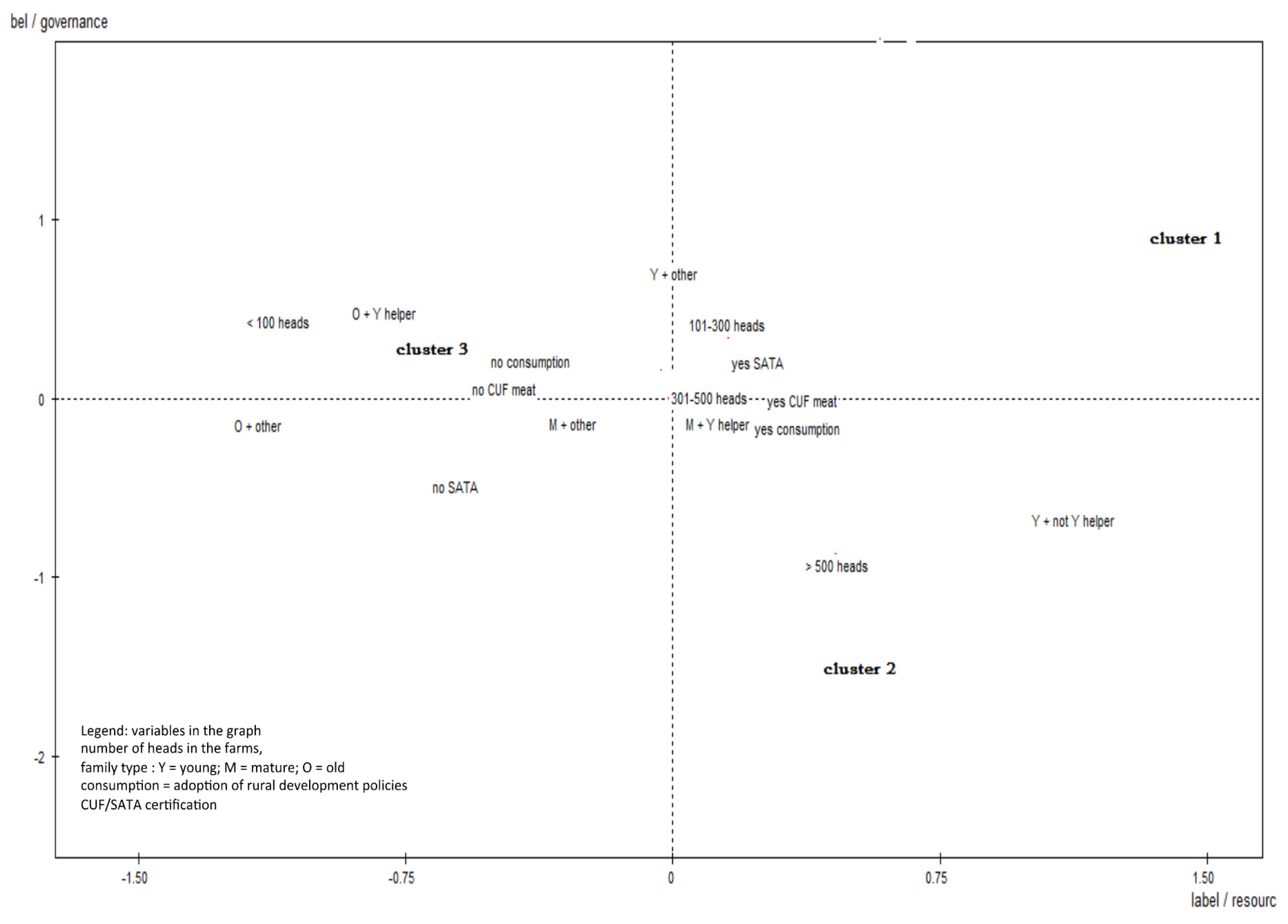 | | |
| --- | --- |
| The Spot Market Contract | A Contract for the Immediate Exchange of Goods or Services at Current Prices. The Identity of the Parties is Irrelevant |
| The relational bilateral governance (also implicit contract). | A non-written (not legally enforceable) contract that specifies only the general terms and objectives of the relationship. This governance introduce the idea of repeated relations with the same agents |
| The relational bilateral governance with "qualified partner(s)". | This structure is similar to the previous one. However, agents are not free to choose their partners, but have to select a "qualified" transactor (accredited for example by a collective organization) |
| The formal (written) bilateral contract. | A legally enforceable set of promises that defines all or part of each party obligations |
| The financial participation in the ownership of the partner(s). | In this case, buyer (respectively seller) is a stockholder of the other but stay legally independent from the seller (respectively buyer). Joint-venture is a canonical example of this type of governance structure |
| Vertical integration. | Bringing two or more successive stages of the supply chain under common ownership and management |
Source: processed from Raynaud et al. [11].
Active Variables
Categories of Variables
Category Description
Adoption of rural development policies
2
Yes/no
CUF-MEAT certification
2
Yes/no
SATA certification
2
Yes/no
Organic farming/transition
2
Yes/no
Supply chain governance
8
- Wholesalers managed by the regional breeding association.
- Specialised wholesalers for PGI products.
- Other wholesalers
- Short food supply chain
Label
4
Buongusto, Protected Geographical Indication (PGI), Buongusto and PGI, no quality sign
Family type
7
Young phase
Young farmer and a not young assistant
Young farmers with other (assistant may be young or may be not)
Mature phase
Mature farmer and a young assistant
(assistant may be old, mature or may be not)
Old phase
Older farmer and a young assistant
Older farmers with other (assistant may be mature, old or may be not)
| | No Certification | PGI + Buongusto | PGI | Buongusto | TOT. |
| --- | --- | --- | --- | --- | --- |
| Quality certification (%) | 51.5 | 14.8 | 22.8 | 10.9 | 100 |
| Number of heads per farm (mean) | 299 | 329 | 453 | 331 | |
| Std. Deviation | 284.5 | 296.4 | 244.1 | 172.9 | |
| Min | 30 | 90 | 115 | 160 | |
| Max | 1600 | 1152 | 910 | 800 | |
| Organic (%) | 13.5 (100%) | 20.0 (100%) | 26.1 (100%) | 27.3 (100%) | |
| Autochthonous breeds (%) | 32.8 (100%) | 67.7 (100%) | 29.4 (100%) | 47.5 (100%) | |
| Transhumance system (%) | 42.3 (100%) | 86.7 (100%) | 82.6 (100%) | 72.7 (100%) | |
| Average weight of animals (kg) | 21 | 16 | 19 | 13 | |
| Average age of animal (days) | 65 | 55 | 56 | 57 | |
| Transhumance system (km) | | | | | |
| Mean | 11.9 | 13.1 | 29.0 | 15.5 | |
| Std. Deviation | 25.6 | 11.2 | 31.8 | 11.3 | |
| Max | 120 | 30 | 130 | 35 | |
| CUF-MEAT (%) | 50.0 (100%) | 60.0 (100%) | 78.3 (100%) | 81.8 (100%) | |
| SATA (%) | 63.5 (100%) | 93.3 (100%) | 60.8 (100%) | 90.9 (100%) | |
| Average UAA (hectare) | 70 | 171 | 105 | 132 | 97 |
| Average standard output | 108,170 | 190,398 | 145,811 | 117,001 | 128,787 |
| Average use of policy instruments | 0.4 | 0.6 | 0.7 | 0.8 | 0.6 |
| Supply chain * | | | | | |
| Short foods supply chain (%) | 36.5 | 13.3 | 4.4 | 36.4 | |
| Retailer (directly) (%) | | | 100 | 18.2 | |
| Wholesaler (%) | 76.9 | 93.3 | | 54.5 | |
Total Inertia: 2.25000

Factors Extracted

Eigen Values
Inertia %
Cumulated %
Reassessed Inertia %
Cumulated %
1
0.2671
11.87
11.87
38.4577
38.4577
2
0.2483
11.03
22.90
28.9436
67.4014
3
0.2084
9.26
32.16
13.2409
80.6423
4
0.2012
8.94
41.11
11.0741
91.7163
5
0.1772
7.88
48.98
5.1914
96.9078
6
0.1595
7.09
56.07
2.2645
99.1722
7
0.1456
6.47
62.54
0.8084
99.9806
8
0.1282
5.70
68.24
0.0194
100.0000
9
0.1110
4.93
73.17
10
0.1053
4.68
77.85
11
0.0977
4.34
82.19
12
0.0872
3.88
86.07
13
0.0856
3.81
89.88
14
0.0750
3.33
93.21
15
0.0633
2.81
96.02
16
0.0521
2.31
98.34
17
0.0258
1.15
99.48
18
0.0116
0.52
100.00
Test Values
First Factor
Second Factor
Third Factor
I cluster
6.1
3.6
1.5
II cluster
2.5
−7.0
1.2
III cluster
−6.9
3.0
1.5

© 2017 by the authors. Licensee MDPI, Basel, Switzerland. This article is an open access article distributed under the terms and conditions of the Creative Commons Attribution (CC BY) license (http://creativecommons.org/licenses/by/4.0/).