Distinct Profiles of Cell-Free MicroRNAs in Plasma of Veterans with Post-Traumatic Stress Disorder
1
Institute for Systems Biology, Seattle, WA 98109, USA
2
Steven and Alexandra Cohen Veterans Center for Posttraumatic Stress and Traumatic Brain Injury, Department of Psychiatry, New York University, New York, NY 10003, USA
3
Icahn School of Medicine at Mount Sinai, New York, NY 10029, USA
4
James J. Peters VA Medical Center, The Bronx, NY 10468, USA
5
Integrative Systems Biology, US Army Center for Environmental Health Research, Frederick, MD 21702, USA
*
Author to whom correspondence should be addressed.
Received: 10 May 2019 / Revised: 26 June 2019 / Accepted: 2 July 2019 / Published: 3 July 2019
Abstract
Dysregulation of circulating microRNAs (miRNAs) in body fluids has been reported in psychiatric disorders such as schizophrenia, bipolar disorder, major depressive disorder, and post-traumatic stress disorder (PTSD). Recent studies of various diseases showed that extracellular vesicles (EV) in body fluids can provide different spectra of circulating miRNAs and disease-associated signatures from whole fluid or EV-depleted fraction. However, the association of miRNAs in EVs to PTSD has not been studied. In this study, we performed a comprehensive profiling of miRNAs in whole plasma, extracellular vesicles (EV) and EV-depleted plasma (EVD) samples collected from combat veterans with PTSD and matched controls by utilizing a next-generation sequencing (NGS) platform. In total, 520 circulating miRNAs were quantified from 24 male Iraq and Afghanistan combat veterans with (
n =
12) and without (
n =
12) PTSD. The overall miRNA profiles in whole plasma, EV and EVD fractions were different and miRNAs affected by PTSD were also distinct in each sample type. The concentration changes of miR-203a-3p in EV and miR-339-5p in EVD were confirmed in an independent validation cohort that consisted of 20 veterans (10 with and 10 without PTSD) using qPCR. The target genes of these two miRNAs were involved in signaling pathways and comorbid conditions associated with PTSD (e.g., neurotransmitter systems such as dopaminergic and serotonergic signaling, inflammatory response, and cardiovascular diseases). Our findings suggest that PTSD may have different impacts on miRNAs encapsulated in vesicles and outside of vesicles. Further studies using larger samples are needed to evaluate the utility of these miRNAs as diagnostic biomarkers for PTSD.
View Full-Text
►

▼

Figures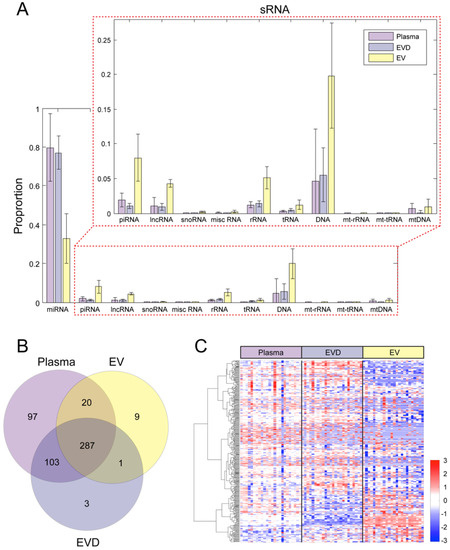 Figure 1
This is an open access article distributed under the
Creative Commons Attribution License
which permits unrestricted use, distribution, and reproduction in any medium, provided the original work is properly cited (CC BY 4.0).

Share & Cite This Article
MDPI and ACS Style
Lee, M.Y.; Baxter, D.; Scherler, K.; Kim, T.-K.; Wu, X.; Abu-Amara, D.; Flory, J.; Yehuda, R.; Marmar, C.; Jett, M.; Lee, I.; Wang, K.; Hood, L. Distinct Profiles of Cell-Free MicroRNAs in Plasma of Veterans with Post-Traumatic Stress Disorder. J. Clin. Med. 2019, 8, 963.
Note that from the first issue of 2016, MDPI journals use article numbers instead of page numbers. See further details here.
Related Articles
Comments
[Return to top]