Median Arcuate Ligament Compression in Orthotopic Liver Transplantation: Results from a Single-Center Analysis and a European Survey Study
1
Department of Surgery and Transplantation, University Hospital RWTH Aachen, 52074 Aachen, Germany
2
Institute of Radiology, University Hospital RWTH Aachen, 52074 Aachen, Germany
3
Department of Surgery, Maastricht University Medical Centers (MUMC), 6202 AZ Maastricht, The Netherlands
*
Author to whom correspondence should be addressed.
Received: 21 March 2019 / Revised: 15 April 2019 / Accepted: 22 April 2019 / Published: 23 April 2019
Abstract
Median arcuate ligament compression (MALC) potentially causes arterial complications in orthotopic liver transplantation (OLT). Here we aimed to investigate the incidence of MALC and its impact on clinical outcome after OLT. In addition, we performed an international survey among 52 European liver transplant centers to explore local protocols on the management of these patients. Data of 286 consecutive OLT recipients from a prospective database were analyzed retrospectively (05/2010-07/2017). Preoperative computed-tomography images were evaluated. Celiac axis stenosis due to MALC was found in 34 patients (12%). Intrinsic stenosis was present in 16 (6%) patients. Twenty-six patients (77%) with MALC underwent standard arterial revascularization with median arcuate ligament (MAL)-division. Patients treated for MALC had comparable baseline data and no difference was found in early- and long-term outcome compared to the rest of our cohort. Our survey found heterogeneous strategies regarding diagnosis and treatment of MALC. Only 29% of the centers reported the division of MAL in these patients as routine procedure. Even though there is no consensus on diagnosis and management of MALC among European centers, a surgical division of MAL is feasible and safe and should be considered in OLT recipients with MALC.
View Full-Text
►

▼

Figures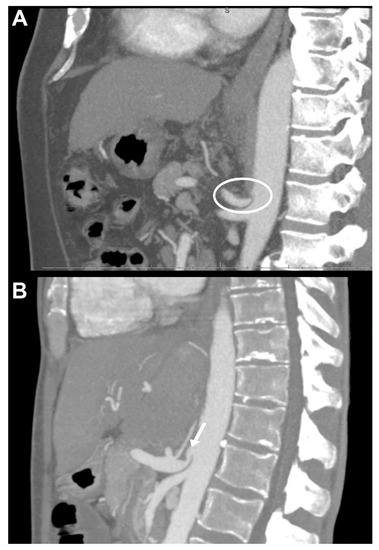 Figure 1
This is an open access article distributed under the
Creative Commons Attribution License
which permits unrestricted use, distribution, and reproduction in any medium, provided the original work is properly cited (CC BY 4.0).

Share & Cite This Article
MDPI and ACS Style
Czigany, Z.; Boecker, J.; Morales Santana, D.A.; Bednarsch, J.; Meister, F.A.; Amygdalos, I.; Isfort, P.; Liebl, M.; Neumann, U.P.; Lurje, G. Median Arcuate Ligament Compression in Orthotopic Liver Transplantation: Results from a Single-Center Analysis and a European Survey Study. J. Clin. Med. 2019, 8, 550.
Note that from the first issue of 2016, MDPI journals use article numbers instead of page numbers. See further details here.
Related Articles
Comments
[Return to top]