Curcumin and o-Vanillin Exhibit Evidence of Senolytic Activity in Human IVD Cells In Vitro
1
Orthopaedic Research Lab, Department of Surgery, McGill University, 1650 Cedar Ave., C10-148.8, Montreal, QC H3G 1A4, Canada
2
McGill Scoliosis and Spine Group, Department of Surgery, McGill University, 1650 Cedar Ave., C10-148.8, Montreal, QC H3G 1A4, Canada
3
Department of Surgery, The Research Institute of the McGill University Health Centre, 1650 Cedar Ave., C10-148.8, Montreal, QC H3G 1A4, Canada
4
Shriner's Hospital for Children, 1003 Decarie Blvd, Montreal, QC H4A 0A9, Canada
*
Author to whom correspondence should be addressed.
Received: 11 March 2019 / Accepted: 26 March 2019 / Published: 29 March 2019
Abstract
Curcumin and o-Vanillin cleared senescent intervertebral disc (IVD) cells and reduced the senescence-associated secretory phenotype (SASP) associated with inflammation and back pain. Cells from degenerate and non-mildly-degenerate human IVD were obtained from organ donors and from patients undergoing surgery for low back pain. Gene expression of senescence and SASP markers was evaluated by RT-qPCR in isolated cells, and protein expression of senescence, proliferation, and apoptotic markers was evaluated by immunocytochemistry (ICC). The expression levels of SASP factors were evaluated by enzyme-linked immunosorbent assay (ELISA). Matrix synthesis was verified with safranin-O staining and the Dimethyl-Methylene Blue Assay for proteoglycan content. Western blotting and ICC were used to determine the molecular pathways targeted by the drugs. We found a 40% higher level of senescent cells in degenerate compared to non-mildly-degenerate discs from unrelated individuals and a 10% higher level in degenerate compared to non-mildly-degenerate discs from the same individual. Higher levels of senescence were associated with increased SASP. Both drugs cleared senescent cells, and treatment increased the number of proliferating as well as apoptotic cells in cultures from degenerate IVDs. The expression of SASP factors was decreased, and matrix synthesis increased following treatment. These effects were mediated through the Nrf2 and NFkB pathways.
View Full-Text
►

▼

Figures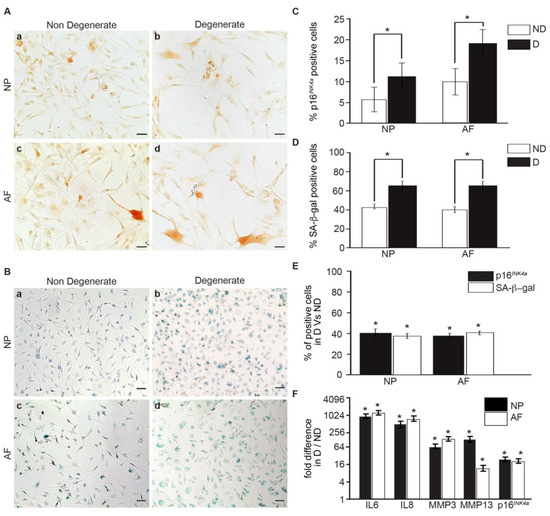 Figure 1
This is an open access article distributed under the
Creative Commons Attribution License
which permits unrestricted use, distribution, and reproduction in any medium, provided the original work is properly cited (CC BY 4.0).

Share & Cite This Article
MDPI and ACS Style
Cherif, H.; Bisson, D.G.; Jarzem, P.; Weber, M.; Ouellet, J.A.; Haglund, L. Curcumin and o-Vanillin Exhibit Evidence of Senolytic Activity in Human IVD Cells In Vitro. J. Clin. Med. 2019, 8, 433.
Note that from the first issue of 2016, MDPI journals use article numbers instead of page numbers. See further details here.
Related Articles
Comments
[Return to top]