Ganoderma lucidum

Ameliorates Non-Alcoholic Steatosis by Upregulating Energy Metabolizing Enzymes in the Liver

1

Bio Anti-Aging Medical Research Center, Department of Anatomy and Convergence Medical Science, Institute of Health Sciences, Gyeongsang National University School of Medicine, Jinju 52727, Korea

2

Department of Food Science, Gyeongnam National University of Science and Technology, Jinju 52725, Korea

3

Bio Anti-aging Medical Research Center, Department of Pharmacology and Convergence Medical Science, Institute of Health Sciences, Gyeongsang National University School of Medicine, Jinju 52727, Korea

*

Authors to whom correspondence should be addressed.

Received: 24 May 2018 / Revised: 12 June 2018 / Accepted: 13 June 2018 / Published: 15 June 2018
Abstract
Non-alcoholic steatosis is a common health problem worldwide due to altered food habits and life styles, and it is intimately linked with various metabolic disorders. In the present study, we investigated the molecular mechanism of
Ganoderma lucidum
(GL) against the development of non-alcoholic steatosis using in vivo and in vitro settings. C57BL/6 mice fed with normal diet (ND) or high fat diet (HFD) were administered GL extract or vehicle for 16 weeks. HFD feeding increased serum alanine aminotransferase level and hepatic lipid droplet, but these increases were significantly attenuated by GL. GL inhibited the increases in epididymal and perirenal adipose tissue weights and serum cholesterol and LDL levels in HFD-fed mice. Fasting blood glucose levels were elevated in HFD-fed mice compared to ND-fed mice, and glucose and insulin sensitivities were deteriorated. These changes were markedly improved by GL. GL restored the reduction of AMP-activated protein kinase (AMPK) and acetyl-CoA carboxylase (ACC) phosphorylation in the liver of HFD-fed mice, and increased AMPK and ACC phosphorylation in HepG2 and 3T3-L1 cells. GL induced GLUT4 protein expression in 3T3-L1 cells. Finally, GL attenuated lipid accumulation induced by free fatty acid in HepG2 cells. Taken together, our results indicate that GL has a potential to improve non-alcoholic steatosis and the associated complicated disorders via the induction of energy metabolizing enzymes.
View Full-Text
►

▼

Figures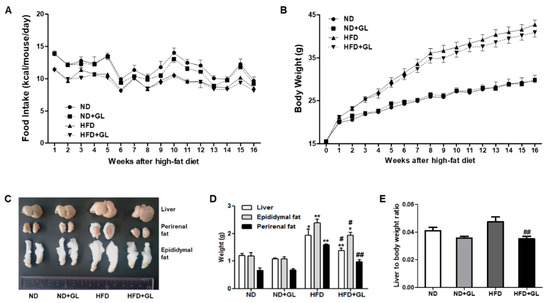 Figure 1
This is an open access article distributed under the
Creative Commons Attribution License
which permits unrestricted use, distribution, and reproduction in any medium, provided the original work is properly cited (CC BY 4.0).

Share & Cite This Article
MDPI and ACS Style
Jung, S.; Son, H.; Hwang, C.E.; Cho, K.M.; Park, S.W.; Kim, H.J. Ganoderma lucidum Ameliorates Non-Alcoholic Steatosis by Upregulating Energy Metabolizing Enzymes in the Liver. J. Clin. Med. 2018, 7, 152.
Note that from the first issue of 2016, MDPI journals use article numbers instead of page numbers. See further details here.
Related Articles
Comments
[Return to top]