Gut Microbiota-Dependent Trimethylamine-
N

-oxide and Serum Biomarkers in Patients with T2DM and Advanced CKD

1

Department of Pediatrics, School of Medicine, Texas Tech University Health Sciences Center, Amarillo, TX 79106, USA

2

Center for Biotechnology & Genomics, Texas Tech University, Lubbock, TX 79409, USA

*

Author to whom correspondence should be addressed.

Academic Editors: Emmanuel Andrès and Lindsay Brown

Received: 7 July 2017 / Revised: 4 August 2017 / Accepted: 12 September 2017 / Published: 19 September 2017
Abstract
Trimethylamine-
N
-oxide (TMAO) is a product of dietary, gut microbiome, and tissues metabolism. Elevated blood TMAO levels are associated with heart attack, stroke and chronic kidney disease (CKD). The purpose of our study was to investigate the gut microbiota associated with trimethylamine (TMA) production, the precursor of TMAO, and the serum levels of TMAO and inflammatory biomarkers associated with type 2 diabetes mellitus (T2DM) and CKD. Twenty adults with T2DM and advanced CKD and 20 healthy adults participated in the study. Analyses included anthropometric and metabolic parameters, characterization of TMA producing gut microbiota, and concentrations of TMAO, lipopolysaccharides (LPS) endotoxin, zonulin (Zo) gut permeability marker, and serum inflammatory and endothelial dysfunction biomarkers. Diversity of the gut microbiota was identified by amplification of V3–V4 regions of the 16S ribosomal RNA genes and DNA sequencing. TMAO was quantified by Mass Spectrometry and serum biomarkers by ELISA. The significance of measurements justified by statistical analysis. The gut microbiome in T2DM-CKD patients exhibited a higher incidence of TMA-producing bacteria than control,
p
< 0.05. The serum levels of TMAO in T2DM-CKD patients were significantly higher than controls,
p
< 0.05. TMAO showed a positive correlation with Zo and LPS, inflammatory and endothelial dysfunction biomarkers. A positive correlation was observed between Zo and LPS in T2DM-CKD subjects. An increased abundance of TMA-producing bacteria in the gut microbiota of T2DM-CKD patients together with excessive TMAO and increased gut permeability might impact their risk for cardiovascular disease through elevation of chronic inflammation and endothelial dysfunction.
View Full-Text
►

▼

Figures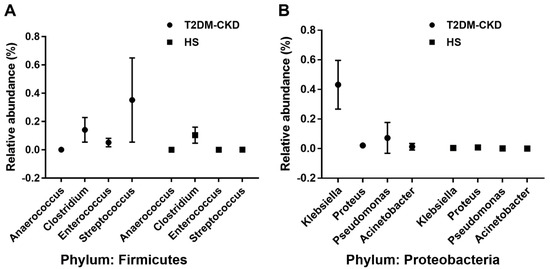 Figure 1
This is an open access article distributed under the
Creative Commons Attribution License
which permits unrestricted use, distribution, and reproduction in any medium, provided the original work is properly cited (CC BY 4.0).

Share & Cite This Article
MDPI and ACS Style
Al-Obaide, M.A.I.; Singh, R.; Datta, P.; Rewers-Felkins, K.A.; Salguero, M.V.; Al-Obaidi, I.; Kottapalli, K.R.; Vasylyeva, T.L. Gut Microbiota-Dependent Trimethylamine-N-oxide and Serum Biomarkers in Patients with T2DM and Advanced CKD. J. Clin. Med. 2017, 6, 86.
Note that from the first issue of 2016, MDPI journals use article numbers instead of page numbers. See further details here.
Related Articles
Comments
[Return to top]