Open Access This article is
freely available
re-usable
Review
Biochemical Assessment of Coenzyme Q10 Deficiency
1
Laboratorio de Fisiopatología Celular y Bioenergética, 41013 Sevilla, Spain
2
Centro de Investigación Biomédica en Red de Enfermedades Raras, Instituto de Salud Carlos III, Universidad Pablo de Olavide-CISC, 41013 Sevilla, Spain
3
Centro Andaluz de Biología del Desarrollo, 41013 Sevilla, Spain
*
Author to whom correspondence should be addressed.
Academic Editor: Iain P. Hargreaves
Received: 18 January 2017 / Accepted: 28 February 2017 / Published: 5 March 2017
Abstract
:
Coenzyme Q10 (CoQ10) deficiency syndrome includes clinically heterogeneous mitochondrial diseases that show a variety of severe and debilitating symptoms. A multiprotein complex encoded by nuclear genes carries out CoQ10 biosynthesis. Mutations in any of these genes are responsible for the primary CoQ10 deficiency, but there are also different conditions that induce secondary CoQ10 deficiency including mitochondrial DNA (mtDNA) depletion and mutations in genes involved in the fatty acid β-oxidation pathway. The diagnosis of CoQ10 deficiencies is determined by the decrease of its content in skeletal muscle and/or dermal skin fibroblasts. Dietary CoQ10 supplementation is the only available treatment for these deficiencies that require a rapid and distinct diagnosis. Here we review methods for determining CoQ10 content by HPLC separation and identification using alternative approaches including electrochemical detection and mass spectrometry. Also, we review procedures to determine the CoQ10 biosynthesis rate using labeled precursors.
Keywords:
coenzyme Q
10
; CoQ
10
deficiency syndrome; CoQ
10
biosynthesis; mitochondria diseases
2. CoQ10 Deficiency Syndrome
CoQ
10
deficiency syndrome includes diverse inherited pathological diseases defined by the decrease of CoQ
10
content in muscle and/or cultured skin fibroblasts. CoQ
10
deficiency impairs oxidative phosphorylation and causes clinically heterogeneous mitochondrial diseases [
21
,
22
]. When the decrease in CoQ
10
content is due to mutations in genes encoding proteins of the CoQ biosynthesis pathway or its regulation (COQ genes), it causes primary CoQ
10
deficiency [
23
,
24
]. Secondary CoQ
10
deficiencies may be due to defects in genes unrelated to the CoQ
10
biosynthetic pathway. Secondary CoQ
10
deficiency is a common finding in oxidative phosphorylation (OXPHOS) and non-OXPHOS disorders [
25
]. A low mitochondrial CoQ
10
content is described in mtDNA depletion [
26
], mutations in the DNA repairing aprataxin [
27
], mutations of the enzyme
ETFDH
of the β-oxidation of fatty acids [
28
], recurrent food intolerance and allergies [
29
], methylmalonic aciduria [
30
], myalgic encephalomyelitis chronic fatigue syndrome [
31
], and propionic acidemia [
32
]. We propose that cases of secondary CoQ
10
deficiency associated with OXPHOS defects could be adaptive mechanisms to maintain a balanced OXPHOS which is required to keep cells alive, although the mechanisms explaining these deficiencies and the pathophysiological role in the disease are unknown.
The clinical phenotypes of primary CoQ
10
-deficient patients are broader than initially reported in 1989 [
33
], including (i) a multisystem disorder with steroid-resistant nephrotic syndrome as the main clinical manifestation (
COQ1-PDSS2)
[
34
], (
COQ2
) [
35
], (
COQ6)
[
36
] and (
ADCK4
) [
37
]; (ii) a multisystem disorder without nephrotic syndrome (
COQ1
-
PDSS1)
[
38
], (
COQ9
) [
39
] and
(COQ7)
[
40
]; (iii) cerebellar ataxia (
COQ8
-
ADCK3)
[
41
,
42
,
43
,
44
,
45
,
46
,
47
]; and (iv) myopathy and encephalopathy (
COQ4
) [
48
,
49
,
50
].
3. Primary CoQ10 Deficiency Therapy
Primary CoQ
10
deficiency is unique among mitochondrial diseases because an effective therapy is available for patients, which is the supplementation of CoQ
10
. Ubiquinol, the reduced form of CoQ
10
, was recently approved as an orphan drug for primary CoQ
10
deficiency [
51
]
While this approach is quite successful in some patients, with a clear improvement of the pathological phenotype [
52
], some cases do not show any clinical relief as would be expected [
53
], probably because they are suffering secondary CoQ
10
deficiency. High-dose oral CoQ
10
supplementation can stop the progression of the encephalopathy and allows the recovery of renal damage [
52
]. High-dose CoQ
10
supplementation was also able to prevent the onset of renal symptoms in
PDSS2
-deficient mice [
54
]. Furthermore, CoQ
10
but not other quinones can restore mitochondrial function in deficient human fibroblasts [
55
]. Due to the therapeutic possibility of CoQ
10
supplementation for these patients, a rapid and unequivocal diagnosis of the deficiency is essential.
4. CoQ10 Determination in Cells and Tissues
Content of CoQ
10
has been determined in plasma, white blood cells, skin fibroblasts and skeletal muscle biopsies to assess a deficiency diagnosis [
56
,
57
,
58
], and recently useful determination in the urine of pediatric patients was demonstrated [
59
]. Although CoQ can be measured in plasma and white blood cells, you cannot use it for the diagnosis of mitochondrial diseases since CoQ content in plasma and white blood cells is often not decreased in these conditions.
CoQ10 content is mainly analyzed by the injection of lipid extracts in HPLC and detected by either electrochemical and/or UV-vis detectors, or mass spectrometry. Electrochemical detection has significant advantages compared to UV-vis detection; these include higher sensitivity and also the ability to measure oxidized and reduced forms of CoQ, either separately or combined, according to differential positioning of the conditioning cell (before or after the injector valve, respectively).
CoQ
10
extraction from biological samples (0.5 mg protein) requires the disruption of hydrophobic elements (lipid bilayers and lipoproteins) by adding SDS (1% final concentration). Lipids are dispersed with an alcohol cocktail (2-propanol 5% in ethanol) mixed with the disrupted biological sample (ratio 1:2
v
/
v
), and they undergo subsequent triplicated hexane extraction (dispersed sample:hexane ratio 3:5
v
/
v
). Hexane fractions are mixed and dried under vacuum, and then reconstituted in ethanol prior to HPLC analysis. To estimate CoQ
10
recovery, 100 pmol CoQ
9
was included in the alcohol cocktail (2-propanol 5% in ethanol). Trace amounts of CoQ9 may have eventually been found in human tissues (probably from dietary uptake), but this does not interfere with the significant amount of internal standard added.
For convenience in high-throughput analysis, volumes are scaled down for extraction and vortex in 1.5 mL polypropylene tubes or 2 mL cryo vials.
Separation in C18 RP-HPLC columns (5 µm, 150 × 4.6 mm) requires 20 mM AcNH4 pH 4.4 in methanol (solvent A) and 20 mM AcNH4 pH 4.4 in propanol (solvent B). A gradient method with a 85:15 solvent mixture (A:B ratio), and a flow rate of 1.2 mL/min, is regularly used as the starting conditions. The mobile phase turns to a 50:50 A:B ratio starting in minute 6 and completed in minute 8, as the flow rate decreases to 1.1 mL/min. After 20 min (run time) at 40 °C, the columns are re-equilibrated to the initial conditions for three additional minutes.
The detection of total CoQ
10
can be achieved either by UV-vis (set to 275 nm) or electrochemical (ECD) detectors (channel 1 set to −700 mV and channel 2 set to +500 mV, conditioning guard cell after injection valve). For complex samples including many peaks, the CoQ
10
peak is confirmed by spectral information (UV-vis) or by the redox area ratio (ECD detector, −700/+500 area ratio), compared to pure CoQ
10
.
Figure 1
illustrates two chromatograms that correspond to normal age-matched human dermal fibroblasts (black plot) compared to patient dermal fibroblasts with CoQ
10
deficiency (red plot).
5. Analysis of CoQ10 Biosynthesis
6. Concluding Remarks
Coenzyme Q
10
deficiency syndrome includes a group of mitochondrial diseases showing diverse inherited pathological phenotypes. The common aspect of them is the lower content of CoQ
10
in tissues and organs. Primary deficiency is caused by defects in proteins encoded by
COQ
genes, which are components of the biosynthesis pathway or its regulation. CoQ
10
supplementation is the current treatment of primary CoQ
10
deficiency, which highly improves symptoms. A rapid and distinct characterization of the deficiency is important, and it is mainly determined in skeletal muscle and/or skin dermal fibroblasts. The main approach is to analyze the total content of CoQ
10
in lipid extracts by HPLC and UV and/or electrochemical detection. Alternatively, the CoQ
10
biosynthesis rate in cultured cells can be determined by incubation with radiolabeled precursors.
Acknowledgments
This work has been funded by the Instituto de Salud Carlos III FIS PI14-01962 grant. Authors were also funded by the Junta de Andalucía BIO177 research group.
Author Contributions
J.C.R.-A., A.B.C., D.J.M.F.-A., and P.N. have contributed to writing and editing the review and figures.
Conflicts of Interest
The authors declare no conflict of interest.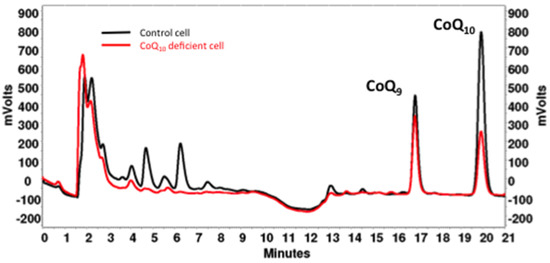 Figure 1. HPLC elution profile of lipid extracts from human skeletal muscular tissue. Patient pathological profile (red plot) shows that CoQ10 is clearly diminished compared to healthy control volunteers (black plot). CoQ9 is used as internal standard for normalization.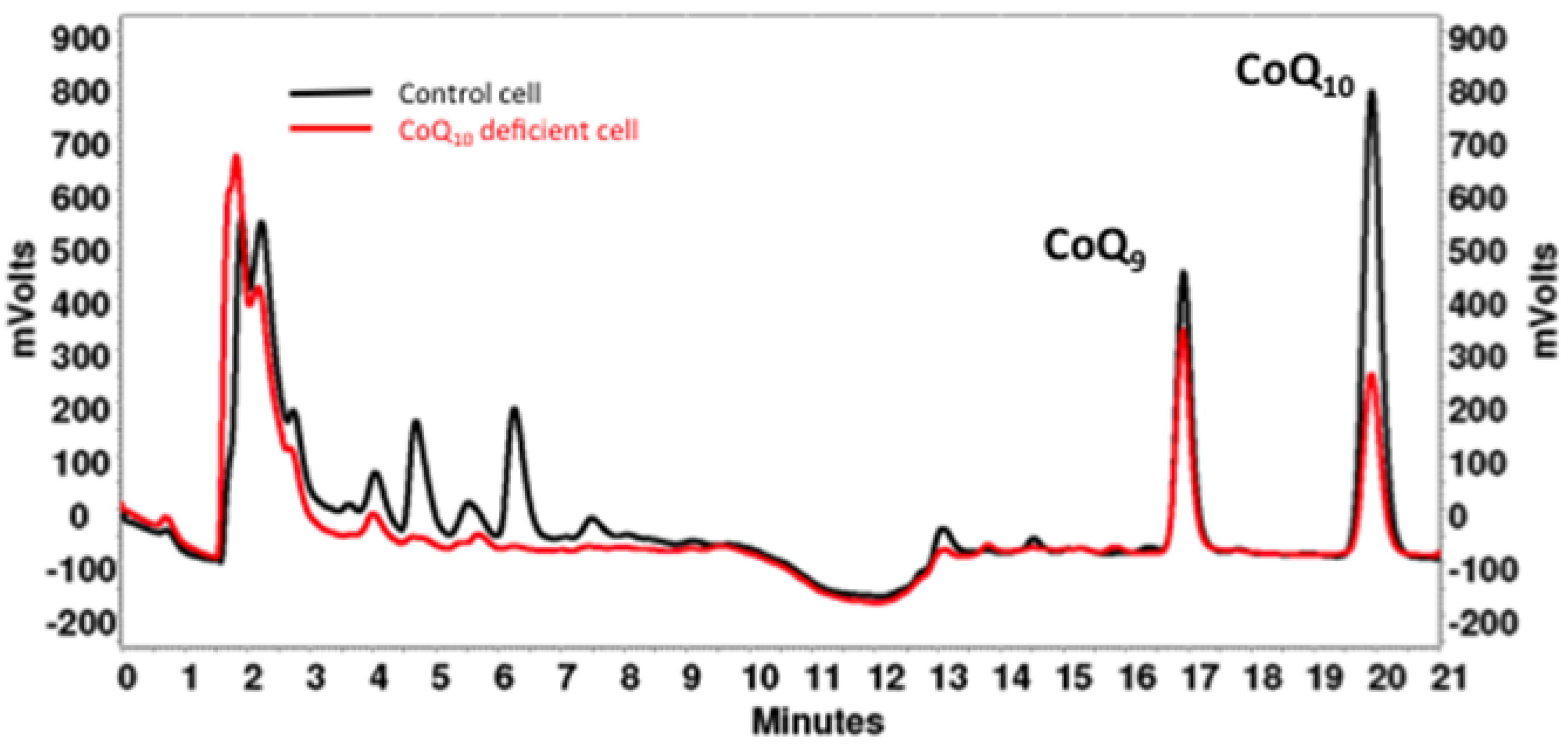 Figure 2.
HPLC elution profile of lipid extracts from human fibroblasts cultured with the radiolabeled precursor
14
C-
p-
HB. Patient pathological profile (red plot) shows that CoQ
10
is clearly diminished compared to control cells from healthy humans (blue plot). Left Y-axis shows the radio-flow detector scale (volts). Right Y-axis shows the UV-detector scale (absorbance units) for a standard pool of CoQ
10
and CoQ
9
(black plot). Notice that the only peak detected in this analysis corresponded with CoQ
10
.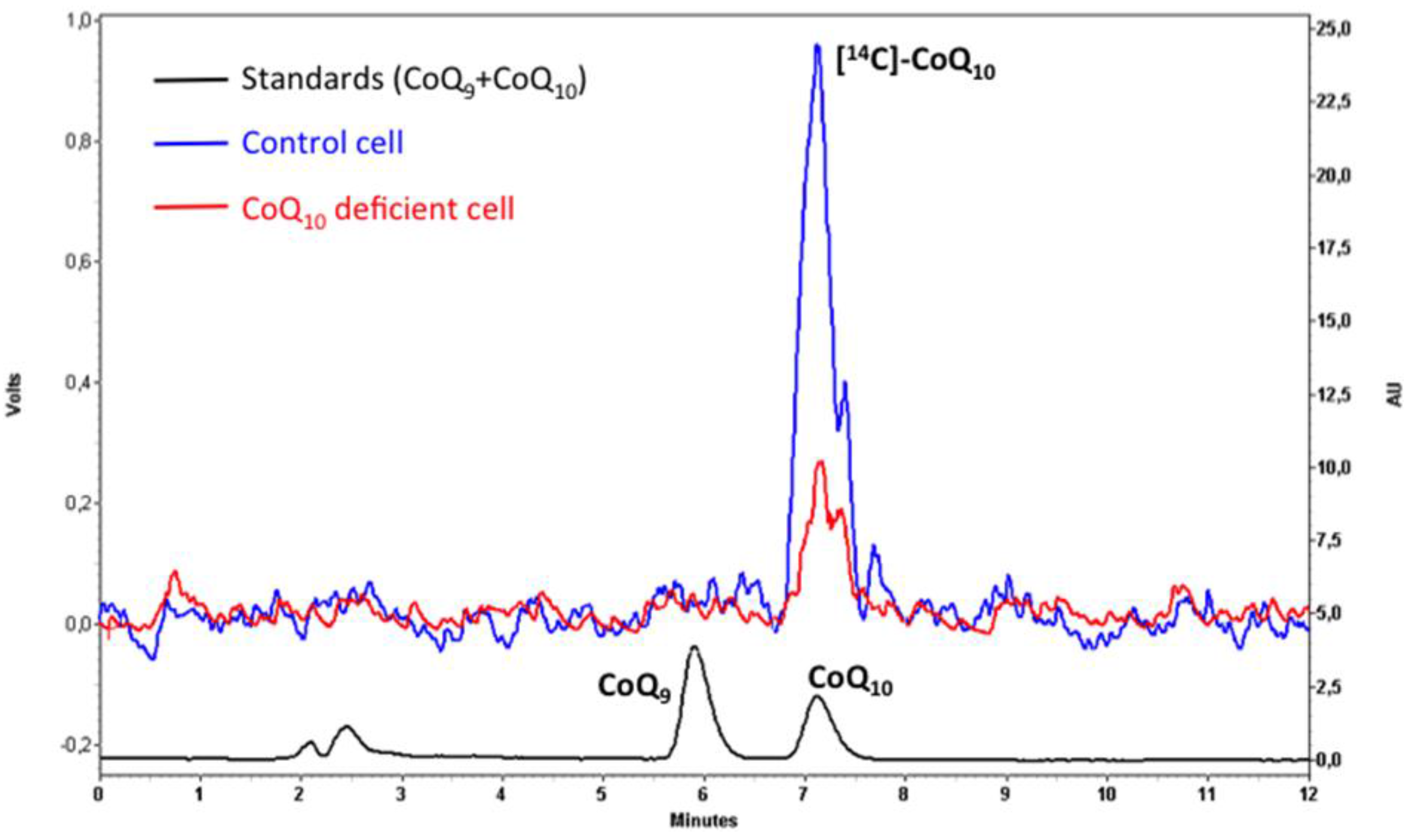 Table 1. Yeast

COQ

genes and their characterized human homologues.
Yeast
Human
Function

COQ1

PDSS1 */PDSS2 *

Synthesis of polyprenyl-diphosphate

COQ2

COQ2 *

p

HB-prenyl-transferase

COQ3

COQ3 *

Methyltransferase

COQ4

COQ4 *

Organization of the multi-enzyme complex

COQ5

COQ5

Methyltransferase

COQ6

COQ6 *

Mono-oxygenase

COQ7

COQ7 *

Hydroxylase

COQ8

ADCK3 */ADCK4 *

Unorthodox kinase (regulatory)

COQ9

COQ9 *

Lipid binding protein

COQ10

COQ10A/COQ10B

CoQ chaperone

PTC7

PPTC7

Phosphatase (regulatory)
* These genes were mutated in human causing primary CoQ10 deficiency.
© 2017 by the authors. Licensee MDPI, Basel, Switzerland. This article is an open access article distributed under the terms and conditions of the Creative Commons Attribution (CC BY) license ( http://creativecommons.org/licenses/by/4.0/).