Open Access This article is
freely available
re-usable
Article
Neurosurgical Hyponatremia
1
Department of Endocrinology, St. Bartholomew's Hospital, London, EC1A 7BE, UK
2
Academic Department of Endocrinology, Beaumont Hospital/RCSI Medical School, Dublin, Ireland
*
Author to whom correspondence should be addressed.
External Editor: Lewis S. Blevins
Received: 3 August 2014; in revised form: 11 September 2014 / Accepted: 22 September 2014 / Published: 14 October 2014
Abstract
:
Hyponatremia is a frequent electrolyte imbalance in hospital inpatients. Acute onset hyponatremia is particularly common in patients who have undergone any type of brain insult, including traumatic brain injury, subarachnoid hemorrhage and brain tumors, and is a frequent complication of intracranial procedures. Acute hyponatremia is more clinically dangerous than chronic hyponatremia, as it creates an osmotic gradient between the brain and the plasma, which promotes the movement of water from the plasma into brain cells, causing cerebral edema and neurological compromise. Unless acute hyponatremia is corrected promptly and effectively, cerebral edema may manifest through impaired consciousness level, seizures, elevated intracranial pressure, and, potentially, death due to cerebral herniation. The pathophysiology of hyponatremia in neurotrauma is multifactorial, but most cases appear to be due to the syndrome of inappropriate antidiuretic hormone secretion (SIADH). Classical treatment of SIADH with fluid restriction is frequently ineffective, and in some circumstances, such as following subarachnoid hemorrhage, contraindicated. However, the recently developed vasopressin receptor antagonist class of drugs provides a very useful tool in the management of neurosurgical SIADH. In this review, we summarize the existing literature on the clinical features, causes, and management of hyponatremia in the neurosurgical patient.
Keywords:
hyponatremia; neurosurgery; SIADH; SAH; TBI
1. Introduction
Hyponatremia is the most frequent electrolyte imbalance encountered in hospital inpatients. It is especially frequent in patients suffering from neurosurgical insult or intervention. Around 15% to 20% of patients admitted for Traumatic Brain Injury (TBI) [
1
,
2
,
3
] and over 50% of patients admitted for Subarachnoid Hemorrhage (SAH) [
4
,
5
,
6
] develop hyponatremia. In patients admitted to neurosurgical units with intracranial tumors and hematomas and in patients undergoing pituitary surgery, hyponatremia occurs in between 10% and 20% of patients [
7
]. As hyponatremia occurs rapidly, over 2–4 days in most of these conditions, it is more likely to be associated with cerebral edema, and therefore to produce symptoms of cerebral irritation.
Moderate to severe hyponatremia is known to increase inpatient mortality [
8
,
9
,
10
,
11
,
12
], and recent data suggest that even mild hyponatremia may confer an adverse prognosis in diverse patient groups, including those with pneumonia [
13
], those in intensive care [
14
] and those in the community [
15
,
16
]. In addition, as acute hyponatremia is associated with reduced conscious level, the development of this complication may impair the ability of the neurosurgical patient to engage with physiotherapy and rehabilitation. Indeed there are data from a number of centers which highlight the prolongation of hospital stay associated with hyponatremia of multiple etiologies [
4
,
17
,
18
,
19
,
20
,
21
].
As hyponatremia occurs so frequently in neurosurgical patients, management is particularly important. A structured approach to the differential diagnosis of the cause of lowered plasma sodium concentrations forms the basis for prompt and correct management of hyponatremia in this patient group. In this review we will explore the pathophysiology of hyponatremia in neurotrauma with particular reference to the role of vasopressin, and provide a brief summary of our recommended management strategies.
2. The Clinical Effects of Hyponatremia
3. The Pathophysiology of Hyponatremia in Neurosurgical Patients
4. Hyponatremia Following Traumatic Brain Injury
Following TBI, approximately 15% of patients develop hyponatremia, usually within the first 5 days after cerebral insult [
1
,
3
]. Low plasma sodium concentrations in this setting are almost always transient and self-resolving [
1
,
45
]. Hyponatremia was previously thought to be primarily due to SIADH [
7
,
49
], with acute ACTH deficiency felt to be a relatively rare entity. However, almost all previous studies relied on assessment of cortisol dynamics at a single time point, providing only a "snapshot" of patients' pituitary function [
50
,
51
,
52
,
53
,
54
,
55
,
56
]. Plasma cortisol levels are highly dynamic in the days following TBI [
51
,
52
], so protocols with only a single time point for testing may underestimate the true incidence of pituitary dysfunction immediately following TBI. A recent prospective study repeatedly and prospectively evaluated for the presence of hyponatremia and acute ACTH deficiency in a large cohort of patients following TBI. The data showed that 15% of patients developed transient hyponatremia. When plasma cortisol concentrations in the TBI patients were compared with those derived from a comparable group of intensive care patients without neurotrauma, 87% of the TBI patients were found to have inappropriately low plasma cortisol concentrations for their degree of illness. Treatment with parenteral hydrocortisone, led to resolution of hyponatremia in all cases [
1
]. No cases of CSWS were seen despite careful prospective data collection. Thus, acute glucocorticoid insufficiency seems much commoner after TBI than widely appreciated, and it may play a significant role in the development of hyponatremia [
57
]. Cases of life threatening hyponatremia [
58
], sometimes associated with hypotension requiring pressor support [
54
], have been reported which are attributable to acute glucocorticoid deficiency. The presence of hypotension and/or hypoglycaemia are valuable clues which might indicate the presence of acute ACTH insufficiency and, if present in hyponatremic patients, should be further investigated. Long term follow up following TBI has shown that chronic hyponatremia is rare following TBI, and if present another cause (such as treatment with anti seizure medications known to cause hyponatremia) should be sought [
1
,
45
].
5. Hyponatremia Following Subarachnoid Hemorrhage
Hyponatremia is far more common following SAH than it is after TBI [
4
,
5
,
6
] occurring in approximately 50% of patients. The etiology of hyponatremia following subarachnoid hemorrhage is diverse [
2
] and potential causes include SIADH, acute glucocorticoid deficiency, and CSWS, as well as the more general causes of hyponatremia outlined in
Table 2
. However, there is considerable dispute as to which of these diverse aetiologies most commonly cause hyponatremia following SAH. A number of small studies have suggested that CSWS is the most common cause [
47
,
59
,
60
,
61
], due to the demonstration that there is a rise in plasma concentrations of both atrial natriuretic peptide (ANP) [
59
,
60
] and brain natriuretic peptic (BNP) concentrations [
62
] following SAH. However, these studies were small and underpowered, and not all were able to relate the rise in plasma ANP/BNP concentrations to the subsequent development of hyponatremia. Elevated plasma BNP concentrations may therefore not necessarily mediate the development of hyponatremia. In fact, recent data have suggested that the presence of elevated plasma BNP concentrations cannot be regarded as a reliable predictor of either blood volume status or the development of hyponatremia, within the context of recent subarachnoid hemorrhage [
63
]. Some previous retrospective studies [
4
,
7
] have failed to substantiate cerebral salt wasting as a cause for anything more than a minority of cases of hyponatremia following SAH, and strongly support SIAD as the predominant cause of hyponatremia. In contrast, the similarly-sized retrospective study of Kao
et al
., found that only 35.4% of severe hyponatremia (<130 mmol/L) was considered to be due to SIADH, with a substantial proportion—22.9%—considered to be secondary to CSWS [
5
]. However, only those patients with plasma sodium <130 mmol/L (a minority of the overall number of cases of hyponatremia) were analyzed in detail. Furthermore, few patients had invasive monitoring of fluid balance parameters such as central venous pressure, and so a diagnosis of CSWS was made based on retrospective review of patients' fluid balance charts, a method prone to error.
An additional weakness found in the majority of previous retrospective studies is that there was no routine assessment of cortisol dynamics. The authors were therefore unable to comment on how many patients with apparent SIAD had their electrolyte abnormalities as a manifestation of glucocorticoid deficiency. This is a clinically important omission as recent studies by Klose
et al
. [
64
] and Parenti
et al
. [
65
] found that between 7.1% and 12% of patients were cortisol deficient immediately following SAH. A recent study involving repeated measurement of plasma cortisol found a far higher rate of ACTH insufficiency [
66
].
In the largest prospective study done to date, which involved repeated, sequential assessments of both plasma sodium and cortisol dynamics, hyponatremia occurred in 49% of SAH patients, and the commonest cause of hyponatremia was SIADH (found in 71.4%) [
6
]. In addition, 8.2% of the hyponatremic patients had acute ACTH deficiency; steroid treatment led to resolution of hyponatremia in these patients. No cases of CSWS were found. This study was further strengthened by the fact that patients also had sequential measurements of AVP and BNP performed, to confirm the cause of hyponatremia. In each patient who developed hyponatremia, AVP was significantly higher before and during the episode of hyponatremia compared with AVP levels measured once the hyponatremia had resolved (see
Figure 1
), consistent with the majority of cases of hyponatremia being due to SIADH. In contrast, there was no difference in BNP when levels were compared before, during, and after the episode of hyponatremia. Plasma BNP concentrations were also found to be elevated in eunatremic patients, and were not different in the hyponatremic and eunatremic groups. Plasma AVP concentrations were higher in patients with clinical SIADH than in any other patients with hyponatremia, including those with acute glucocorticoid insufficiency, those with hyponatremia due to inappropriate intravenous fluid administration and those with hypovolemic hyponatremia (see
Figure 2
). In contrast, there was no difference in plasma BNP concentrations between patients with hyponatremia of various etiologies. There was also no difference between plasma BNP concentrations in the eunatremic patients and the hyponatremic patients (see
Figure 3
). Furthermore, patients with SIADH had loss of the osmotic link between plasma sodium and AVP release whereas eunatremic patients retained this connection—this finding is consistent with the clinical diagnosis of SIADH, as this disorder is characterised by excessive, random secretion of AVP [
32
,
67
]. Thus, although BNP was elevated in almost all patients with SAH, AVP was selectively elevated in those with hyponatremia, supporting the authors' clinical impression that the majority of patients had hyponatremia due to SIADH.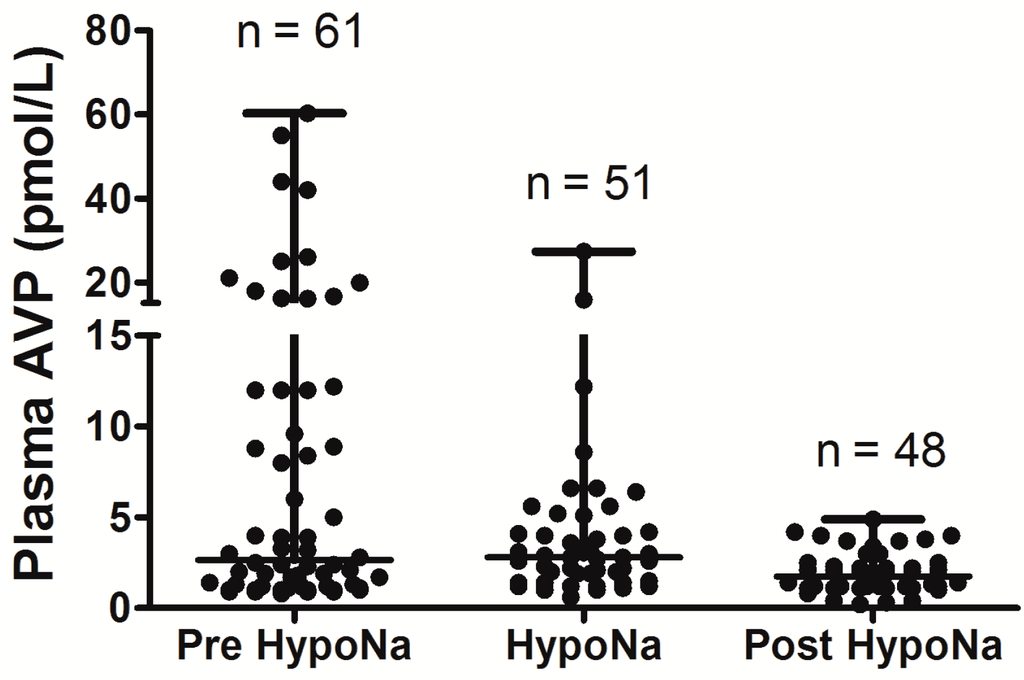 Figure 1.
Comparison of arginine vasopressin (AVP) levels before the development of hyponatremia, during the hyponatremic episode, and after resolution of hyponatremia, in patients with SIADH following Subarachnoid Hemorrhage (SAH); AVP levels are significantly higher before and during episode of hyponatremia when compared with after resolution of hyponatremia (
p
= 0.03); adapt from [
6
] with permission.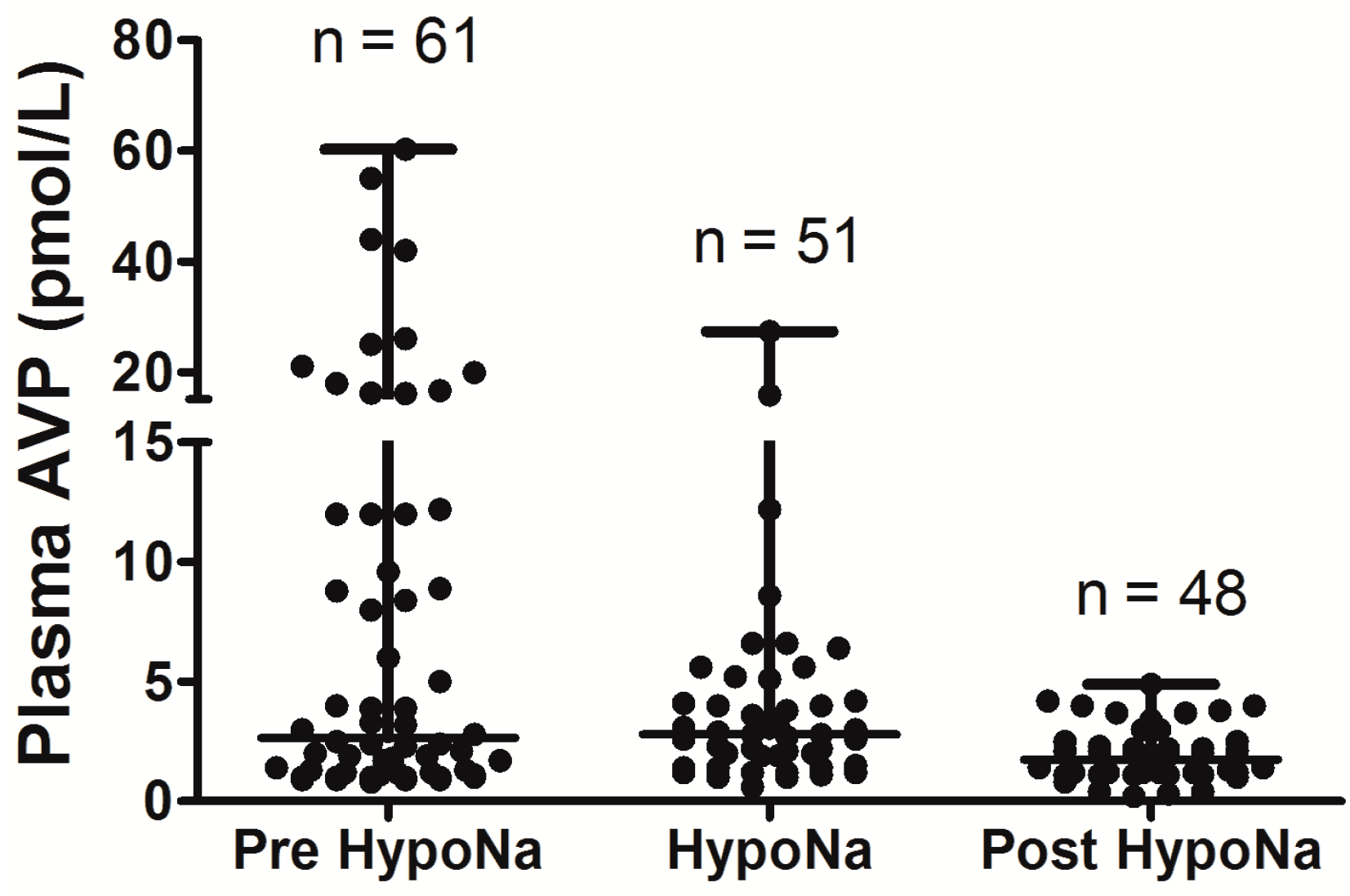 Overall, the data show that SIADH is the most common cause of hyponatremia following SAH, with acute glucocorticoid insufficiency also playing significant role Although CSWS has been reported following SAH [
2
,
4
,
6
], the largest prospective study to date did not find any cases, despite robust methodology and sequential measurement of both AVP and BNP [
6
], and CSWS seems to be very rare following SAH. None of the above studies demonstrated any significant occurrence of long-term hyponatremia following SAH; as is observed in hyponatremia following TBI, it appears to be a transient phenomenon.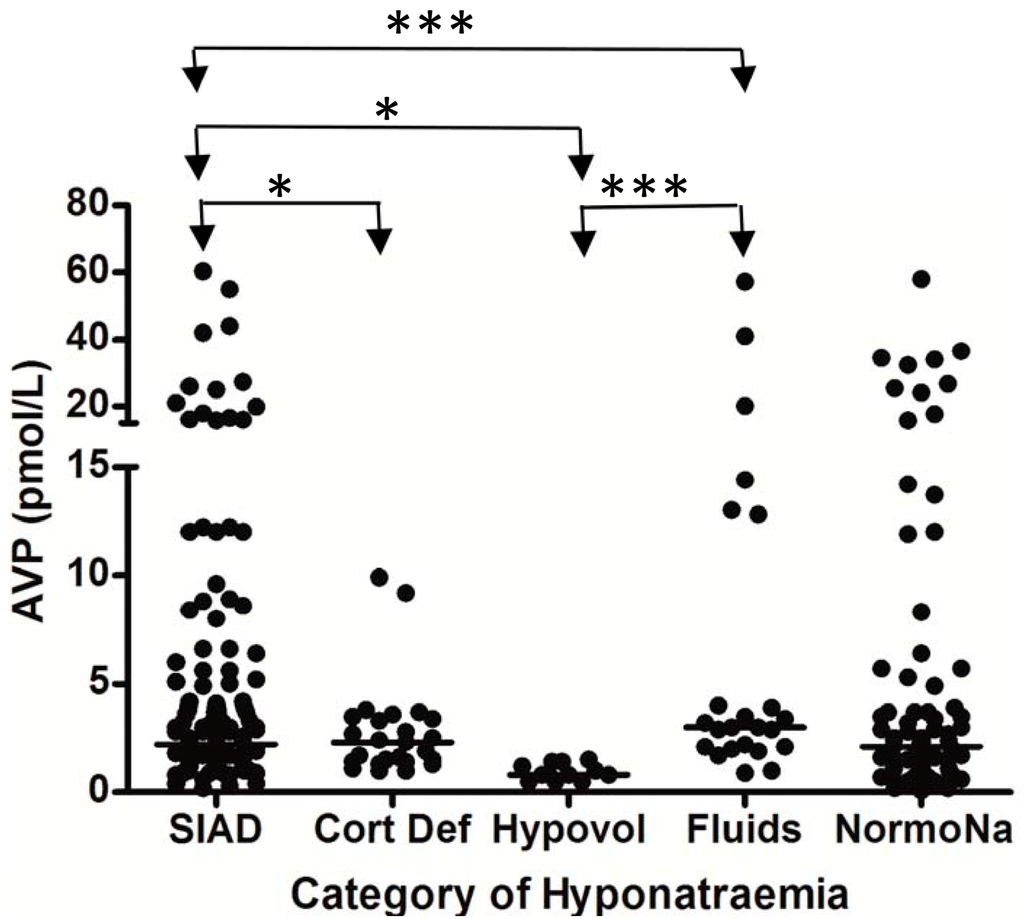 Figure 2.
Comparison of AVP levels between different patient groups in patients with hyponatremia following SAH; each point represents an individual AVP measurement; adapt from [
6
] with permission.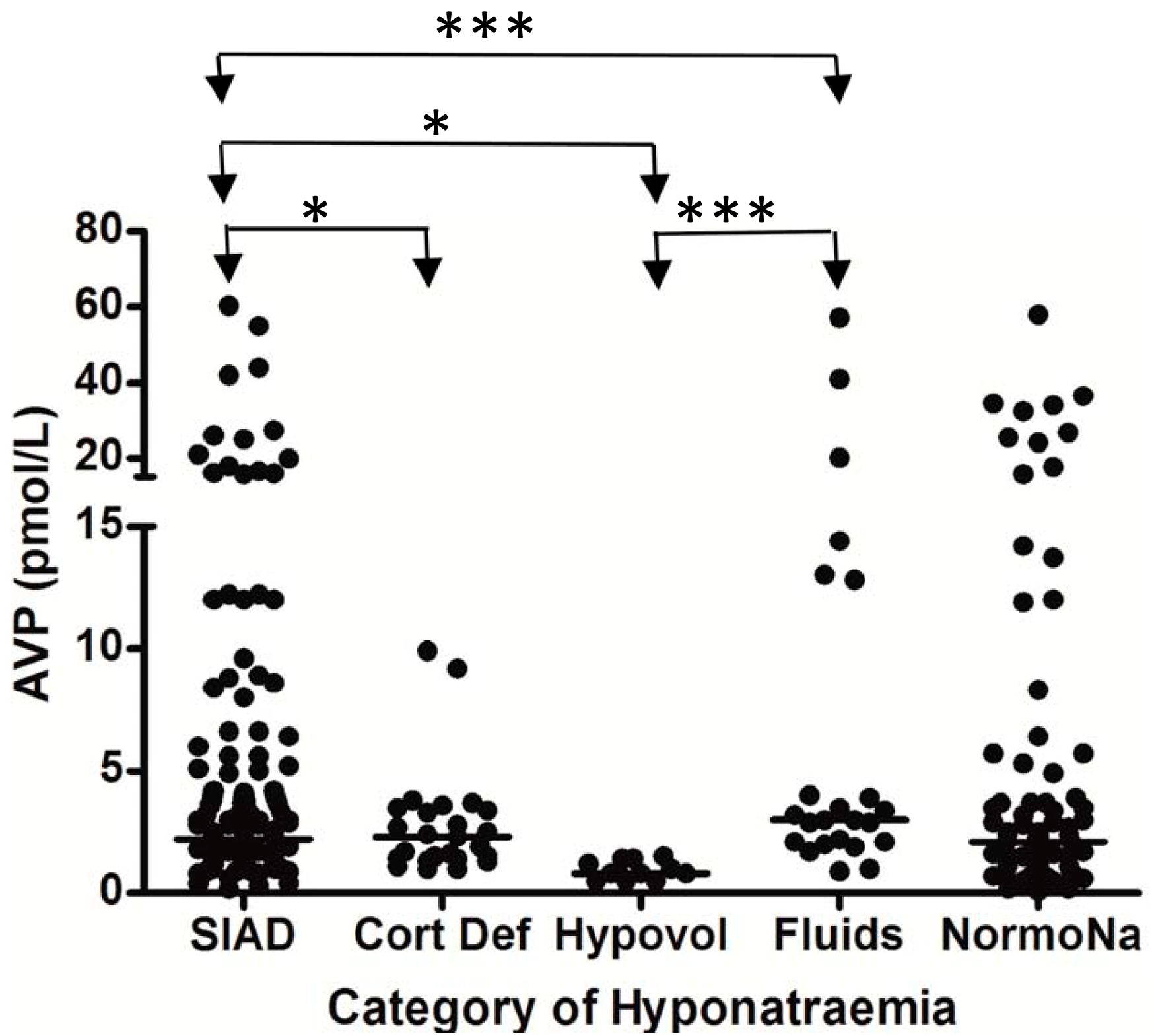 *
p
= 0.01; ***
p
< 0.0001; SIAD = hyponatremia due to SIADH; Cort Def = hyponatremia due to acute glucocorticoid insufficiency; Hypovol = hypovolemic hyponatremia; Fluids = hyponatremia due to inappropriate hypotonic intravenous fluid administration; NormoNa = normal plasma sodium levels following SAH.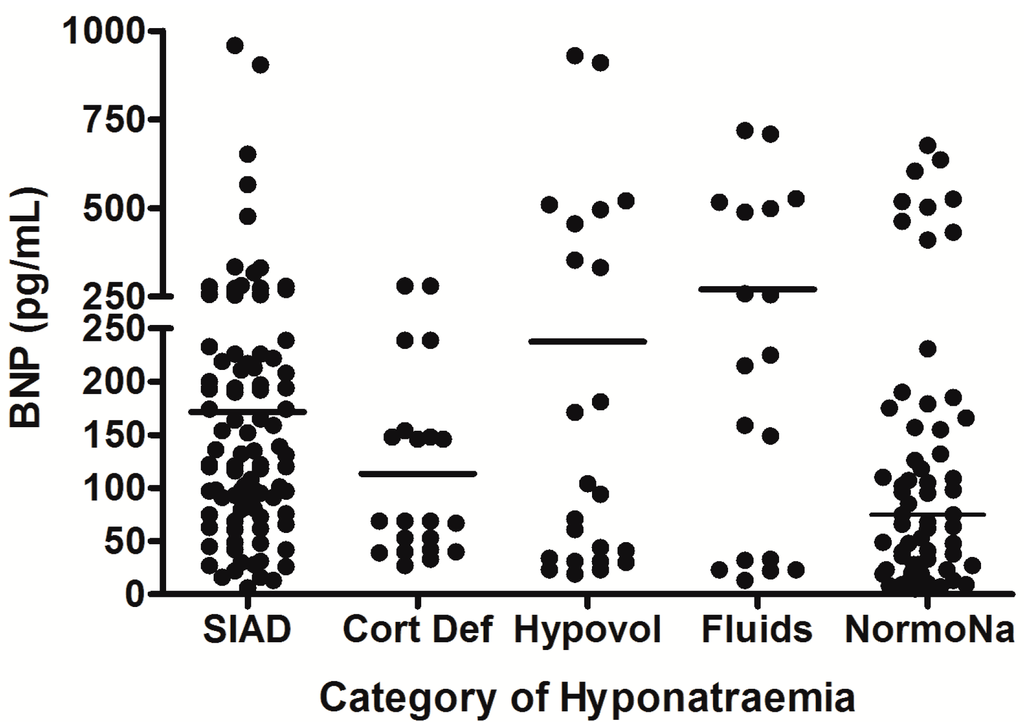 Figure 3.
Comparison of brain natriuretic peptic (BNP) levels between different patient groups in patients with hyponatremia following SAH; each point represents an individual BNP measurement; all comparisons between groups were non significant (
p
> 0.05); adapt from [
6
] with permission.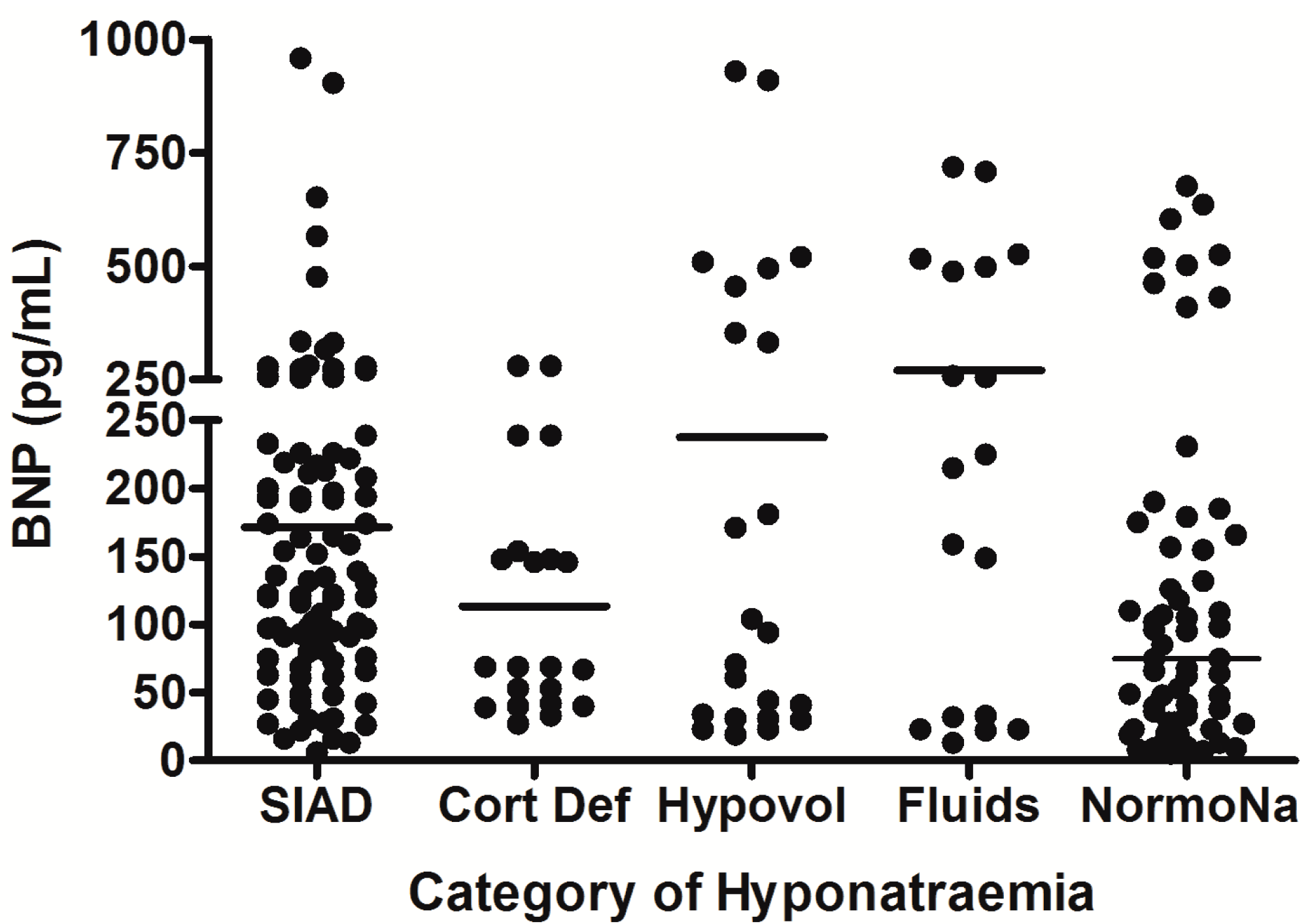 SIAD = hyponatremia due to SIADH; Cort Def = hyponatremia due to acute glucocorticoid insufficiency; Hypovol = hypovolemic hyponatremia; Fluids = hyponatremia due to inappropriate hypotonic intravenous fluid administration; NormoNa = normal plasma sodium levels following SAH.
6. Hyponatremia Following Pituitary Surgery
Although pituitary tumors themselves rarely cause hyponatremia unless there is untreated glucocorticoid insufficiency, a fall in plasma sodium concentrations has been described to occur following trans-sphenoidal surgery, with an incidence varying from 3% to 25% depending on the series [
68
,
69
]. Hyponatremia following pituitary surgery is predominantly due to SIADH (see
Table 1
and
Table 2
) [
7
]. The presence of preoperative hypopituitarism makes postoperative hyponatremia more likely [
69
]. Mechanical irritation of the posterior pituitary or the hypophyseal stalk is thought to be the underlying pathophysiological cause of uncontrolled AVP release. In many pituitary units the patients are routinely treated with stress doses of hydrocortisone in the peri-operative period, thus eliminating the possibility of acute glucocorticoid insufficiency as a cause of hyponatremia in this setting. Transient hyponatremia following pituitary surgery may also occur as part of the triple phase response [
2
]. This is characterized by acute DI, followed by a period of hyponatremia due to release of pre-formed vasopressin from damaged neurones. The initial development of DI usually occurs in the first 48 hours following surgery, and lasts between 24 and 48 hours. Hyponatremia then develops and lasts for several days, as pre-formed vasopressin is released. Eventually, gliosis of the neurones occurs, with the onset of permanent DI. For this reason, DI following pituitary surgery should only be treated with stat doses of ddAVP, as the prescription of a regular dosing schedule could greatly worsen the hyponatremia that would develop as part of the triple phase response.
Hyponatremia occurs relatively rarely in association with other intracerebral pathologies when compared with TBI, SAH and pituitary surgery [
2
,
7
]. If hyponatremia occurs, it is often as a result of pituitary stalk irritation or acute glucocorticoid insufficiency caused by surgical intervention rather than the primary disease process.
7. Management of Hyponatremia in the Neurosurgical Patient
An important distinction must be made between chronic and acute symptomatic hyponatremia. Many patients with chronic hyponatremia are able to tolerate significant "severe" lowering of plasma sodium concentration (<120 mmol/L), because adaptative mechanisms prevent cerebral edema. On the other hand, rapid falls in plasma sodium concentration—such as those seen in patients with neurotrauma—may produce seizures and diminished levels of consciousness at plasma concentrations (120–125 mmol/L) which present no neurological threat in chronic hyponatremia. Therefore, the term "acute symptomatic" should be used to refer to hyponatremia associated with neurological symptoms, which is almost always associated with acute (<3 days) falls in plasma sodium concentrations. Neurosurgical patients almost always develop hyponatremia quickly, and are more likely develop hyponatremic symptoms at any given sodium level, as a consequence of their underlying cerebral insult, complications of this insult, surgical treatment or comorbid conditions such as hypoxia or hypercapnia. Neurosurgical hyponatremia is therefore generally classified and managed as acute and symptomatic.
7.1. Management of Acute Symptomatic Hyponatremia
7.2. Management of Hyponatremia Due to Glucocorticoid Insufficiency
In patients without acute severe hyponatremia, the key to management is an accurate diagnosis of the underlying cause, as outlined in
Table 2
. However, this may not be easy in clinical practice. The diagnosis of ACTH deficiency is often particularly difficult to establish in the acutely unwell patient. A recent review advocated a random plasma cortisol cut-off of approximately 15 mcg/dL (414 nmol/L) for the diagnosis of ACTH deficiency in intensive care patients (with normal serum binding proteins) [
81
]. The Critical Care Medicine Taskforce has recommended a very conservative random total plasma cortisol cut-off of <10 mcg/dL (276 nmol/L), or a delta total plasma cortisol of <9 mcg/dL (248 nmol/L) after adrenocorticotrophic hormone (250 mcg) administration, for the formation of this diagnosis [
82
]. However, this recommendation is intended to cover all intensive care patients and there is a lack of normative data in neurosurgical patients upon which to base a higher cut-off. Furthermore, the administration of adrenocorticotrophic hormone to patients with acute ACTH insufficiency may lead to appropriate adrenal cortisol production by the intact adrenal glands, and therefore lead to a falsely reassuring result. We routinely measure a 0900 h plasma cortisol concentration in all hyponatremic patients who have biochemical and blood volume data to suggest SIADH. In the presence of hypotension and/or hypoglycaemia, we would empirically commence intravenous glucocorticoids pending laboratory analyses. In those in whom there is no strong clinical suspicion of ACTH deficiency, glucocorticoid treatment is only commenced if the 0900 h cortisol is <10.8 mcg/dL (300 nmol/L) [
1
]. It should be noted, however, that the diurnal variation of plasma cortisol is usually lost in critical illness and so cortisol measurement may not necessarily have to take place at 0900 h. Our policy decision to measure cortisol at 0900 h is based on the fact that this is the time point for which we have the best control values. Treatment with parenteral glucocorticoids will lead to rapid resolution of hyponatremia due to ACTH deficiency. All patients diagnosed with ACTH deficiency in the acute phase of their neurosurgical illness are reassessed with dynamic pituitary function testing between three and six months into their recovery period—prospective studies in TBI patients indicate that acute hormone deficiencies tend to recover by this stage [
1
,
83
,
84
], and long term anterior hypopituitarism is uncommon following SAH [
64
]. Long term glucocorticoid therapy is only continued in patients who fail dynamic pituitary testing.
7.3. Management of Other Causes of Hyponatremia
The majority of cases of hyponatremia due to neurosurgical insult are acute and symptomatic and need emergent management. However, in cases of mild hyponatremia without physiological decompensation, other management strategies may be considered.
8. Conclusions
Hyponatremia is associated with increased morbidity and mortality in hospital inpatients, and is common in neurosurgical patients. It is an especially frequent occurrence following TBI, SAH, and pituitary surgery. The most common cause of hyponatremia following neurotrauma is SIADH, with acute glucocorticoid insufficiency accounting for a smaller but significant number of cases. CSWS is very rare following neurotrauma. Although hyponatremia is often mild and self limiting, treatment with fluid restriction is generally unsatisfactory. Although the vaptan class of medications offer a novel new approach to the management of SIAD, the use of hypertonic saline is still the treatment of choice for acute symptomatic hyponatremia.
Acknowledgments
Some of the research work referred to was sponsored by Pfizer and Novo Nordisk.
Author Contributions
Mark J. Hannon personally performed and wrote both the original research mentioned in this paper and the above paper itself. Christopher J. Thomposon directly supervised Dr. Hannon's previous research work and the authorship of this and other papers from the group.
Conflicts of Interest
Christopher J. Thompson has lectured in symposia funded by Otsuka. Mark J. Hannon has no conflicts of interest.
© 2014 by the authors; licensee MDPI, Basel, Switzerland. This article is an open access article distributed under the terms and conditions of the Creative Commons Attribution license (http://creativecommons.org/licenses/by/4.0/).