Open Access This article is
freely available
re-usable
Article
Fabrication and Evaluation of Trimethylmethoxysilane (TMMOS)-Derived Membranes for Gas Separation
1
Department of Chemical System Engineering, The University of Tokyo, 7-3-1 Hongo, Bunkyo-ku, Tokyo 113-8556, Japan
2
Department of Chemical Engineering, Virginia Tech, Blacksburg, VA 24061, USA
3
College of Chemical Engineering, Fuzhou University, Fuzhou 350116, China
†
Current address: Department of Applied Chemistry, Faculty of Engineering, Kyushu University, 744 Motooka, Nishi-ku, Fukuoka 819-0395, Japan.

Received: 1 August 2019 / Accepted: 12 September 2019 / Published: 20 September 2019
Abstract
:
Gas separation membranes were fabricated with varying trimethylmethoxysilane (TMMOS)/tetraethoxy orthosilicate (TEOS) ratios by a chemical vapor deposition (CVD) method at 650 °C and atmospheric pressure. The membrane had a high H2 permeance of 8.3 × 10−7 mol m−2 s−1 Pa−1 with H2/CH4 selectivity of 140 and H2/C2H6 selectivity of 180 at 300 °C. Fourier transform infrared (FTIR) measurements indicated existence of methyl groups at high preparation temperature (650 °C), which led to a higher hydrothermal stability of the TMMOS-derived membranes than of a pure TEOS-derived membrane. Temperature-dependence measurements of the permeance of various gas species were used to establish a permeation mechanism. It was found that smaller species (He, H2, and Ne) followed a solid-state diffusion model while larger species (N2, CO2, and CH4) followed a gas translational diffusion model.
Keywords:
silica-based membrane; hydrogen separation; CVD; pore size control; trimethylmethoxisilane; separation mechanism
1. Introduction
The originality of this paper resides in the in-depth characterization of the trimethylmethoxysilane membrane by physical techniques such as infrared spectroscopy and dynamic methods such as permeance measurements. This gives information about the structure of the membrane and the mechanism of permeance.
2. Materials and Methods
2.1. Preparation of Membranes
The membranes consisted of three layers, a commercial α-alumina support, a γ-alumina intermediate layer, and a top-most silica layer. The preparation steps are described below. The boehmite sols were synthesized by hydrolysis of aluminum alkoxides and acid peptization. Two different sizes of sols (80 and 40 nm) were prepared. A quantity of 61.3 g (0.3 mol) of aluminum isopropoxide (Aldrich, >98%, Tokyo, Japan) was dissolved in 50 mL of water and stirred for 24 h at 98 °C. Then, nitric acid was slowly added (80 nm; H
+
/Al = 0.025, 40 nm; H
+
/Al = 0.070) and mixed for 24 h at 98 °C to induce peptization (oligomerization). After that, a solution of polyvinyl alcohol (obtained by dissolving 0.7 g of polyvinyl alcohol (Polyscience, M.W. = ~78,000) in 20 mL of water and mixing for 3 h at 98 °C) was added to control the viscosity and keep the boehmite colloidal sols stable. Finally, water was added to adjust the total volume to 200 mL and the mixture was stirred for 3 h at 70 °C. Formation of target sizes of boehmite sols was confirmed by a dynamic light scattering analyzer (LB-550, Horiba, Kyoto, Japan). In preparation for the deposition of the intermediate layers, a 3-cm length of porous α-alumina (I.D. = 4 mm, O.D. = 6 mm, average pore size = 60 nm, supplied from Noritake Co., Japan) was connected on both ends to 20 cm length of non-porous alumina tubes (I.D. = 4 mm, O.D. = 6 mm supplied from Sakaguchi E.H Voc Co., Kyoto, Japan) with glass seals. The glass seals were made by joining the tubes with glass paste and then melting them in a vertical oven at 1000 °C. To deposit the intermediate layer, the prepared tube was dipped into suspensions of the prepared boehmite sol for 10 s with the outside surface wrapped with Teflon tape. Then, the deposited sol was dried for 4–6 h and calcined at 650 °C for 3 h. This procedure was carried out twice, first using the 80-nm sol, and then using the 40-nm sol. This procedure followed a previous study of Gu and Oyama to prepare graded structures [
22
]. The topmost silica layers were placed on top of the intermediate layer by chemical vapor deposition (CVD). Precursors for the membrane layer (various siloxanes) were vaporized in inert gas and were thermally decomposed on top of the porous substrate to place a thin silicious film on the outer surface. The apparatus is shown in
Figure 2
.
Trimethylmethoxysilane (TMMOS, Aldrich, >99%, Japan) and tetraethoxy orthosilicate (TEOS, Aldrich, >99%, Tokyo, Japan) were used as silica precursors. The TEOS and TMMOS were delivered to the membrane support by Ar at respective flow rates of 6 cm
3
min
−1
and 3 cm
3
min
−1
. All flow rates used in this study were under normal conditions (25 °C, 1 atm). A flow of 20 cm
3
min
−1
of Ar was supplied inside the membrane as a dilution gas and 29 cm
−3
min
−1
of Ar was supplied outside the membrane as a balance gas to equalize the pressures. The CVD temperature was set to 650 °C. The molar flow rates of the two precursors were calculated by using the ideal gas law and the Antoine equation (Equation (1)).
The Antoine parameters of TEOS and TMMOS were obtained from the literature [
23
].
Table 1
shows a summary of the CVD conditions. The membranes were prepared with different percentages of TMMOS (0% (pure TEOS), 25%, 30%, 35%) which was calculated from the flow rates as follows.
The molar ratios of the two precursors were controlled by changing the bubbler temperature of TEOS. Because of the large difference in vapor pressure of the two precursors (TEOS: 0.025 atm, TMMOS: 0.15 atm at 25 °C), the TEOS was heated to various temperatures (85–98 °C) with a mantle heater while the TMMOS was cooled to 3 °C with chilled water. During CVD, the permeances of H2 and nitrogen were measured every 15 min by interrupting the synthesis and flushing the synthesis gases. The CVD was stopped when there was no change in H2/N2 selectivity.
2.2. Characterizations
The cross-sections of the membranes were examined with a scanning electron microscope (SEM, S-900, Hitachi, Tokyo, Japan). For the SEM measurements the surfaces of the membranes were lightly coated with platinum by ion sputtering (E-1030, Hitachi, Tokyo, Japan).
Functional groups in the membranes were measured with a Fourier transform infrared spectrometer (FTIR, FT/IR 6100, MCT detector, JASCO, Tokyo, Japan). Samples for FTIR measurement were prepared by deposition of silica precursors on alumina discs at the same conditions as used for the CVD. The alumina discs were prepared as follows. First, alumina powder was obtained by calcining the 40-nm boehmite sol (the sol used for the topmost intermediate layer) for 3 h at 650 °C. Then, 25 mg of the alumina powder was ground and pressed to a 1-cm diameter disc at 40 MPa. This pressure was sufficient to form self-standing disks that were porous enough for gas access to the interior.
In situ FTIR measurements were carried out as shown in
Figure 3
. The self-supporting KBr disk of diameter 1 cm (50 mg) was prepared and was placed in the middle of the IR cell. Then, TEOS and TMMOS were delivered into the cell at the same conditions with that of the membrane preparation. A flow of 6 cm
3
min
−1
of dilution Ar and 15 cm
3
min
−1
of balance Ar were supplied at the same time. IR spectra were collected in the absorbance mode at 650 °C every 5 min.
2.3. Permeance Measurements
Various gases of different sizes and masses (He, Ne, H
2
, CO
2
, N
2
, CH
4
, and C
2
H
6
) were used to probe the permeance properties of the membrane at different conditions. The flow rate of permeate gas was measured directly with a film gas flow meter (GF1010, GL Science, Tokyo, Japan) in the case of large flow rates or with micro gas chromatography (Micro GC, TCD, Agilent 490, GL Science, Tokyo, Japan, using a molecular sieve 5A column for N
2
and a Porapak Q column for CO
2
, CH
4
, and C
2
H
6
) in the case of small flow rates. Calibrated peak areas could be converted to compositions, and from the total flow rate of a purge stream the flow rate of the individual gases could be obtained. The membrane effective area
A
was calculated from the following equation (Equation (3)).
where
L
is the length of the membrane,
r
1
is the outer diameter and
r
2
is the inner diameter. Permeance and selectivity were calculated by using Equations (4) and (5).
where
F
is molar flow rate, is the permeance of gas species
i
, Δ
pi
is the partial pressure difference for species
i
on both sides of the membrane.
The permeance of each gas was measured at 200–600 °C. The measurement order was 600, 400, 200, 300, and 500 °C. The obtention of smooth curves was evidence that the membrane was stable in the course of the measurements.
2.4. Hydrothermal Stability Tests
Silica membranes are damaged by water vapor at high temperature and H
2
permeance drops-off upon exposure to levels above 10% H
2
O [
24
,
25
,
26
]. It is known that under hydrothermal condition, the formation and condensation of silanol groups are catalyzed by water and Si–O–Si bonds are formed which result in the densification of silica network and a decrease of H
2
permeance [
26
]. In addition, the γ-alumina intermediate layers may be sintered by water, which results in enlarging the sizes of defects and increasing permeance [
27
]. To test the hydrothermal stability of the membranes, they were exposed to 6.6 μmol s
−1
(flow rates: 10 cm
3
min
−1
, water content: 16 mol%) of water vapor atmosphere at 650 °C for 96 h. The water was delivered using a bubbler heated to 56 °C using a flow of Ar of 10 cm
3
min
−1
. At the same time, 15.7 cm
3
min
−1
of Ar was introduced outside the membrane as balance gas.
3. Results and Discussion
4. Conclusions
Silica membranes obtained using a mixture of TEOS and TMMOS were prepared successfully with different molar percentages of TMMOS, 0% (pure TEOS), 25%, 30%, 35%. The TMMOS-derived membranes showed high H2 permeance and moderate H2/N2 selectivity. Especially, a TMMOS 35% membrane showed a permeance for H2 of 10−6 mol m−2 s−1 Pa−1 at 650 °C. This value was about 10-times higher than that of the silica membranes and close to that of palladium membranes. Fitting results for small gases (He, Ne, H2) suggested that addition of TMMOS resulted in the enlargement of the silica network size. From SEM images, the thickness of the TMMOS-derived membranes (30 nm) was thinner than that of the TEOS-derived membrane (120 nm). It is considered that TMMOS inhibited the deposition of silica precursors and led to the formation of a thin silica layer. Large silica network size and thin layers of TMMOS-derived membranes contributed to the high permeance. FTIR measurements confirmed the presence of methyl groups in the TMMOS-derived membrane which lead to the enhanced hydrothermal stability because of their hydrophobic nature.
Author Contributions
Y.M. carried out the research and wrote the initial draft; S.-J.A. developed the infrared method, researched the prior work, and corrected the figures; A.T. and R.K. helped to direct the research and analyze the results; S.T.O. planned the work, obtained the funding, and edited the manuscript.
Funding
This research was supported by the Japan Science and Technology Agency under the CREST program, Grant Number JPMJCR16P2.
Acknowledgments
The authors are grateful for the technical assistance of Takashi Sugawara.
Conflicts of Interest
The authors declare no conflict of interest.

Figure 1. Chemical structures and vapor pressures of tetraethoxy orthosilicate (TEOS) and trimethylmethoxysilane (TMMOS).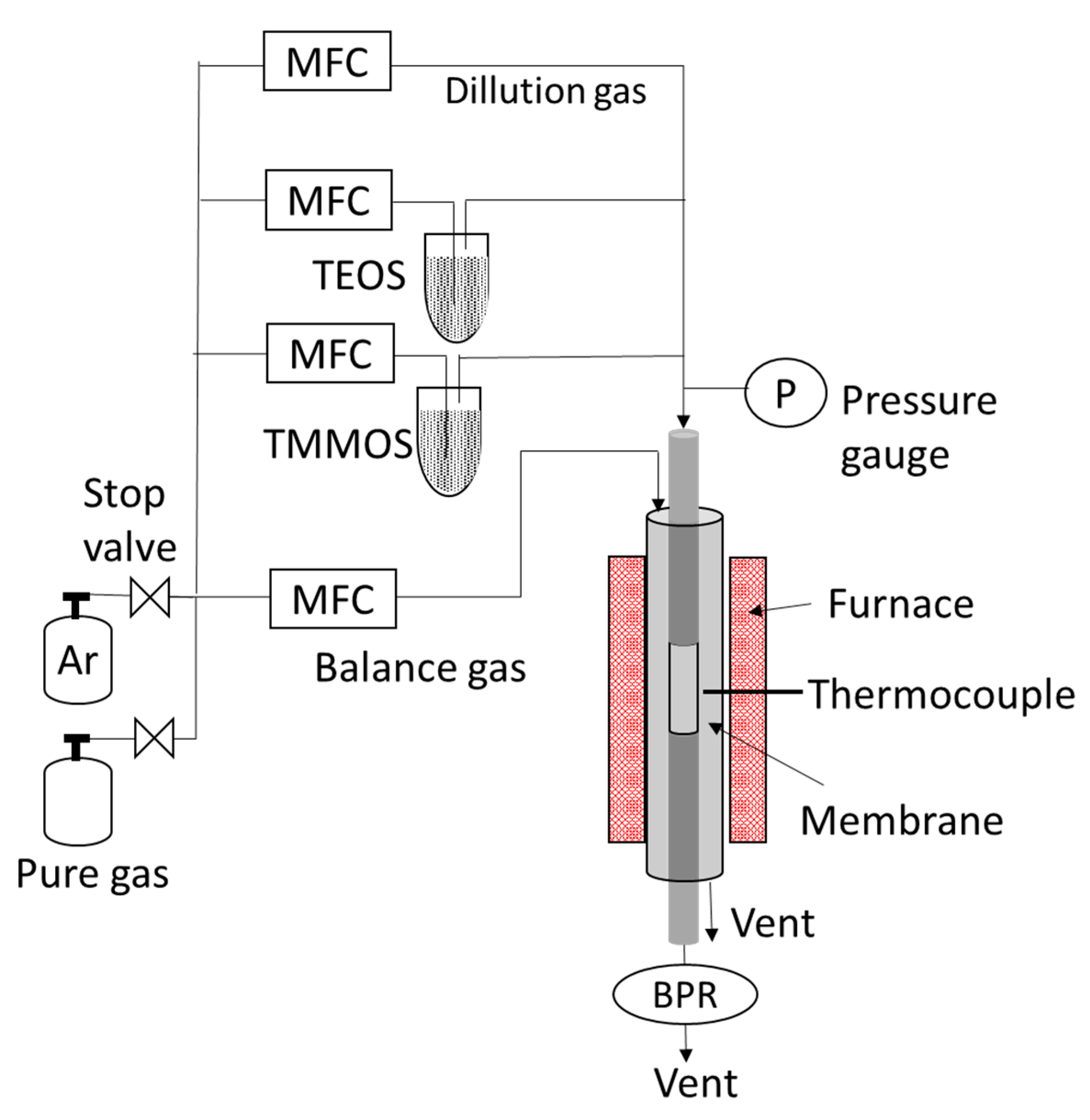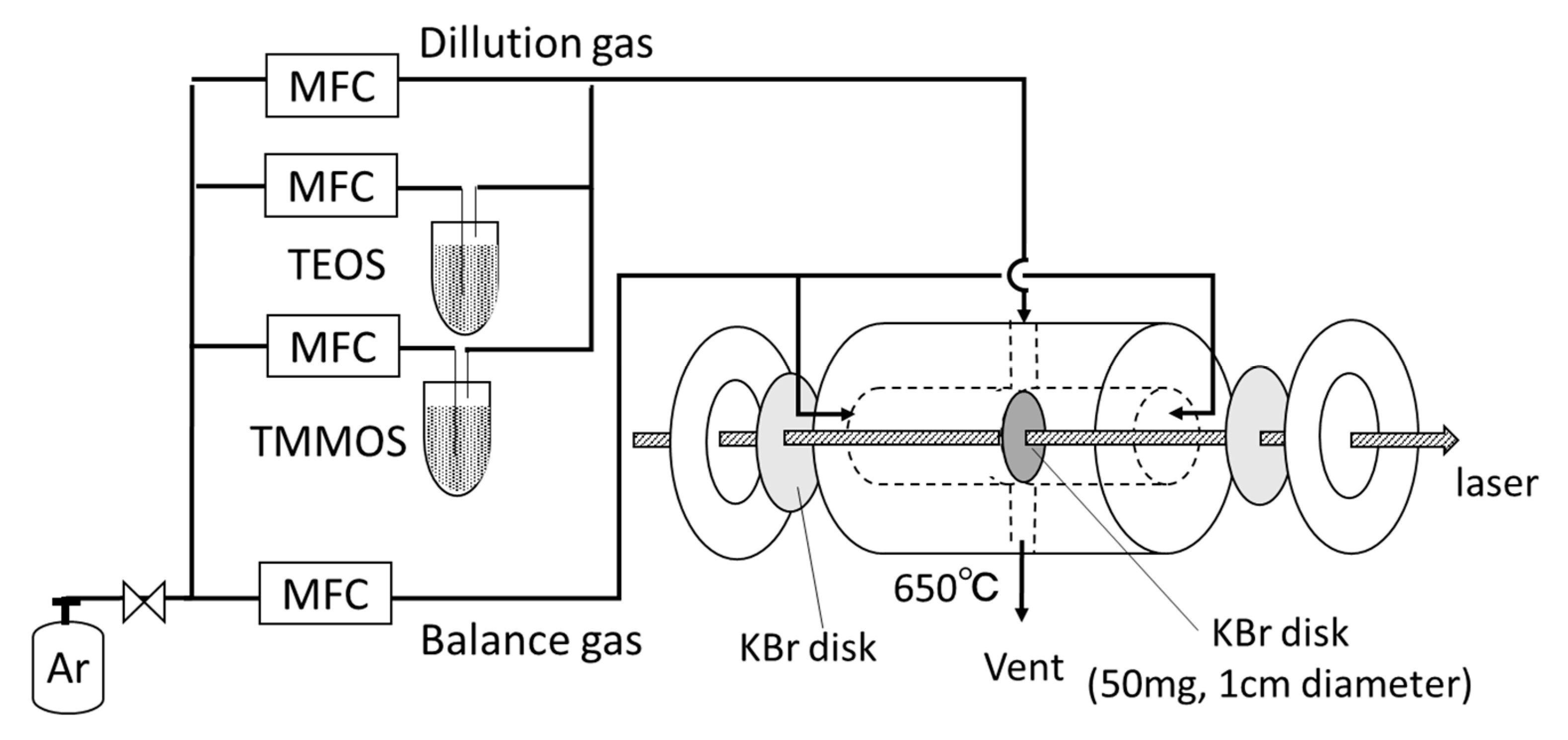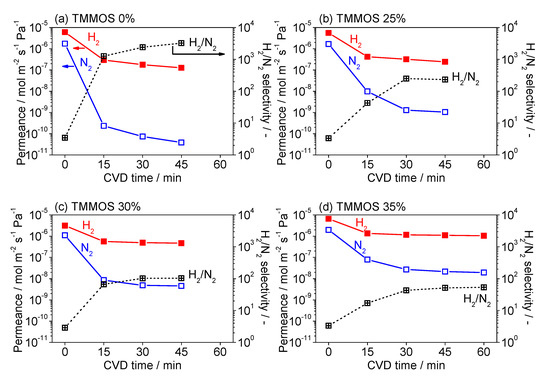 Figure 4. Chemical vapor deposition (CVD) results H2 and N2 permeance and H2/N2 selectivity as a function of CVD time (a) TMMOS 0%, (b) TMMOS 25%, (c) TMMOS 30%, and (d) TMMOS 35%.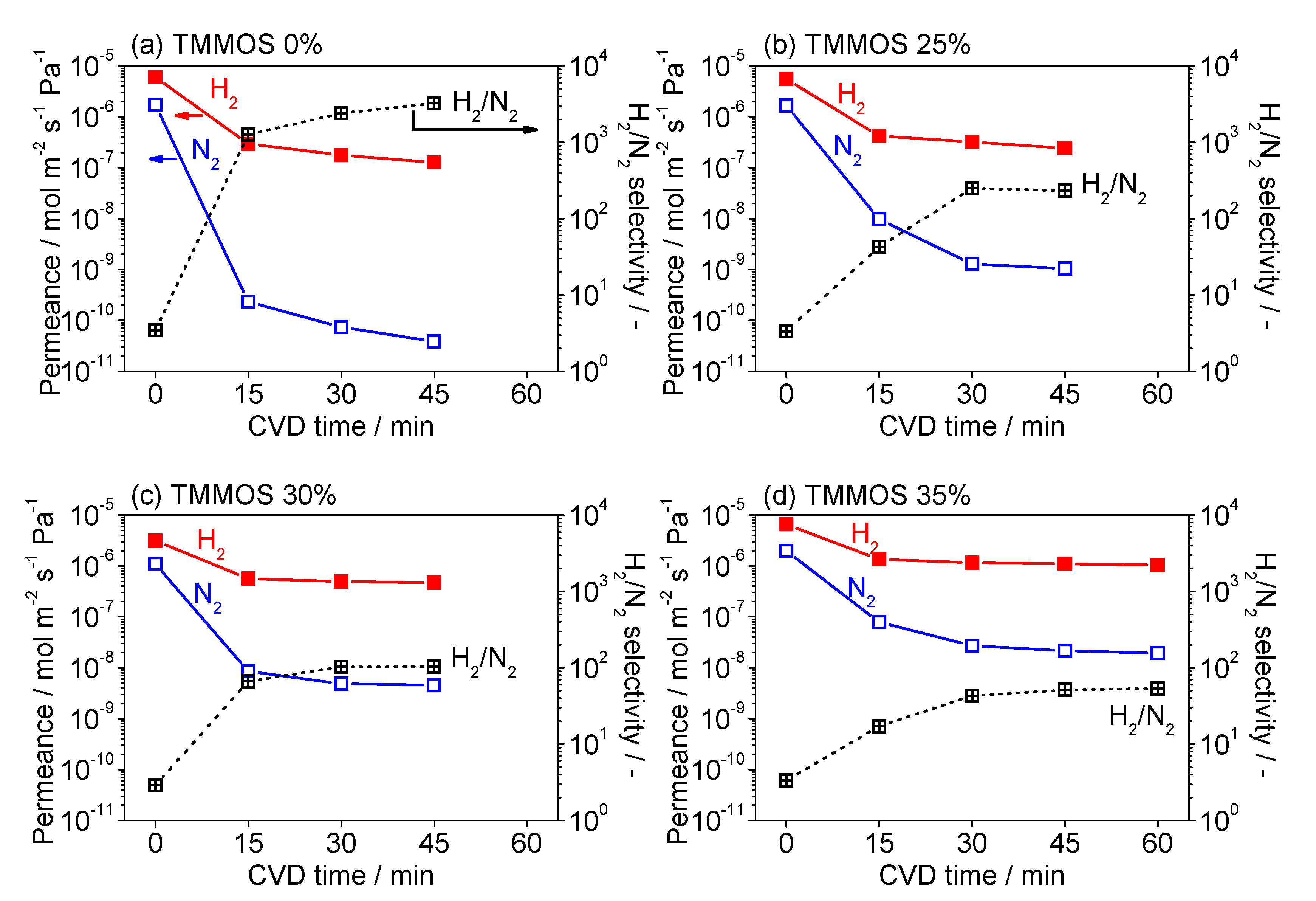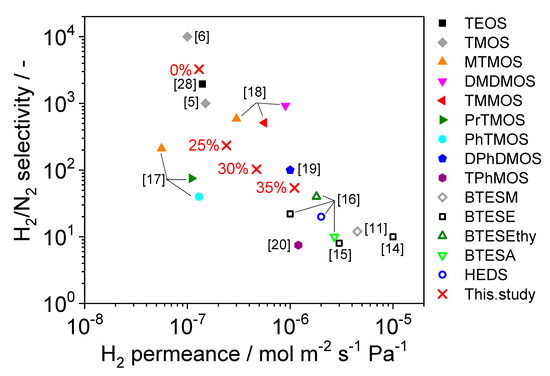 Figure 5.
Comparison of H
2
/N
2
selectivity versus H
2
permeance for membranes prepared using different precursors.
×
: This study; open symbols: membranes prepared by the sol-gel method; closed symbols: membranes prepared by CVD. The present study was at 650 °C, sol-gel derived permeances were measured at 200 °C, DPhDMOS and TPhMOS were measured at 300 °C, TEOS and TMOS [
5
] were measured at 600 °C, others were measured at 500 °C (TEOS: tetraethoxyorthosilicate, TMOS: tetramethoxyorthosilicate, MTMOS: methyltrimethoxyorthsilicate, DMDMOS: dimethyldimethoxysilane, TMMOS: trimethymethoxysilane, PrTMOS: propyltrimethoxysilane, PhTMOS: phenyltrimethoxysilane, DPhDMOS, diphenyldimethoxysilane, TPhMOS: triphenylmethoxysilane, BTESM:
bis
(triethoxysilyl)methane, BTESE:
bis
(triethoxysilyl)ethane, BTESEthy:
bis
(triethoxysilyl)ethylene, BTESA:
bis
(triethoxysilyl)acetylene, HEDS: hexaethoxydisiloxane).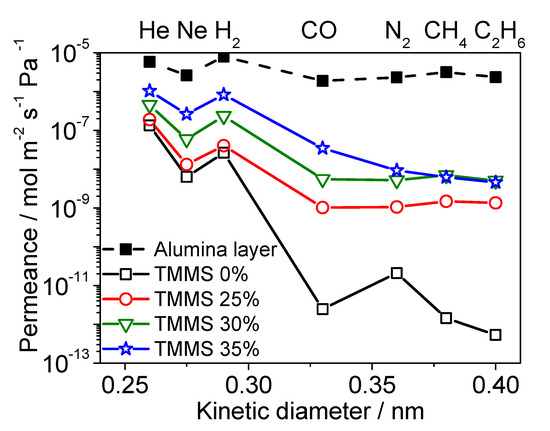 Figure 6. Gas permeation properties at 300 °C (permeance versus kinetic diameter of gas species (He, Ne, H2, CO2, N2, CH4, C2H6)).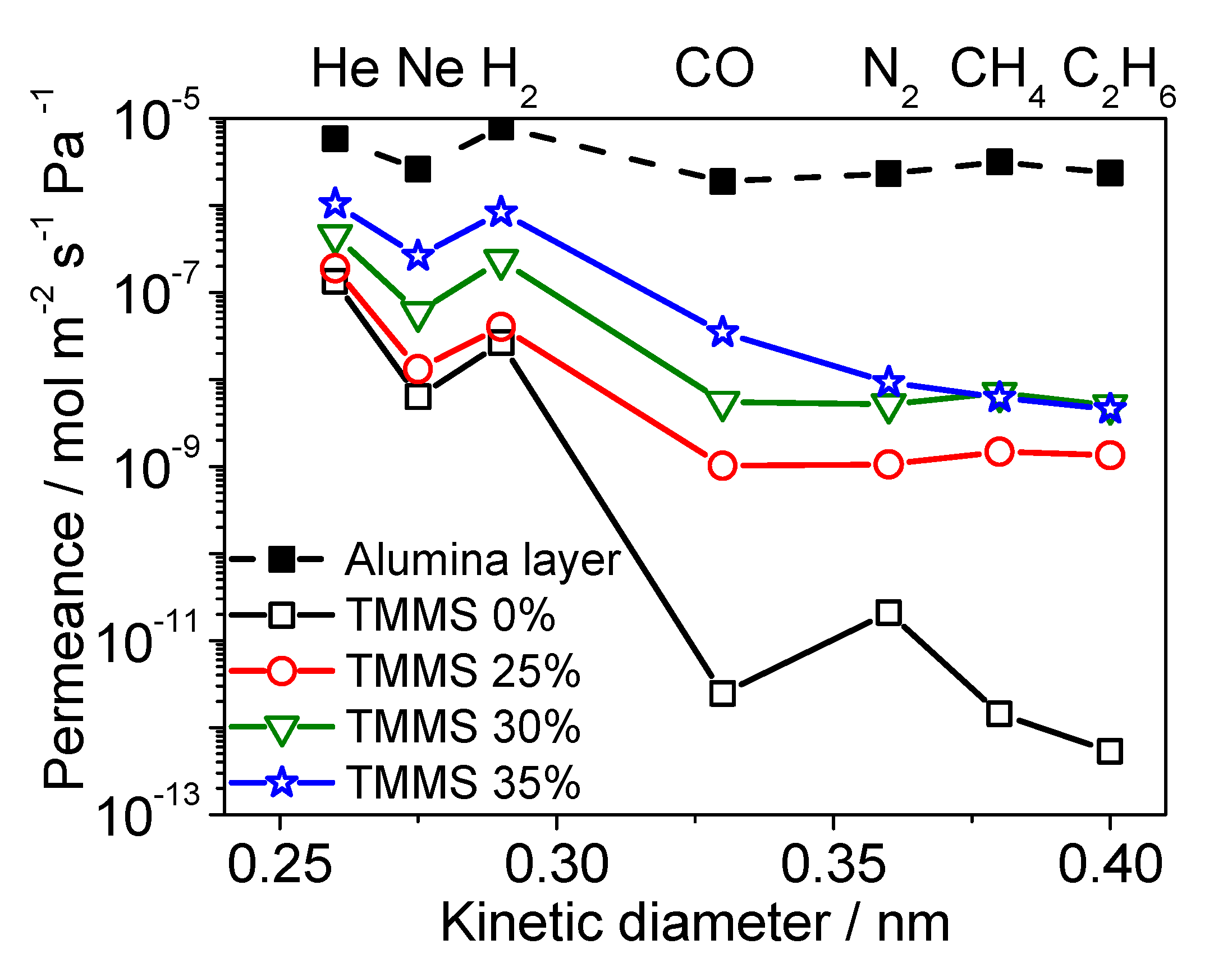 Figure 7. Scanning electron microscope (SEM) images of cross section of membranes (a) TMMOS 0%, (b) TMMOS 25%, (c) TMMOS 30%, and (d) TMMOS 35%.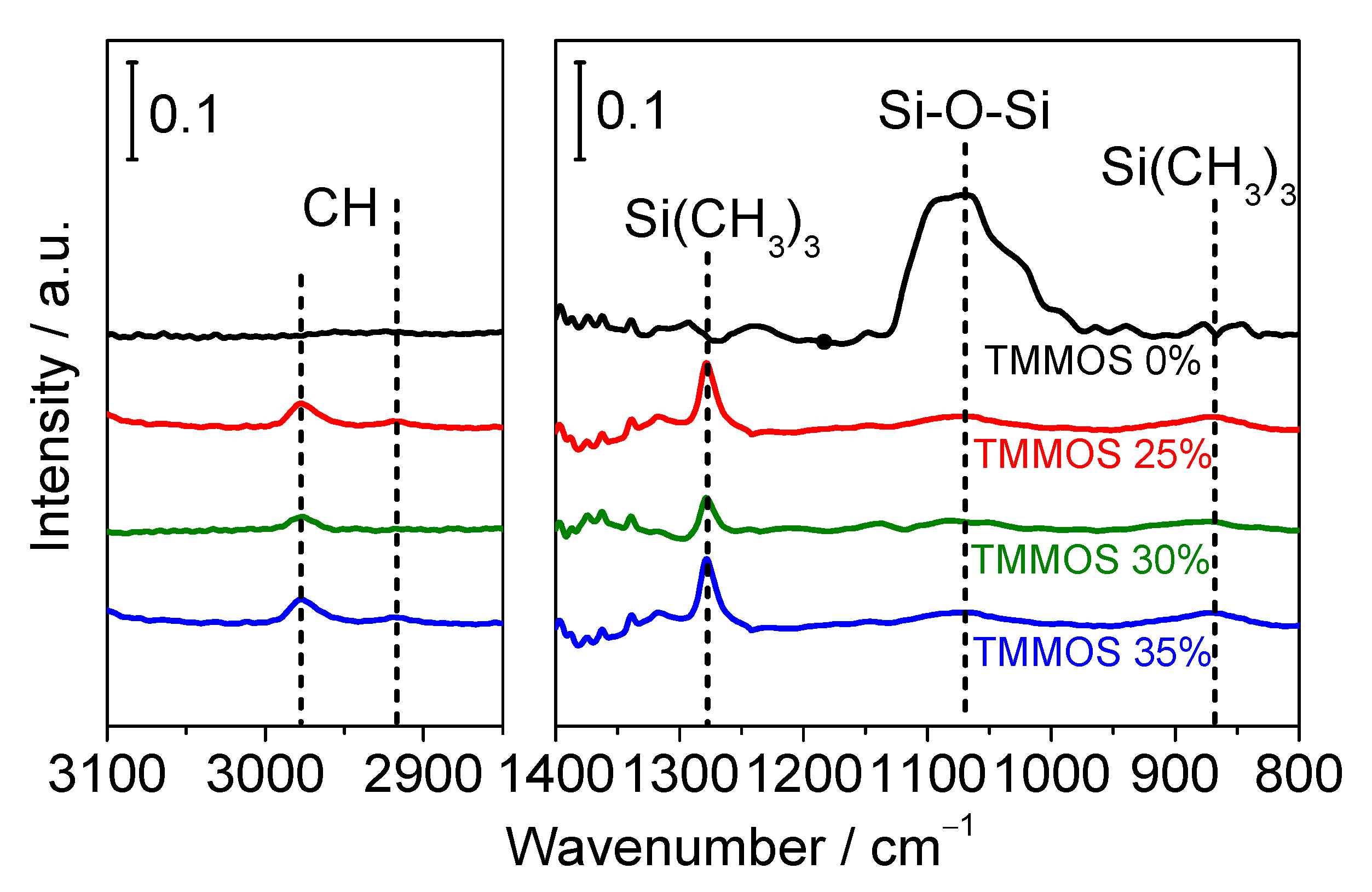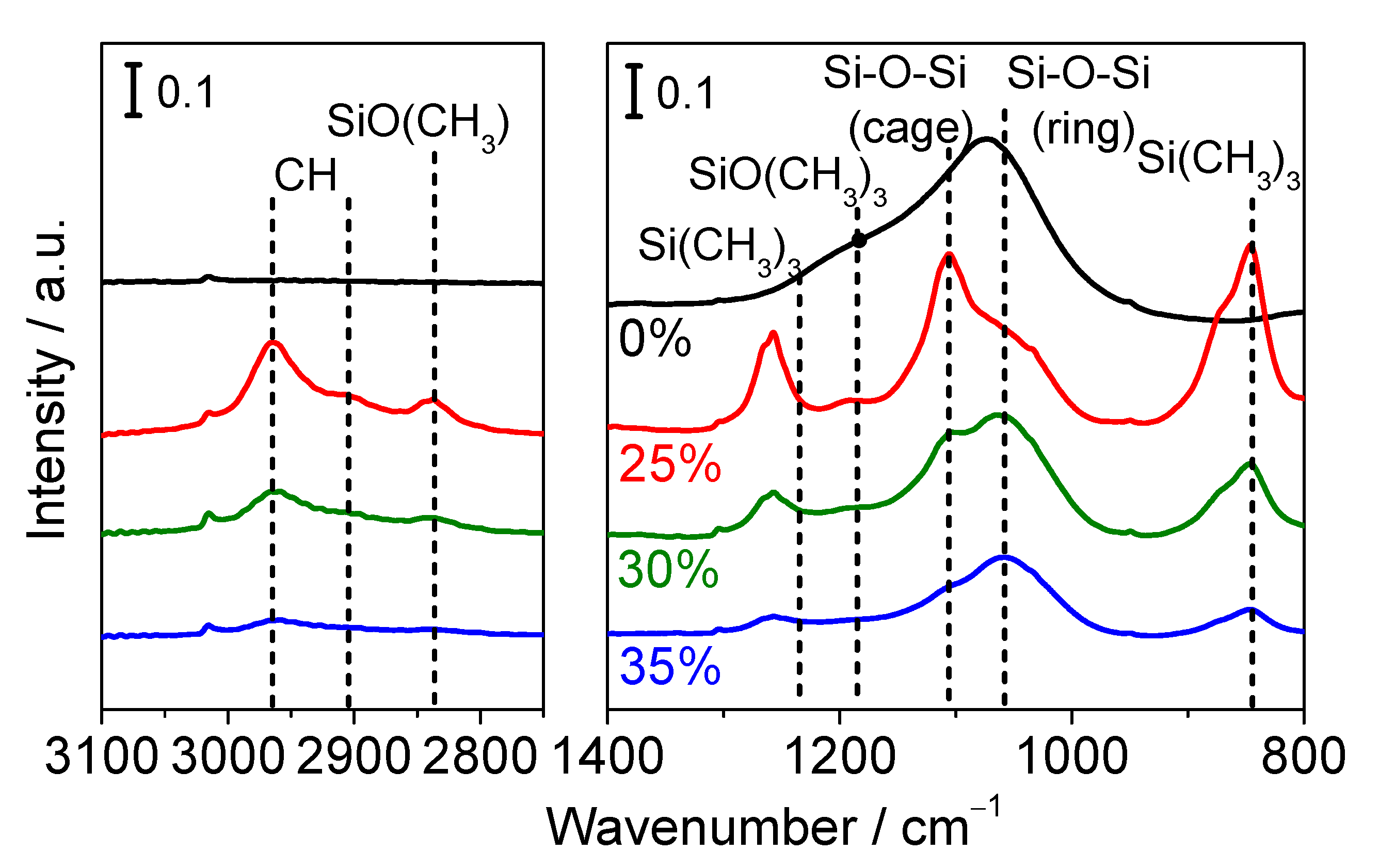 Figure 10. Fitting results by the solid-state diffusion model (permeance versus temperature, points are the experimental data and lines are the fitting results, black: He, red: H2, green: Ne, (a) TMMOS 0%, (b) TMMOS 25%, (c) TMMOS 30%, (d) TMMOS 35%).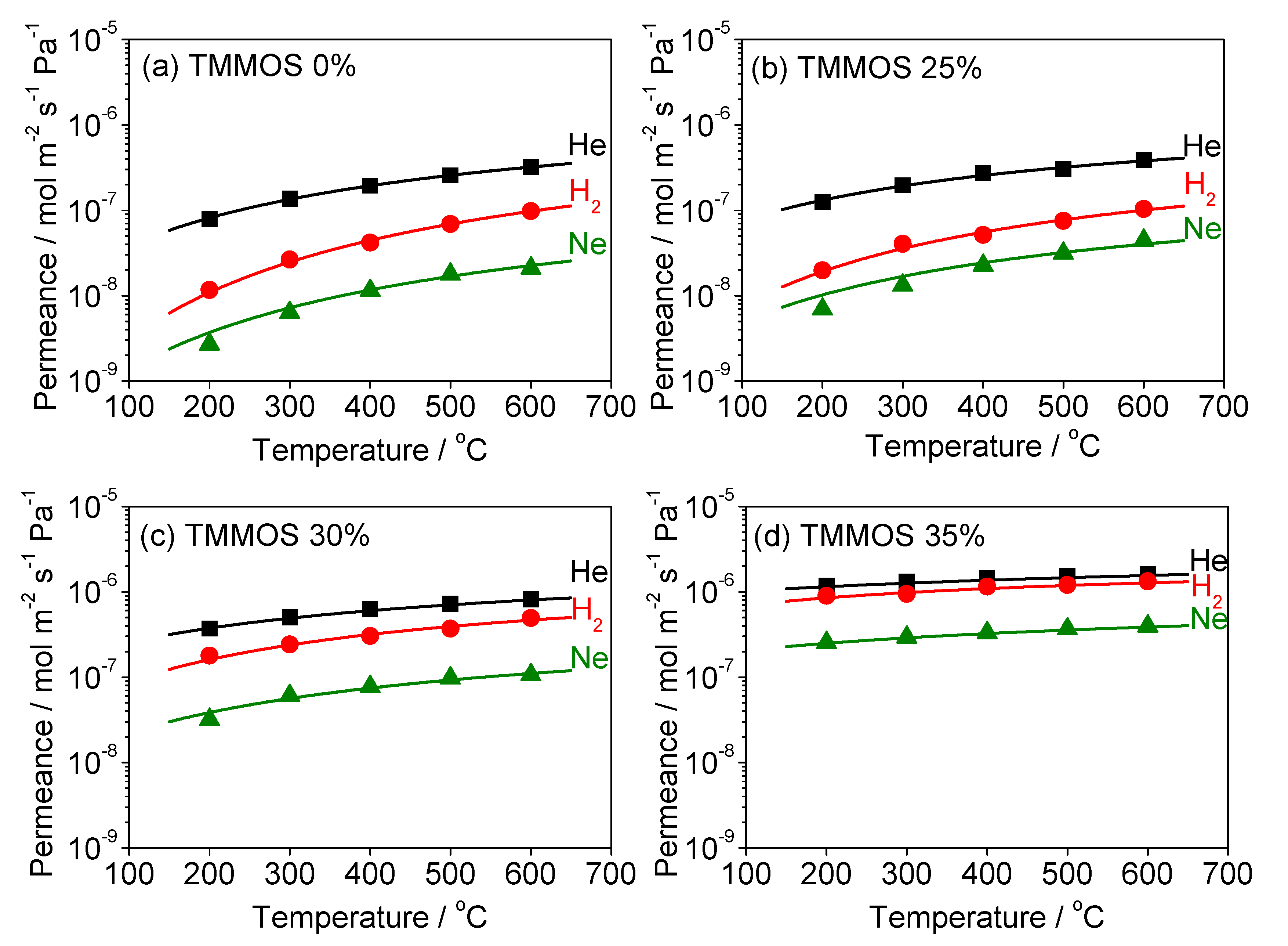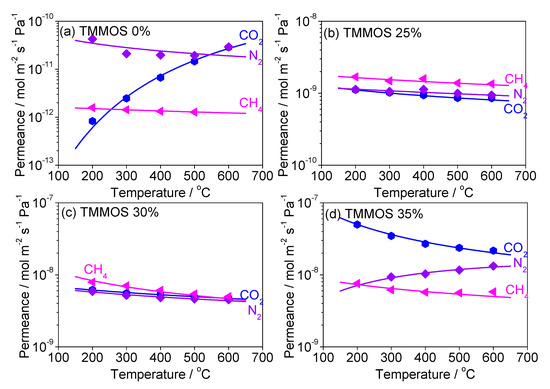 Figure 11. Fitting results by the gas translational diffusion model points are the experimental data and curves (open points were not used for fitting), blue: CO2, violet: N2, pink: CH4, (a) TMMOS 0%, (b) TMMOS 25%, (c) TMMOS 30%, (d) TMMOS 35%).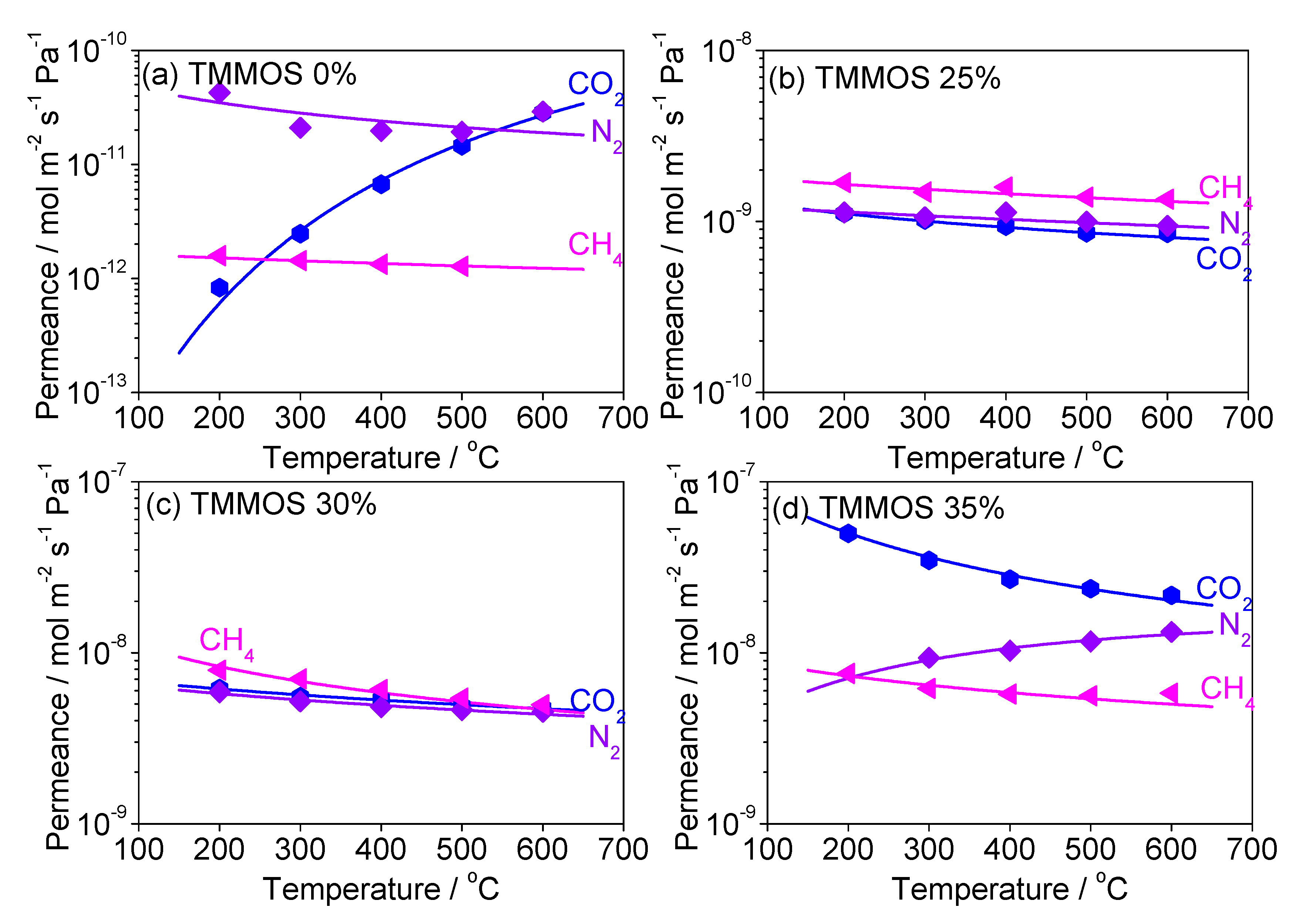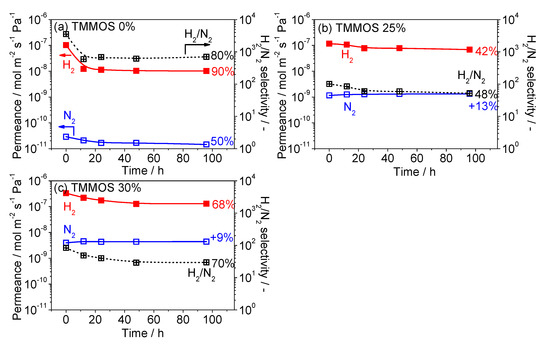 Figure 12. Hydrothermal stability test (permeance versus exposure time) at 16 mol% H2O vapor and 650 °C for 96 h, the percentages are calculated by (initial value − final value)/(initial value). (a) TMMOS 0%, (b) TMMOS 25%, and (c) TMMOS 30%.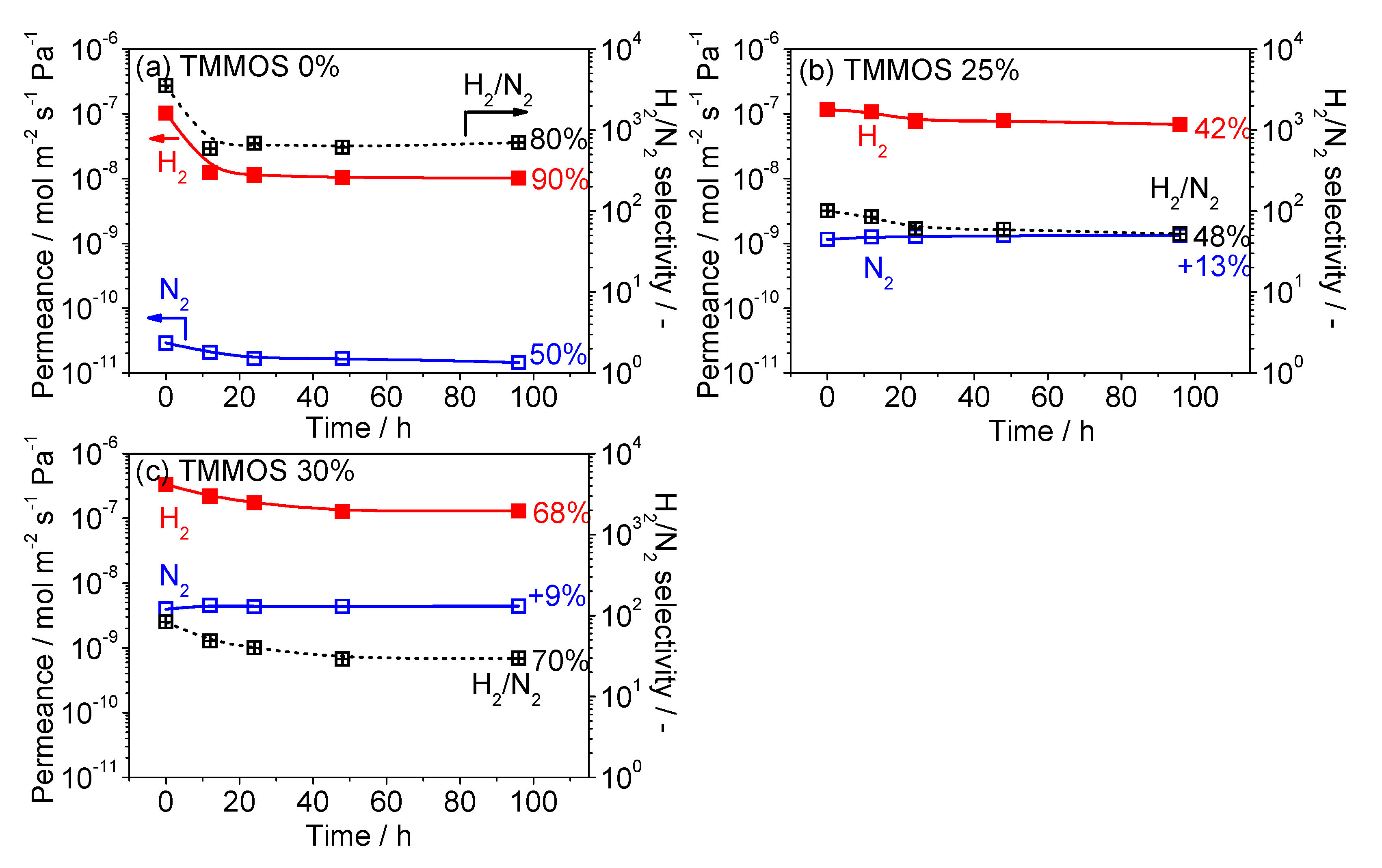 Membrane
Bubbler Temperature (°C)
Volumetric Flow Rates of Ar Carrier (cm3 min−1)
Molar Flow Rates (μmol s−1)
TEOS
TMMOS
TEOS
TMMOS
TEOS
TMMOS
TMMOS 0%
90
-
6
-
0.26
-
TMMOS 25%
98
3
6
3
0.35
0.12
TMMOS 30%
90
3
6
3
0.26
0.12
TMMOS 35%
85
3
6
3
0.21
0.12
TMMOS Percentage
Gas

Ns

(Site m−3)

ν

* (s−1)
∆ESS (kJ mol−1)

d

(nm)

R

2
0%
He
4.26 × 1026
2.81 × 1012
9.13
0.839
1.00
Ne
3.34 × 1026
2.16 × 1012
12.85
0.841
0.980
H2
2.52 × 1026
3.21 × 1012
17.19
0.842
0.998
25%
He
3.13 × 1026
5.37 × 1012
6.33
0.841
0.986
Ne
2.40 × 1026
3.57 × 1012
9.04
0.842
0.947
H2
1.84 × 1026
7.51 × 1012
12.35
0.843
0.987
30%
He
1.95 × 1026
3.48 × 1012
3.83
0.843
0.998
Ne
1.89 × 1026
2.30 × 1012
6.38
0.843
0.970
H2
1.73 × 1026
4.76 × 1012
7.44
0.843
0.970
35%
He
1.57 × 1026
2.94 × 1012
−0.08
0.844
0.995
Ne
1.43 × 1026
1.54 × 1012
1.12
0.844
1.00
H2
0.87 × 1026
3.02 × 1012
1.86
0.845
0.952
TMMOS Ratio
Gas

C

Ep (kJ mol−1)

R

2
0%
CO2
6.17 × 10−8
35.2
0.993
N2
1.90 × 10−10
−2.57
0.400
CH4
1.49 × 10−11
0.830
0.907
25%
CO2
1.06 × 10−5
12.0
0.985
N2
5.23 × 10−6
17.3
0.978
CH4
4.12 × 10−6
17.2
0.983
30%
CO2
1.54 × 10−5
9.35
0.999
N2
6.84 × 10−6
11.9
0.983
CH4
9.23 × 10−6
12.0
0.956
35%
CO2
1.70 × 10−5
5.28
0.982
N2
1.12 × 10−5
6.48
0.982
CH4
1.13 × 10−5
6.19
0.917

© 2019 by the authors. Licensee MDPI, Basel, Switzerland. This article is an open access article distributed under the terms and conditions of the Creative Commons Attribution (CC BY) license (http://creativecommons.org/licenses/by/4.0/).