Foot-and-Mouth Disease Virus: Immunobiology, Advances in Vaccines and Vaccination Strategies Addressing Vaccine Failures—An Indian Perspective
1
ICAR-Indian Veterinary Research Institute, Izatnagar, Uttar Pradesh 243122, India
2
ICAR-IVRI Bangalore Campus, Bangalore, Karnataka 560024, India
3
Center of Research Excellence on Therapeutic Proteins and Antibody Engineering, Department of Parasitology, Faculty of Medicine Siriraj Hospital, Mahidol University, Bangkok 10700, Thailand
*
Authors to whom correspondence should be addressed.
Received: 30 June 2019 / Revised: 26 July 2019 / Accepted: 30 July 2019 / Published: 16 August 2019
Abstract
A mass vaccination campaign in India seeks to control and eventually eradicate foot-and-mouth disease (FMD). Biosanitary measures along with FMD monitoring are being conducted along with vaccination. The implementation of the FMD control program has drastically reduced the incidence of FMD. However, cases are still reported, even in regions where vaccination is carried out regularly. Control of FMD outbreaks is difficult when the virus remains in circulation in the vaccinated population. Various FMD risk factors have been identified that are responsible for FMD in vaccinated areas. The factors are discussed along with strategies to address these challenges. The current chemically inactivated trivalent vaccine formulation containing strains of serotype O, A, and Asia 1 has limitations including thermolability and induction of only short-term immunity. Advantages and disadvantages of several new-generation alternate vaccine formulations are discussed. It is unfeasible to study every incidence of FMD in vaccinated animals/areas in such a big country as India with its huge livestock population. However, at the same time, it is absolutely necessary to identify the precise reason for vaccination failure. Failure to vaccinate is one reason for the occurrence of FMD in vaccinated areas. FMD epidemiology, emerging and re-emerging virus strains, and serological status over the past 10 years are discussed to understand the impact of vaccination and incidences of vaccination failure in India. Other factors that are important in vaccination failure that we discuss include disrupted herd immunity, health status of animals, FMD carrier status, and FMD prevalence in other species. Recommendations to boost the search of alternate vaccine formulation, strengthen the veterinary infrastructure, bolster the real-time monitoring of FMD, as well as a detailed investigation and documentation of every case of vaccination failure are provided with the goal of refining the control program.
View Full-Text
►

▼

Figures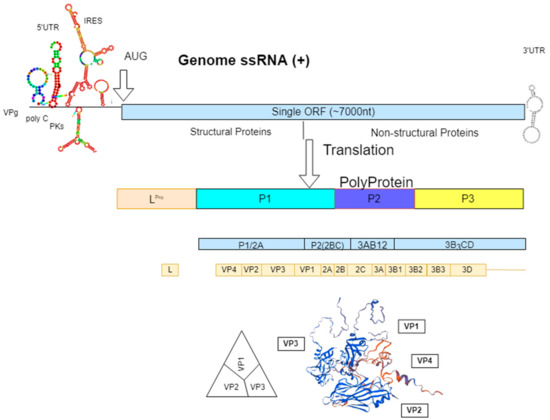 Figure 1
This is an open access article distributed under the
Creative Commons Attribution License
which permits unrestricted use, distribution, and reproduction in any medium, provided the original work is properly cited (CC BY 4.0).

Share & Cite This Article
MDPI and ACS Style
Singh, R.K.; Sharma, G.K.; Mahajan, S.; Dhama, K.; Basagoudanavar, S.H.; Hosamani, M.; Sreenivasa, B.P.; Chaicumpa, W.; Gupta, V.K.; Sanyal, A. Foot-and-Mouth Disease Virus: Immunobiology, Advances in Vaccines and Vaccination Strategies Addressing Vaccine Failures—An Indian Perspective. Vaccines 2019, 7, 90.
Note that from the first issue of 2016, MDPI journals use article numbers instead of page numbers. See further details here.
Related Articles
Comments
[Return to top]