A Live-Attenuated Prime, Inactivated Boost Vaccination Strategy with Chimeric Hemagglutinin-Based Universal Influenza Virus Vaccines Provides Protection in Ferrets: A Confirmatory Study
1
Department of Microbiology, Icahn School of Medicine at Mount Sinai, New York, NY 10029, USA
2
Global Health and Emerging Pathogens Institute, Icahn School of Medicine at Mount Sinai, New York, NY 10029, USA
*
Authors to whom correspondence should be addressed.
†
These authors contributed equally to this work.
Received: 30 April 2018 / Revised: 14 July 2018 / Accepted: 17 July 2018 / Published: 25 July 2018
Abstract
Influenza viruses cause severe diseases and mortality in humans on an annual basis. The current influenza virus vaccines can confer protection when they are well-matched with the circulating strains. However, due to constant changes of the virus surface glycoproteins, the vaccine efficacy can drop substantially in some seasons. In addition, the current seasonal influenza virus vaccines do not protect from avian influenza viruses of human pandemic potential. Novel influenza virus vaccines that aim to elicit antibodies against conserved epitopes like the hemagglutinin stalk could not only reduce the burden of drifted seasonal viruses but potentially also protect humans from infection with zoonotic and emerging pandemic influenza viruses. In this paper, we generated influenza virus vaccine constructs that express chimeric hemagglutinins consisting of exotic, avian head domains and a consistent stalk domain of a seasonal virus. Using such viruses in a sequential immunization regimen can redirect the immune response towards conserved epitopes. In this study, male ferrets received a live-attenuated vaccine virus based on the A/Ann Arbor/6/60 strain expressing a chimeric H8/1 (cH8/1) hemagglutinin, which was followed by a heterologous booster vaccination with a cH5/1N1 formalin inactivated non-adjuvanted whole virus. This group was compared to a second group that received a cH8/1N1 inactivated vaccine followed by a cH5/1N1 inactivated vaccine. Both groups showed a reduction in viral titers in the upper respiratory tract after the A(H1N1)pdm09 virus challenge. Animals that received the live-attenuated vaccine had low or undetectable titers in the lower respiratory tract. The results support the further development of chimeric hemagglutinin-based vaccination strategies. The outcome of this study confirms and corroborates findings from female ferrets primed with a A/Leningrad/134/17/57-based live attenuated cH8/1N1 vaccine followed by vaccination with an AS03-adjuvanted cH5/1N1 split virus vaccine 10.
View Full-Text
►

▼

Figures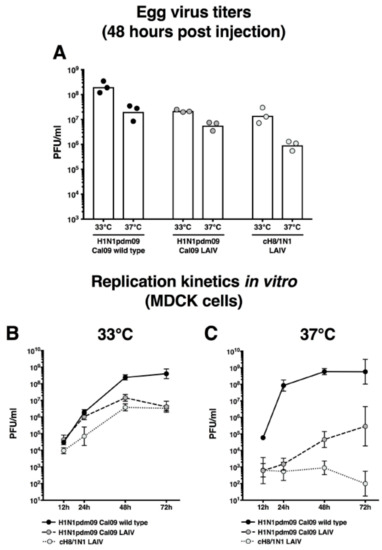 Figure 1
This is an open access article distributed under the
Creative Commons Attribution License
which permits unrestricted use, distribution, and reproduction in any medium, provided the original work is properly cited (CC BY 4.0).

Share & Cite This Article
MDPI and ACS Style
Nachbagauer, R.; Krammer, F.; Albrecht, R.A. A Live-Attenuated Prime, Inactivated Boost Vaccination Strategy with Chimeric Hemagglutinin-Based Universal Influenza Virus Vaccines Provides Protection in Ferrets: A Confirmatory Study. Vaccines 2018, 6, 47.
Note that from the first issue of 2016, MDPI journals use article numbers instead of page numbers. See further details here.
Related Articles
Comments
[Return to top]