Enhanced Efficacy of a Codon-Optimized DNA Vaccine Encoding the Glycoprotein Precursor Gene of Lassa Virus in a Guinea Pig Disease Model When Delivered by Dermal Electroporation
1
Virology Division, United States Army Medical Research Institute of Infectious Diseases, Fort Detrick, MD 21702, USA
2
Inovio Pharmaceuticals, Inc., Blue Bell, PA 19422, USA
3
Pathology Division, United States Army Medical Research Institute of Infectious Diseases, Fort Detrick, MD 21702, USA
4
Integrated Toxicology Division, United States Army Medical Research Institute of Infectious Diseases, Fort Detrick, MD 21702, USA
5
Office of the Chief Scientists, Headquarters, United States Army Medical Research Institute of Infectious Diseases, Fort Detrick, MD 21702, USA
*
Author to whom correspondence should be addressed.
†
Present address: Metabiota, 1410 Q Street NW, Suite 300, Washington, DC 20009, USA
Received: 31 May 2013 / Revised: 8 July 2013 / Accepted: 10 July 2013 / Published: 18 July 2013
Abstract
Lassa virus (LASV) causes a severe, often fatal, hemorrhagic fever endemic to West Africa. Presently, there are no FDA-licensed medical countermeasures for this disease. In a pilot study, we constructed a DNA vaccine (pLASV-GPC) that expressed the LASV glycoprotein precursor gene (GPC). This plasmid was used to vaccinate guinea pigs (GPs) using intramuscular electroporation as the delivery platform. Vaccinated GPs were protected from lethal infection (5/6) with LASV compared to the controls. However, vaccinated GPs experienced transient viremia after challenge, although lower than the mock-vaccinated controls. In a follow-on study, we developed a new device that allowed for both the vaccine and electroporation pulse to be delivered to the dermis. We also codon-optimized the GPC sequence of the vaccine to enhance expression in GPs. Together, these innovations resulted in enhanced efficacy of the vaccine. Unlike the pilot study where neutralizing titers were not detected until after virus challenge, modest neutralizing titers were detected in guinea pigs before challenge, with escalating titers detected after challenge. The vaccinated GPs were never ill and were not viremic at any timepoint. The combination of the codon-optimized vaccine and dermal electroporation delivery is a worthy candidate for further development.
View Full-Text
►

▼

Figures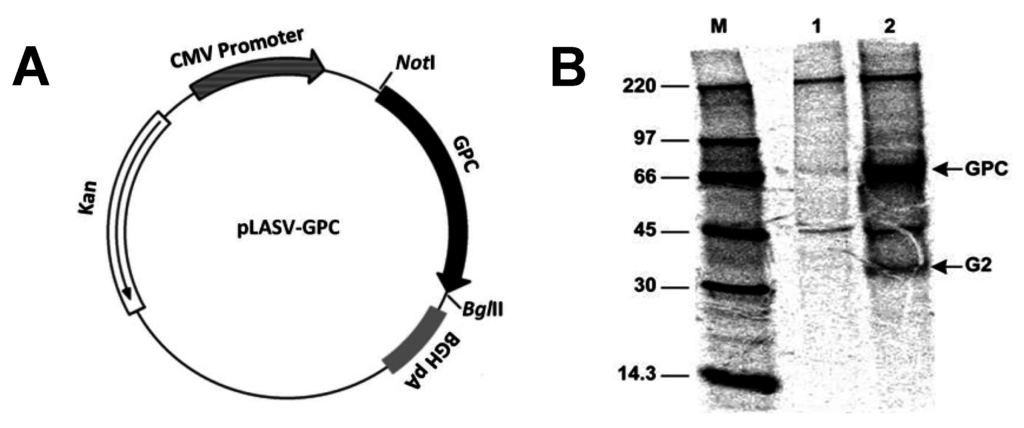 Figure 1

Share & Cite This Article
MDPI and ACS Style
Cashman, K.A.; Broderick, K.E.; Wilkinson, E.R.; Shaia, C.I.; Bell, T.M.; Shurtleff, A.C.; Spik, K.W.; Badger, C.V.; Guttieri, M.C.; Sardesai, N.Y.; Schmaljohn, C.S. Enhanced Efficacy of a Codon-Optimized DNA Vaccine Encoding the Glycoprotein Precursor Gene of Lassa Virus in a Guinea Pig Disease Model When Delivered by Dermal Electroporation. Vaccines 2013, 1, 262-277.
Related Articles
Comments
[Return to top]