A Modified Bacillus Calmette-Guérin (BCG) Vaccine with Reduced Activity of Antioxidants and Glutamine Synthetase Exhibits Enhanced Protection of Mice despite Diminished
in Vivo

Persistence

1

Veterans Affairs Medical Center, Syracuse, NY 13212, USA

2

Department of Medicine, Vanderbilt University Medical Center, Nashville, TN 37232, USA

3

Department of Pathology, Vanderbilt University Medical Center, Nashville, TN 37232, USA

4

Veterans Affairs Medical Center, Nashville, TN 37212, USA

5

Department of Microbiology and Immunology, University of North Carolina, Chapel Hill, NC 27599, USA

6

Department of Microbiology, Immunology and Pathology, Vanderbilt University Medical Center, Nashville, TN 37232, USA

†

Present Address: Department of Pathology, University of Washington, Seattle, WA 98195, USA

‡

Present Address: Department of Medicine, University of Tennessee Health Science Center, Memphis, TN 38163, USA

*

Author to whom correspondence should be addressed.

Received: 26 October 2012 / Revised: 18 December 2012 / Accepted: 5 January 2013 / Published: 11 January 2013
Abstract
Early attempts to improve BCG have focused on increasing the expression of prominent antigens and adding recombinant toxins or cytokines to influence antigen presentation. One such modified BCG vaccine candidate has been withdrawn from human clinical trials due to adverse effects. BCG was derived from virulent
Mycobacterium bovis
and retains much of its capacity for suppressing host immune responses. Accordingly, we have used a different strategy for improving BCG based on reducing its immune suppressive capacity. We made four modifications to BCG Tice to produce 4dBCG and compared it to the parent vaccine in C57Bl/6 mice. The modifications included elimination of the oxidative stress sigma factor SigH, elimination of the SecA2 secretion channel, and reductions in the activity of iron co-factored superoxide dismutase and glutamine synthetase. After IV inoculation of 4dBCG, 95% of vaccine bacilli were eradicated from the spleens of mice within 60 days whereas the titer of BCG Tice was not significantly reduced. Subcutaneous vaccination with 4dBCG produced greater protection than vaccination with BCG against dissemination of an aerosolized challenge of
M. tuberculosis
to the spleen at 8 weeks post-challenge. At this time, 4dBCG-vaccinated mice also exhibited altered lung histopathology compared to BCG-vaccinated mice and control mice with less well-developed lymphohistiocytic nodules in the lung parenchyma. At 26 weeks post-challenge, 4dBCG-vaccinated mice but not BCG-vaccinated mice had significantly fewer challenge bacilli in the lungs than control mice. In conclusion, despite reduced persistence in mice a modified BCG vaccine with diminished antioxidants and glutamine synthetase is superior to the parent vaccine in conferring protection against
M. tuberculosis
. The targeting of multiple immune suppressive factors produced by BCG is a promising strategy for simultaneously improving vaccine safety and effectiveness.
View Full-Text
►

▼

Figures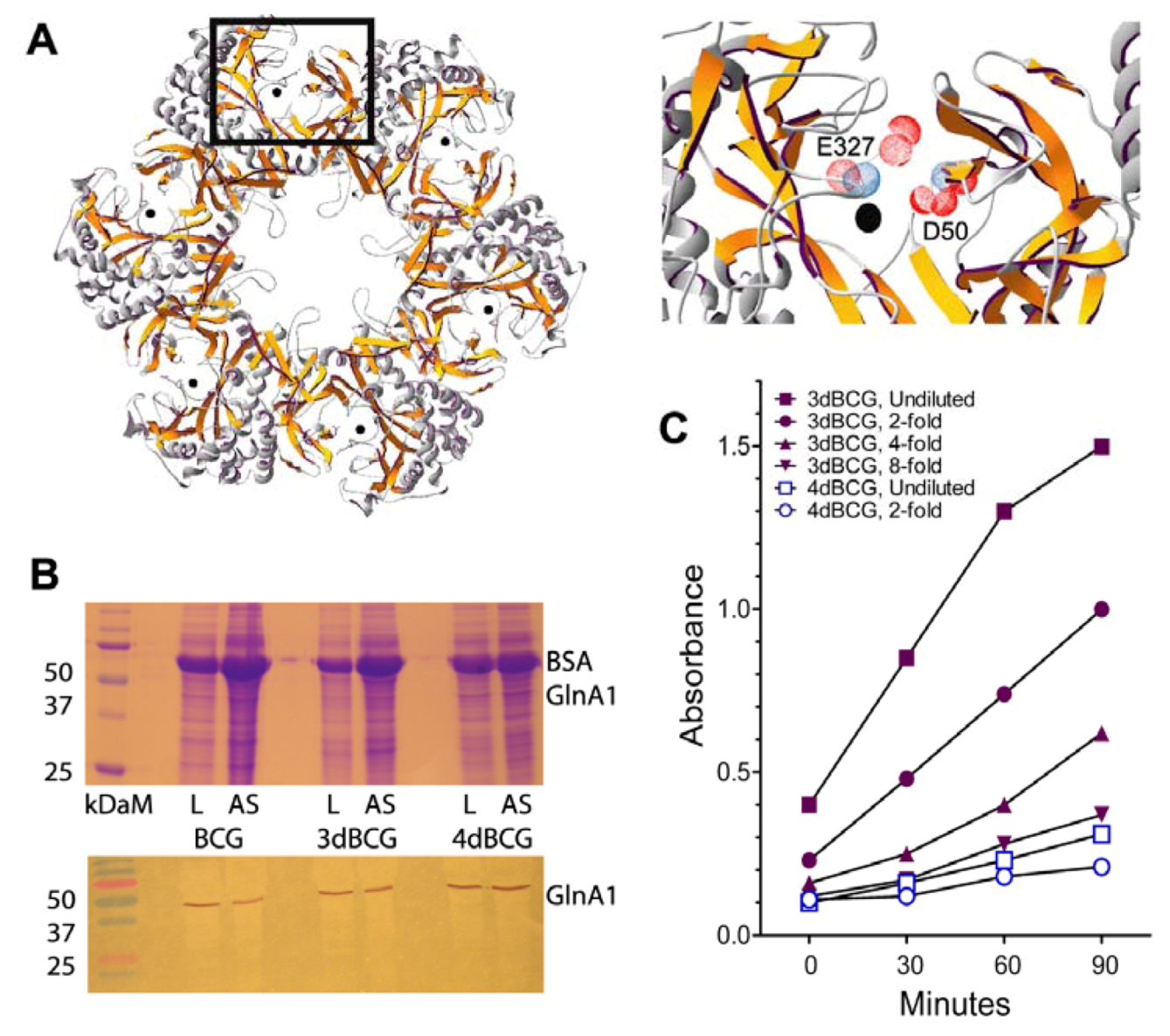 Figure 1

Share & Cite This Article
MDPI and ACS Style
Shoen, C.M.; DeStefano, M.S.; Hager, C.C.; Tham, K.-T.; Braunstein, M.; Allen, A.D.; Gates, H.O.; Cynamon, M.H.; Kernodle, D.S. A Modified Bacillus Calmette-Guérin (BCG) Vaccine with Reduced Activity of Antioxidants and Glutamine Synthetase Exhibits Enhanced Protection of Mice despite Diminished in Vivo Persistence. Vaccines 2013, 1, 34-57.
Related Articles
Comments
[Return to top]