Open Access This article is
freely available
re-usable
Review
HO-1 Induction in Cancer Progression: A Matter of Cell Adaptation
1
Department of Experimental Medicine, University of Genoa, Via L. B. Alberti 2, Genoa 16132, Italy
2
Bambino Gesù Children's Hospital, IRCCS, Piazza S. Onofrio 4, Rome 00165, Italy
3
Giannina Gaslini Institute, IRCCS, Via Gerolamo Gaslini 5, Genoa 16147, Italy
*
Author to whom correspondence should be addressed.
Academic Editor: Debasis Mondal
Received: 31 March 2017 / Accepted: 29 April 2017 / Published: 5 May 2017
Abstract
:
The upregulation of heme oxygenase-1 (HO-1) is one of the most important mechanisms of cell adaptation to stress. Indeed, the redox sensitive transcription factor Nrf2 is the pivotal regulator of HO-1 induction. Through the antioxidant, antiapoptotic, and antinflammatory properties of its metabolic products, HO-1 plays a key role in healthy cells in maintaining redox homeostasis and in preventing carcinogenesis. Nevertheless, several lines of evidence have highlighted the role of HO-1 in cancer progression and its expression correlates with tumor growth, aggressiveness, metastatic and angiogenetic potential, resistance to therapy, tumor escape, and poor prognosis, even though a tumor- and tissue-specific activity has been observed. In this review, we summarize the current literature regarding the pro-tumorigenic role of HO-1 dependent tumor progression as a promising target in anticancer strategy.
Keywords:
HO-1; Nrf2; cancer progression; tumor microenvironment; immune-escape; oxidative stress; NK; melanoma; NSCLC; prostate cancer
2. HO-1 in Cancer Growth and Resistance to Therapy
3. HO-1 in Invasiveness, Angiogenesis, and Metastatic Potential
The gain of a metastatic phenotype is a key step in cancer progression and involves the acquisition of even more aggressive features that increase cell ability to move, overrun surrounding tissue, and favor the growth of new blood vessels in order to increase tumor mass and reach the bloodstream. Different findings prove the involvement of HO-1 in all these aspects of cancer progression.
4. HO-1 in Tumor Immune-Escape
5. Nuclear Localization of HO-1
As previously described, HO-1 protein can localize in multiple subcellular compartments, including mitochondria and caveolae, and also into the nucleus after its c-terminal cleavage. There are several studies showing that HO-1 is preferentially localized into the nucleus in different tumors such as prostate, lung, and oral cancer as well as in chronic myeloid leukemia [
13
,
175
,
176
,
177
,
178
,
179
] and that this localization correlates with cancer progression [
13
]. In addition, HO-1 nuclear localization has been observed in metastatic cells of prostate cancer [
128
] and in head and neck cancer [
178
] as well as in lung A549 and in prostate DU145 cancer cell lines. Moreover, in lung cancer tissue expressing high levels of HO-1, the signal peptide peptidase (SPP) catalyzes the intramembrane cleavage of HO-1 and positive nuclear staining is also evident [
177
]. In the same paper, it has been shown that the overexpression of a truncated form of HO-1 in cervical carcinoma and in lung cancers promotes cell proliferation and invasion and the tumorigenic effect has also been demonstrated in a mouse model [
177
]. Interestingly, in chronic myeloid leukemia, HO-1 nuclear translocation is responsible for imanitib resistance. In fact, the treatment with the protease inhibitor Ed64, able to prevent HO-1 nuclear translocation, enhances imatinib-induced cytotoxicity [
179
].
In support of the hypothesis that nuclear localization of HO-1 could be involved in cancer progression, Biswas and coworkers have shown that nuclear HO-1 interacts with Nrf2, increasing its stabilization. The authors provided evidence of a preferential induction of NQO1 and glucose-6-phosphate dehydrogenase (G6PDH) which favors cell survival by shifting the metabolism to the hexose monophosphate pathway [
24
,
180
].
However, it is important to note that there are some opposite observations. In fact, in prostate cancer, nuclear HO-1 localization exerts anti-tumorigenic effects [
181
] for instance inhibiting cell proliferation, migration, and invasion both in vitro and in vivo [
128
] or acting on the NF-kB pathway and preventing the angiogenetic switch [
129
]. Recently, it has been demonstrated that nuclear HO-1 in PCa prostate cancer through the binding to the promoter region of prostate-specific antigen (PSA) acts as a repressor of its transcriptional activity [
181
].
Nevertheless, the mechanism underlying HO-1 nuclear translocation and its pathological significance among the different tumors needs to be investigated further.
6. HO-1 as a Possible Biomarker
7. Perspectives and Innovations
In this review, we highlighted the role of HO-1 in favoring tumor progression and eventually its possible use as a biomarker. However, the existence of contrasting data has also been analyzed as it could limit the value of our hypothesis. In this context, we believe it is worth underlining that the effect of HO-1 overexpression is carried out by its metabolic products. Their actions, indeed, can be actually different in the different tissues due to the activity of the other enzymes involved in the degradation pathway of heme. In fact, biliverdin reductase undergoes a tissue- and differentiation-dependent distribution [
189
,
190
], influencing the generation of bilirubin. Furthermore, the ability to quench free iron generated from HO-1 can play a role in cancer progression as highlighted by Alkhateeb and Connor [
191
] who deeply analyzed the role of ferritin expression in cancer cell resistance and in inducing a favorable microenvironment. It is conceivable that the fine balance among all the products derived from heme degradation pathway can lead to pro- or anti-tumorigenic effects.
Finally, it is also important to consider the role of HO-1 in microRNA biogenesis and regulation which are highly tissue- and cell-specific [
10
] and differently involved in tumor biology.
It is clear that the specific role of HO-1 in tumor progression is far from being completely understood but it is clear as well that HO-1, and perhaps all the heme degradation pathways, can be strategically modulated in cancer therapy.
So far, different HO-1 inhibitors have been identified [
192
]. The metalloporphyrins (e.g., Sn-, Zn-, and Cr-protoporphyrin), structurally similar to heme, have been used as prototypic inhibitors of HO-1, even though their application is limited by several pitfalls [
10
]. In fact, ZnPPIX acts also on other pathways such as indoleamine-2,3-dioxygenases, cyclin D1, and Wnt/β-catenin and, due to its poor solubility, its application in vivo is limited [
110
]. Thus, several modifications of ZnPPIX have been made. The pegylated form PEG-ZnPPIX is characterized by increased circulation time, enhanced permeability and retention [
193
]. Also, the styrene maleic acid modification SMA-ZnPPIX shows increased effectiveness in term of solubility and uptake [
194
]. Recently, other water-soluble imidazole-based molecules have been proven to be HO-1 inhibitors with a better specificity towards HO-1 than protoporphyrin compounds, increasing the chances of developing new molecules [
192
]. In addition, other therapeutic opportunities can derived from the studies of specific siRNA to silence HO-1 or from new tools able to modulated microRNAs involved in HO-1 activity. Finally, the modulation of biliverdin reductase activity [
189
] or the downregulation of ferritin levels [
191
] have been proposed as strategies in cancer therapy as well.
8. Conclusions
The upregulation of HO-1 plays a pivotal role in cell adaptation to oxidative/electrophilic stress and to cytotoxic insults. Even though the activation of this powerful system in healthy cells is essential in the prevention of carcinogenesis [
69
], its activation becomes deleterious in cancer progression. Indeed, a sustained activation of HO-1 in cancer favors tumor growth, metastasis and invasiveness potential, resistance to therapy, as well as modulation of microenvironment and immune-escape, leading to a poor outcome (
Figure 2
).
The multifaceted role of HO-1 in cancer is mediated mainly by the action of its metabolic products that exert antioxidant, antiapoptotic, and immunomodulatory effects. However, HO-1 could also play a role independently on its enzymatic activity acting as a transcriptional regulator at the nuclear level (
Figure 3
). In conclusion, the in-depth investigation of these multiple pathways involving HO-1 in cancer biology may improve the therapeutic and the translational potential of HO-1 modulation.
Acknowledgments
Grants from MIUR-PRIN 20125S38FA (Mariapaola Nitti) and Genoa University.
Author Contributions
Mariapaola Nitti and Anna Lisa Furfaro conceived and wrote the manuscript; Sabrina Piras, Umberto M. Marinari, Lorenzo Moretta, Maria A. Pronzato and Anna Lisa Furfaro revised literature; Mariapaola Nitti, Lorenzo Moretta and Maria A. Pronzato provided financial support.
Conflicts of Interest
The authors declare no conflict of interest.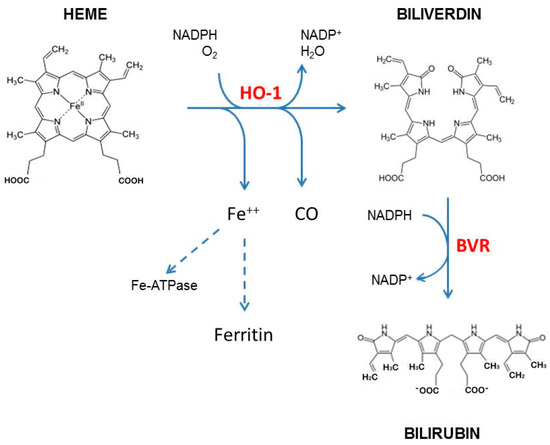 Figure 1. Heme degradation pathway. Heme oxygenase-1 (HO-1) catalyzes the degradation of heme to equimolar amounts of carbon monoxide (CO), biliverdin, and ferrous iron in presence of molecular oxygen (O2) and nicotinamide adenine dinucleotide phosphate (NADPH). Biliverdin is subsequently converted to bilirubin by biliverdin reductase (BVR).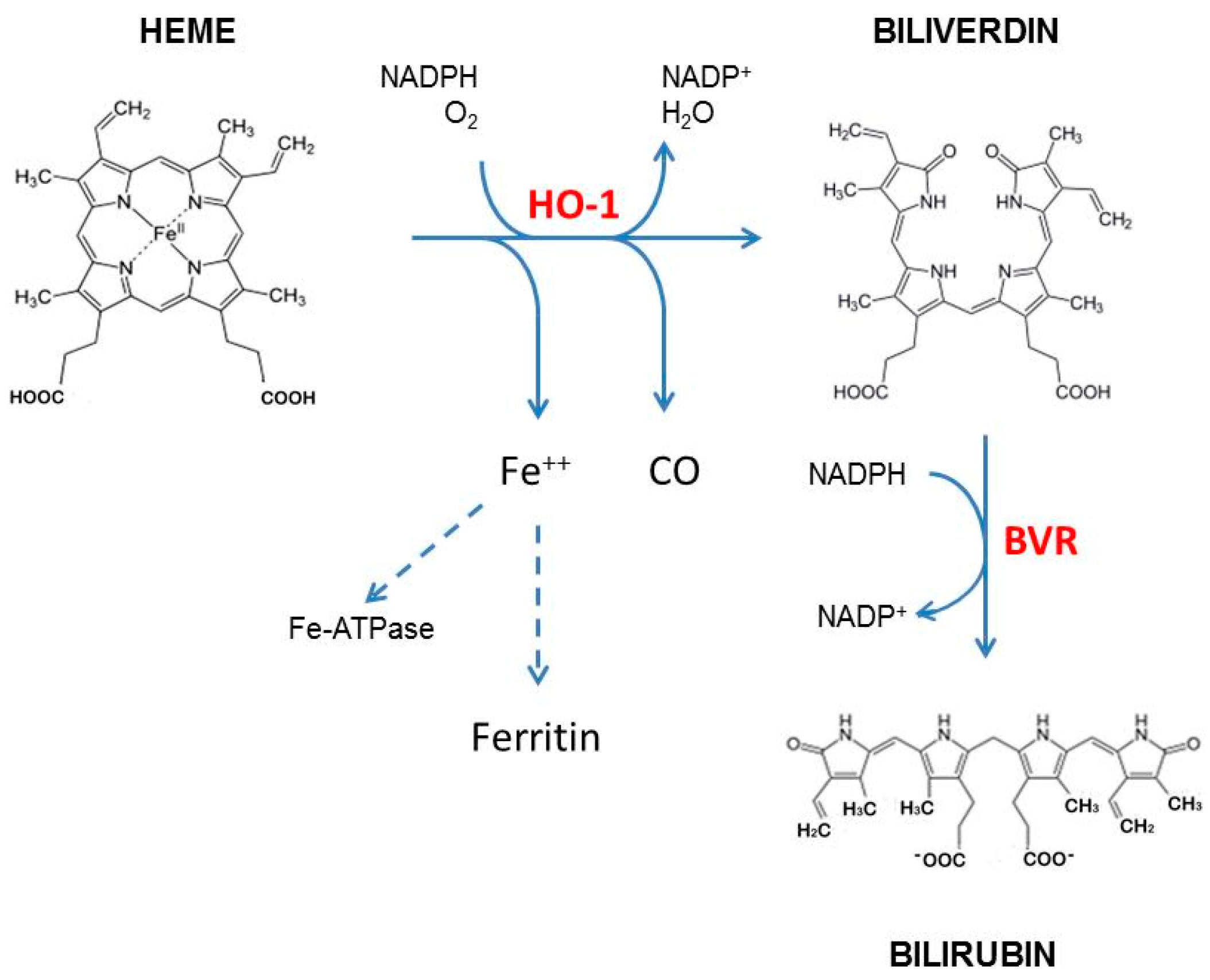 Figure 2. HO-1 induction prevents cell transformation acting through an antioxidant protective mechanism in healthy cells. However, malignant cells can take advantage of HO-1 upregulation favoring tumor growth, invasion, and metastasis.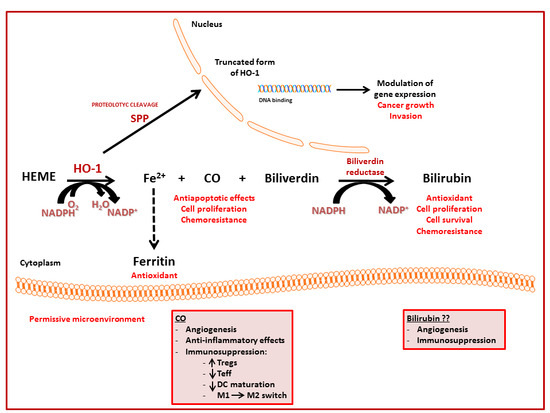 Figure 3. Schematic representation of HO-1 metabolism. HO-1 substrate, co-factors and metabolic products are indicated together with their recognized or hypothesized effects.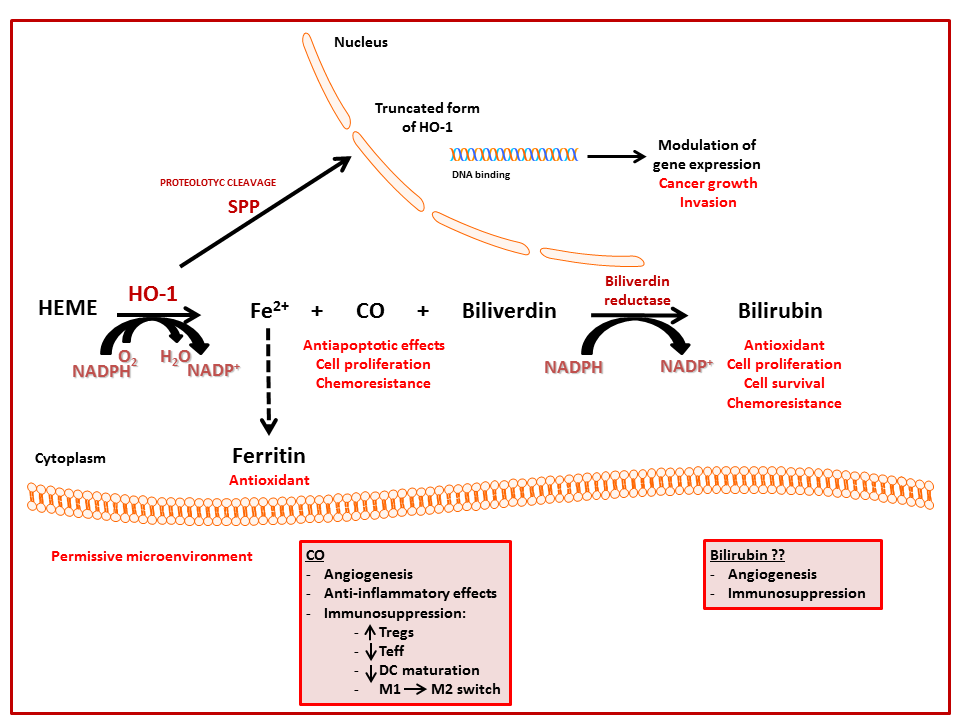 © 2017 by the authors. Licensee MDPI, Basel, Switzerland. This article is an open access article distributed under the terms and conditions of the Creative Commons Attribution (CC BY) license ( http://creativecommons.org/licenses/by/4.0/).