Evaluation of the Electromyography Test for the Analysis of the Aerobic-Anaerobic Transition in Elite Cyclists during Incremental Exercise
1
Department of Electrical and Electronical Engineering, Campus de Arrosadía s/n, Public University of Navarra, 31006 Pamplona, Spain
2
Department of Physiology and Biochemistry, University of Valladolid, 42004 Soria, Spain
3
Department of Engineering and Computer Science, University Jaime I, Campus Riu Sec, 12071 Castellón, Spain
4
Pediatric Neurology Unit, Virgen del Camino Hospital, 31008 Pamplona, Spain
*
Author to whom correspondence should be addressed.
Received: 13 December 2018 / Revised: 21 January 2019 / Accepted: 29 January 2019 / Published: 11 February 2019
Abstract
(1) Background: The aim of this study was to investigate the validity and reliability of surface electromyography (EMG) for automatic detection of the aerobic and anaerobic thresholds during an incremental continuous cycling test using 1 min exercise periods in elite cyclists. (2) Methods: Sixteen well-trained cyclists completed an incremental exercise test (25 W/1 min) to exhaustion. Surface bipolar EMG signals were recorded from the vastus lateralis, vastus medialis, biceps femoris, and gluteus maximus, and the root mean square (RMS) were assessed. The multi-segment linear regression method was used to calculate the first and second EMG thresholds (EMG
T1
and EMG
T2
). During the test, gas exchange data were collected to determine the first and second ventilatory thresholds (VT
1
and VT
2
). (3) Results: Two breakpoints (thresholds) were identified in the RMS EMG vs. time curve for all muscles in 75% of participants. The two breakpoints, EMG
T1
and EMG
T2
, were detected at around 70%–80% and 90%–95% of VO
2MAX
, respectively. No significant differences were found between the means of VT
1
and EMG
T1
for the vastii and biceps femoris muscles (
p
> 0.05). There were no significant differences between means of EMG
T2
and VT
2
(
p
> 0.05). (4) Conclusions: It is concluded that the multi-segment linear regression algorithm is a valid non-invasive method for analyzing the aerobic-anaerobic transition during incremental tests with 1 min stage durations.
View Full-Text
►

▼

Figures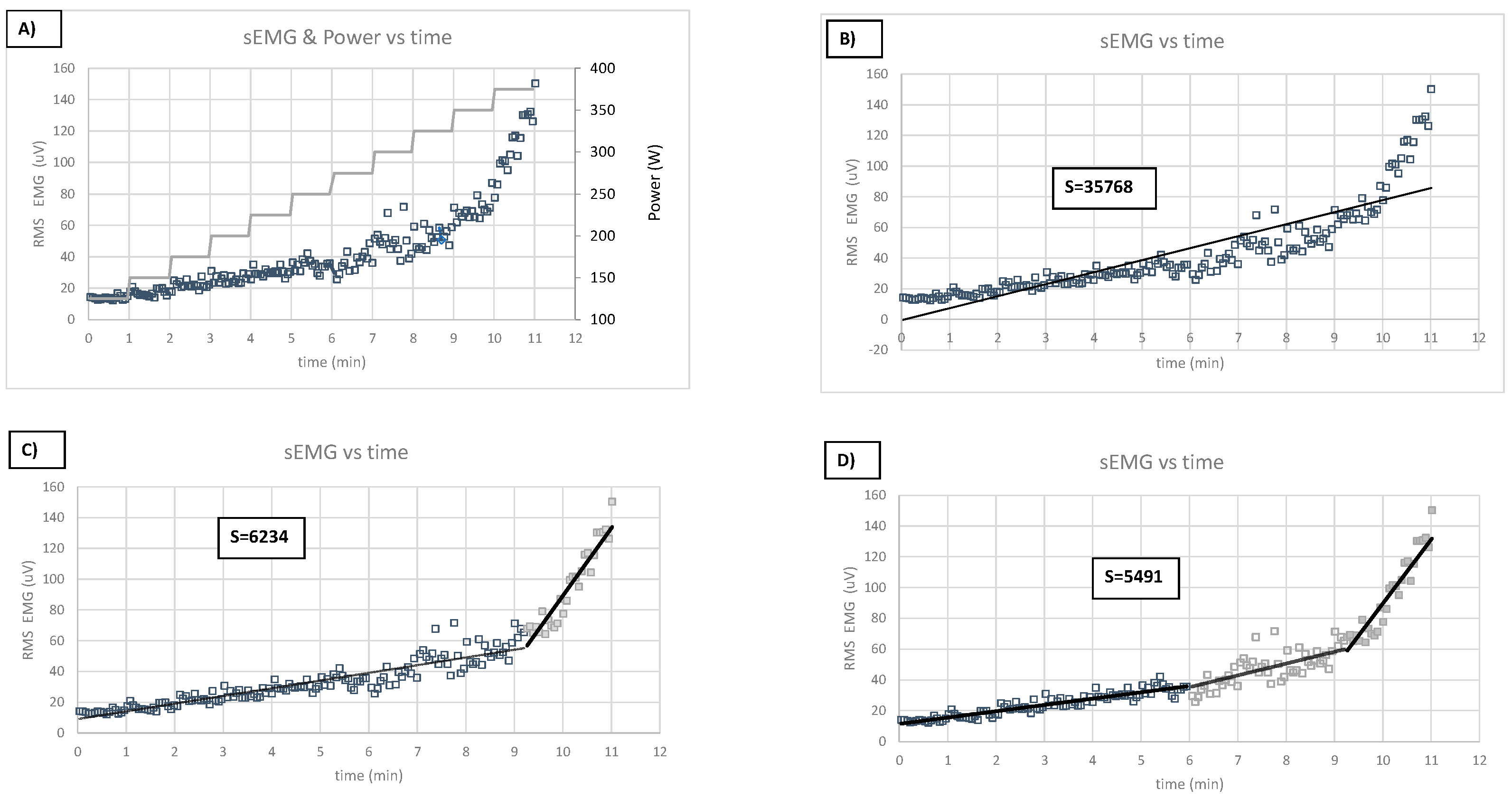 Figure 1
This is an open access article distributed under the
Creative Commons Attribution License
which permits unrestricted use, distribution, and reproduction in any medium, provided the original work is properly cited (CC BY 4.0).

Share & Cite This Article
MDPI and ACS Style
Latasa, I.; Cordova, A.; Quintana-Ortí, G.; Lavilla-Oiz, A.; Navallas, J.; Rodriguez-Falces, J. Evaluation of the Electromyography Test for the Analysis of the Aerobic-Anaerobic Transition in Elite Cyclists during Incremental Exercise. Appl. Sci. 2019, 9, 589.
Note that from the first issue of 2016, MDPI journals use article numbers instead of page numbers. See further details here.
Related Articles
Comments
[Return to top]