Silica Pillared Montmorillonites as Possible Adsorbents of Antibiotics from Water Media
1
PROBIEN (CONICET-UNCo), Buenos Aires 1400, Neuquén 8300, Argentina
2
Dpto de Qca-Facultad de Ingeniería, Universidad Nacional del Comahue, Buenos Aires, Neuquén 1400, Argentina
3
Laboratorio de Sólidos Porosos, Instituto de Física Aplicada–CONICET, Universidad Nacional de San Luis, Ejército de los Andes 950, Bloque II, 2do piso, San Luis 5700, Argentina
*
Author to whom correspondence should be addressed.
Received: 18 July 2018 / Revised: 14 August 2018 / Accepted: 16 August 2018 / Published: 19 August 2018
Abstract
In this work, three silica pillared clays (Si-PILC) were synthetized, characterized, and evaluated as possible adsorbents of ciprofloxacin (CPX) and tetracycline (TC) form alkaline aqueous media. The pillared clays obtained showed significant increases in their specific surface areas (S
BET
) and micropore volumes (V
μp
) regarding the raw material, resulting in microporosity percentages higher than 57% in all materials. The studies of CPX and TC removal using pillared clays were compared with the natural clay and showed that the Si-PILC adsorption capacities have a strong relationship with their porous structures. The highest adsorption capacities were obtained for CPX on Si-PILC due to the lower molecular size of CPX respect to the TC molecule, favoring the interaction between the CPX
−
and the pillars adsorption sites. Tetracycline adsorption on silica pillared clays evidenced that for this molecule the porous structure limits the interaction between the TCH
−
and the pillars, decreasing their adsorption capacities. However, the results obtained for both antibiotics suggested that their negative species interact with adsorption sites on the pillared structure by adsorption mechanisms that involve inner-sphere complex formation as well as van der Waals interactions. The adsorption mechanism proposed for the anionic species on Si-PILC could be considered mainly as negative cooperative phenomena where firstly there is a hydrophobic effect followed by other interactions, such as der Waals or inner-sphere complex formation.
View Full-Text
►

▼

Figures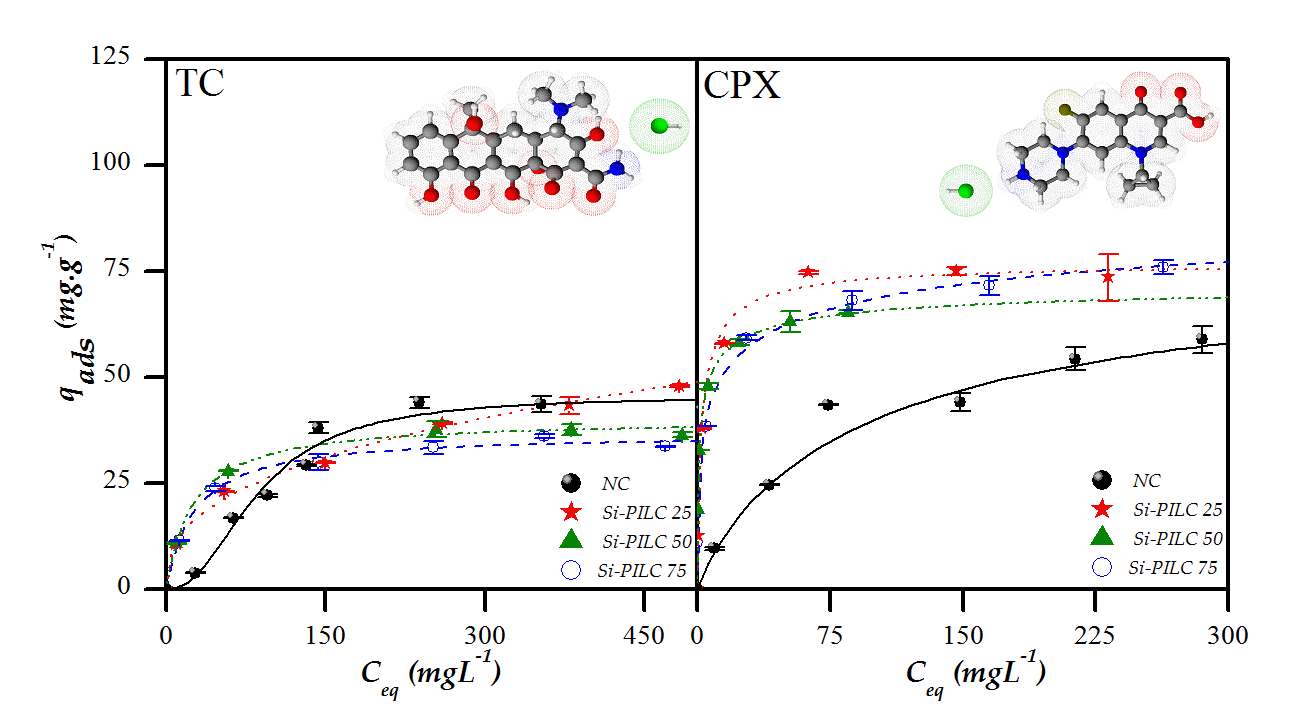 Graphical abstract
This is an open access article distributed under the
Creative Commons Attribution License
which permits unrestricted use, distribution, and reproduction in any medium, provided the original work is properly cited (CC BY 4.0).

Share & Cite This Article
MDPI and ACS Style
Roca Jalil, M.E.; Toschi, F.; Baschini, M.; Sapag, K. Silica Pillared Montmorillonites as Possible Adsorbents of Antibiotics from Water Media. Appl. Sci. 2018, 8, 1403.
Note that from the first issue of 2016, MDPI journals use article numbers instead of page numbers. See further details here.
Related Articles
Comments
[Return to top]