Open Access This article is
freely available
re-usable
Review
Novel Applications of Microbial Fuel Cells in Sensors and Biosensors
1
Departamento de Química Inorgánica y Química Técnica, Facultad de Ciencias, UNED, Paseo Senda del Rey, 9, 28040 Madrid, Spain
2
Departamento de Quımica Organica, Universidad de Cordoba, Edificio Marie-Curie (C-3), Ctra Nnal IV-A, Km 396, E14014 Cordoba, Spain
3
Biofuel and Renewable Energy Research Center, Department of Chemical Engineering, Babol Noshirvani University of Technology (BNUT), Shariati Ave., Babol 47148-71167, Mazandaran, Iran
4
Peoples Friendship University of Russia (RUDN University), 6 Miklukho-Maklaya str., Moscow 117198, Russia
*
Authors to whom correspondence should be addressed.
Received: 1 June 2018 / Accepted: 6 July 2018 / Published: 20 July 2018
Abstract
:
A microbial fuel cell (MFC) is a type of bio-electrochemical system with novel features, such as electricity generation, wastewater treatment, and biosensor applications. In recent years, progressive trends in MFC research on its chemical, electrochemical, and microbiological aspects has resulted in its noticeable applications in the field of sensing. This review was consequently aimed to provide an overview of the most interesting new applications of MFCs in sensors, such as providing the required electrical current and power for remote sensors (energy supply device for sensors) and detection of pollutants, biochemical oxygen demand (BOD), and specific DNA strands by MFCs without an external analytical device (self-powered biosensors). Moreover, in this review, procedures of MFC operation as a power supply for pH, temperature, and organic loading rate (OLR) sensors, and also self-powered biosensors of toxicity, pollutants, and BOD have been discussed.
Keywords:
microbial fuel cells; biosensors; power supply; self-power; pollutants; wastewater
1. Introduction
Based on the above context, this review is divided in two differentiated sections. The first section is dedicated to identify the benefits and drawbacks of MFC integration as a power supply for sensors and biosensors, as well as to address the main factors influencing their power output performance, such as pH, temperature, and organic loading rate (OLR).
In the second section, the use of MFCs as self-powered biosensors for toxicants and BOD is discussed.
2. MFC Power Supply for Sensors and Biosensors
2.1. Effect of Temperature
Different parameters of MFCs, such as activation energy, mass transfer coefficient, and solution conductivity, are related to kinetic and mass transfer processes of the system. Those processes are significantly influenced by changes in temperature, and so they affect the performance of the MFC for energy generation [
60
,
61
,
62
,
63
]. On the other hand, the influence of the temperature will change depending on the specific nature of the microorganism and the feedstock employed [
58
,
62
,
63
,
64
,
65
,
66
,
67
,
68
,
69
,
70
,
71
,
72
,
73
,
74
,
75
]. Therefore, different optimum temperatures will be required depending on the specific characteristics of the MFC. Various investigations have proved a significant enhancement of the power output by increasing the reaction temperature in the anode chamber [
58
,
62
,
64
,
65
,
66
,
67
,
68
,
69
,
70
,
71
,
72
,
73
]. That improvement in the power density has been related to an enhancement of the microbial metabolism and membrane permeability, as well as to the reduction of ohmic resistance due to a higher conductivity of the liquid solution by increasing the temperature [
62
,
63
].
It is worth mentioning that biofilm formation can be also be affected by temperature changes [
58
,
62
,
64
,
65
,
66
,
67
,
68
,
69
,
70
,
71
,
72
,
73
,
74
,
75
], since biofilm development at the anode has an important impact on the anodic biocatalytic activity, and therefore on the energy generation. In that way, some studies show that the initial temperature is crucial in the formation of the biofilm in a MFC, and consequently, in the time needed for the startup. Thus, higher temperatures lead to a stable biofilm and MFC operation in a short period of time, and therefore to a higher performance.
Regardless of the aforementioned, some microorganisms naturally prefer low-temperature environments to reach optimum performance, which is potentially useful for MFC-driven sensors to be placed in cold areas [
62
,
63
]. However, at extremely low temperatures, microbial reactions slow down and eventually MFCs cannot operate.
2.3. Effect of Organic Loading Rate
Organic loading rate (OLR) can be defined as the rate of biological oxygen demand (BOD) per volume unit of solution. BOD is an indicative measure of the oxygen required by aerobic biological organisms to oxidize the organic matter (usually considered as pollutants) contained in a solution at isothermal conditions. Hence, OLR is conventionally used to quantify the incoming mass rate of organic matter in a reactor for wastewater or sludge treatment. At this point it must be noted that the potential use proposed for MFCs is as a self-powered reactor technology in a waste water/sludge treatment [
22
], regardless of the fact that inorganic substrates can be also used. In that sense, OLR applied to a reactor is also known as volumetric loading rate, expressed in kg of BOD per unit volume of the reactor per day. The organic loading rate can also be defined per unit weight of microbial mass, and be used to measure the potential for substrate conversion in an MFC.
Regardless of the waste removal, operating at optimum OLR or sludge loading rate (SLR) is critical for an effective performance of MFCs, since both power density and current efficiency depend on the substrate conversion rate directly related to OLR [
63
,
71
,
94
,
95
,
96
,
97
,
98
,
99
,
100
,
101
,
102
,
103
]. Thus, the energy generation is generally boosted by increasing the OLR up to a maximum, from which higher loading rates decrease the power output of the MFC. The higher OLR translates into a higher availability of feedstock to be oxidized in the anode, which favors the metabolic activity of the electroactive biofilm and explains the enhanced power generation. On the contrary, an increased OLR has been related to lower efficiency for electron transfer processes from anode to cathode, hindering the adequate performance in an MFC [
97
]. As a case in point, Joo-Youn Nam et al. studied an MFC for the treatment of wastewater. As shown in
Figure 5
[
100
], the decreasing of columbic efficiency while OLR increases is unambiguously clear.
3. MFC as a Self-Powered Biosensor versus a Traditional Whole-Cell Biosensor
The high sensitivity of the MFC's performance to a number of environmental and biological factors make them suitable to act, in turn, as biosensors [
21
,
107
,
108
]. Therefore, properly combining energy generation and sensing functionalities from MFCs, self-powered devices, i.e., operated without any external electricity supply, can be designed to operate autonomously for remote detection and quantification of desired parameters [
109
,
110
]. Indeed, several reviews have already been reported regarding those unique and novel applications posed for MFCs as electrical biosensors [
54
,
111
].
At this point, it should be mentioned that the IUPAC definition for "electrical biosensor" is a self-contained integrated device providing specific analytical information using a biological recognition element contacting with an electrochemical transduction element (anode/cathode electrodes in MFCs) [
112
,
113
]. Biological components for the analyte recognition in conventional biosensors are mostly enzymes, fluorescence proteins, and other fluorescence/pigment molecules [
114
,
115
,
116
]. In a conventional biosensor, an external power source is required to operate all electronic components, including the transducer and others, responsible for the signal conversion, amplification, and transmission, which noticeably limits applications in remote environmental monitoring. In contrast, the biological sensing element in the case of an MFC are the microbes, which give a measurable response as an output electrical current through the anode/cathode electrodes from the MFC itself [
48
,
117
,
118
]. Since the analytical output signal is already measured as an electric current, MFC-based biosensors do not need an external transducer. Therefore, MFC-based biosensors are considered to be recyclable and sustainable devices with higher cost- and energy-efficiency than conventional biosensors [
111
].
According to what has been discussed so far, monitoring microbial activity and related parameters, such as biochemical oxygen demand (BOD) or detection of inhibitors and toxicants, appear as the most obvious applications for MFC-based biosensors. Especially promising are their applications for rapid monitoring of environmental factors such as pH, temperature, composition, and concentration of organic matter, and other parameters related to the quality of water effluents (
Table 1
), for which MFC-based biosensors have been considered as the next generation of biosensing technology [
30
].
4. MFC-Based Biosensors for BOD Detection
5. MFC-Based Biosensors for Water Toxicity Detection
Detection of toxicity in water is a crucial parameter to determine necessary actions for providing safe water within the appropriate degree of quality for consumption by humans, animals, and crops. To this effect, MFCs appear as appropriate sensitive systems, since any toxicant present in the aqueous feedstock will affect the metabolic activity of microbes, and therefore the rate of substrate intake, which is, as already mentioned above, directly related to the current output of an MFC. Therefore, any change in the presence and content of toxicants in fluent water can be easily detected by monitoring the perturbations in the electric current generated by MFCs [
128
,
147
], reducing the time and costs (personal, reactants, and analysis equipment) compared to conventional methods [
148
].
Among the most significant advances in the last 10 years is the simple and planar silicon-based miniaturized MFC, developed as a prompt response toxicity biosensor by Dávila and co-workers in 2011 [
149
]. Regardless of the biosensing application, maximum power density of about 6.5 µW/cm
2
was reported to be provided by the silicon-based MFC.
Eventually, performance and sensitivity to different toxicants in an MFC-based toxicity sensor strongly depends on the type of electroactive microbes used in the cell. Therefore, the selection of microorganisms with specially enhanced sensitivity to specific toxicants is critical to design appropriate devices according to the required monitoring needs.
6. Conclusions
This contribution clearly illustrates the potential of MFCs in the field of sensors and biosensors, also attracting researchers' interest all over the world. MFC's power output is known to be low in comparison with other electricity energy sources. However, MFCs can be utilized as an effective, sustainable, and long-term source of power in low-power electronic equipment, such as remote sensors. MFCs can also be considered as self-powered biosensors for monitoring BOD, DO, and toxicity in water nowadays, due to the high sensitivity demonstrated to those parameters. Rapid response time, low-cost operation, and possibilities to be self-powered are some of the remarkable advantages of the mentioned devices with high promise for extending applications.
Author Contributions
Conceptualization was made by M.R., M.F., and M.M.; Writing-Original Draft Preparation was made by M.F. and M.M., and revised/completed by A.Z. and F.I.-B.; Final Editing, revisions and submission was done by R.L.
Funding
This research was funded by the European Union's Horizon 2020 research and innovation Program under the Marie Skłodowska-Curie grant agreement No. 721290. This publication reflects only the author's view, exempting the Community from any liability. Project website:
http://cosmic-etn.eu/
. This publication was prepared with support from RUDN University Program 5-100. This work was also supported by Erasmus project entitled "Fostering Internationalization in Agricultural Engineering in Iran and Russia [FARmER]", Project Number: 585596-EPP-1-2017-1-DE-EPPKA2-CBHE-JP. The authors also thank the Biofuel & Renewable Energy Research Center at BNUT.
Conflicts of Interest
The authors declare no conflict of interest.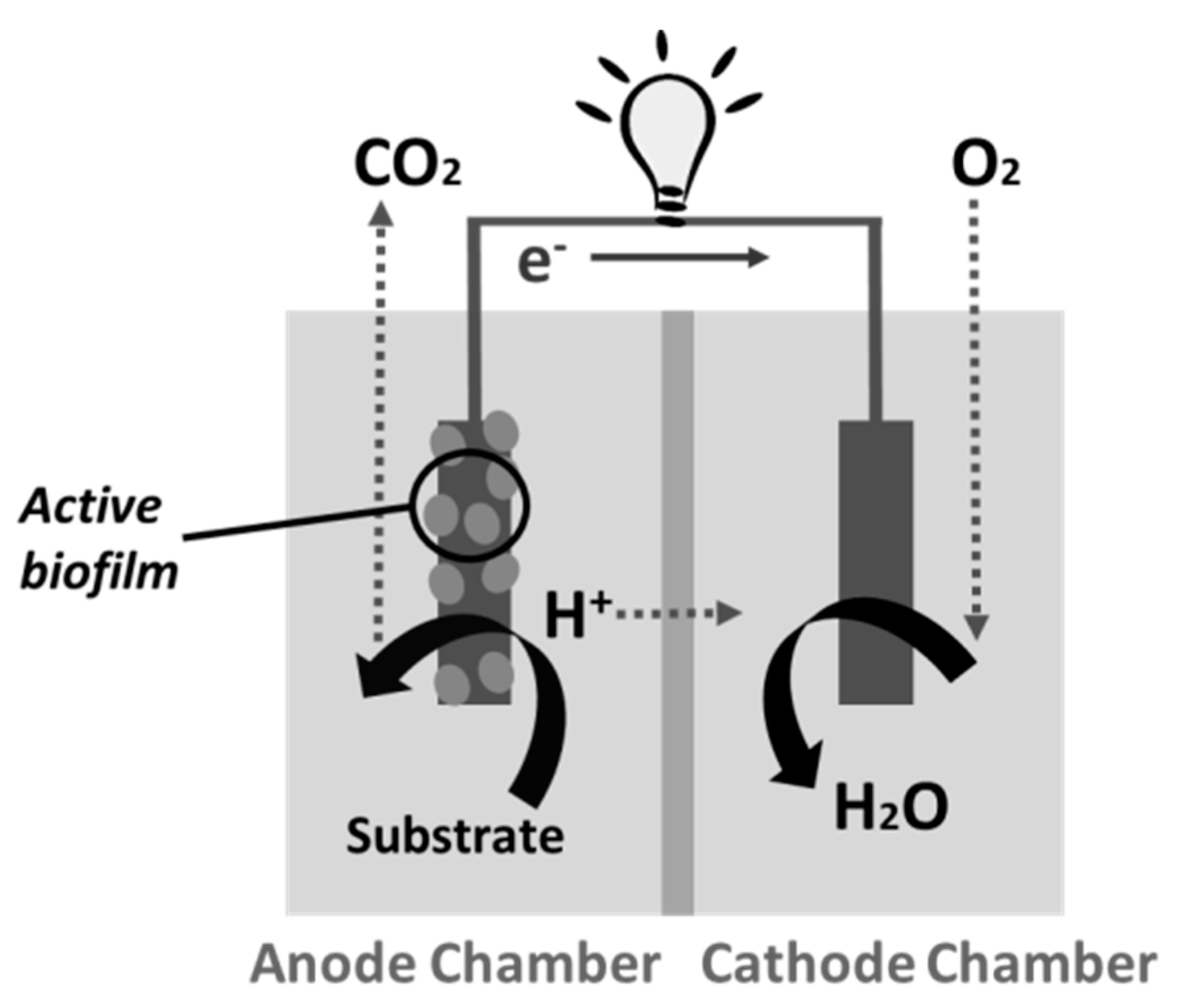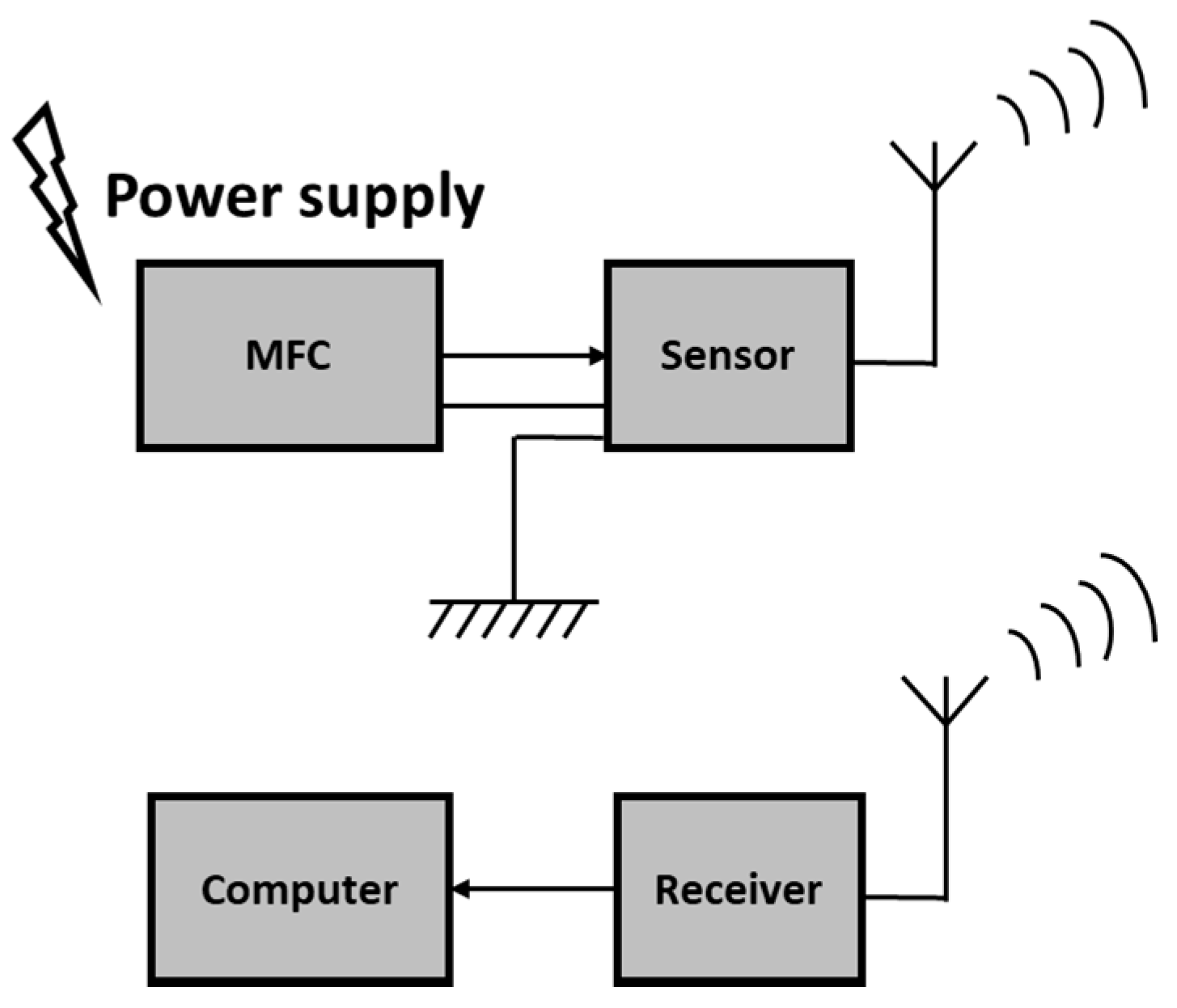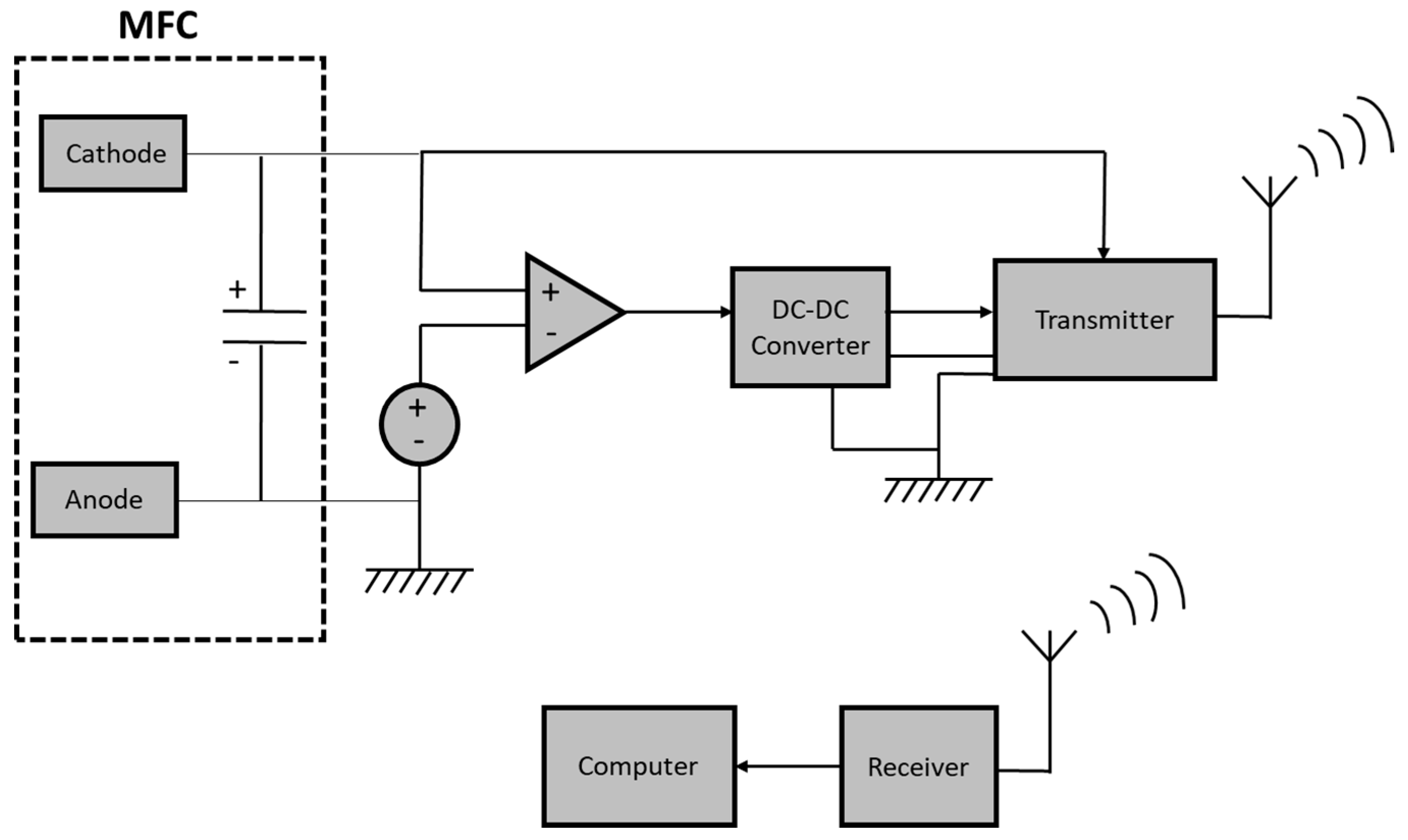 Figure 5.
Electron conversion efficiency and energy generation from fermented wastewater under 1 kΩ of the external resistance [
100
].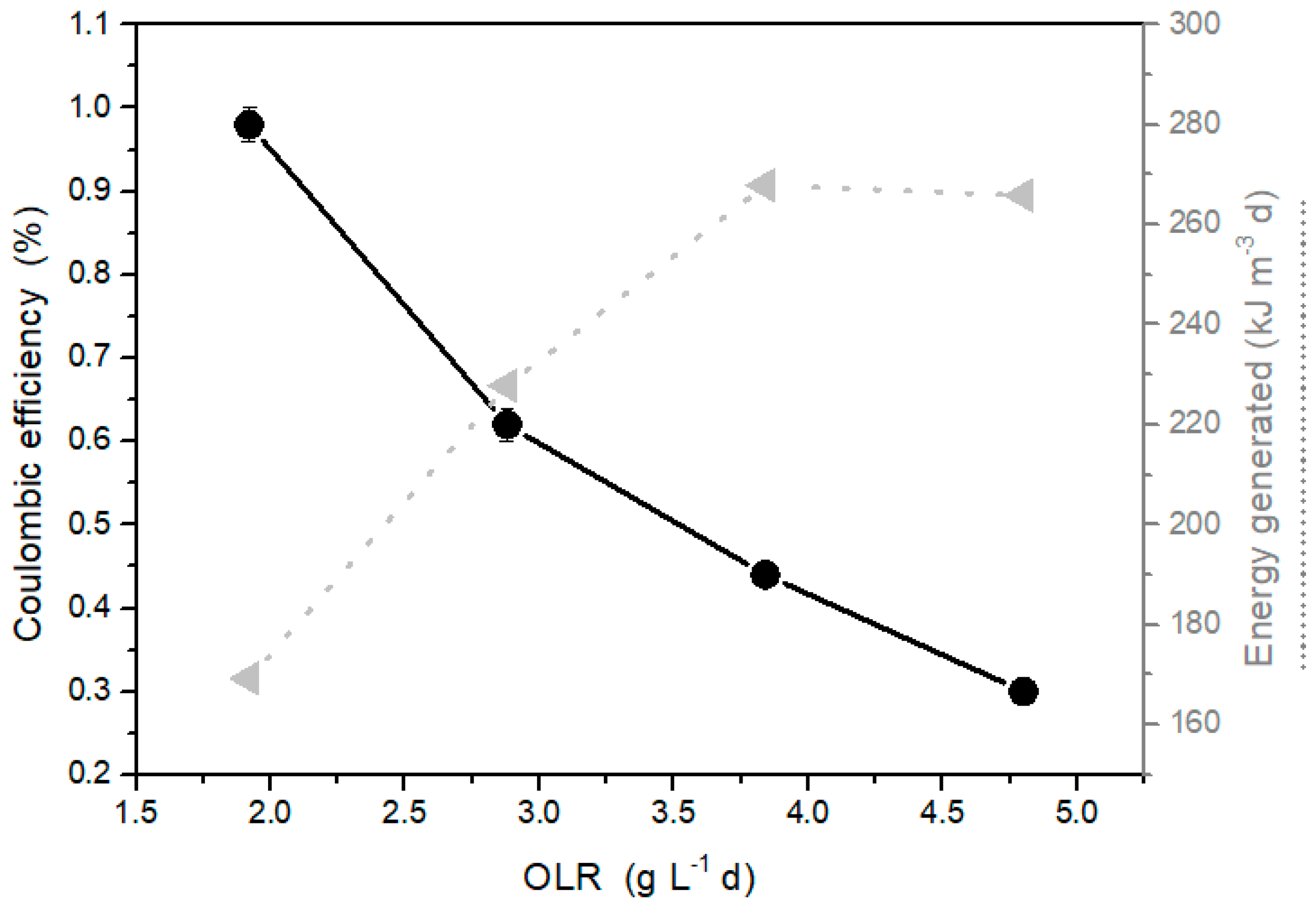 Parameter Measured
Power, Voltage, or Current
Detection Range
Reference
BOD5
0.26–0.90 mA
32–1280 mg L−1
[119]
0.063–0.55 mA
-
[120]
72 mW m−2
17–183 mg L−1
[121]
3.7–5.2 mA
20–200 mg L−1
[48]
0.05–1.1 mA
2.6–206 mg L−1
[122]
0.7–1.9 mA
50–100 mg L−1
[123]
0.2–1.7 mA
-
[124]
0.05–8 µA
2–10 mg L−1
[125]
0.0015–0.2 mA
[126]
Organophosphorus
0.005–0.042 mA
1–10 mg L−1
[127]
Cd(II) and Pb(II)
0.005–0.035 mA
0.1–1 mg L−1
[127]
Ni
0.15–2.25 mA
10–30 mg L−1
[128]
0.022–0.132 A m−2
0–88 mg L−1
[128]
Na dodecyl sulfate
0.85–1.7 mA
10–50 mg L−1
[128]
Bentazon
0.9–1.4 mA
1–3 mg L−1
[128]
Cu
0.7–1.5 A m−2
-
[129]
Formaldehyde
0.05 ± 0.04–0.1 ± 0.03 mA
-
[130]

E. Coli

0.1–0.38 mA
-
[122]
Microbial activity
0.6–12.4 A m−2
0–13 nmol l−1
[131]
0–0.30 mA
-
[132]
Oxygen Dissolved
5.6–462 mA m−2
0–8.8 mg L−1
[133]
9.5–17 mW m−3
-
[134]
0–0.092 mW
0–8 mg L−1
[135]
Volatile fatty acids
0.22–1.29 mA
0–40 mg L−1
[136]
Anaerobic digestion
0.01–0.095 mA
-
[137]

© 2018 by the authors. Licensee MDPI, Basel, Switzerland. This article is an open access article distributed under the terms and conditions of the Creative Commons Attribution (CC BY) license (http://creativecommons.org/licenses/by/4.0/).