Open Access This article is
freely available
re-usable
Article
Wetting Resistance of Commercial Membrane Distillation Membranes in Waste Streams Containing Surfactants and Oil
1
VITO—Flemish Institute for Technological Research, Boeretang 200, 2400 Mol, Belgium
2
Department of Chemical Engineering, Katholieke Universiteit Leuven, Celestijnenlaan 200F, B-3001 Leuven, Belgium
3
Department of Chemical Engineering, Cluster Sustainable Chemical Process Technology, KU Leuven, Gebroeders Desmetstraat 1, B-9000 Ghent, Belgium
4
Faculty of Engineering and the Built Environment, Tshwane University of Technology, Private Bag X680, Pretoria 0001, South Africa
*
Author to whom correspondence should be addressed.
Academic Editor: Enrico Drioli
Received: 13 December 2016 / Accepted: 20 January 2017 / Published: 25 January 2017
Abstract
:
Water management is becoming increasingly challenging and several technologies, including membrane distillation (MD) are emerging. This technology is less affected by salinity compared to reverse osmosis and is able to treat brines up to saturation. The focus of MD research recently shifted from seawater desalination to industrial applications out of the scope of reverse osmosis. In many of these applications, surfactants or oil traces are present in the feed stream, lowering the surface tension and increasing the risk for membrane wetting. In this study, the technological boundaries of MD in the presence of surfactants are investigated using surface tension, contact angle and liquid entry pressure measurements together with lab-scale MD experiments to predict the wetting resistance of different membranes. Synthetic NaCl solutions mixed with sodium dodecyl sulfate (SDS) were used as feed solution. The limiting surfactant concentration was found to be dependent on the surface chemistry of the membrane, and increased with increasing hydrophobicity and oleophobicity. Additionally, a hexadecane/SDS emulsion was prepared with a composition simulating produced water, a waste stream in the oil and gas sector. When hexadecane is present in the emulsion, oleophobic membranes are able to resist wetting, whereas polytetrafluoretheen (PTFE) is gradually wetted by the feed liquid.
Keywords:
membrane distillation; wetting; sodium dodecyl sulfate; hexadecane
1. Introduction
Membrane distillation (MD) is a thermally-driven membrane separation process, mostly applied to separate salts from an aqueous solution. The process uses a hydrophobic membrane to retain the liquid phase, while vapor is transported through the microporous structure. In direct contact membrane distillation, the membrane can be considered a contactor between the process liquids and the vapor phase, enabling 100% retention of dissolved components. Critical for the process is that the membrane pores are not wetted by the process liquids. As with any thermal separation process, MD is considered less energy efficient than reverse osmosis [
1
]. However, unlike reverse osmosis, MD can be applied using low-grade waste heat, solar or geothermal energy, considerably reducing the energy costs [
2
]. Moreover, the process flux and salt retention are less affected by salinity of the feed and therefore the process is able to operate properly up to saturation [
3
,
4
]. Recently, membrane distillation has been applied more and more for challenging water streams with a much higher load of contaminants compared to seawater desalination. Examples include reverse osmosis (RO) brines [
5
,
6
,
7
], industrial waste water [
8
,
9
] and produced water [
10
,
11
]. In many of the applications, the contaminants include a combination of less soluble salts, organic foulants or components lowering the surface tension of the process fluids. The occurrence of scaling and fouling of these contaminants can decrease the performance of the membrane [
6
,
12
,
13
,
14
,
15
,
16
,
17
,
18
,
19
]. Another less investigated phenomenon is membrane wetting, where despite the hydrophobicity and controlled pore size, liquid is able to penetrate into the membrane. The liquid entry pressure (LEP) indicates the minimum pressure difference over the membrane at which membrane wetting will occur and is given by [
20
]:
where γ
L
is the surface tension of the liquid, θ the contact angle of the liquid with the surface and
r
max
the maximum pore radius.
Multiple origins of membrane wetting are known. Different MD studies show that the reduced hydrophobicity (θ) due to membrane fouling is a possible cause of membrane wetting [
21
,
22
]. Furthermore, defects present in the membrane influence
r
max
and therefore strongly affect the liquid entry pressure [
23
,
24
]. The main focus of this article is the presence of organics lowering the surface tension (γ
L
) of the feed stream, which can cause wetting as well [
20
,
25
,
26
]. The effect of membrane wetting for a series of alcohols, organic acids and solvents was already investigated [
20
,
25
]. Different approaches were used to quantify the wetting resistance of a membrane towards the presence of an organic component:
The determination of the concentration and surface tension (γpd) at which a droplet wets the membrane (penetrating drop method) for each organic component.
Determination of the theoretical maximum allowable surface tension in the process (γ
pc
) using [
25
]:
Where ΔP is the pressure drop over the membrane,
r
max
the maximum membrane pore size and B a geometric factor between 0 and 1, where 1 indicates a perfectly cylindrical pore.
Measurement of the liquid entry pressure occurs as a function of the liquid composition.
Whereas the effect of alcohols, organic acids and solvent on the wetting behavior is described in literature [
20
,
25
], the effect of surfactants and oil traces on the membrane distillation performance has been less studied. Lin et al. [
26
] observed membrane wetting of a 0.45 μm polytetrafluoretheen (PTFE) membrane at a sodium dodecyl sulfate (SDS) concentration of 28 mg/L, while a chemically-modified omniphobic membrane was able to resist wetting up to 115 mg/L SDS. Wang et al. showed that a 1000 ppm crude oil mixture immediately wets a 0.45 μm polyvinylidene fluoride (PVDF) membrane [
27
], while 100 ppm mineral oil is shown to substantially wet the membrane after 21 h [
28
].
This study aims to improve the understanding of membrane wetting in the presence of surfactants and oil. A commonly used surfactant, sodium dodecyl sulfate, was used to investigate the effect on surface tension, contact angle and membrane wetting in membrane distillation. The validity of a simple methodology correlating the surface tension, contact angle and liquid entry pressure to membrane wetting in membrane distillation was investigated for different concentrations of sodium dodecyl sulfate. Moreover, different membranes were used to investigate the influence of surface chemistry. Finally, a standard oil-in-water emulsion was prepared and tested with MD. The composition simulates the composition of produced water, which is a common waste stream in the oil and gas production [
29
].
4. Conclusions
In this manuscript it was shown that immediate wetting in membrane distillation can be predicted by surface tension and water contact angle measurements. The surface tension measurement shows that wetting behavior might not only depend on sodium dodecyl concentration, but also on the NaCl concentration, which strongly affects the critical micelle concentration. The PE membrane is less hydrophobic compared to PTFE and is therefore more susceptible towards membrane wetting due to the presence of surfactants. This membrane shows immediate wetting, a severe salt increase in the permeate, and a flux increase induced by the hydrostatic pressure difference. For PTFE the short-term test did not show changes in salt retention for SDS concentrations far above the critical micelle concentration (SDS: 150 mg/L, NaCl: 35 g/L). However, three-day MD testing shows that despite the sufficiently high contact angle with the PTFE-membrane, a decrease of the salt retention is observed, while still maintaining stable fluxes. This shows that the wetting is much less severe compared to the PE membrane, but that at longer operational times membrane wetting might also become an important issue. The PES membrane is oleophobic and showed unaffected flux or salt retention over three days of testing. Additionally, membrane distillation experiments with synthetic produced water showed the better stability in performance of an oleophobic membrane compared to a hydrophobic PTFE membrane.
Acknowledgments
Lies Eykens thankfully acknowledges a PhD scholarship provided by the Flemish Institute for Technological Research, VITO NV.
Author Contributions
Lies Eykens performed and analyzed the experiments and wrote the paper. All other authors contributed significantly through their guidance and support during the experiments and the writing process.
Conflicts of Interest
The authors declare no conflict of interest.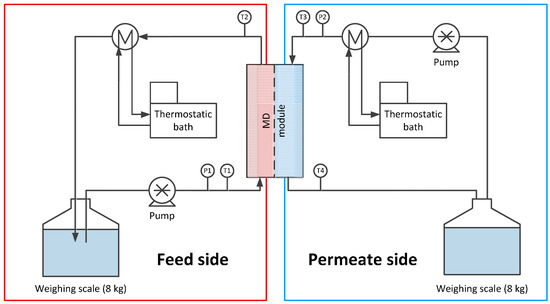 Figure 1. Process scheme of the direct contact membrane distillation (DCMD)-lab scale setup. T indicates a temperature sensor, P refers to pressure sensors.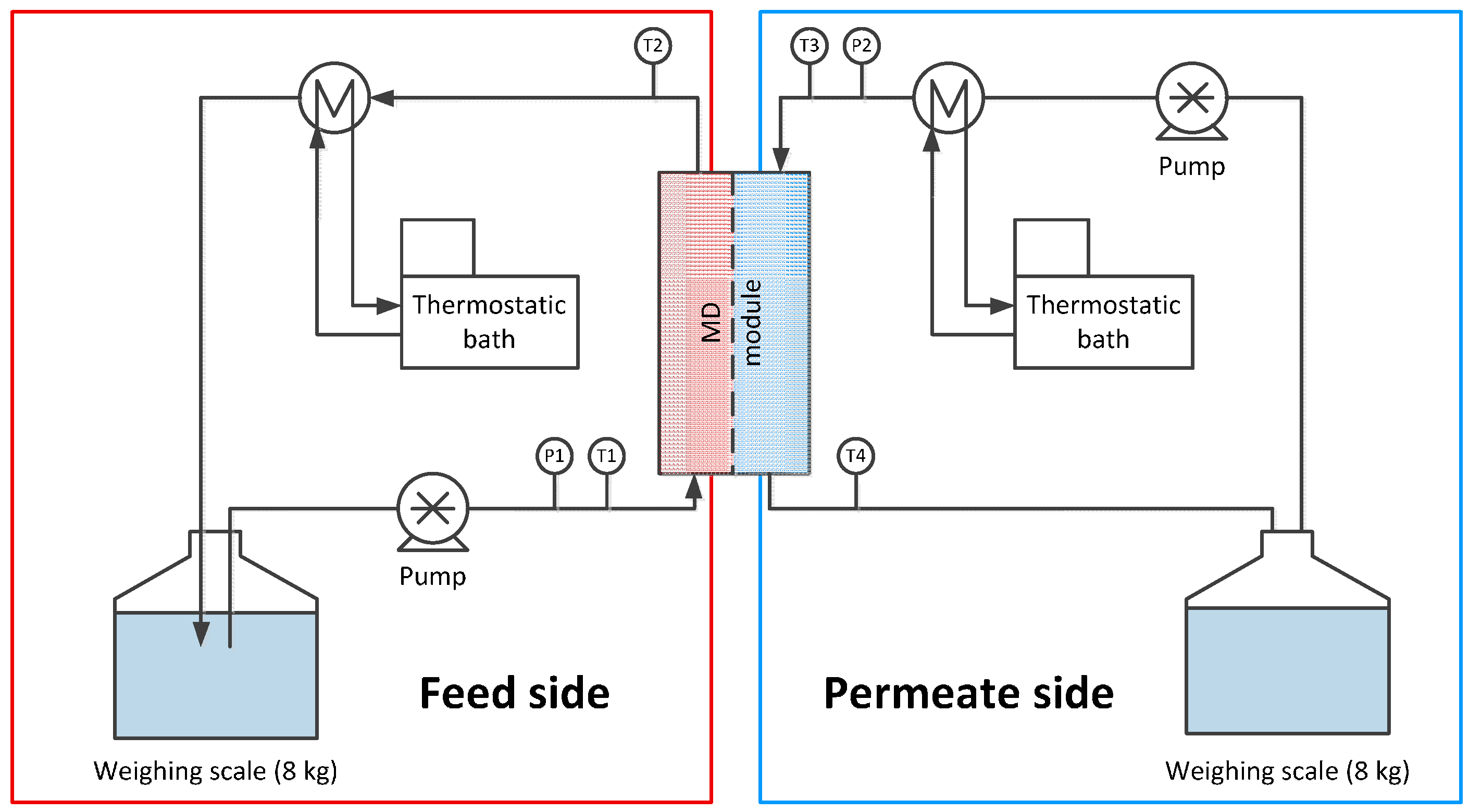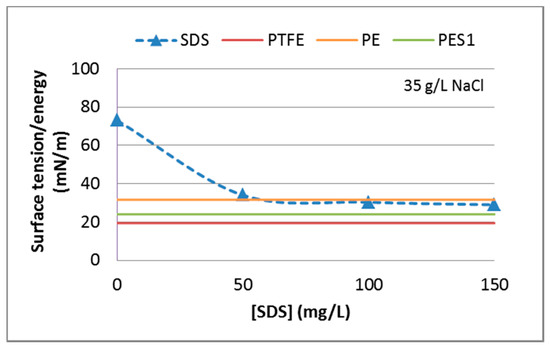 Figure 2. Surface tension as function of sodium dodecyl sulfate (SDS) concentration in an aqueous solution of 35 g/L NaCl and critical surface tension for the membrane surface used in this study.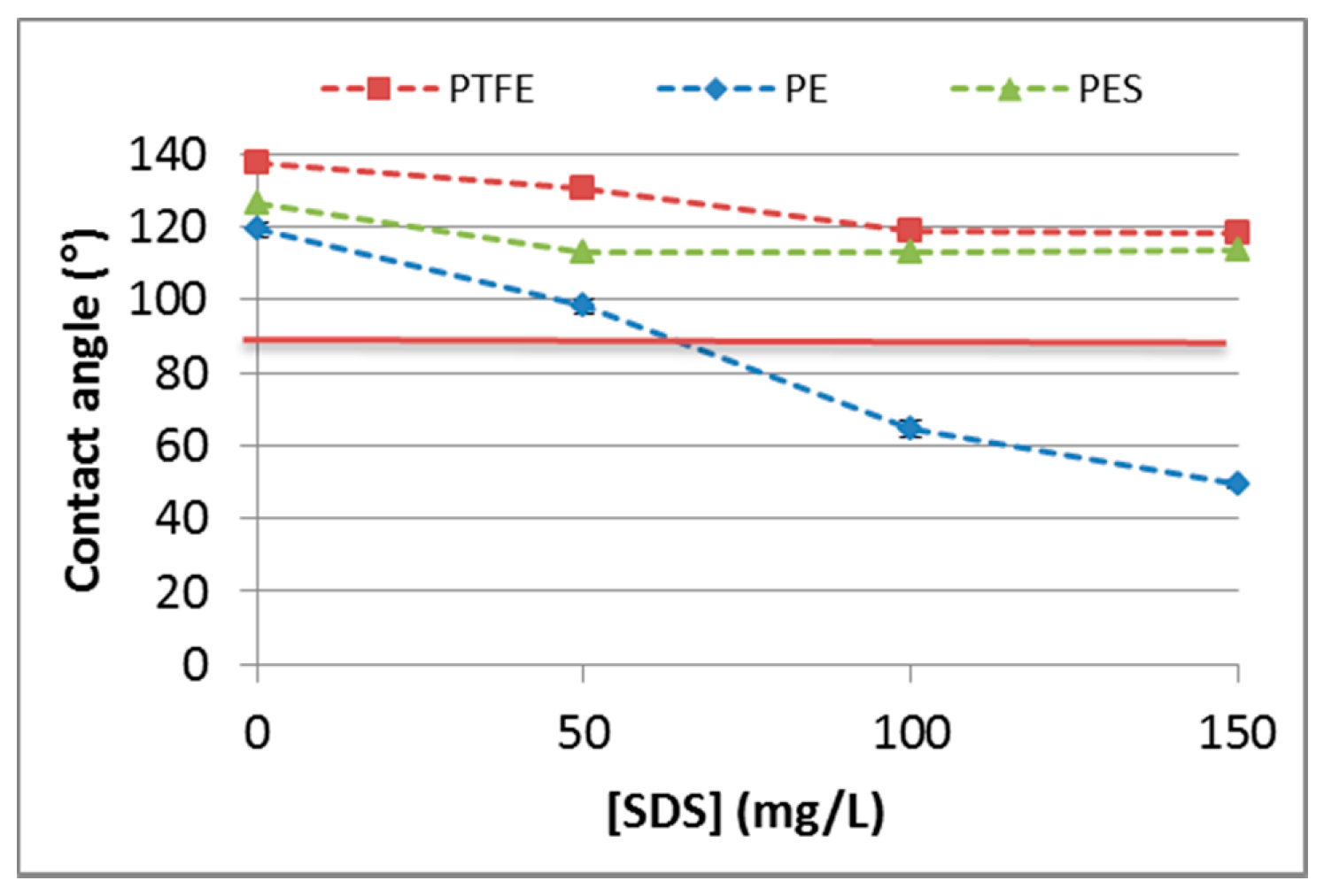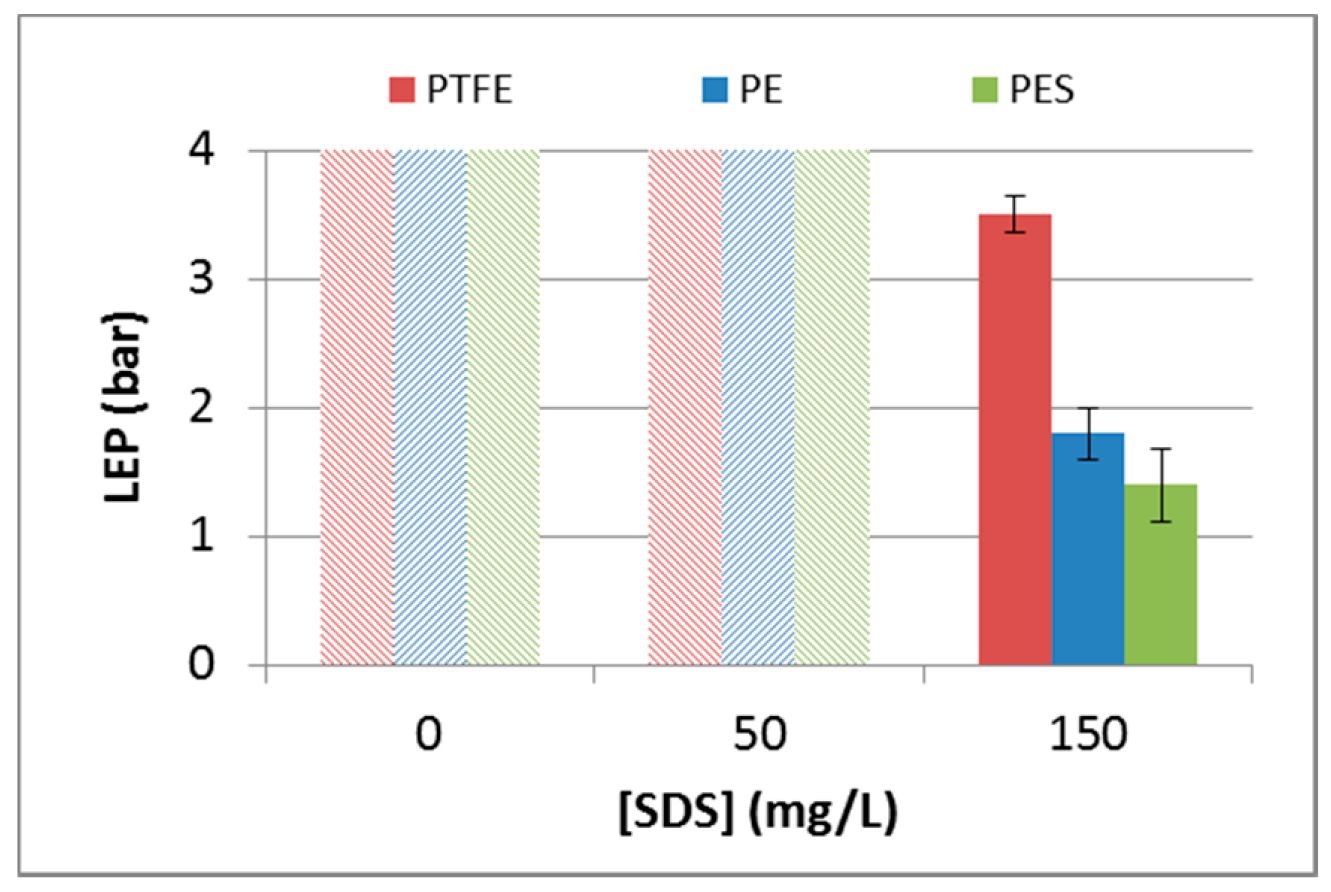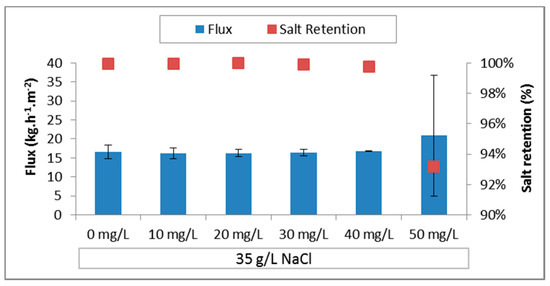 Figure 5. Flux and salt retention for the PE membrane for a feed composition with different SDS concentrations and 35 g/L NaCl.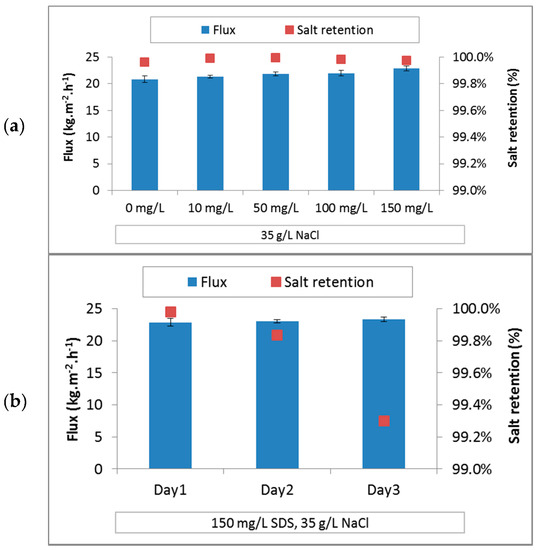 Figure 6. Flux and salt retention for the PTFE membrane; (a) with increasing SDS concentrations; (b) At constant feed composition over three days.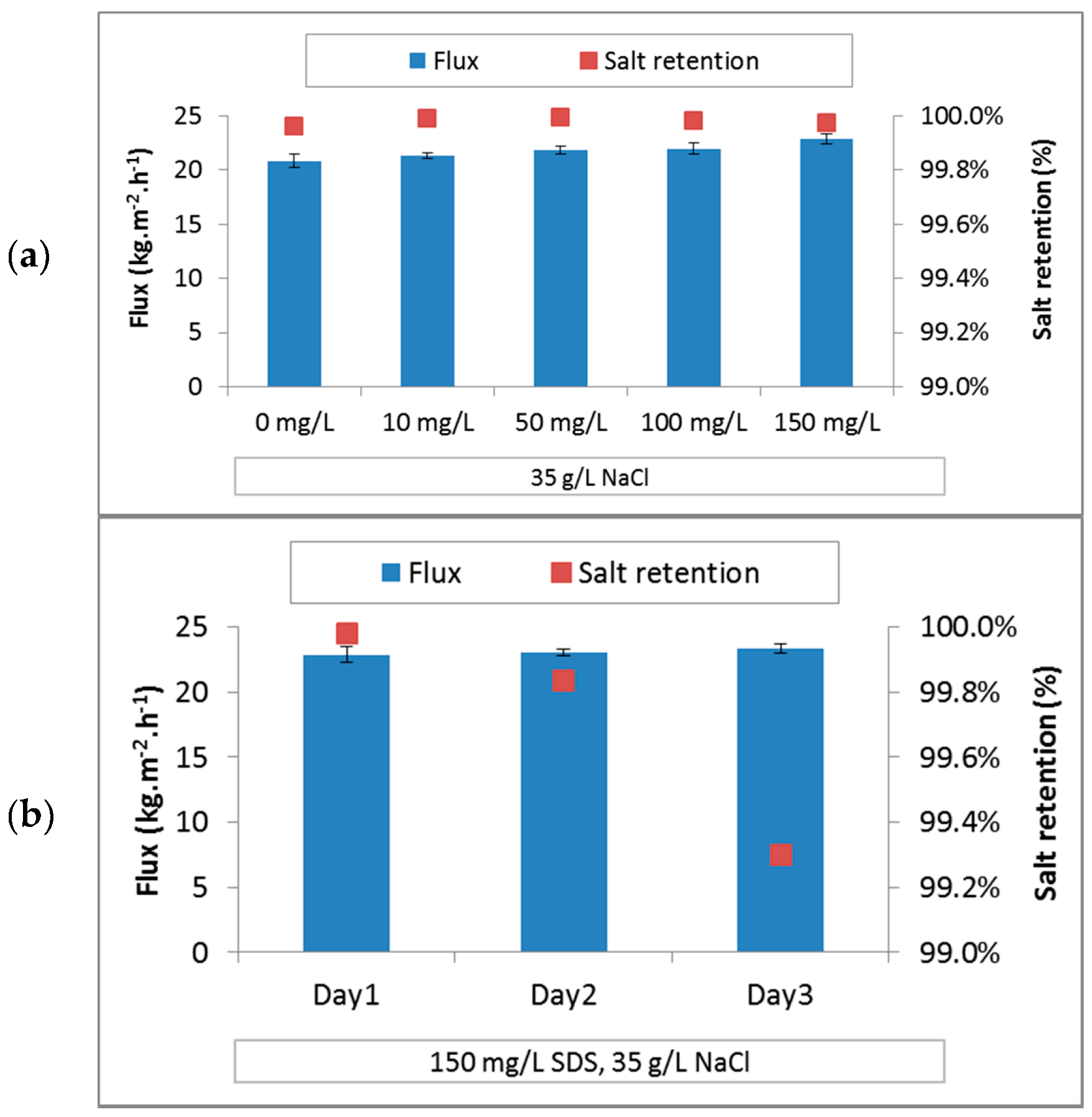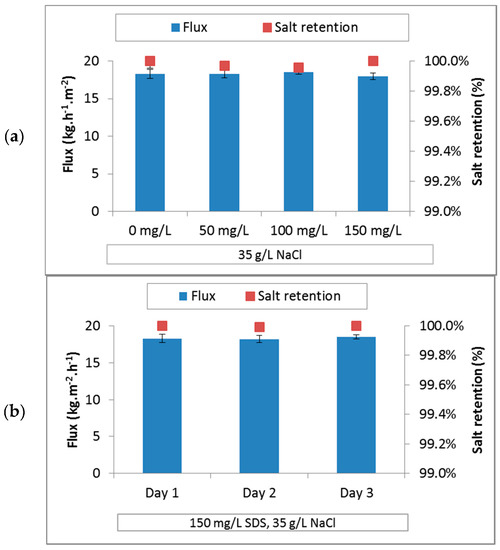 Figure 7. Flux and salt retention for the PES membrane, (a) with increasing SDS concentrations; (b) at constant feed composition over three days.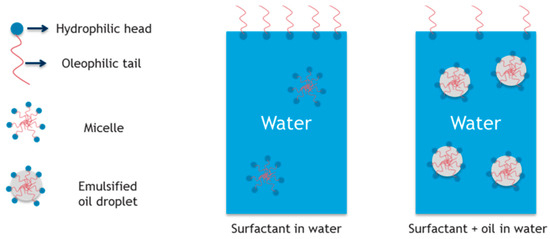 Figure 8. Micelle formation with surfactant in water mixture and emulsification of the oil-in-water mixture.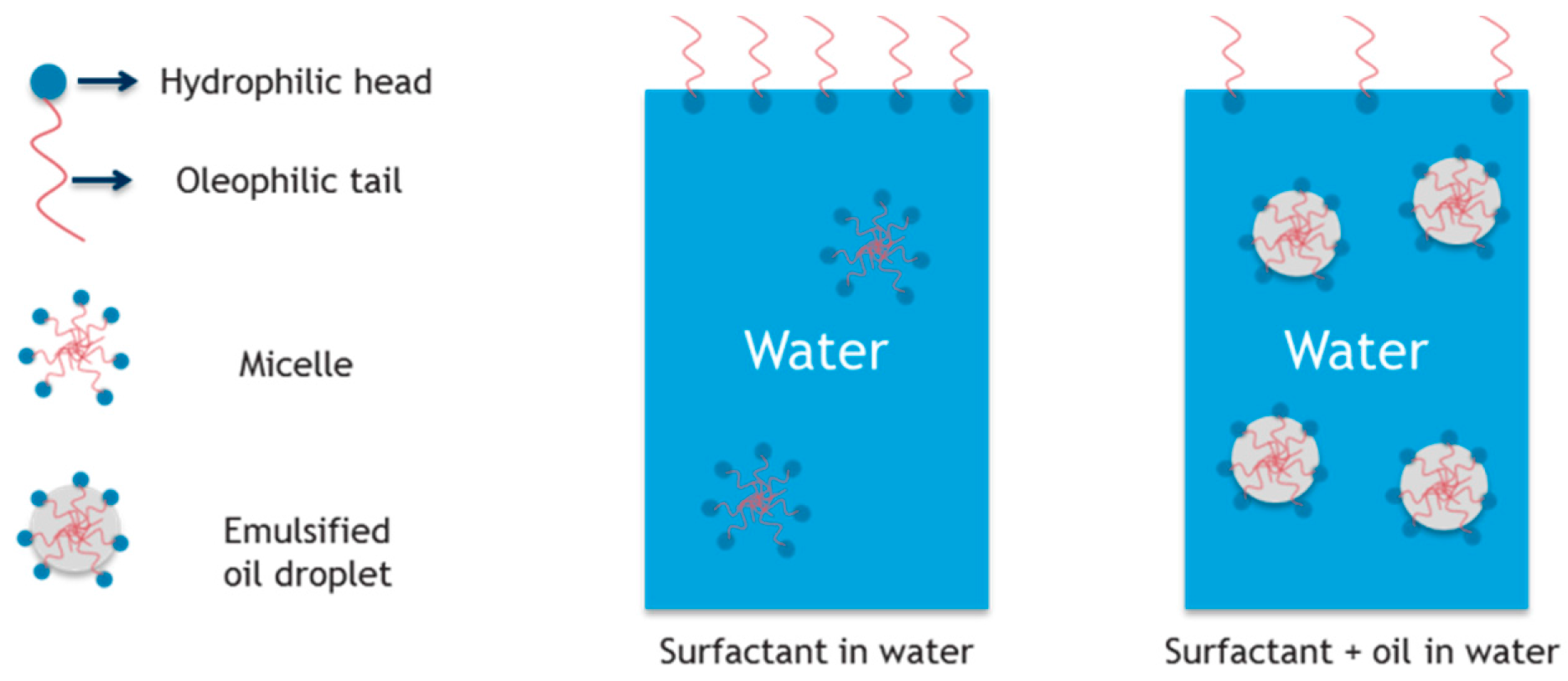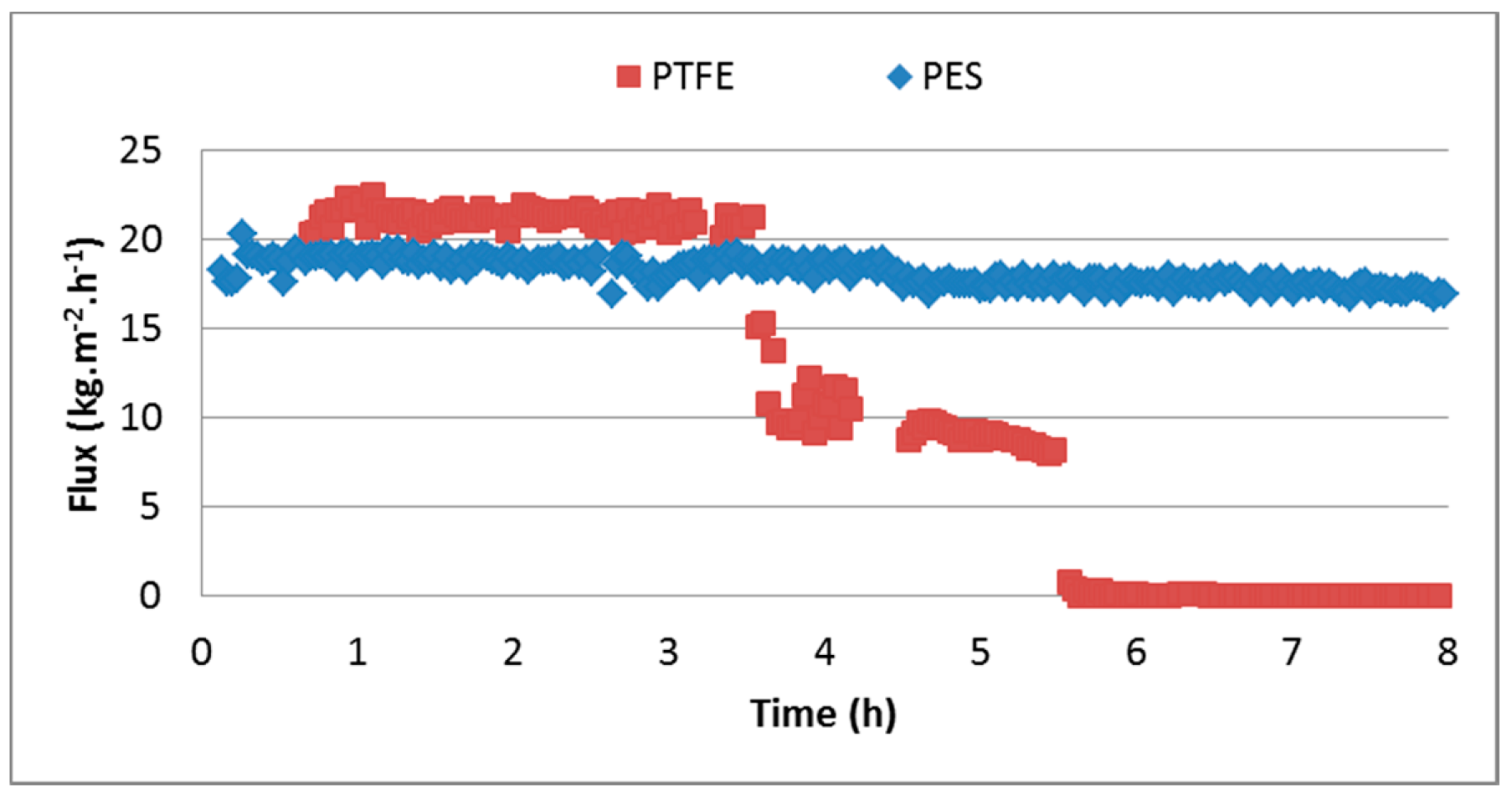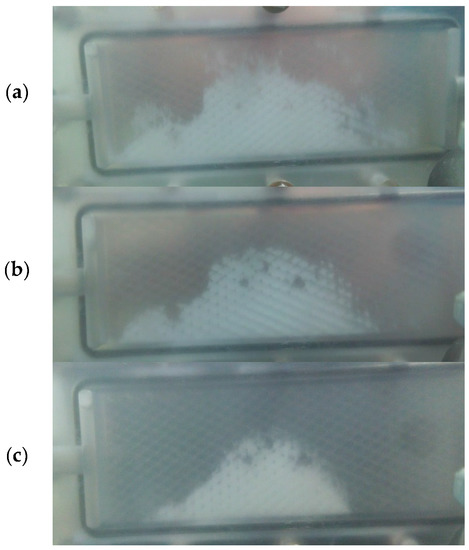 Figure 10. Pictures of the PTFE membrane during the experiment with oil/SDS mixture after (a) 4 h; (b) 5 h; (c) 6 h of MD operation.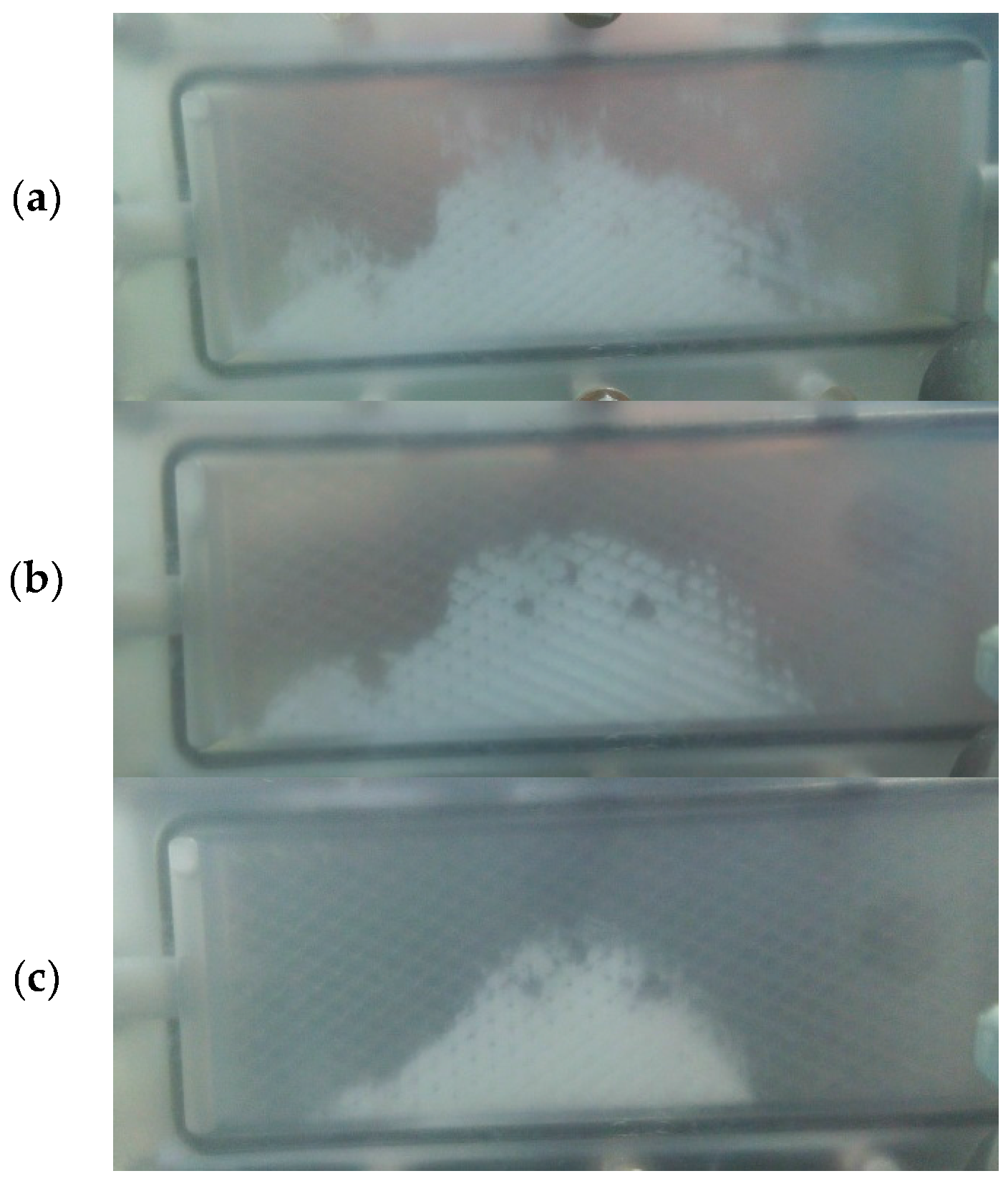 Table 1. Properties of the membranes used in this study.
Membrane
δ (µm)
ε (%)

d

mean (µm)

d

max (µm)
θwater (°)
θhexadecane (°)
LEP (bar)
PE
99
76%
0.30
0.43
138
0
3.9
PES
81
58%
0.51
0.59
132
92
4
PTFE
77
83%
0.17
0.19
120
0
10.8
© 2017 by the authors. Licensee MDPI, Basel, Switzerland. This article is an open access article distributed under the terms and conditions of the Creative Commons Attribution (CC BY) license ( http://creativecommons.org/licenses/by/4.0/).