Improving Corrosion Resistance and Biocompatibility of Magnesium Alloy by Sodium Hydroxide and Hydrofluoric Acid Treatments
1
Jiangsu Provincial Key Lab for Interventional Medical Devices, Huaiyin Institute of Technology, Huai'an 223003, China
2
Department of General Surgery, Huai'an First People's Hospital, Nanjing Medical University, Huai'an 223300, China
†
These authors contributed equally to this work and should be considered co-first authors.
*
Author to whom correspondence should be addressed.
Academic Editor: Hidenori Otsuka
Received: 21 November 2016 / Revised: 21 December 2016 / Accepted: 22 December 2016 / Published: 28 December 2016
Abstract
Owing to excellent mechanical property and biodegradation, magnesium-based alloys have been widely investigated for temporary implants such as cardiovascular stent and bone graft; however, the fast biodegradation in physiological environment and the limited surface biocompatibility hinder their clinical applications. In the present study, magnesium alloy was treated by sodium hydroxide (NaOH) and hydrogen fluoride (HF) solutions, respectively, to produce the chemical conversion layers with the aim of improving the corrosion resistance and biocompatibility. The results of attenuated total reflectance Fourier transform infrared spectroscopy (ATR-FTIR) and X-ray photoelectron spectroscopy (XPS) indicated that the chemical conversion layers of magnesium hydroxide or magnesium fluoride were obtained successfully. Sodium hydroxide treatment can significantly enhance the surface hydrophilicity while hydrogen fluoride treatment improved the surface hydrophobicity. Both the chemical conversion layers can obviously improve the corrosion resistance of the pristine magnesium alloy. Due to the hydrophobicity of magnesium fluoride, HF-treated magnesium alloy showed the relative better corrosion resistance than that of NaOH-treated substrate. According to the results of hemolysis assay and platelet adhesion, the chemical surface modified samples exhibited improved blood compatibility as compared to the pristine magnesium alloy. Furthermore, the chemical surface modified samples improved cytocompatibility to endothelial cells, the cells had better cell adhesion and proliferative profiles on the modified surfaces. Due to the excellent hydrophilicity, the NaOH-treated substrate displayed better blood compatibility and cytocompatibility to endothelial cells than that of HF-treated sample. It was considered that the method of the present study can be used for the surface modification of the magnesium alloy to enhance the corrosion resistance and biocompatibility.
View Full-Text
►

▼

Figures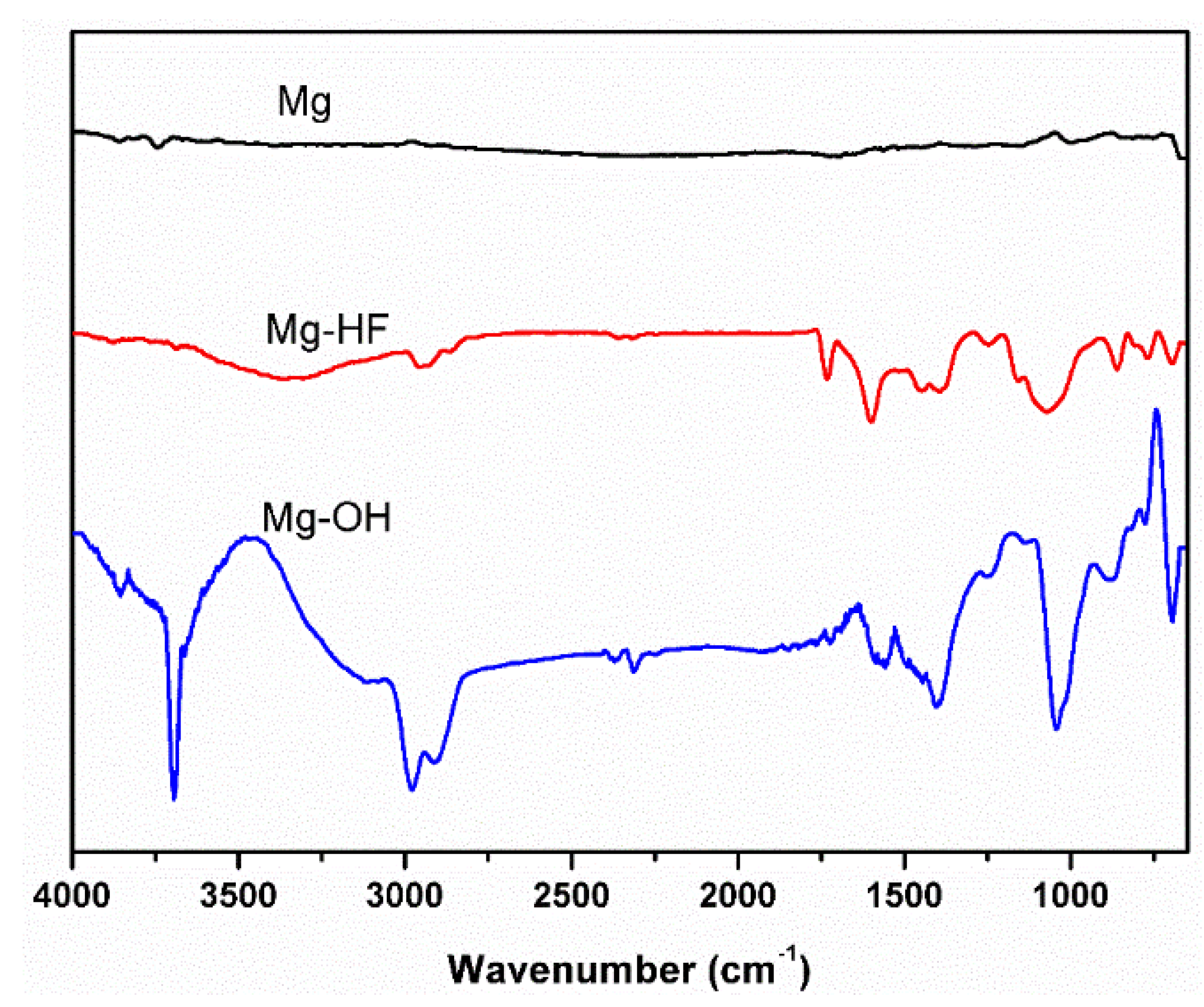 Figure 1
This is an open access article distributed under the
Creative Commons Attribution License
which permits unrestricted use, distribution, and reproduction in any medium, provided the original work is properly cited (CC BY 4.0).

Share & Cite This Article
MDPI and ACS Style
Pan, C.-J.; Pang, L.-Q.; Hou, Y.; Lin, Y.-B.; Gong, T.; Liu, T.; Ye, W.; Ding, H.-Y. Improving Corrosion Resistance and Biocompatibility of Magnesium Alloy by Sodium Hydroxide and Hydrofluoric Acid Treatments. Appl. Sci. 2017, 7, 33.
Note that from the first issue of 2016, MDPI journals use article numbers instead of page numbers. See further details here.
Related Articles
Comments
[Return to top]