Impaired Recovery from Influenza A/X-31(H3N2) Infection in Mice with 8-Lipoxygenase Deficiency
1
Department of Medical Microbiology, Immunology, and Cell Biology, Southern Illinois University School of Medicine, Springfield, IL 62794, USA
2
Department of Pharmacology, Southern Illinois University School of Medicine, Springfield, IL 62794, USA
*
Author to whom correspondence should be addressed.
Received: 23 December 2018 / Revised: 3 April 2019 / Accepted: 9 April 2019 / Published: 12 April 2019
Abstract
Lipoxygenase-derived lipid mediators can modulate inflammation and are stimulated in response to influenza infections. We report an effect of 8-lipoxygenase (ALOX8) on the recovery of mice after infection with Influenza virus X31. We compared the responses of 3- and 6-month-old mice with a deletion of
ALOX8 (ALOX8−/−)
to influenza infections with those of age-matched littermate wild-type mice (
ALOX8+/+
). The duration of illness was similar in 3-month-old
ALOX8−/−
and
ALOX8+/+
mice. However, the 6-month-old
ALOX8−/−
mice showed a prolonged state of illness compared with
ALOX8+/+
mice, as evidenced by reduced body temperatures, reduced locomotor activities, and delayed weight recovery. Although residual viral RNA in the lungs at day 10 post-inoculation was significantly influenced by the age of the
ALOX8−/−
mice, there were no significant differences between
ALOX8−/−
and
ALOX8+/+
mice within the same age groups. The levels of cytokines interleukin 6 (IL-6) and keratinocyte chemoattractant (KC) differed significantly between 6-month-old
ALOX8−/−
and
ALOX8+/+
mice 10 days after viral inoculation. Our data suggest that
ALOX8
deficiency in mice leads to impaired recovery from influenza infection in an age-dependent manner.
View Full-Text
►

▼

Figures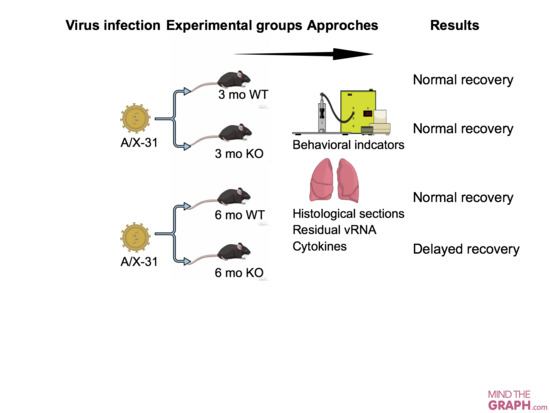 Graphical abstract
This is an open access article distributed under the
Creative Commons Attribution License
which permits unrestricted use, distribution, and reproduction in any medium, provided the original work is properly cited (CC BY 4.0).

Share & Cite This Article
MDPI and ACS Style
Alfardan, R.; Guo, C.; Toth, L.A.; Nie, D. Impaired Recovery from Influenza A/X-31(H3N2) Infection in Mice with 8-Lipoxygenase Deficiency. Med. Sci. 2019, 7, 60.
Note that from the first issue of 2016, MDPI journals use article numbers instead of page numbers. See further details here.
Related Articles
Comments
[Return to top]