Open Access This article is
freely available
re-usable
Review
Developmental Dysplasia of Hip: Perspectives in Genetic Screening
1
Department of Orthopaedics, Faculty of Medicine, Comenius University and National Institute of Children's Diseases, Limbova 1, 833 40 Bratislava, Slovakia
2
Institute of Medical Biology, Genetics and Clinical Genetics, Faculty of Medicine, Comenius University, Sasinkova 4, 811 08 Bratislava, Slovakia
3
Department of Internal Medicine, Faculty of Medicine, Alexandria University, Chamblion St., Azarita, 21131 Alexandria, Egypt
*
Author to whom correspondence should be addressed.
Received: 8 January 2019 / Accepted: 10 April 2019 / Published: 11 April 2019
Abstract
:
Development dysplasia of the hip (DDH) is a complex developmental disorder despite being a relatively common condition mainly caused by incompatibility of the femoral head and the abnormal joint socket. Development dysplasia of the hip describes a wide spectrum of disorders ranging from minor acetabular dysplasia to irreducible dislocation of the hip. Modern medicine still suffers from lack of information about screening and precise genetic examination. Genome wide linkage and association studies have brought significant progress to DDH diagnosis. Association studies managed to identify many candidate (susceptible) genes, such as
PAPPA2
,
COL2A1
,
HOXD9
,
GDF-5
, and
TGFB1
, which play a considerable role in the pathogenesis of DDH. Early detection of DDH has a big chance to help in preventing further disability and improve the psychological health and quality of life in those children. This emphasizes the importance to establish a universal screening program along with the genetic counseling.
Keywords:
developmental dysplasia of hip; DDH screening; genetic factors; associated genes
1. Introduction
Developmental dysplasia of the hip (DDH) is a complex musculoskeletal disease, which represents a wide spectrum of pathology, ranging from an asymptomatic form, with only mild radiological deviations, to minor joint instability, acetabular dysplasia, subluxation and to irreducible hip dislocation [
1
,
2
]. Development dysplasia of the hip could be an isolated disease or associated with other conditions such as club feet, cardiac anomalies, and renal problems. Untreated DDH can lead to secondary damage to femur, destruction of the joint cartilage and, later on, even to severe movement impairment at any age [
3
,
4
].
Persistent DDH might lead to premature osteoarthritis (OA) in adulthood [
5
]. Kolundžić et al. [
6
] conducted a prospective cohort study confirming that DDH is a major risk factor to develop severe OA that requires arthroplasty. Similar situations occur in mild forms of DDH that can be missed in newborns, and without treatment, can lead to earlier senior OA, for which the end-stage treatment could be total hip replacement.
Genetic components play crucial roles in the pathogenesis of DDH. Genetic risk exhibited a large familial segregation [
1
,
7
]. Studies reported a 30-fold increase for DDH among siblings and children with a previous family history of DDH. This strong genetic basis has been confirmed in a twin-concordance study with a higher incidence among monozygotic (41%) compared to dizygotic twins, and with 5% recurrence rate for the subsequently born children [
8
].
2. Diagnosis and Pathology
The future in treatment is early screening, diagnosis and treatment. Without reliable genetic examination there cannot be an effective approach to early therapy. The goal of treatment is to obtain a safe reduction of the hip conservatively and to avoid surgical intervention and long-term disabilities. In this review, we provide a better understanding of DDH and bridge the gap between genetic causes and molecular mechanisms.
4. Discussion
Despite the lack of universal formal agreement about DDH screening, early diagnosis and management of DDH were proved to prevent long-term disabilities and provide the best clinical outcomes [
9
,
33
].
5. Conclusions
In 2016 Shaw et al. [
43
] published the new guidelines for evaluation and referral for DDH in infants, but authors still have trouble reaching consensus on diagnostic imaging in adults. The importance of more thorough research of genes associated with DDH and their variations is crucial to understanding this disorder and can lead to entirely different approach in screening of DDH.
Genetic examination, early screening and treatment can lead to much higher effectivity in treatment and decreasing the risk of developing early OA or movement impairment, which means that, early prevention of DDH and its complications emphasizes the awareness to establish a universal screening program for newborns, that would be used internationally. Such a system, along with genetic counseling, will add value in the management of DDH as early as possible and, thus, lead to better and earlier individualized treatment. We consider screening newborns to be the most effective way to maximize the benefit for these patients. Family members of patients can benefit from such a screening program due to familiar occurrence of DDH, although such a widespread screening program will be difficult to implement at first. Problems might arise in the availability of specialized personnel and it can also prove to be an economical strain.
Author Contributions
R.Z. and M.K. coordinated the writing and edited the final text. S.H., D.A. and L.D. contributed to the bibliographical revision, early editing and drew up the text.
Funding
This research was funded by The Ministry of Education, Science, Research and Sport of the Slovak Republic, grant number VEGA 1/0255/17.
Conflicts of Interest
The authors declare no conflict of interest.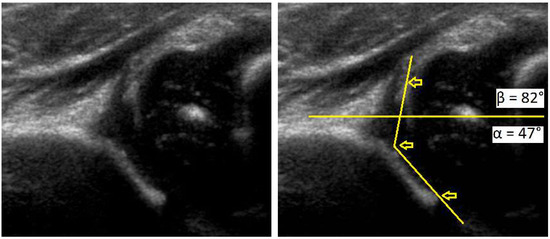 Figure 1. Development dysplasia of the hip (DDH)-ultrasound. In Graf's classification type D (Decentring hip): Bony roof is severely deficient, bony rim is rounded to flattened, cartilage roof is displaced, α angle is 43–49 ° and β angle >77 °.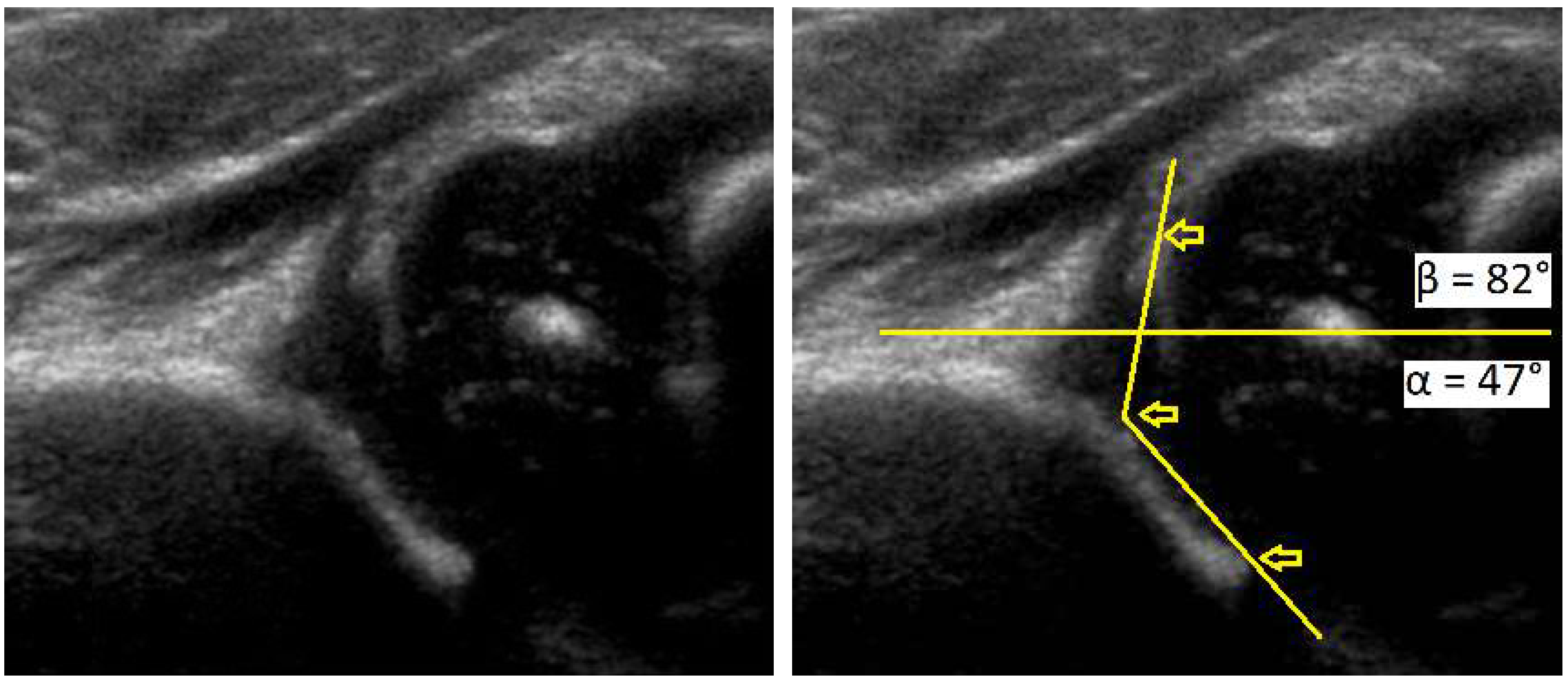 Figure 2. Radiographs: Antero-posterior (AP) and Lauensteun view of three weeks old child's left hip, slightly out of the socket (eccentric hip).


Figure 3. Radiographs: AP and Lauensteun with postrezidual deformity in the same patient after 2 years.

| Genomic Design | Polymorphism/Mutations | Chromosomal Location | Genes | Location | References |
| --- | --- | --- | --- | --- | --- |
| GWAS | rs6060373 | 20q11.22 | UQCC | China | [16] |
| CGAA | rs143383 | 20q11.22 | GDF-5 | China | [23] |
| CGAA | Aspartic acid (D) repeats | 9q22.31 | ASPN | China | [2] |
| CGAA | rs711819 | 2q31.1 | HOXD9 | China | [22] |
| CGAA | rs3744448 | 17q23.2 | TBX4 | China | [17] |
| CGAA | rs276252 | 20q11.22 | PAPPA2 | China | |
| CGAA | rs113647555 | 17q21.33 | COL1A1 | China | [21] |
| CGAA | rs1800796 | 7p15.3 | IL-6 | Croatia | [20] |
| CGAA | rs1800470 | 19q13.2 | TGF B1 | Croatia | [20] |
| CGAA | rs3732378 | 3q22.2 | CX3CR1 | America | [24] |
| GWLA | Unknown | 17q21.31–17q22 | 17q21.31–17q22 | China, America | [25] |
| GWLA | Unknown | 13q22 | 13q22 | Japan | [26] |
GWAS: Geniomic Wide Association Studies; CGAA: Candidate Gene Association Analyses; GWLA: Genome Wide Linkage Analyses.

© 2019 by the authors. Licensee MDPI, Basel, Switzerland. This article is an open access article distributed under the terms and conditions of the Creative Commons Attribution (CC BY) license (http://creativecommons.org/licenses/by/4.0/).