First Macro-Colonizers and Survivors Around Tagoro Submarine Volcano, Canary Islands, Spain
1
Instituto Español de Oceanografía, Centro Oceanográfico de Canarias, 38180 Tenerife, Spain
2
Instituto Español de Oceanografía, Centro Oceanográfico de Málaga, 29640 Fuengirola, Spain
3
Instituto Español de Oceanografía, Centro Oceanográfico de Cádiz, 11006 Cádiz, Spain
4
Instituto de Oceanografía y Cambio Global, Universidad de Las Palmas de Gran Canaria, 35017 Las Palmas, Spain
*
Author to whom correspondence should be addressed.
Received: 30 November 2018 / Revised: 10 January 2019 / Accepted: 15 January 2019 / Published: 19 January 2019
Abstract
Tagoro, the youngest submarine volcano of the Canary Islands, erupted in 2011 South of El Hierro Island. Pre-existing sea floor and inhabiting biological communities were buried by the newly erupted material, promoting the appearance of new habitats. The present study pursues to describe the first metazoans colonizing different new habitats formed during the eruption and to create precedent on this field. Through dredge and remote operated vehicle samplings, five main habitat types have been detected based on the substrate type and burial status after the eruption. Inside the Tagoro volcanic complex (TVC), two new habitats are located in and around the summit and main craters—hydrothermal vents with bacterial mats and sulfurous-like fields mainly colonized by small hydrozoan colonies. Two other habitats are located downslope the TVC; new hard substrate and new mixed substrate, holding the highest biodiversity of the TVC, especially at the mixed bottoms with annelids (
Chloeia
cf.
venusta
), arthropods (
Monodaeus couchii
and
Alpheus
sp.), cnidarians (
Sertularella
cf.
tenella
), and molluscs (
Neopycnodonte cochlear
) as the first colonizers. An impact evaluation was done comparing the communities of those habitats with the complex and well-established community described at the stable hard substrate outside the TVC, which is constituted of highly abundant hydrozoans (
Aglaophenia
sp.), antipatharians (
Stichopates setacea
and
Antipathes furcata
), and colonizing epibionts (e.g.,
Neopycnodonte cochlear
). Three years after the eruption, species numbers at Tagoro were still low compared to those occurring at similar depths outside the TVC. The first dominant species at the TVC included a large proportion of common suspension feeders of the circalittoral and bathyal hard bottoms of the area, which could have exploited the uncolonized hard bottoms and the post eruptive fertilization of water masses.
View Full-Text
►

▼

Figures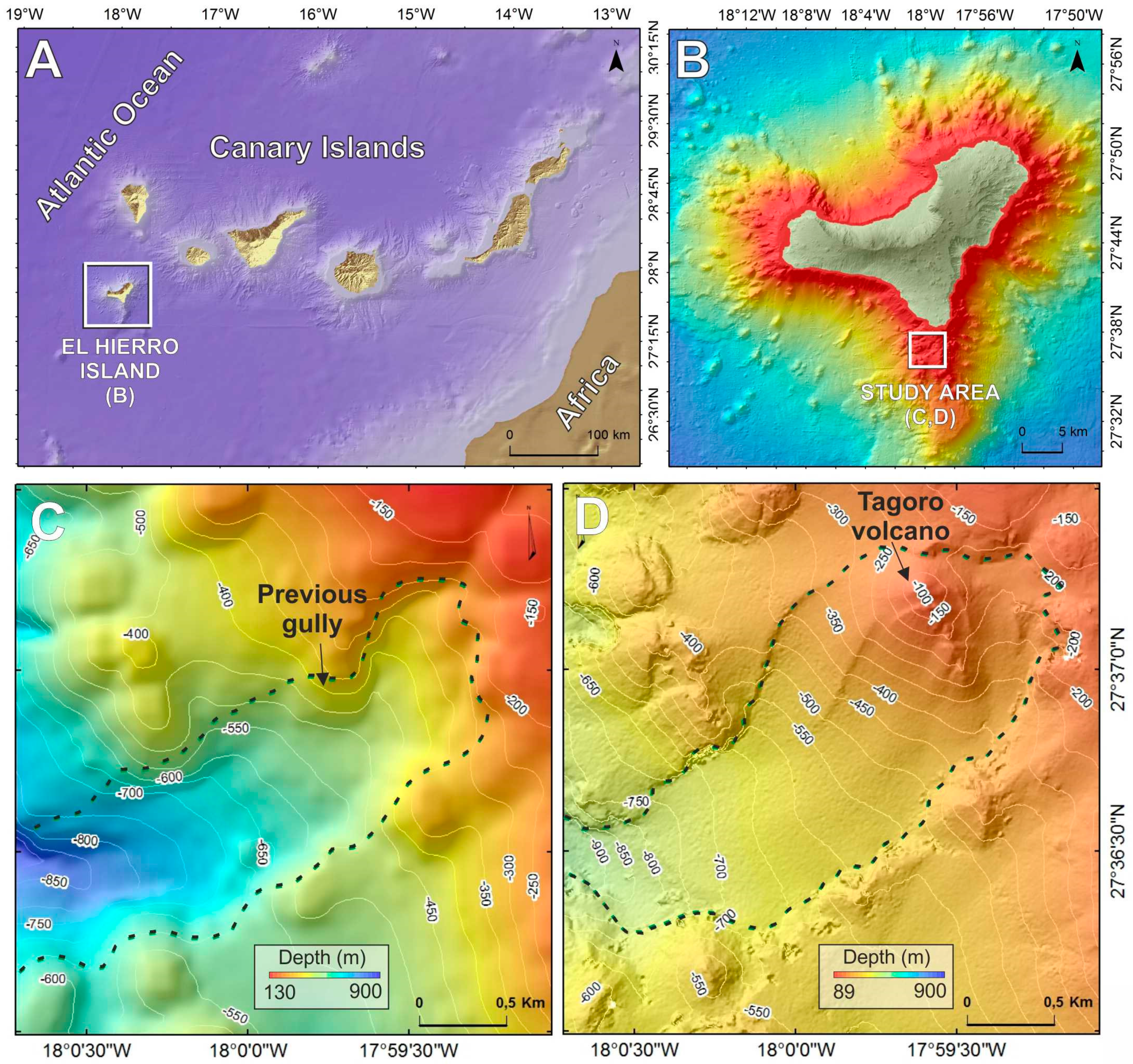 Figure 1
This is an open access article distributed under the
Creative Commons Attribution License
which permits unrestricted use, distribution, and reproduction in any medium, provided the original work is properly cited (CC BY 4.0).

Share & Cite This Article
MDPI and ACS Style
Sotomayor-García, A.; Rueda, J.L.; Sánchez-Guillamón, O.; Urra, J.; Vázquez, J.T.; Palomino, D.; Fernández-Salas, L.M.; López-González, N.; González-Porto, M.; Santana-Casiano, J.M.; González-Dávila, M.; Presas-Navarro, C.; Fraile-Nuez, E. First Macro-Colonizers and Survivors Around Tagoro Submarine Volcano, Canary Islands, Spain. Geosciences 2019, 9, 52.
Note that from the first issue of 2016, MDPI journals use article numbers instead of page numbers. See further details here.
Related Articles
Comments
[Return to top]