Tectono-Thermal Evolution and Morphodynamics of the Central Dronning Maud Land Mountains, East Antarctica, Based on New Thermochronological Data
1
Department of Earth Science, University of Bergen, P.O. Box 7803, 5020 Bergen, Norway
2
Geoscience Centre, University of Göttingen, Goldschmidtstraβe 3, 37077 Göttingen, Germany
3
Bundesanstalt für Geowissenschaften u. Rohstoffe, Stilleweg 2, 30655 Hannover, Germany
†
Present Address: Geological Survey of Norway, P.O. Box 6315 Torgarden, 7491 Trondheim, Norway.
*
Author to whom correspondence should be addressed.
Received: 30 August 2018 / Revised: 26 September 2018 / Accepted: 19 October 2018 / Published: 26 October 2018
Abstract
The lack of preserved Mesozoic–Cenozoic sediments and structures in central Dronning Maud Land has so far limited our understanding of the post-Pan-African evolution of this important part of East Antarctica. In order to investigate the thermal evolution of the basement rocks and place constraints on landscape evolution, we present new low-temperature thermochronological data from 34 samples. Apatite fission track ages range from 280–85 Ma, while single-grain (U-Th)/He ages from apatite and zircon range from 305–15 and 420–340 Ma, respectively. Our preferred thermal history models suggest late Paleozoic–early Mesozoic peneplanation and subsequent burial by 3–6 km of Beacon sediments. The samples experienced no additional burial in the Jurassic, thus the once voluminous continental flood basalts of western Dronning Maud Land did not reach central Dronning Maud Land. Mesozoic–early Cenozoic cooling of the samples was slow. Contrary to western Dronning Maud Land, central Dronning Maud Land lacks a mid-Cretaceous cooling phase. We therefore suggest that the mid-Cretaceous cooling of western Dronning Maud Land should be attributed to the proximity to the collapse of the orogenic plateau at the Panthalassic margin of Gondwana. Cooling rates accelerated considerably with the onset of glaciation at 34 Ma, due to climate deterioration and glacial denudation of up to 2 km.
View Full-Text
►

▼

Figures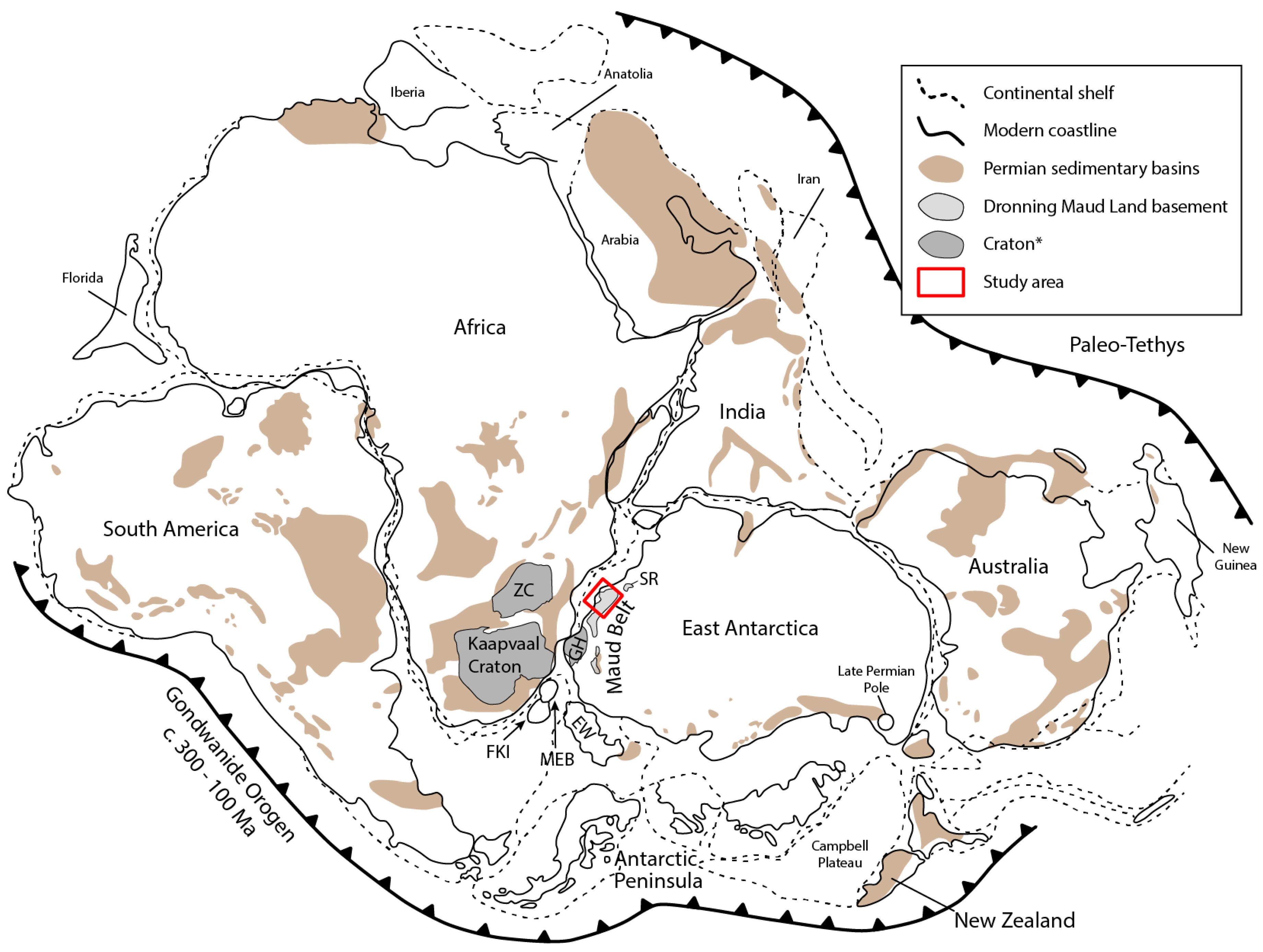 Figure 1
This is an open access article distributed under the
Creative Commons Attribution License
which permits unrestricted use, distribution, and reproduction in any medium, provided the original work is properly cited (CC BY 4.0).

Share & Cite This Article
MDPI and ACS Style
Sirevaag, H.; Ksienzyk, A.K.; Jacobs, J.; Dunkl, I.; Läufer, A. Tectono-Thermal Evolution and Morphodynamics of the Central Dronning Maud Land Mountains, East Antarctica, Based on New Thermochronological Data. Geosciences 2018, 8, 390.
Note that from the first issue of 2016, MDPI journals use article numbers instead of page numbers. See further details here.
Related Articles
Comments
[Return to top]