Open Access This article is
freely available
re-usable
Article
Geomorphic Evolution of the Lilas River Fan Delta (Central Evia Island, Greece)
1
Department of Geography, Harokopio University, 70 El. Venizelou Str., GR-17671 Athens, Greece
2
Department of Physics, University of Ioannina, GR-45110 Ioannina, Greece
3
Department of Geology, University of Patras, GR-26504 Rio Achaia, Greece
*
Author to whom correspondence should be addressed.
Received: 26 August 2018 / Accepted: 25 September 2018 / Published: 26 September 2018
Abstract
:
This paper presents the results of geomorphological investigations carried out on the Lilas River fan delta in central Evia Isl., Greece. A geomorphological map has been prepared using Digital Elevation Model analysis, aerial photos and Google Earth image interpretation, a reliable map of 1846, and extensive fieldwork. The Holocene sequence stratigraphy of the fan delta has been studied based on profiles of seven deep cores drilled by the municipal authorities. Two additional shallow boreholes were drilled with a portable drilling set and collected samples were analyzed using micropaleontological and grain size analysis methods while four sediment samples were dated using optically stimulated luminescence (OSL) techniques. During the early Holocene, most of the fan delta plain was a shallow marine environment. Between 4530 ± 220 and 3600 ± 240 years BP the depositional environment at the area of Nea Lampsakos changed from shallow marine to a lower energy lagoonal one. The main distributary changed its course several times leading to the building and subsequent abandonment of five fan delta lobes, through which the fan delta advanced during the late Holocene. The eastern part of the Kampos abandoned lobe is retreating with a maximum mean rate of −0.94 m/year for the period 1945–2009, whereas the presently active mouth of the river and its immediate surrounds are prograding with a mean rate of about +3.2 m/year.
Keywords:
geomorphology; fan delta; Lilas River; Evia Isl.; Greece
Author Contributions
Geomorphological mapping, E.K., K.V., I.T, K.T., V.B., G.T., and C.G.; Core drilling, E.K., K.V., K.T., V.B., and G.T.; OSL dating of sediment samples, I.T., C.G., K.S., and K.I.; Micropalaeontological analysis of sediment samples, G.I.; Grain size analysis E.K., K.V., and G.T.; Shoreline changes, C.G.; Supervision, E.K.; Writing—original draft, E.K., I.T., and G.I.
Funding
This research received no external funding.
Acknowledgments
We would like to thank the Editors of the Journal, as well as the anonymous reviewers for their comments and corrections that significantly improved the paper.
Conflicts of Interest
The authors declare no conflict of interest.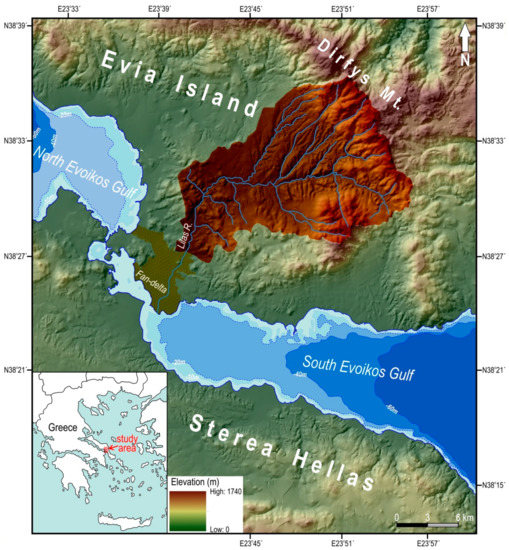 Figure 1. Digital elevation model (DEM) of the broader area of the Lilas River catchment and fan delta. The bathymetry of the northern part of the South Evoikos Gulf as well as the southern part of the North Evoikos Gulf are also depicted.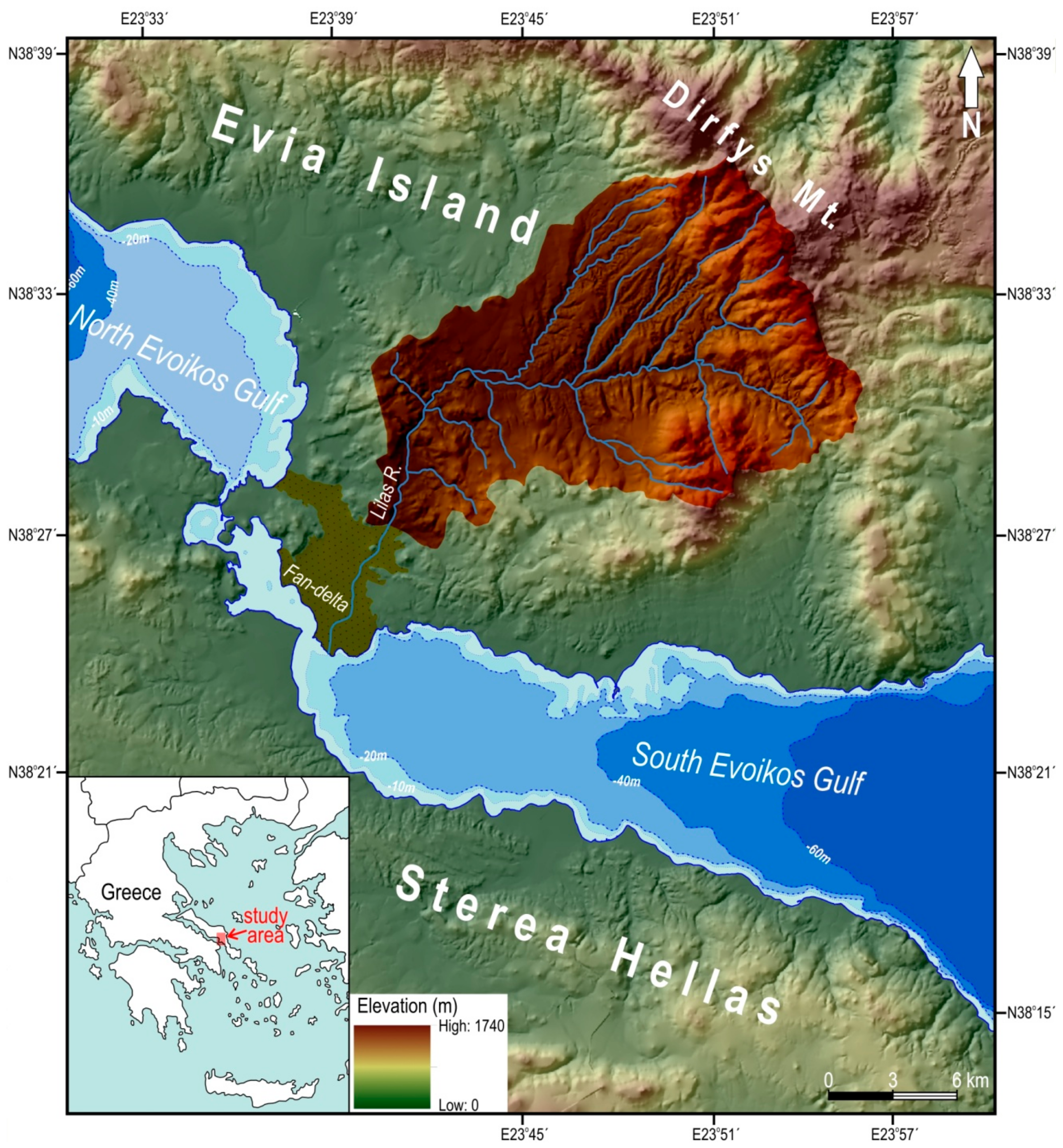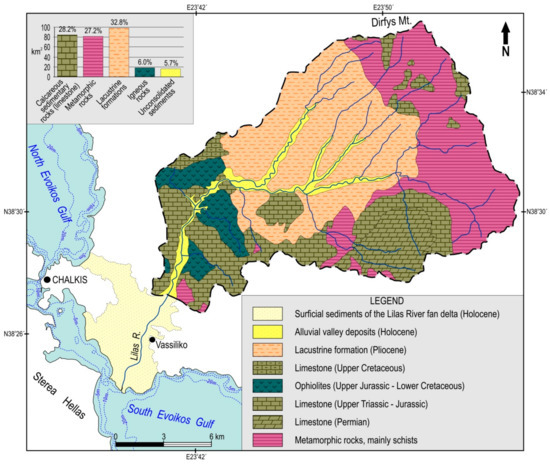 Figure 2.
Simplified lithological map of the Lilas River drainage basin with a diagram showing the percentage area of each one of the lithological types in the catchment. It is based on the Greek Institute of Geology and Mineral Exploration (IGME) 1:200,000 scale geological map of Greece [
38
].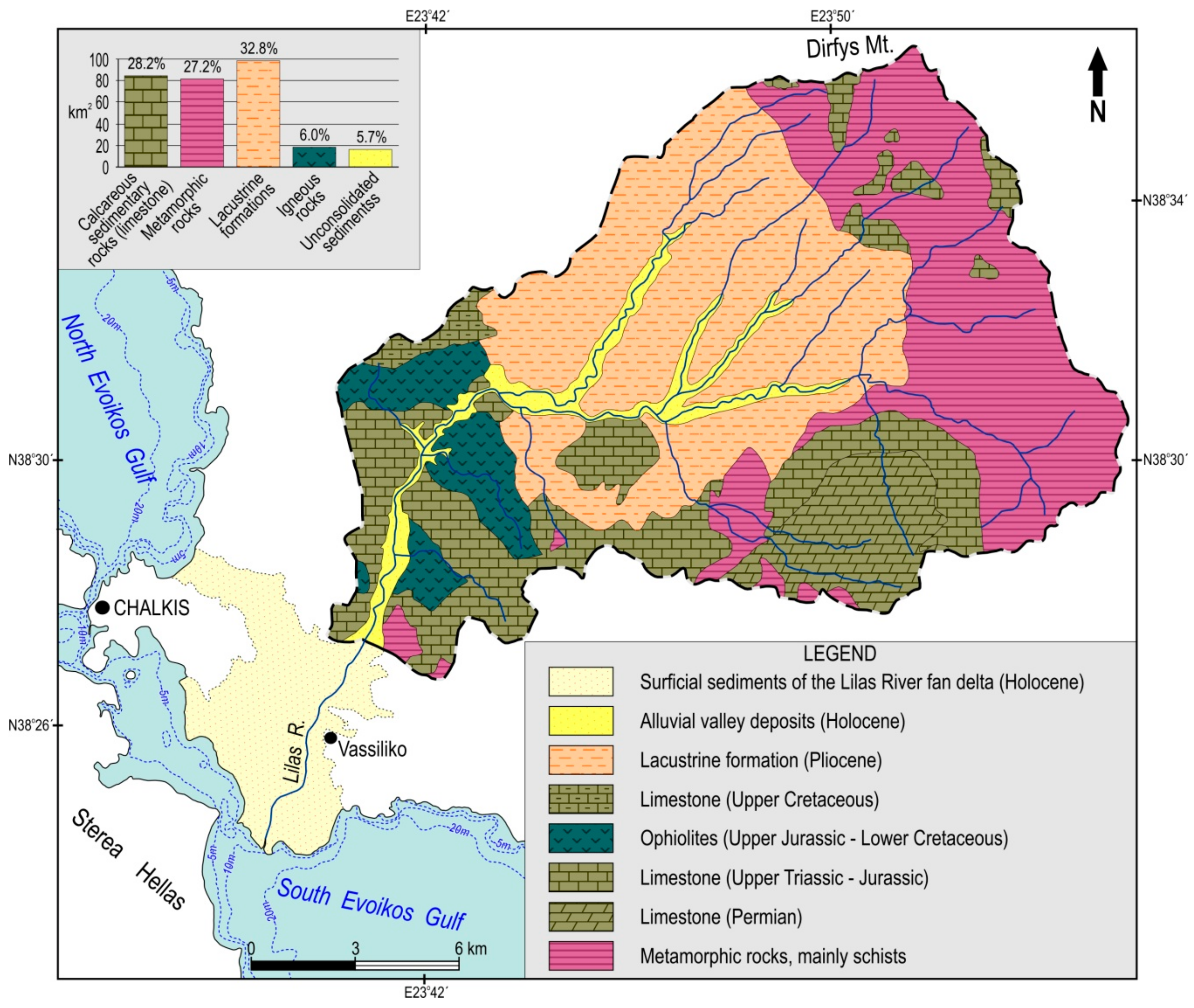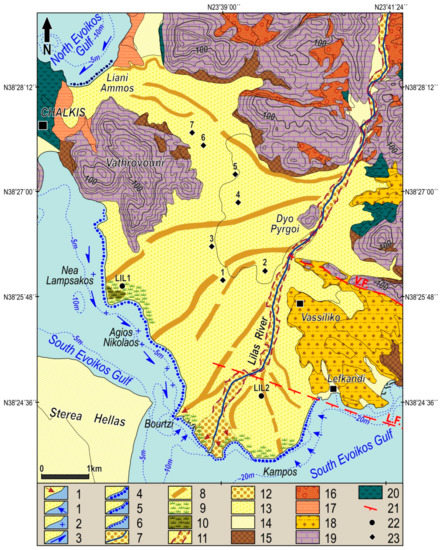 Figure 3. Geomorphological map of the Lilas River fan delta. Legend: 1: prograding/retreating coastline, 2: stable coastline, 3: prevailing longshore drift, 4: gravelly beach, 5: beach with mixed material, 6: sandy beach, 7: presently active channel, 8: abandoned channel, 9: ephemeral coastal marsh, 10: perennial coastal marsh, 11: natural levees, 12: channel deposits, 13: fan delta surficial sediments, 14: alluvial deposits, 15: scree and talus cones, 16: terrestrial formations (red fine grained materials with dispersed cobbles and rubbles) of Pleistocene age, 17: brackish deposits (conglomerates–sandstones–marls) of Upper Pliocene–Lower Pleistocene age, 18: lacustrine and fluvial deposits (conglomerates–sandstones–marls) of Upper Miocene age, 19: limestone (Middle Triassic–Middle Jurassic), 20: ultrabasic rocks, 21: fault, 22: location of shallow drill cores conducted for this study, 23: location of the deep drill cores provided by the municipal authorities. L.F.: Lefkandi Fault, VF: Vassiliko Fault.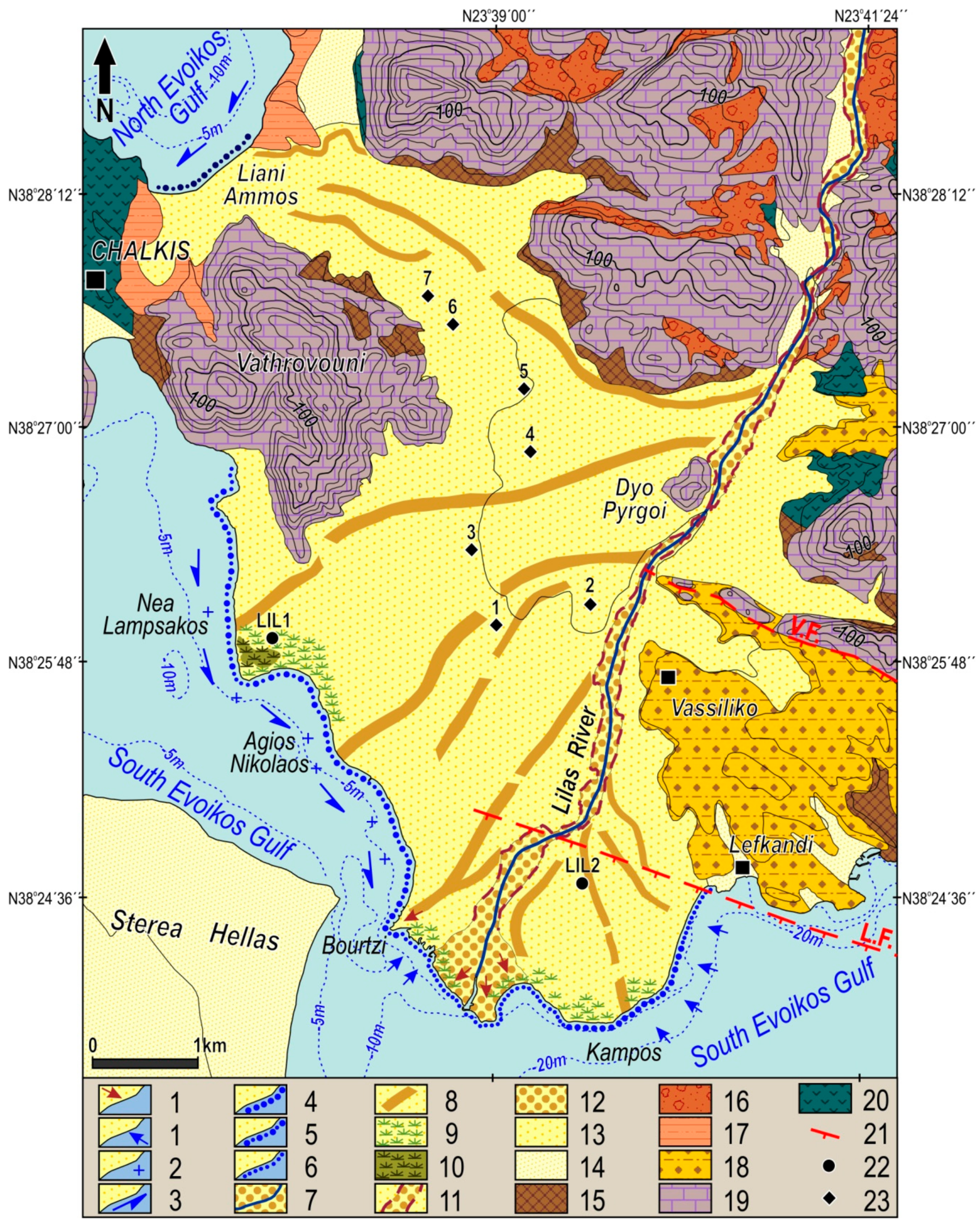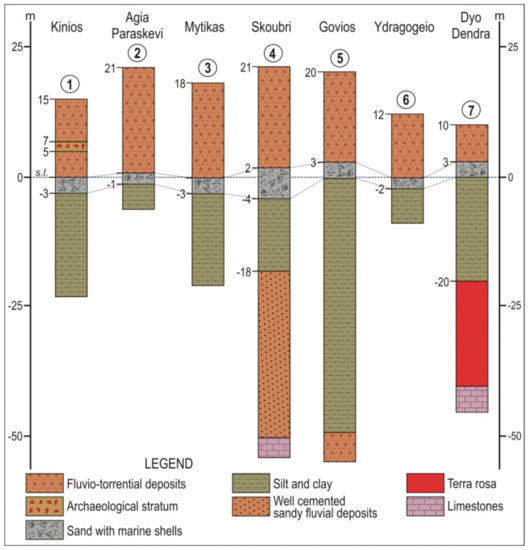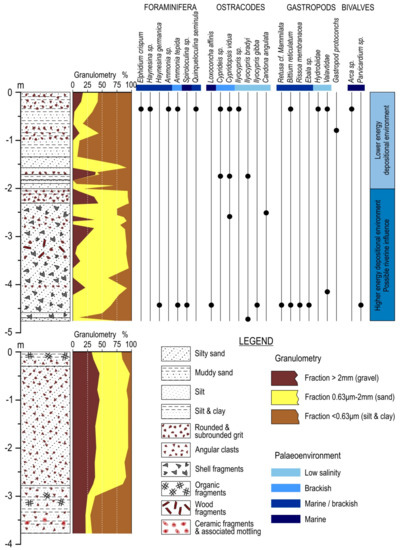 Figure 5.
Core profiles of LIL1 and LIL2. The results of the grain size analyses along with the results of the paleontological analyses are also presented. The locations of the drilled cores are shown on the map of
Figure 3
.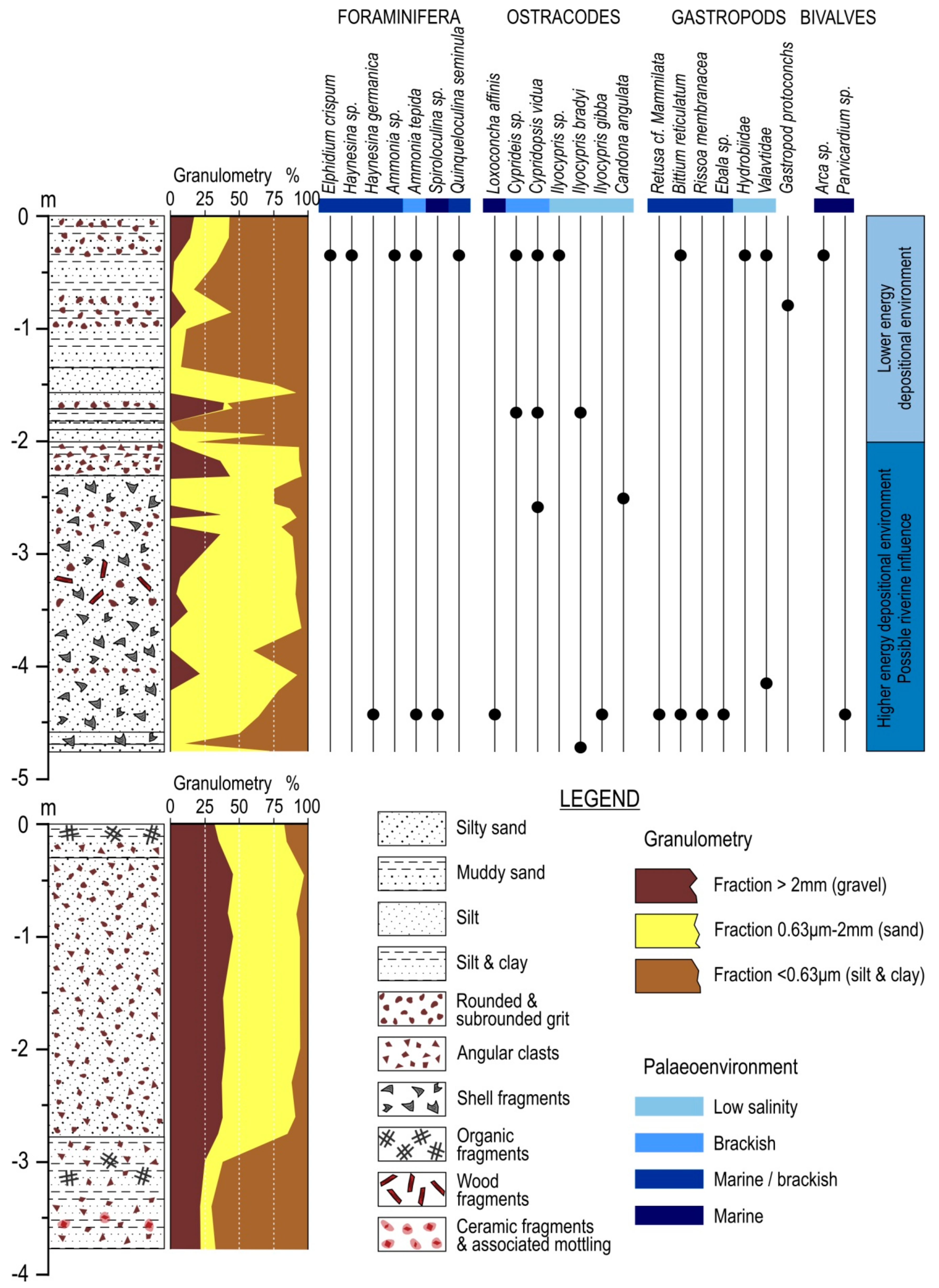 Table 1. Radionuclide concentrations, dose rates, equivalent doses, and OSL ages for samples collected from core LIL1.
No
Sample ID
Depth Below Surface (m)
Water Content (%) (a)
238U (Bq/kg) (b)
232Th (Bq/kg) (b)
40K (Bq/kg) (b)
Total Dose Rate (Gy/ka)©
N (d)
Equivalent Dose

De

(Gy)€
Age (ka) (f)
1
LIL1OSL01
1.5
16 ± 10
19.1 ± 0.4
33.7 ± 0.5
489.8 ± 3.9
2.25 ± 0.04
23 (24)
8.08 ± 0.52
3.60 ± 0.24
2
LIL1OSL02
2.3
9 ± 10
20.3 ± 0.4
32.8 ± 0.5
412.5 ± 3.4
2.18 ± 0.03
26 (36)
9.88 ± 0.46
4.53 ± 0.22
3
LIL1OSL03
2.4
17 ± 10
23.4 ± 0.4
34.5 ± 0.5
461.1 ± 3.6
2.21 ± 0.04
23 (24)
14.58 ± 0.63
6.58 ± 0.31
4
LIL1OSL04
4.7
39 ± 10
26.4 ± 0.4
36.1 ± 0.5
509.6 ± 4.0
1.97 ± 0.05
21 (24)
13.95 ± 0.39
7.09 ± 0.27
(a) Water content expressed as percentage of the mass of dry sediment, calculated using field values. (b) Concentrations of 238U, 232Th, and 40K were determined from laboratory measurements using high-resolution gamma spectrometry. (c) Beta, gamma, and cosmic dose rates were combined to calculate the total dose rates after Aitken [66]. Betta and gamma dose rates were calculated using the conversion factors of Liritzis et al. [60]. Beta dose rates have been corrected for the effect of the water content, grain size and chemical etching. Gamma dose rates have been corrected for the effect of the water content. Cosmic dose rates were calculated according to Prescott and Hutton [67]. (d) The number of aliquots accepted/measured. (e) Equivalent dose values were determined using the central age model (CAM) of Galbraith et al. [68]. (f) Ages before 2017 AD.

© 2018 by the authors. Licensee MDPI, Basel, Switzerland. This article is an open access article distributed under the terms and conditions of the Creative Commons Attribution (CC BY) license (http://creativecommons.org/licenses/by/4.0/).