Evolving Phytoplankton Stoichiometry Fueled Diversification of the Marine Biosphere
1
Department of Geological Sciences, College of the Earth, Ocean, and Environment, University of Delaware, Newark, DE 19716, USA
2
Phytoplankton Dynamics Laboratory, Departments of Marine Biology and Oceanography, Texas A&M University at Galveston, Galveston, TX 77553, USA
*
Author to whom correspondence should be addressed.
Received: 29 March 2012 / Revised: 9 May 2012 / Accepted: 22 May 2012 / Published: 31 May 2012
Abstract
The availability of nutrients and the quantity and quality of food at the base of food webs have largely been ignored in discussions of the Phanerozoic record of biodiversity. We examine the role of nutrient availability and phytoplankton stoichiometry (the relative proportions of inorganic nutrients to carbon) in the diversification of the marine biosphere. Nutrient availability and phytoplankton stoichiometry played a critical role in the initial diversification of the marine biosphere during the Neoproterozoic. Initial biosphere expansion during this time resulted in the massive sequestration of nutrients into biomass which, along with the geologically slow input of nutrients from land, set the stage for severe nutrient limitation and relatively constant marine biodiversity during the rest of the Paleozoic. Given the slow nutrient inputs from land and low recycling rates, the growth of early-to-middle Paleozoic metazoans remained limited by their having to expend energy to first "burn off" (respire) excess carbon in food before the associated nutrients could be utilized for growth and reproduction; the relative equilibrium in marine biodiversity during the Paleozoic therefore appears to be real. Limited nutrient availability and the consequent nutrient imbalance may have delayed the appearance of more advanced carnivores until the Permo-Carboniferous, when widespread orogeny, falling sea level, the spread of forests, greater weathering rates, enhanced ocean circulation, oxygenation, and upwelling all combined to increase nutrient availability. During the Meso-Cenozoic, rising oxygen levels, the continued nutrient input from land, and, especially, increasing rates of bioturbation, enhanced nutrient availability, increasing the nutrient content of phytoplankton that fueled the diversification of the Modern Fauna.
View Full-Text
►

▼

Figures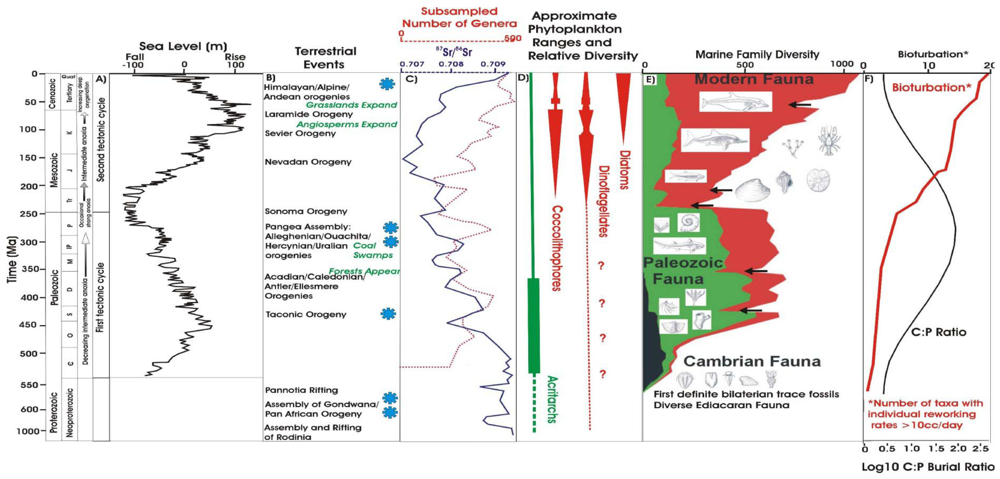 Figure 1

Share & Cite This Article
MDPI and ACS Style
Martin, R.; Quigg, A. Evolving Phytoplankton Stoichiometry Fueled Diversification of the Marine Biosphere. Geosciences 2012, 2, 130-146.
Related Articles
Comments
[Return to top]