The Behavioural Effects of Innovative Litter Developed to Attract Cats
1
Department of Animal Biosciences, University of Guelph, 50 Stone Road East, Guelph, ON N1G 2W1, Canada
2
Department of Comparative Pathobiology, Department of Animal Sciences, Center for Animal Welfare Science, Purdue University, 625 Harrison St, West Lafayette, IN 47907, USA
3
Kent Pet Group, 2905 N Hwy 61, Muscatine, IA 52761, USA
4
Ontario Agriculture College, The University of Guelph, 50 Stone Road East, Guelph, ON N1G 2W1, Canada
*
Author to whom correspondence should be addressed.
Received: 1 August 2019 / Revised: 30 August 2019 / Accepted: 10 September 2019 / Published: 14 September 2019
Simple Summary
The global feline population has been rising steadily, with approximately 96.5 million cats in the United States, 8.8 million in Canada, and 102 million in Europe. In addition to a growing population, the complex behaviour of cats results in many being surrendered to animal shelters, especially for urinating and/or defecating outside of the litter box area. The objective of this study was to determine whether cats would demonstrate a preference for a plant-based clumping litter with an added attractant (ATTRACT) over a control plant-based clumping litter (PLANT). A secondary objective was to evaluate whether male and female cats would express different litterbox behaviours as a function of the litter type. Based on video-recorded and live behavioural observations, cats used the ATTRACT litters more often to urinate than the PLANT litter, and males urinated longer and sniffed the litter more than females did (p < 0.05). These findings provide preliminary insights into how cat litter-box usage might be increased and gender dimorphisms in litterbox behaviours.
Urination and/or defecation outside a designated location has been reported as the most common behavioural reason for surrendering a cat and comprises approximately 30% of cat intakes to shelters. The objective of this study was to determine whether cats would increase in-box elimination when provided a plant-based litter product with attractant (ATTRACT) compared to the same plant-based litter product without attractant (PLANT). Sixteen cats were split into two equal cohorts based on availability from the shelter and group-housed in an enriched room with eight identical litter boxes arranged in a circular pattern equidistant from each other. Following a two-week room acclimation and transition period from clay litter to PLANT litter, boxes were designated either PLANT or ATTRACT litter, balancing for cats' prior box location preferences. For 14 days following litter allocation, cat behaviours such as sniffing, digging, covering, urinating, and defecating were video recorded for 12 h daily. The cats urinated more often in the ATTRACT litter, suggesting that they preferred the ATTRACT litter for urination more than the PLANT litter (
p
< 0.05). The most significant differences observed were between genders, with males spending significantly more time sniffing and performing urination behaviours (
p
< 0.05). These results suggest that litter with an attractant may be more effective in eliciting usage for urination, as compared to a litter without the additive.
View Full-Text
►

▼

Show Figures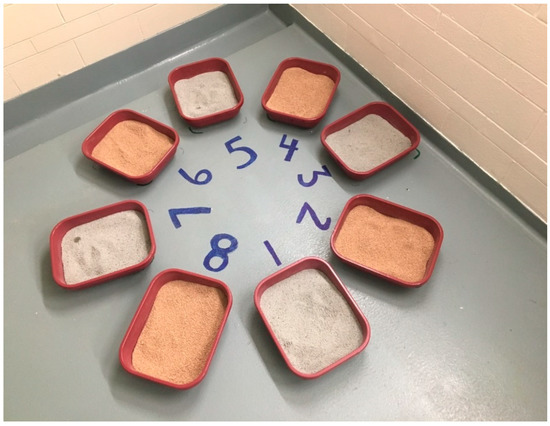 Figure 1
This is an open access article distributed under the
Creative Commons Attribution License
which permits unrestricted use, distribution, and reproduction in any medium, provided the original work is properly cited

Note that from the first issue of 2016, MDPI journals use article numbers instead of page numbers. See further details
here
.