Effects of Maternal Care During Rearing in White Leghorn and Brown Nick Layer Hens on Cognition, Sociality and Fear
1
Department of Biological Sciences, Macquarie University, North Ryde, NSW 2109, Australia
2
Behavior and Welfare in Farm Animals Research Group, Department of Farm Animal Health, Faculty of Veterinary Medicine, Utrecht University, 3584CL Utrecht, The Netherlands
*
Author to whom correspondence should be addressed.
Received: 5 July 2019 / Accepted: 15 July 2019 / Published: 18 July 2019
Simple Summary
Chickens raised to lay eggs are housed from hatch in groups of animals of the same age, and without maternal care from a broody hen. There are several hybrid lines of hens used in egg farming, each of which show their own behavioral profile. Both the presence (or absence) of a mother hen and genetics may affect cognition, social interactions and fear. In this study, we showed that in our tests, genetics have a strong effect on fear and sociality. Maternal care had very little effect on any of the tests used. The strong effect of genetic background highlights that changes made to increase welfare need to consider the genetics of the chicken in question. The lack of effect of maternal care may indicate that breeds of chickens used in current farming practices were inadvertently selected to respond very little to maternal care.
Both genetic background and maternal care can have a strong influence on cognitive and emotional development. To investigate these effects and their possible interaction, White Leghorn (LH) and Brown Nick (BN) chicks, two hybrid lines of layer hen commonly used commercially, were housed either with or without a mother hen in their first five weeks of life. From three weeks of age, the chicks were tested in a series of experiments to deduce the effects of breed and maternal care on their fear response, foraging and social motivation, and cognitive abilities. The LH were found to explore more and showed more attempts to reinstate social contact than BN. The BN were less active in all tests and less motivated than LH by social contact or by foraging opportunity. No hybrid differences were found in cognitive performance in the holeboard task. In general, the presence of a mother hen had unexpectedly little effect on behavior in both LH and BN chicks. It is hypothesized that hens from commercially used genetic backgrounds may have been inadvertently selected to be less responsive to maternal care than ancestral or non-commercial breeds. The consistent and strong behavioral differences between genetic strains highlights the importance of breed-specific welfare management processes.
View Full-Text
►

▼

Show Figures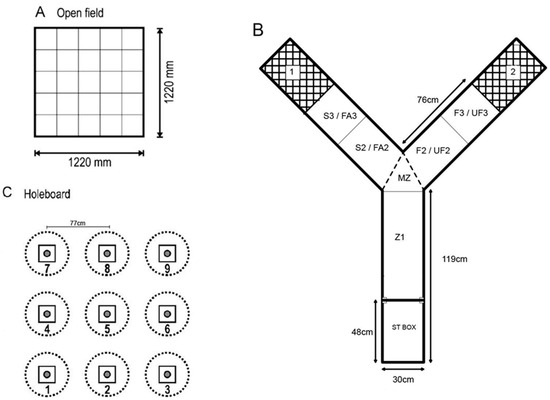 Figure 1
This is an open access article distributed under the
Creative Commons Attribution License
which permits unrestricted use, distribution, and reproduction in any medium, provided the original work is properly cited

Note that from the first issue of 2016, MDPI journals use article numbers instead of page numbers. See further details
here
.