An Exploration of the Mechanism of Action of an Equine-Assisted Intervention
1
Department of Medical Sciences & Public Health, Bournemouth University, Poole BH12 5BB, UK
2
Department of Social Sciences & Social Work, Bournemouth University, Poole BH12 5BB, UK
3
Department of Sports & Physical Activity, Bournemouth University, Poole BH12 5BB, UK
*
Author to whom correspondence should be addressed.
Received: 17 April 2019 / Revised: 15 May 2019 / Accepted: 29 May 2019 / Published: 31 May 2019
Simple Summary
Although there is increasing international interest and a growing body of evidence discussing the potential impacts of equine-assisted interventions to assist those with behavioural, mental health, physical health and disability-related issues, there has been little exploration of what "the mechanism of action" may be in causing any potential positive impacts. This paper reports on multi-method research study which considered in detail what was occurring while participants undertook the equine-assisted intervention under study. The intervention was implemented with young people with chronic mental health and behavioural problems for whom talk-based interventions were not working. Previous research has demonstrated long-term health and wellbeing benefits in recipients of the intervention. The three datasets were video data, psycho-physiological data, in this case, skin conductivity response, which is an indicator of emotional arousal, and experiential interview data. Our findings indicated that learning natural horsemanship skills through this intervention caused participants to experience emotional arousal when they asked the horse to perform a task. We would suggest that this process of experiencing a positive outcome following emotional arousal helps participants to achieve the reported behavioural outcomes from this intervention which include increased calmness, assertiveness, focus, empathy, communication skills, taking responsibility for behaviour, planning and confidence as a learner. These changes in behaviour then translate from the intervention to the participants' everyday lives, thereby achieving the changes in behaviour recorded by those independent practitioners (i.e., social workers and teachers) who refer individuals to this intervention.
Though long alluded to, there is now an accumulation of evidence of the vital contribution that emotion makes to learning. Within this broad advance in understanding is a growing body of research emphasising the embodied nature of this emotion-based learning. The study presented here is a pilot study using a mixed-method approach (combining both physiological and experiential methodologies) to give a picture of the "emotional landscape" of people's learning through the intervention under study. This has allowed researchers to examine mediating pathways that may underlie any effects of an equine-assisted intervention. This study specifically focuses on examining the role of emotion. The intervention under study was used with young people with chronic mental health and behavioural problems for whom talk-based interventions were not working. Nine healthy participants aged 18–24 undertook the equine intervention, with an initial group having emotion-related psycho-physiological changes (skin conductance responses) measured while viewing their experience on video, and a further two participants experiencing a development of the methodology as their physiological responses were captured in real time during the intervention. The sessions were analysed by a group of five cross-disciplinary researchers to determine when significant learning episodes occurred, and the findings were that this learning was associated with powerful skin conductance responses. The qualitative element of the research entailed the participants watching themselves on video undertaking the equine intervention. They were asked to stop the video and share any changes in emotion at any point while watching. All participants experienced a positive temporal change in mood as the intervention progressed. All results supported the findings that emotional arousal occurred in relation to the participants asking the horse to perform a task. This paper will offer two novel contributions: (1) description of a new methodology for investigating the mechanism of action occurring in this type of intervention and (2) findings from the exploration of the intervention via psycho-physiological and experiential mechanisms.
View Full-Text
►

▼

Show Figures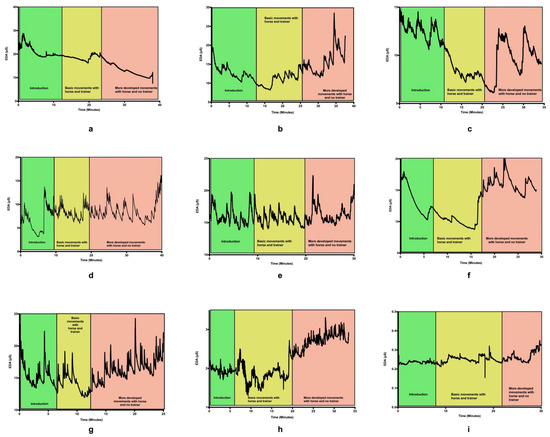 Figure 1
This is an open access article distributed under the
Creative Commons Attribution License
which permits unrestricted use, distribution, and reproduction in any medium, provided the original work is properly cited

Note that from the first issue of 2016, MDPI journals use article numbers instead of page numbers. See further details
here
.