Responding to Risk: Regulation or Prohibition? New Zealand Media Reporting of Thoroughbred Jumps Racing 2016–2018
1
School of Veterinary Science, Massey University, Private Bag 11 222, Palmerston North 4410, New Zealand
2
School of Health Science, Massey University, Private Bag 11 222, Palmerston North 4410, New Zealand
*
Author to whom correspondence should be addressed.
Received: 30 April 2019 / Revised: 20 May 2019 / Accepted: 23 May 2019 / Published: 24 May 2019
(This article belongs to the Section
Equids
)
Simple Summary
The acceptability of jumps racing has been debated in the media due to the high risk of horse fatality. Investigation of jumps racing articles in New Zealand for the 2016/2017 and 2017/2018 seasons demonstrated that this debate was vocal but localised and short-lived. Using rhetorical analysis, two different argumentative positions were identified, linked by a common acceptance of the inherent risks posed by jumps racing. Proponents of jumps racing advocated acceptance and minimisation of these inherent risks. This position was supported by emphasising the 'wealth of expertise and care within the racing industry' and was contrasted to the 'naïve opinions' characterising those who opposed jumps racing. Opponents of jumps racing personified the horse as a rights-bearing individual, resulting in the inherent risks becoming an unacceptable danger perpetrated by an exploitative racing industry for economic and personal gains. These different lines of reasoning provided a basis for arguments for and against the continuation of jumps racing in New Zealand.
Jumps racing involves a higher risk of accident and fatality than flat racing. The wide accessibility of media, combined with alternate views regarding the place of animals in society, raises the question of the acceptability of the continuation of jumps racing. Racing data and media articles from Newztext and Google news search were collected for the 2016/2017 and 2017/2018 jumps racing seasons, during which the fatality rate was 5.8 per 1000 starters. Jumps racing articles comprised 3.4% of all race reporting, and the volume of discussion about jumps racing was minimal (2.9% of jumps race articles related to the continuation of jumps racing), short-lived and related to horse fatalities. Articles were categorised and analysed using rhetorical analysis to determine the main arguments. The inherent risk posed by jumps racing to the horse formed a basis for two argumentative positions. Proponents of jumps racing argued that risks were reasonable, with risk minimisation measures best determined by expertise and care from within the racing industry, labelling opponents as naïve extremists. Opponents of jumps racing used anthropomorphism of the horse to argue that any risk was unacceptable and jumps racing should be banned. Horses were attributed with rights, and from this perspective, the racing industry exploited horses for entertainment. These two different arguments were used to shape claims for and against the continuation of jumps racing, allowing both to be built upon a shared acceptance of inherent risk.
View Full-Text
►

▼

Show Figures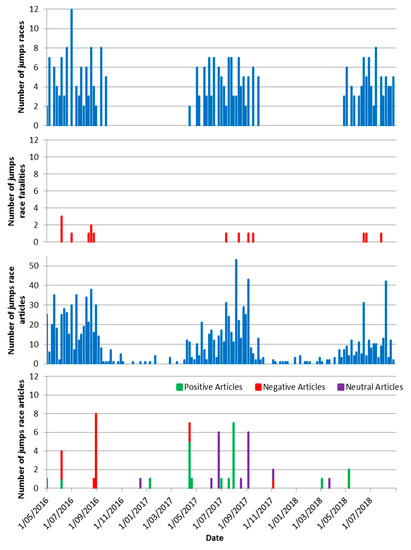 Figure 1
This is an open access article distributed under the
Creative Commons Attribution License
which permits unrestricted use, distribution, and reproduction in any medium, provided the original work is properly cited

Note that from the first issue of 2016, MDPI journals use article numbers instead of page numbers. See further details
here
.