Antioxidative Effects of Olive Polyphenols Compared to Vitamin E in Piglets Fed a Diet Rich in N-3 PUFA
1
Department of Animal Science, Biotechnical Faculty, University of Ljubljana, 1000 Ljubljana, Slovenia
2
Small Animal Clinic, Veterinary Faculty, University of Ljubljana, 1000 Ljubljana, Slovenia
*
Author to whom correspondence should be addressed.
Received: 27 March 2019 / Accepted: 9 April 2019 / Published: 12 April 2019
Simple Summary
Olive polyphenols exert many favorable properties, such as an antioxidative effect in humans, but are poorly studied in animals, especially in pigs. Therefore, we conducted a trial including olive leaf extract (OLE), which is rich in polyphenols, in pigs fed a linseed oil-enriched diet, which is a known cause of postprandial oxidative stress. OLE exerted some antioxidative effects in piglets fed a polyunsaturated fatty acid (PUFA)-rich diet without any negative effects, even when included in a higher concentration than that proposed for humans. Additionally, the inclusion of OLE did not compromise the zootechnical performance of the piglets as in the case of the dietary inclusion of olive leaves. Therefore, OLE could be used as an effective feed additive for beneficial effects on intestinal health and meat quality, among others.
Abstract
The aim of the current study was to assess the antioxidative effects of the dietary supplementation of olive leaf extract (OLE) in different concentrations compared to those of vitamin E in piglets under conditions of dietary n-3 PUFA-induced oxidative stress. Forty-eight castrated male piglets (10.6 ± 0.99 kg) were fed the following experimental diets: Cont− (low-fat diet, no supplement), Cont+ (high linseed oil diet, no supplement), Vit-E (as Cont+, 105 IU vitamin E/day), OLE-1 (as Cont+, 3.84 mg hydroxytyrosol equivalents (HEQs)/day), OLE-2 (as Cont+, 38.4 mg HEQ/day), and OLE-3 (as Cont+, 96 mg HEQ/day). After 21 days of feeding, the experimental diets, blood and urine samples were collected to assess the extent of the oxidative stress. Results indicated that diet OLE-1 lowered the activity of gamma-glutamyl transferase, protected DNA (measured as DNA tail %) and altered urinary 8-hydroxy-2'-deoxyguanosine (8-OHdG). Dietary vitamin E lowered the levels of urinary F
2
-isoprostanes, as well as of plasma malondialdehyde and γ-tocopherol, but raised the plasmatic α-tocopherol and altered the level of urinary 8-OHdG. In conclusion, only minor positive effects of dietary OLE on the oxidative stress parameters were observed. Additionally, OLE did not show concentration dependence.
View Full-Text
►

▼

Figures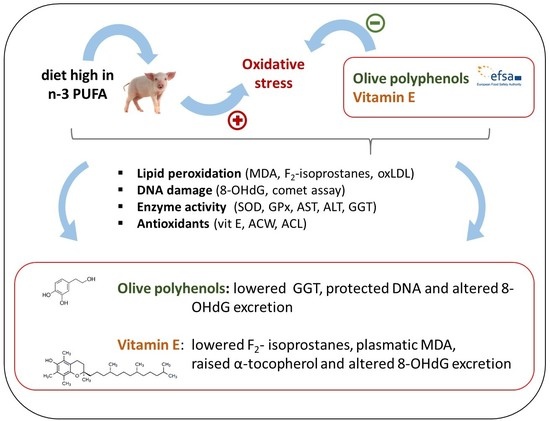 Graphical abstract
This is an open access article distributed under the
Creative Commons Attribution License
which permits unrestricted use, distribution, and reproduction in any medium, provided the original work is properly cited (CC BY 4.0).

Share & Cite This Article
MDPI and ACS Style
Leskovec, J.; Rezar, V.; Nemec Svete, A.; Salobir, J.; Levart, A. Antioxidative Effects of Olive Polyphenols Compared to Vitamin E in Piglets Fed a Diet Rich in N-3 PUFA. Animals 2019, 9, 161.
Note that from the first issue of 2016, MDPI journals use article numbers instead of page numbers. See further details here.
Related Articles
Comments
[Return to top]