An Animal Welfare Risk Assessment Process for Zoos
1
Department of Wildlife Conservation and Science, Zoos Victoria, Victoria 3052, Australia
2
The Animal Welfare Science Centre, the University of Melbourne, Victoria 3051, Australia
3
Animal Welfare Science and Bioethics Centre, School of Veterinary Science, Massey University, Palmerston North 4474, New Zealand
*
Author to whom correspondence should be addressed.
Received: 8 June 2018
/
Revised: 18 July 2018
/
Accepted: 21 July 2018
/
Published: 28 July 2018
Simple Summary
To retain social license to operate, achieving and maintaining high standards of animal welfare need to be institutional priorities for zoos. In order to be confident in the delivery of high standards of animal welfare, a holistic evidence-based approach to welfare assessment is required. This should include a combination of institutional-level assessments, individual animal monitoring tools, and applied research targeted at advancing our understanding of species needs and preferences in zoos. Progress has certainly been made in the zoo sector in development of research programs and individual animal welfare monitoring tools. Comparatively less focus has been applied to institutional-level assessment processes. This paper aims to fill this gap and presents an outline of a welfare risk assessment process developed and trialed at three zoos over a three year period and discussion of the potential value it offers, as well as the limitations of its use.
There is a growing interest and need for zoos to develop and implement welfare assessment tools that are practical to use and provide meaningful results that can inform management decisions. This paper presents a process that was developed to support this type of evidence-based management in zoo animal welfare. The process is configured to facilitate institutional risk assessment, using an adapted version of the Five Domains Model for animal welfare assessment. It is designed to systematically analyse information gathered from zoo personnel in order to highlight areas of welfare risk, as well as areas that are performing well and areas requiring further investigation. A trial was conducted on three zoos over three years. Results of the trial suggest the process developed is practical and effective in identifying areas of welfare risk in a wide range of species in a zoo setting. It represents a further step towards achieving high-level animal welfare in zoos by integrating animal welfare as an institutional priority. The more zoos that employ such strategies, the greater the ability of the sector to advance the welfare of the animals in their care.
View Full-Text
►

▼

Show Figures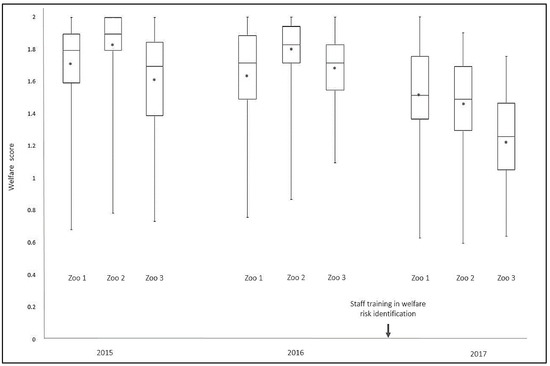 Figure 1
This is an open access article distributed under the
Creative Commons Attribution License
which permits unrestricted use, distribution, and reproduction in any medium, provided the original work is properly cited

MDPI and ACS Style
Sherwen, S.L.; Hemsworth, L.M.; Beausoleil, N.J.; Embury, A.; Mellor, D.J. An Animal Welfare Risk Assessment Process for Zoos. Animals 2018, 8, 130. https://doi.org/10.3390/ani8080130
AMA Style
Sherwen SL, Hemsworth LM, Beausoleil NJ, Embury A, Mellor DJ. An Animal Welfare Risk Assessment Process for Zoos. Animals. 2018; 8(8):130. https://doi.org/10.3390/ani8080130
Chicago/Turabian Style
Sherwen, Sally L., Lauren M. Hemsworth, Ngaio J. Beausoleil, Amanda Embury, and David J. Mellor. 2018. "An Animal Welfare Risk Assessment Process for Zoos" Animals 8, no. 8: 130. https://doi.org/10.3390/ani8080130
Note that from the first issue of 2016, MDPI journals use article numbers instead of page numbers. See further details
here
.