PCA-Based Multiple-Trait GWAS Analysis: A Powerful Model for Exploring Pleiotropy
1
Cattle Genetics and Breeding Group, Institute of Animal Science (IAS), Chinese Academy of Agricultural Sciences (CAAS), Beijing 100193, China
2
College of Animal Science and Technology, Hebei Agricultural University, Baoding 071000, China
†
These authors contributed equally to this work.
*
Authors to whom correspondence should be addressed.
Received: 30 August 2018 / Revised: 26 November 2018 / Accepted: 28 November 2018 / Published: 17 December 2018
Simple Summary
In biological processes, it is common that a single gene controls two or more traits, leading to a high genetically correlation between many traits in human beings and livestock. Genome-wide association study (GWAS) is a popular method for mapping causal genes or regions related to studied traits. Taking the advantage of genetically correlation among traits, a combined analysis of two or more traits can improve the power of detection in GWAS analysis. In this study, we prove the improvement of multiple-traits GWAS through theoretical derivation, simulated dataset and real dataset, respectively. In addition, using this approach, we successfully identified a candidate gene for presoma muscle development in cattle that were not be found in the average association analysis. In summary, we conclude that multiple-trait GWAS is an effective method to explore genetic factors of traits, which have high correlations.
Abstract
Principal component analysis (PCA) is a potential approach that can be applied in multiple-trait genome-wide association studies (GWAS) to explore pleiotropy, as well as increase the power of quantitative trait loci (QTL) detection. In this study, the relationship of test single nucleotide polymorphisms (SNPs) was determined between single-trait GWAS and PCA-based GWAS. We found that the estimated pleiotropic quantitative trait nucleotides (QTNs)
were in most cases larger than the single-trait model estimations (
and
). Analysis using the simulated data showed that PCA-based multiple-trait GWAS has improved statistical power for detecting QTL compared to single-trait GWAS. For the minor allele frequency (MAF), when the MAF of QTNs was greater than 0.2, the PCA-based model had a significant advantage in detecting the pleiotropic QTNs, but when its MAF was reduced from 0.2 to 0, the advantage began to disappear. In addition, as the linkage disequilibrium (LD) of the pleiotropic QTNs decreased, its detection ability declined in the co-localization effect model. Furthermore, on the real data of 1141 Simmental cattle, we applied the PCA model to the multiple-trait GWAS analysis and identified a QTL that was consistent with a candidate gene,
MCHR2
, which was associated with presoma muscle development in cattle. In summary, PCA-based multiple-trait GWAS is an efficient model for exploring pleiotropic QTNs in quantitative traits.
View Full-Text
►

▼

Figures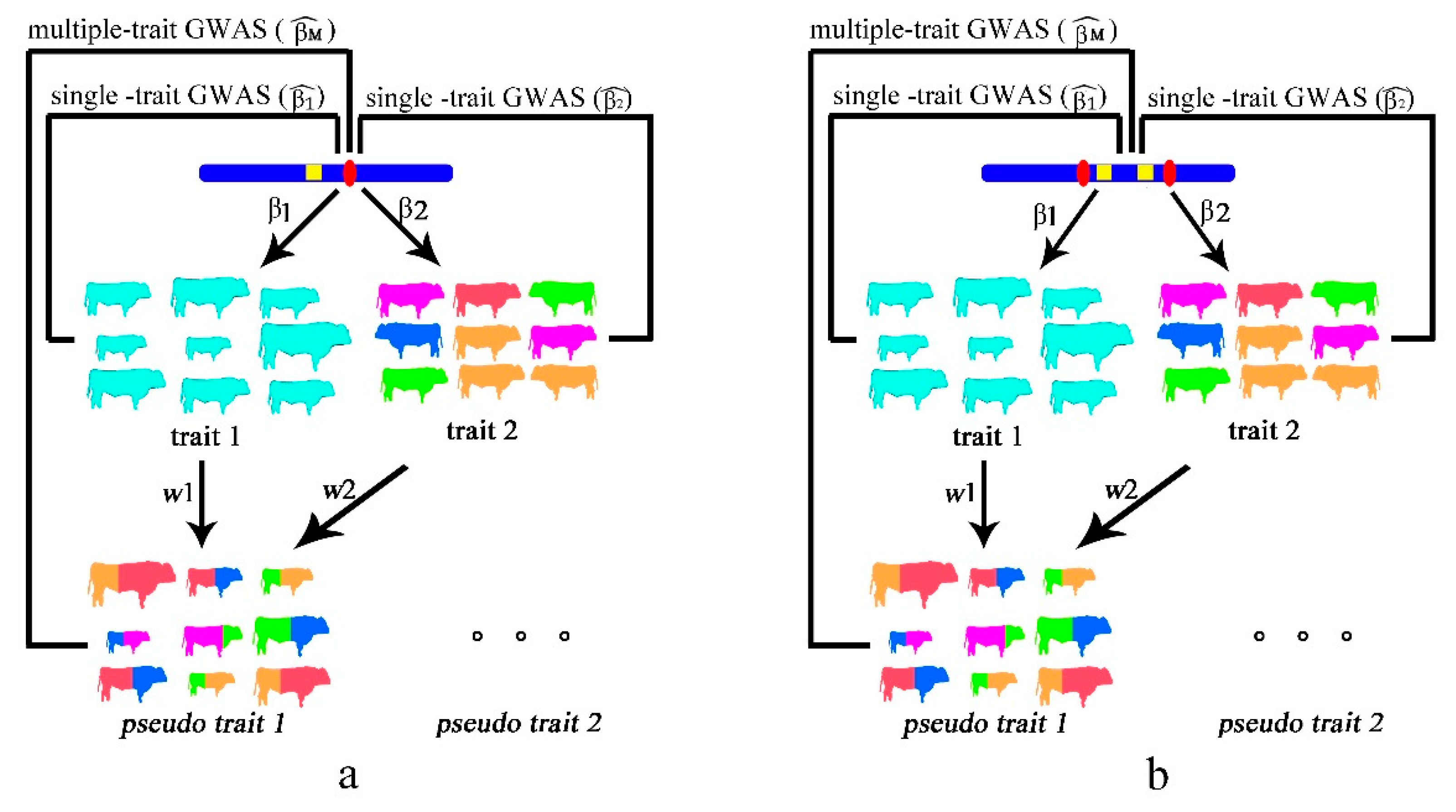 Figure 1
This is an open access article distributed under the
Creative Commons Attribution License
which permits unrestricted use, distribution, and reproduction in any medium, provided the original work is properly cited (CC BY 4.0).

Share & Cite This Article
MDPI and ACS Style
Zhang, W.; Gao, X.; Shi, X.; Zhu, B.; Wang, Z.; Gao, H.; Xu, L.; Zhang, L.; Li, J.; Chen, Y. PCA-Based Multiple-Trait GWAS Analysis: A Powerful Model for Exploring Pleiotropy. Animals 2018, 8, 239.
Note that from the first issue of 2016, MDPI journals use article numbers instead of page numbers. See further details here.
Related Articles
Comments
[Return to top]