Observation of the Breeding Behavior of the Chinese Giant Salamander (
Andrias davidianus

) Using a Digital Monitoring System

1

Hunan Engineering Laboratory for Chinese Giant Salamander's Resource Protection and Comprehensive Utilization, Jishou University, Zhangjiajie 427000, China

2

School of Energy and Environmental Engineering, University of Science and Technology Beijing, Beijing 100083, China

3

Key Laboratory of Hunan Forest Products and Chemical Industry Engineering, Jishou University, Zhangjiajie 427000, China

4

Zhangjiajie Zhuyuan Biological Technology of Chinese Giant Salamander Co. Ltd., Zhangjiajie 427000, China

*

Author to whom correspondence should be addressed.

Received: 4 August 2018 / Revised: 10 September 2018 / Accepted: 15 September 2018 / Published: 25 September 2018

(This article belongs to the Section

Wildlife

)
Simple Summary
Behavioral research on wild Chinese giant salamanders (Andrias davidianus) is in its infancy because A. davidianus inhabit underground river dens that are difficult to access. In order to ascertain the types of reproductive behavior exhibited by A. davidianus, this paper monitored their reproductive activity using a digital monitoring system in a simulated natural habitat. The survey uncovered reproductive behavior such as sand-pushing, showering, courtship, oviposition, and parental care. We also recorded the parental care time allocation for the first time. This study provides a scientific basis for the method optimization for the ecological reproduction of A. davidianus and the conservation of its wild population. This study also demonstrates that a digital monitoring system is an effective research method for investigating the behavior of Cryptobranchidae and other cave animals.
Abstract
Knowledge of natural animal behavior is essential for enhancing the protection and artificial breeding of animals. At present, the behavior of the Chinese giant salamander (
Andrias davidianus
) is studied through interviews with local people or occasional observations under artificial conditions, leading to a lack of systematic records. Thus, most reports are descriptive and lack quantitative analyses. To ascertain the types of reproductive activities and their corresponding time allocations, this study observed the reproductive behavior of
A. davidianus
using a digital monitoring system for the first time. The results showed that sand-pushing behavior is mainly carried out by the limbs, tail, head, and body of den-dominant males. Showering behaviors included rinsing the trunk, head, and tail. Courtship was composed of a series of behaviors, including standing side-by-side, belly colliding, mounting, mouth-to-mouth posturing, chasing, inviting, cohabitating, and rolling over. After chasing and interlocking with the male, the female discharged her eggs. The oviposition process began at either 02:04 or 04:09, and lasted either 66 or 182 min. Parental care included tail fanning, agitation, shaking, and eating dead and unfertilized eggs, and the durations of these behaviors accounted for 31.74 ± 4.35%, 17.42 ± 4.00%, 3.85 ± 1.18%, and 1.19 ± 0.69% of the entire incubation period, respectively. This paper reveals the characteristics of the reproductive behavior of
A. davidianus
and provides a scientific basis for the management of its ecological breeding and the conservation of its wild populations.
View Full-Text
►

▼

Figures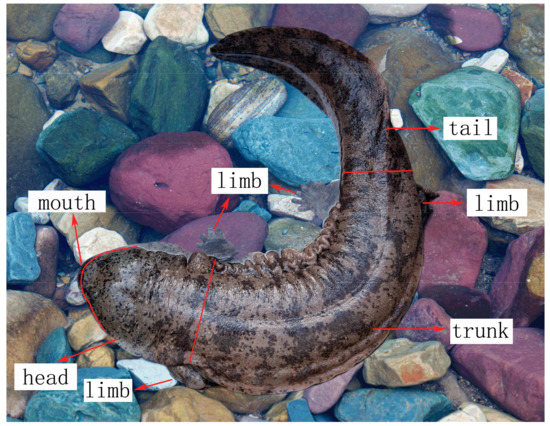 Figure 1
This is an open access article distributed under the
Creative Commons Attribution License
which permits unrestricted use, distribution, and reproduction in any medium, provided the original work is properly cited (CC BY 4.0).

Share & Cite This Article
MDPI and ACS Style
Luo, Q.; Tong, F.; Song, Y.; Wang, H.; Du, M.; Ji, H. Observation of the Breeding Behavior of the Chinese Giant Salamander (Andrias davidianus) Using a Digital Monitoring System. Animals 2018, 8, 161.
Note that from the first issue of 2016, MDPI journals use article numbers instead of page numbers. See further details here.
Related Articles
Comments
[Return to top]