2004 Methane and Nitrous Oxide Emissions from Manure Management in South Africa
1
ARC-Institute for Soil, Climate and Water, Private Bag X79, Pretoria 0001, South Africa
2
Risks and Vulnerability Assessment Centre, University of Limpopo, Private Bag X1106, Sovenga 0727, South Africa
*
Author to whom correspondence should be addressed.
†
These authors contributed equally to this work.
Academic Editor: Clive Phillips
Received: 13 January 2015
/
Revised: 20 March 2015
/
Accepted: 23 March 2015
/
Published: 31 March 2015
Simple Summary
Livestock manure management is one of the main sources of greenhouse gas (GHG) emissions in South Africa producing mainly methane and nitrous oxide. The emissions from this sub-category are dependent on how manure is stored. Liquid-stored manure predominantly produces methane while dry-based manure enhances mainly production of nitrous oxide. Intergovernmental Panel on Climate Change (IPCC) guidelines were utilized at different tier levels in estimating GHG emissions from manure management. The results show that methane emissions are relatively higher than nitrous oxide emissions with 3104 Gg and 2272 Gg respectively in carbon dioxide global warming equivalent.
Manure management in livestock makes a significant contribution towards greenhouse gas emissions in the Agriculture; Forestry and Other Land Use category in South Africa. Methane and nitrous oxide emissions are prevalent in contrasting manure management systems; promoting anaerobic and aerobic conditions respectively. In this paper; both Tier 1 and modified Tier 2 approaches of the IPCC guidelines are utilized to estimate the emissions from South African livestock manure management. Activity data (animal population, animal weights, manure management systems,
etc.
) were sourced from various resources for estimation of both emissions factors and emissions of methane and nitrous oxide. The results show relatively high methane emissions factors from manure management for mature female dairy cattle (40.98 kg/year/animal), sows (25.23 kg/year/animal) and boars (25.23 kg/year/animal). Hence, contributions for pig farming and dairy cattle are the highest at 54.50 Gg and 32.01 Gg respectively, with total emissions of 134.97 Gg (3104 Gg CO
2
Equivalent). Total nitrous oxide emissions are estimated at 7.10 Gg (2272 Gg CO
2
Equivalent) and the three main contributors are commercial beef cattle; poultry and small-scale beef farming at 1.80 Gg; 1.72 Gg and 1.69 Gg respectively. Mitigation options from manure management must be taken with care due to divergent conducive requirements of methane and nitrous oxide emissions requirements.
View Full-Text
►

▼

Show Figures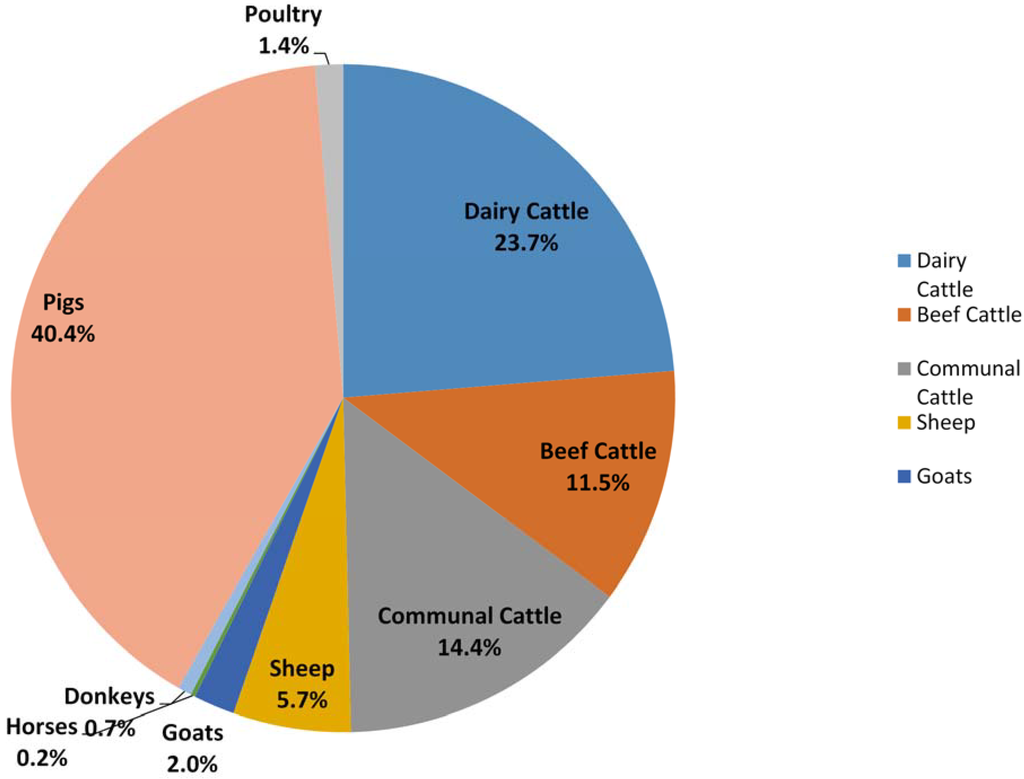 Figure 1
This is an open access article distributed under the
Creative Commons Attribution License
which permits unrestricted use, distribution, and reproduction in any medium, provided the original work is properly cited

MDPI and ACS Style
Moeletsi, M.E.; Tongwane, M.I. 2004 Methane and Nitrous Oxide Emissions from Manure Management in South Africa. Animals 2015, 5, 193-205. https://doi.org/10.3390/ani5020193
AMA Style
Moeletsi ME, Tongwane MI. 2004 Methane and Nitrous Oxide Emissions from Manure Management in South Africa. Animals. 2015; 5(2):193-205. https://doi.org/10.3390/ani5020193
Chicago/Turabian Style
Moeletsi, Mokhele E., and Mphethe I. Tongwane 2015. "2004 Methane and Nitrous Oxide Emissions from Manure Management in South Africa" Animals 5, no. 2: 193-205. https://doi.org/10.3390/ani5020193