Cows Come Down from the Mountains before the (Mw = 6.1) Earthquake Colfiorito in September 1997; A Single Case Study
1
Osservatorio Sismico "Andrea Bina", Borgo XX Giugno 74, 06121 Perugia, Italy
2
Central Italy Electromagnetic Network (CIEN), Via Fosso del Passo 6, 63847 San Procolo, Fermo, Italy
3
Ames Research Center, National Aeronautics and Space Administration (NASA), Earth Science Division, Code SGE, Moffett Field, CA 94035, USA
4
Department of Physics, San Jose State University, San Jose, CA 95192, USA
5
Carl Sagan Center, SETI Institute, 189 Bernardo Ave., Mountain View, CA 94043, USA
6
Department of Life Sciences, Anglia Ruskin University, East Rd., Cambridge, CB1 1PT, UK
*
Author to whom correspondence should be addressed.
Received: 7 January 2014
/
Revised: 13 May 2014
/
Accepted: 19 May 2014
/
Published: 3 June 2014
Simple Summary
Recent reports from several countries such as China, Italy and Japan support the existence of strange animal behaviour before strong earthquakes. However, the stimuli to which animals are sensitive preceding seismic activity are still not completely understood. Here we report the case of a herd of cows (reported by an entire village) leaving the hill pasture and descending near to the village streets two days before a strong earthquake.
The September–October 1997 seismic sequence in the Umbria–Marche regions of Central Italy has been one of the stronger seismic events to occur in Italy over the last thirty years, with a maximum magnitude of M
w
= 6.1. Over the last three years, a collection of evidence was carried out regarding non-seismic phenomena, by interviewing local residents using a questionnaire. One particular observation of anomalous animal behaviour, confirmed by many witnesses, concerned a herd of cows, which descended from a mountain close to the streets of a village near the epicentre, a few days before the main shock. Testimonies were collected using a specific questionnaire including data on earthquake lights, spring variations, human diseases, and irregular animal behaviour. The questionnaire was compiled after the L'Aquila earthquake in 2009, and was based upon past historical earthquake observations. A possible explanation for the cows' behavior—local air ionization caused by stress-activated positive holes—is discussed.
View Full-Text
►

▼

Show Figures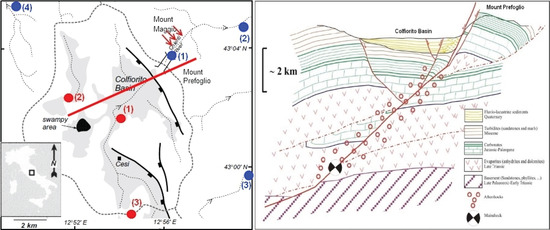 Figure 1

MDPI and ACS Style
Fidani, C.; Freund, F.; Grant, R. Cows Come Down from the Mountains before the (Mw = 6.1) Earthquake Colfiorito in September 1997; A Single Case Study. Animals 2014, 4, 292-312. https://doi.org/10.3390/ani4020292
AMA Style
Fidani C, Freund F, Grant R. Cows Come Down from the Mountains before the (Mw = 6.1) Earthquake Colfiorito in September 1997; A Single Case Study. Animals. 2014; 4(2):292-312. https://doi.org/10.3390/ani4020292
Chicago/Turabian Style
Fidani, Cristiano, Friedemann Freund, and Rachel Grant. 2014. "Cows Come Down from the Mountains before the (Mw = 6.1) Earthquake Colfiorito in September 1997; A Single Case Study" Animals 4, no. 2: 292-312. https://doi.org/10.3390/ani4020292