The "Super Chimpanzee": The Ecological Dimensions of Rehabilitation of Orphan Chimpanzees in Guinea, West Africa
1
DICE, School of Anthropology and Conservation, Marlowe Building, University of Kent, Canterbury CT2 7NR, UK
2
Project Primates France, 140 Residence Boisserette, Rue du Stade 73190, France
3
Chimpanzee Conservation Center, Faranah, B.P. 36, Republic of Guinea
*
Author to whom correspondence should be addressed.
Received: 8 October 2012
/
Revised: 30 January 2013
/
Accepted: 4 February 2013
/
Published: 6 February 2013
Simple Summary
This study examines relevant behavioral indicators of rehabilitation success of orphaned chimpanzees, victims of the bushmeat and pet trade, and contributes to identifying future release candidates. Results highlight the importance of bush-outings in the development of species-specific behaviors. Neither trauma upon arrival nor contact with human caretakers predicted dietary knowledge among rehabilitants at the Chimpanzee Conservation Centre where the study took place. The studied orphans demonstrated a relatively broad dietary knowledge. We attributed this result to the combined effect of the multiregional origins of residents and the learning opportunities available during bush-outings, which we termed the "Super Chimpanzee" theory.
To date few studies, especially among non-human primates, have evaluated or monitored rehabilitation effectiveness and identified key species-specific behavioral indicators for release success. This four-months study aimed to identify behavioral indicators of rehabilitation success among ten infant and juvenile orphaned chimpanzees cared for in peer groups at the Centre for Conservation of Chimpanzees (CCC), Guinea, West Africa. Behavioral data focused on foraging skills and activity budget. During bush-outings, rehabilitants spent on average nearly a quarter of their activity budget foraging, resting or traveling, respectively. Neither age, sex, the level of abnormal behaviors demonstrated upon arrival nor human contact during bush-outings predicted individual dietary knowledge. However, individuals who spent more time arboreal demonstrated a greater dietary breadth than conspecifics who dwelled more terrestrially. Although our data failed to demonstrate a role of conspecific observation in dietary acquisition, we propose that the mingling of individuals from different geographical origins may act as a catalyst for acquiring new dietary knowledge, promoted by ecological opportunities offered during bush-outings. This "Super Chimpanzee" theory opens up new questions about cultural transmission and socially-biased learning among our closest living relatives and provides a novel outlook on rehabilitation in chimpanzees.
View Full-Text
►

▼

Show Figures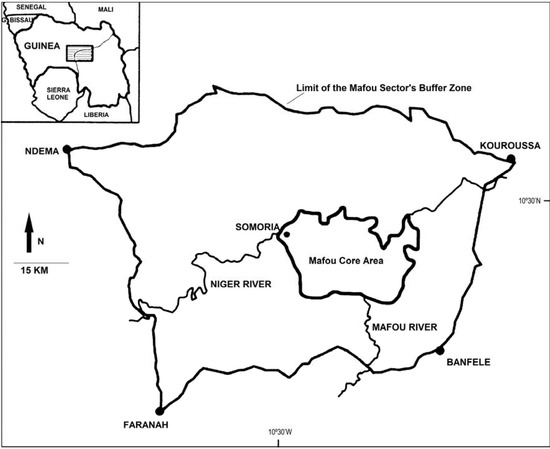 Figure 1

MDPI and ACS Style
Ongman, L.; Colin, C.; Raballand, E.; Humle, T. The "Super Chimpanzee": The Ecological Dimensions of Rehabilitation of Orphan Chimpanzees in Guinea, West Africa. Animals 2013, 3, 109-126. https://doi.org/10.3390/ani3010109
AMA Style
Ongman L, Colin C, Raballand E, Humle T. The "Super Chimpanzee": The Ecological Dimensions of Rehabilitation of Orphan Chimpanzees in Guinea, West Africa. Animals. 2013; 3(1):109-126. https://doi.org/10.3390/ani3010109
Chicago/Turabian Style
Ongman, Lissa, Christelle Colin, Estelle Raballand, and Tatyana Humle. 2013. "The "Super Chimpanzee": The Ecological Dimensions of Rehabilitation of Orphan Chimpanzees in Guinea, West Africa" Animals 3, no. 1: 109-126. https://doi.org/10.3390/ani3010109