Double Muscling in Cattle: Genes, Husbandry, Carcasses and Meat
Animal Sciences Unit, The Institute for Agricultural and Fisheries Research (ILVO), Scheldeweg 68, B-9090 Melle, Belgium
Received: 9 July 2012 / Revised: 5 September 2012 / Accepted: 7 September 2012 / Published: 20 September 2012
Simple Summary
Selection for an increased meatiness in beef cattle has resulted in double-muscled (DM) animals, owing to the inactivation of the myostatin gene. These animals are characterized by an excellent conformation and an extremely high carcass yield, coinciding with a reduced organ mass. As a consequence, voluntary feed intake is reduced, but feed efficiency is considerably improved, although maintenance requirements are not clearly reduced. DM animals are more susceptible to respiratory disease, stress and dystocia, requiring extra attention for accommodation and welfare. Carcasses of DM animals are very lean, and intramuscular fat content is low. The fatty acid profile is different when compared with non-DM animals, containing less saturated fatty acids. Collagen content of the meat is lower, so that meat from double-muscled animals is mostly more tender. However, meat tenderness, color and juiciness are not always improved. A different metabolism as a consequence of faster glycolytic myofibers can be partly responsible for this phenomenon. DM animals are interesting for the producer and butcher, and beneficial for the consumer, if an appropriate nutrition and accommodation, and adequate slaughter conditions are taken into account.
Abstract
Molecular biology has enabled the identification of the mechanisms whereby inactive myostatin increases skeletal muscle growth in double-muscled (DM) animals. Myostatin is a secreted growth differentiation factor belonging to the transforming growth factor-β superfamily. Mutations make the myostatin gene inactive, resulting in muscle hypertrophy. The relationship between the different characteristics of DM cattle are defined with possible consequences for livestock husbandry. The extremely high carcass yield of DM animals coincides with a reduction in the size of most vital organs. As a consequence, DM animals may be more susceptible to respiratory disease, urolithiasis, lameness, nutritional stress, heat stress and dystocia, resulting in a lower robustness. Their feed intake capacity is reduced, necessitating a diet with a greater nutrient density. The modified myofiber type is responsible for a lower capillary density, and it induces a more glycolytic metabolism. There are associated changes for the living animal and post-mortem metabolism alterations, requiring appropriate slaughter conditions to maintain a high meat quality. Intramuscular fat content is low, and it is characterized by more unsaturated fatty acids, providing healthier meat for the consumer. It may not always be easy to find a balance between the different disciplines underlying the livestock husbandry of DM animals to realize a good performance and health and meat quality.
View Full-Text
►

▼

Figures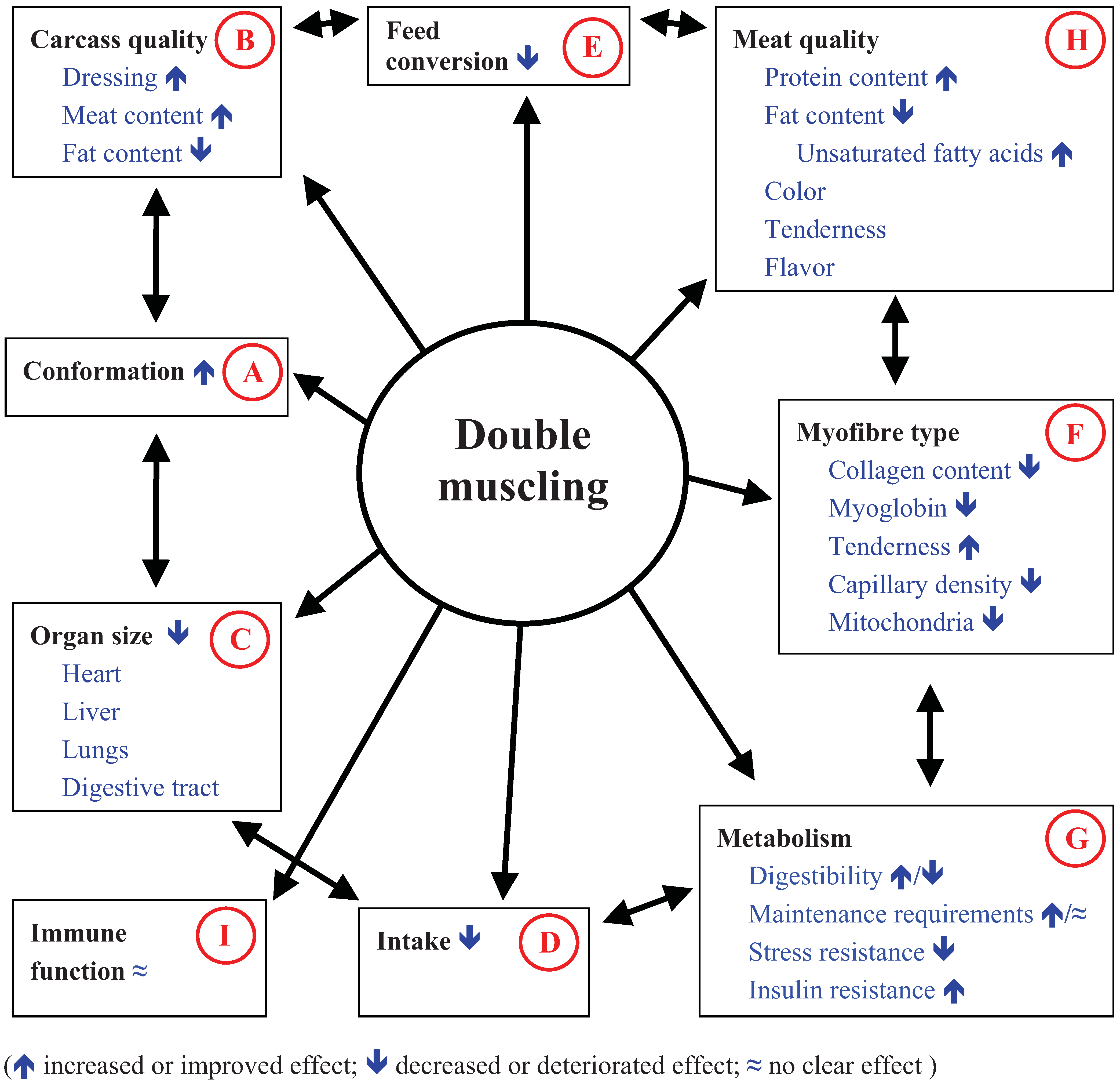 Figure 1

Share & Cite This Article
MDPI and ACS Style
Fiems, L.O. Double Muscling in Cattle: Genes, Husbandry, Carcasses and Meat. Animals 2012, 2, 472-506.
Related Articles
Comments
[Return to top]