Methods for Measuring and Estimating Methane Emission from Ruminants
1
Department of Large Animal Sciences, University of Copenhagen, Grønnegårdsvej 2, DK-1870 Frederiksberg C, Denmark
2
Department of Animal Science, Aarhus University, AU-Foulum, P.O. Box 50, DK-8830 Tjele, Denmark
3
AgroTech, Agro Food Park 15, DK-8200 Aarhus N, Denmark
*
Author to whom correspondence should be addressed.
Received: 9 February 2012 / Revised: 8 March 2012 / Accepted: 2 April 2012 / Published: 13 April 2012
Simple Summary
Knowledge about methods used in quantification of greenhouse gasses is currently needed due to international commitments to reduce the emissions. In the agricultural sector one important task is to reduce enteric methane emissions from ruminants. Different methods for quantifying these emissions are presently being used and others are under development, all with different conditions for application. For scientist and other persons working with the topic it is very important to understand the advantages and disadvantage of the different methods in use. This paper gives a brief introduction to existing methods but also a description of newer methods and model-based techniques.
This paper is a brief introduction to the different methods used to quantify the enteric methane emission from ruminants. A thorough knowledge of the advantages and disadvantages of these methods is very important in order to plan experiments, understand and interpret experimental results, and compare them with other studies. The aim of the paper is to describe the principles, advantages and disadvantages of different methods used to quantify the enteric methane emission from ruminants. The best-known methods: Chambers/respiration chambers, SF
6
technique and
in vitro
gas production technique and the newer CO
2
methods are described. Model estimations, which are used to calculate national budget and single cow enteric emission from intake and diet composition, are also discussed. Other methods under development such as the micrometeorological technique, combined feeder and CH
4
analyzer and proxy methods are briefly mentioned. Methods of choice for estimating enteric methane emission depend on aim, equipment, knowledge, time and money available, but interpretation of results obtained with a given method can be improved if knowledge about the disadvantages and advantages are used in the planning of experiments.
View Full-Text
►

▼

Show Figures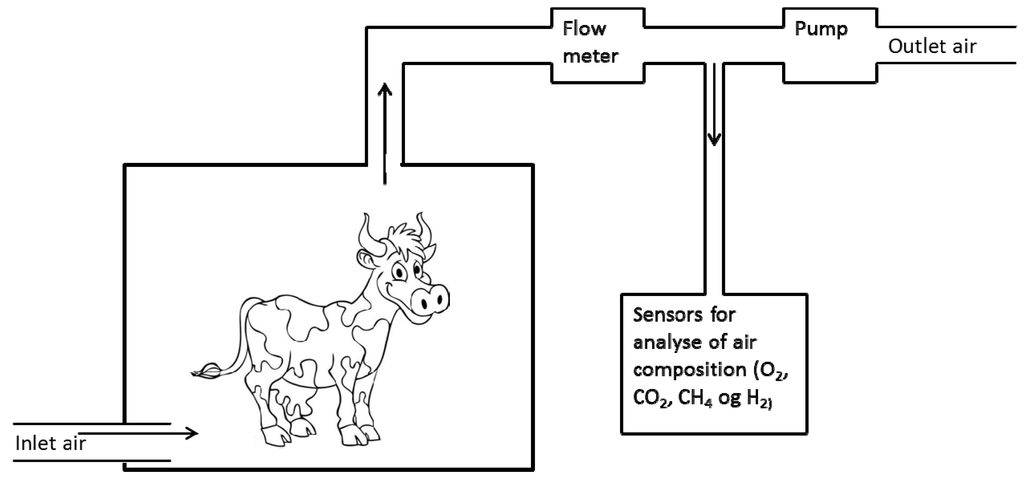 Figure 1