Artificial Grooming during Early Life could Boost the Activity and Human Affinity of Holstein Female Calves
State Key Laboratory of Animal Nutrition, Institute of Animal Sciences, Chinese Academy of Agricultural Sciences, Beijing 100193, China
*
Author to whom correspondence should be addressed.
Received: 9 January 2020 / Revised: 11 February 2020 / Accepted: 11 February 2020 / Published: 13 February 2020
Simple Summary
Due to early cow–calf separation in modern farms, maternal care, such as licking and grooming, is greatly limited for newborn calves. Physically imitating the maternal licking with manual brushing, termed artificial grooming, during an early age might substitute the role of cows. The behavioral response of dairy calves with artificial grooming treatment was investigated. We found beneficial effects of artificial grooming on the activity and human–animal bonding of dairy calves. The starter ingestion might be advanced by the artificial grooming and might contribute to a less stressful weaning process. Mechanization of this process is promising in the future calf management and thus improving the welfare status of dairy calves.
Early cow–calf separation management induced various welfare problems for dairy calves. We mimicked the maternal licking by manually brushing right after the Holstein female calves were born and during their first week of life, termed artificial grooming (AG). The behavior of these treated calves (AG,
n
= 17) was compared with the calves without artificial grooming (Con,
n
= 16) during daily behavioral observation around evening milk feeding and in the open field test (OFT) and novel human test (NHT). The number of calves ingesting starter on day six was recorded. The AG calves were observed to be more active and perform more oral behavior compared with the Con calves around evening milk feeding. In the OFT and NHT, the AG calves were again more active than the Con calves. Moreover, the AG calves tended to be less cautious and had more human interactions than the Con calves in the NHT. There tended to be a higher percentage of AG calves ingesting starter on day 6. In conclusion, artificial grooming during early life could boost the activity and the human affinity of female calves and it might advance their starter diet ingestion.
View Full-Text
►

▼

Show Figures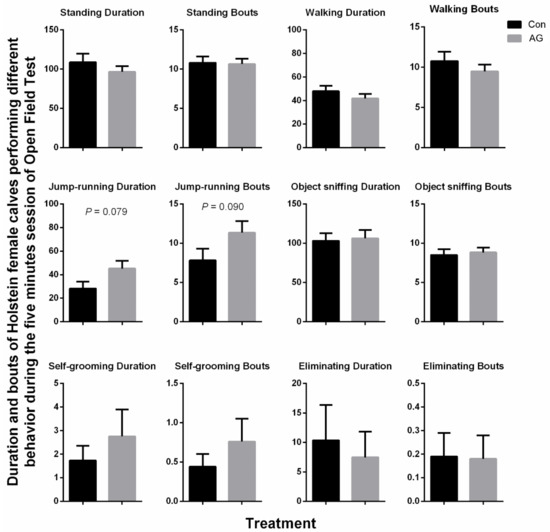 Figure 1
This is an open access article distributed under the
Creative Commons Attribution License
which permits unrestricted use, distribution, and reproduction in any medium, provided the original work is properly cited

Note that from the first issue of 2016, MDPI journals use article numbers instead of page numbers. See further details
here
.