Cosmopolitanism and Biogeography of the Genus
Manganonema

(Nematoda: Monhysterida) in the Deep Sea

1

Department of Marine Sciences, Polytechnic University of Marche, Via Brecce Bianche, 60131, Ancona, Italy

2

Marine Biology Research Group, Ghent University, Krijgslaan, 9000 Ghent, Belgium

*

Author to whom correspondence should be addressed.

Received: 20 July 2011 / Revised: 24 August 2011 / Accepted: 1 September 2011 / Published: 5 September 2011
Simple Summary
The deep sea comprises more than 60% of the Earth surface, and likely represents the largest reservoir of as yet undiscovered biodiversity. Nematodes are the most abundant taxon on Earth and are particularly abundant and diverse in the deep sea. Nevertheless, knowledge of their biogeography especially in the deep sea is still at its infancy. This article explores the distribution of the genus Manganonema in the deep Atlantic Ocean and Mediterranean Sea providing new insights about this apparently rare deep-sea genus.
Spatial patterns of species diversity provide information about the mechanisms that regulate biodiversity and are important for setting conservation priorities. Present knowledge of the biogeography of meiofauna in the deep sea is scarce. This investigation focuses on the distribution of the deep-sea nematode genus
Manganonema
, which is typically extremely rare in deep-sea sediment samples. Forty-four specimens of eight different species of this genus were recorded from different Atlantic and Mediterranean regions. Four out of the eight species encountered are new to science. We report here that this genus is widespread both in the Atlantic and in the Mediterranean Sea. These new findings together with literature information indicate that
Manganonema
is a cosmopolitan genus, inhabiting a variety of deep-sea habitats and oceans.
Manganonema
shows the highest diversity at water depths >4,000 m. Our data, therefore, indicate that this is preferentially an abyssal genus that is able, at the same time, to colonize specific habitats at depths shallower than 1,000 m. The analysis of the distribution of the genus
Manganonema
indicates the presence of large differences in dispersal strategies among different species, ranging from locally endemic to cosmopolitan. Lacking meroplanktonic larvae and having limited dispersal ability due to their small size, it has been hypothesized that nematodes have limited dispersal potential. However, the investigated deep-sea nematodes were present across different oceans covering macro-scale distances. Among the possible explanations (hydrological conditions, geographical and geological pathways, long-term processes, specific historical events), their apparent preference of colonizing highly hydrodynamic systems, could suggest that these infaunal organisms are transported by means of deep-sea benthic storms and turbidity currents over long distances.
View Full-Text
►

▼

Show Figures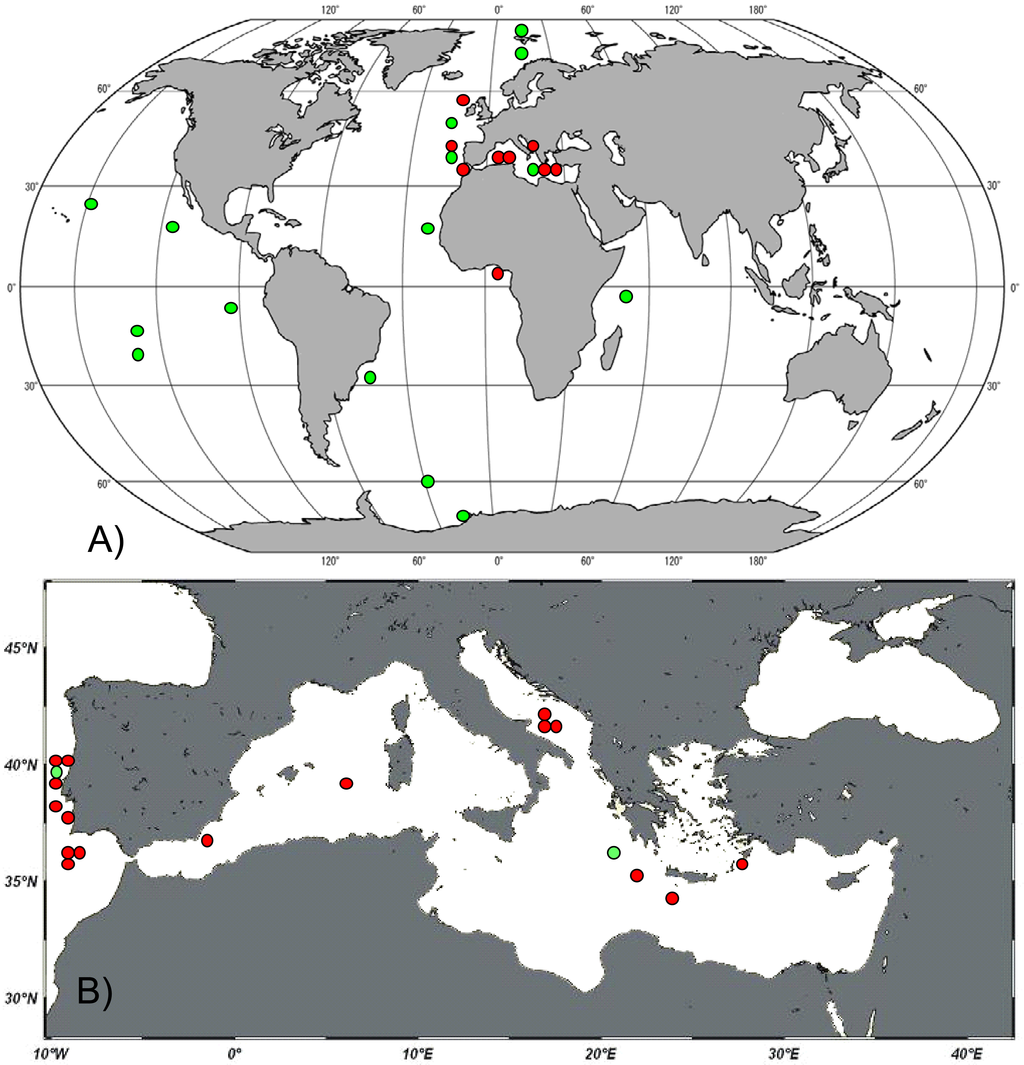 Figure 1