An International Comparison of Female and Male Students' Attitudes to the Use of Animals†
1
Centre for Animal Welfare and Ethics, University of Queensland, Australia
2
Department of History of Veterinary Medicine and Deontology, University of Selcuk, Turkey
3
Faculty of Veterinary Medicine, University of Tehran, Iran
4
Department of Animal Production, University of Leon, Spain
5
Department of Bioethics, The Catholic University of Korea, Seoul, Korea
6
School of Agriculture, Food Science and Veterinary Medicine, University College Dublin, Ireland
7
AgroWeb Farm Animal Welfare Network Co-ordinator for Macedonia, Skopje, Macedonia
8
Institute of Animal Science, Department of Ethology, Prague, Czech Republic
9
Department of Animal Environment and Health, Swedish University of Agricultural Sciences, Skara, Sweden
10
Department of Life Sciences, Anglia Ruskin University, Cambridge, UK
11
Graduate School of Veterinary Medicine, Konkuk University, Seoul, Korea
12
National Veterinary Institute, Oslo, Norway
13
Fond SFS Center for Education, Research and Consulting in Agriculture, Novi Sad, Serbia
*
Author to whom correspondence should be addressed.
†
This paper is dedicated to the memory of Dr. Vonne Lund, the Norwegian collaborator on this project, who passed away during the course of the project.
Received: 7 December 2010 / Accepted: 8 December 2010 / Published: 9 December 2010
Simple Summary
We surveyed university students in 11 Eurasian countries for their attitudes to animals, using an internet-based questionnaire to which 1,902 female and 1,530 male student responded from 102 universities. Across countries female students had greater concern for animal welfare and rights than males, but especially so in more gender empowered countries. One contributing factor appeared to be the greater association of females than males with pets, and a possible outcome was greater female avoidance of meat consumption, especially red meat.
Previous research has demonstrated that in households where the male partner is more dominant, there is convergence in male and female attitudes towards animals, whereas if the female partner is empowered they exhibit greater empathy towards animals than the male partner. We tested this theory of 'female empowered empathy' internationally in a survey of female and male students' attitudes towards use of animals, conducted in 11 Eurasian countries: China, Czech Republic, Great Britain, Iran, Ireland, South Korea, Macedonia, Norway, Serbia, Spain and Sweden. Gender empowerment was estimated for each country using the Gender Empowerment Measure designed by the United Nations. The survey was administered via the internet in universities within countries, and 1,902 female and 1,530 male student responses from 102 universities were received. Respondents rated the acceptability of 43 major concerns about human use of animals, and the importance of 13 world social issues, including animal protection, environmental protection and sustainable development. Females had greater concern for animal welfare and rights than males. There was a positive correlation between the Gender Empowerment Measure and the ratio of female to male concern for animal welfare and rights, but not for other world issues. Thus in countries where females were more empowered, principally Sweden, Norway and Great Britain, females had much greater concern than males for animal issues, whereas in other countries the responses of males and females were more similar. Across countries female students were more likely to avoid meat and less likely to avoid eggs, milk and seafood than male students, and were more likely to have kept pets than males. Females rated cats as more sentient than males did. The results demonstrate that females have greater concern for animal welfare and rights than males, and that this is more likely to be expressed in countries where females are relatively empowered, suggesting that 'emancipated female empathy' operates across countries as well as at a local level.
View Full-Text
►

▼

Show Figures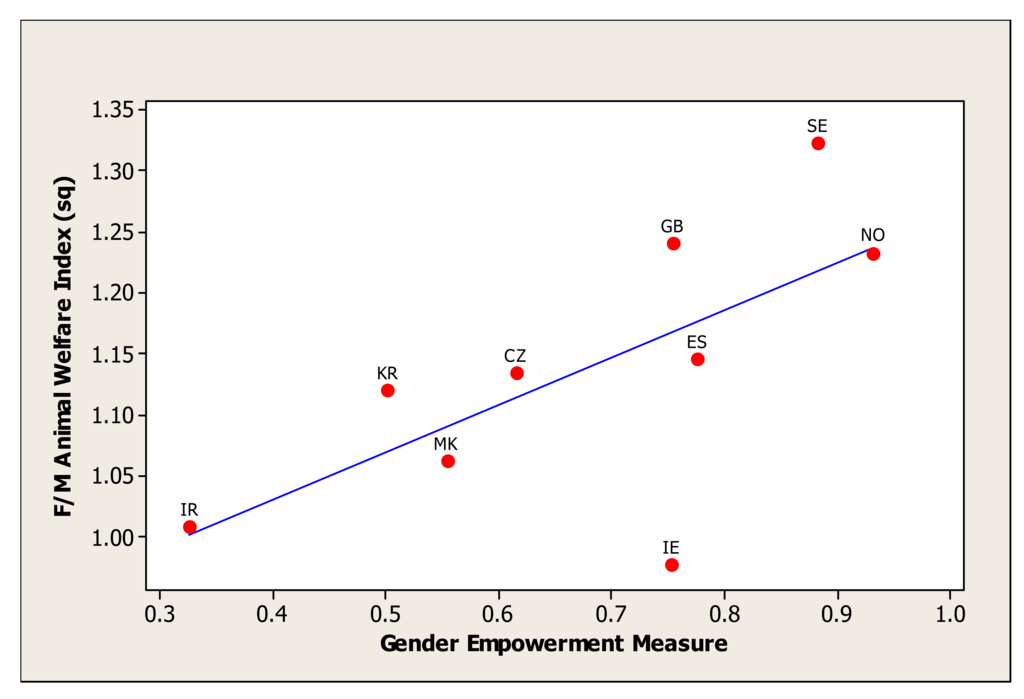 Figure 1

MDPI and ACS Style
Phillips, C.; Izmirli, S.; Aldavood, J.; Alonso, M.; Choe, B.; Hanlon, A.; Handziska, A.; Illmann, G.; Keeling, L.; Kennedy, M.; Lee, G.; Lund, V.; Mejdell, C.; Pelagic, V.; Rehn, T. An International Comparison of Female and Male Students' Attitudes to the Use of Animals. Animals 2011, 1, 7-26.
Show more citation formats
Show less citations formats