Open Access This article is
freely available
re-usable
Article
Shape Memory Activated Self-Deployable Solar Sails: Small-Scale Prototypes Manufacturing and Planarity Analysis by 3D Laser Scanner
1
Mechanical and Aerospace Engineering Department, University of Rome "La Sapienza", via Eudossiana 18, 00184 Rome, Italy
2
Industrial Engineering Department, University of Rome "Tor Vergata", Via del Politecnico 1, 00133 Rome, Italy
3
Civil Engineering and Computer Science Department, University of Rome "Tor Vergata", Via del Politecnico 1, 00133 Rome, Italy
*
Author to whom correspondence should be addressed.
Received: 13 April 2019 / Accepted: 30 April 2019 / Published: 3 May 2019
Abstract
:
Solar sails are propellantless systems where the propulsive force is given by the momentum exchange of reflecting photons. Thanks to the use of shape memory alloys for the self-actuation of the system, complexity of the structure itself has decreased and so has the weight of the whole structure. Four self-deploying systems based on the NiTi shape memory wires have been designed and manufactured in different configurations (wires disposal and folding number). The deployed solar sails surfaces have been acquired by a Nextengine 3D Laser Scanner based on the Multistripe Triangulation. 3D maps have been pre-processed through Geomagic Studio and then elaborated in the Wolfram Mathematica environment. The planarity degree has been evaluated as level curves from the regression plane highlighting marked differences between the four configurations and locating the vertices as the most critical zones. These results are useful in the optimization of the best folding solution both in the weight/surface reduction and in the planarity degree of the solar sail.
Keywords:
shape memory alloy; solar sail; nitinol; laser scanner
3. Results and Discussion
4. Conclusions
The final goal of this work has been to suggest an alternative method for the solar sail self-deployment based on shape memory alloys. The adoption of shape memory elements replacing standard electromechanical actuators can lead to a simplification of the solar sail systems and an associated weight reduction. Four prototypes have been manufactured and the deployed configurations have been analyzed by a Laser Scanner in order to measure the planarity degree and the critical areas. Four configurations of the solar sails, which are different for folding ways and surface reduction, have been analyzed by means of Box and Whisker diagrams, histogram, and level curves.
Configuration 1 has shown the lower surface reduction (52%) with a satisfactory planarity degree. In configuration 2, the surface reduction has increased (up to 75%) by changing the number of folding (five instead of three) but with worst planarity degree due to an un-optimized length of some SMA wires. In Configuration 3, the length and diameter of the wires have been optimized to reach a good planarity degree, which is similar to configuration 1 but with greater surface reduction. Lastly, in Configuration 4, with the same number and length of wire as Configuration 3, two of five folding sections have been outwards. The Box and Whisker diagrams have confirmed that, in Configuration 4, much narrower data when compared with the other ones have been detected and a lower data scattering from the regression plane have been associated. In addition, the histogram and the level curves have shown that the reached maximum height has been about 10 mm while, in Configuration 2, the highest difference (50 mm) has been detected. From the analysis of the level curves reported in
Figure 6
, it has been possible to observe that the most critical areas are the vertices of the triangles in correspondence of which the greater height from the regression plane has been found. From this point of view, the optimization of the folding ways, the number and length of the SMA wire has been successful, which allows us to manage a sail configuration with the following features:
five deployments;

75% surface reduction;

good planarity degree after deployment.
When adopting Laser Scanner reverse engineering, it is possible to optimize the sail deployment or study new configurations minimizing the number of experiments.
Author Contributions
Conceptualization, all the authors. Methodology, all the authors. Investigations, all the authors. Writing, reviewing end editing, all the authors.
Funding
This research received no external funding.
Acknowledgments
We acknowledge Piero Plini and Benedetto Iacovone for their assistance in the experimental tests.
Conflicts of Interest
The authors declare no conflict of interest.
References
Tsiolkowsky, K.E.

Extension of Man into Outer Space

; United Scientific and Technical Presses: Moscow, Russia, 1921. [Google Scholar]
Tsander, F.

From a Scientific Heritage, NASA Technical Translation No. TTF-541

; NASA: Washington, DC, USA, 1967.
About Small Solar Power Sail Demonstrator "IKAROS". Available online: http://global.jaxa.jp/projects/sat/ikaros (accessed on 5 March 2019).
Ikaros. Available online: https://earth.esa.int/web/eoportal/satellite-missions/i/ikaros (accessed on 5 March 2019).
McCurry, J. Space Yacht Ikaros Ready to Cast off for Far Side of the Sun. Available online: https://www.theguardian.com/world/2010/may/17/space-yacht-ikaros-japan-venus (accessed on 5 March 2019).
Mori, O.; Sawada, H.; Funase, R.; Endo, T.; Morimoto, M.; Yamamoto, T.; Tsuda, T.; Kawakatsu, Y.; Kawaguchi, J. Development of first Solar Power Sail Demonstrator–Ikaros. In Proceedings of the 21st International Symposium on Space Flight Dynamics, Toulouse, France, 13 September 2009. [Google Scholar]
Block, J.; Straubel, M.; Wiedemann, M. Ultralight deployable booms for solar sails and other large gossamer structure in space.

Acta Astronaut.

2011,

68

, 3984–3992. [Google Scholar] [CrossRef]
Johnson, L.; Young, R.; Montgomery, E.; Alhorn, D. Status of solar sail technology within NASA.

Adv. Space Res.

2011,

48

, 1687–1694. [Google Scholar] [CrossRef][Green Version]
Fernandez, J.M.; Lappas, V.J.; Daton-Lovett, A.J. Completely stripped solar sail concept using bi-stable reeled composite booms.

Acta Astronaut.

2011,

69

, 78–85. [Google Scholar] [CrossRef]
Roman Kezera, Y.A. Thickness requirement for solar sail foils.

Acta Astronaut.

2009,

65

, 507–518. [Google Scholar]
Dalla Vedova, F.; Henrion, H.; Leipold, M.; Girot, T.; Vaudemont, R.; Belmonte, T.; Fleury, K.; Le Couls, O. The Solar Sail Materials (SSM) Project—Status of activities.

Adv. Space Res.

2011,

48

, 1922–1926. [Google Scholar] [CrossRef]
Costanza, G.; Tata, M.E.; Libertini, R. Effect of temperature on the mechanical behavior of Ni-Ti Shape Memory Sheets. In Proceedings of the TMS Annual Meeting, Nashville, TN, USA, 14–18 February 2016. [Google Scholar]
Huang, W. On the selection of shape memory alloys for actuators.

Mater. Des.

2002,

23

, 11–19. [Google Scholar] [CrossRef]
Costanza, G.; Paoloni, S.; Tata, M.E. IR thermography and resistivity investigations on Ni-Ti shape memory alloys.

Key Eng. Mater.

2014,

605

, 23–26. [Google Scholar] [CrossRef]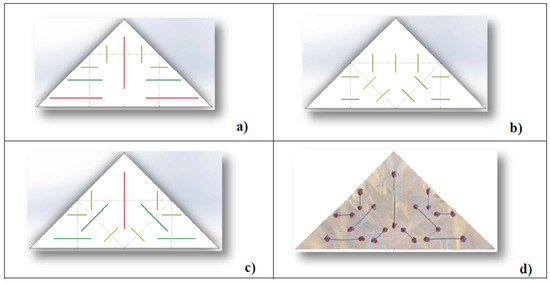 Figure 1. A sketch of an aluminum sail in configuration 1 (a), 2 (b), and 3 (c). Prototype of configuration 3 is reported in section (d).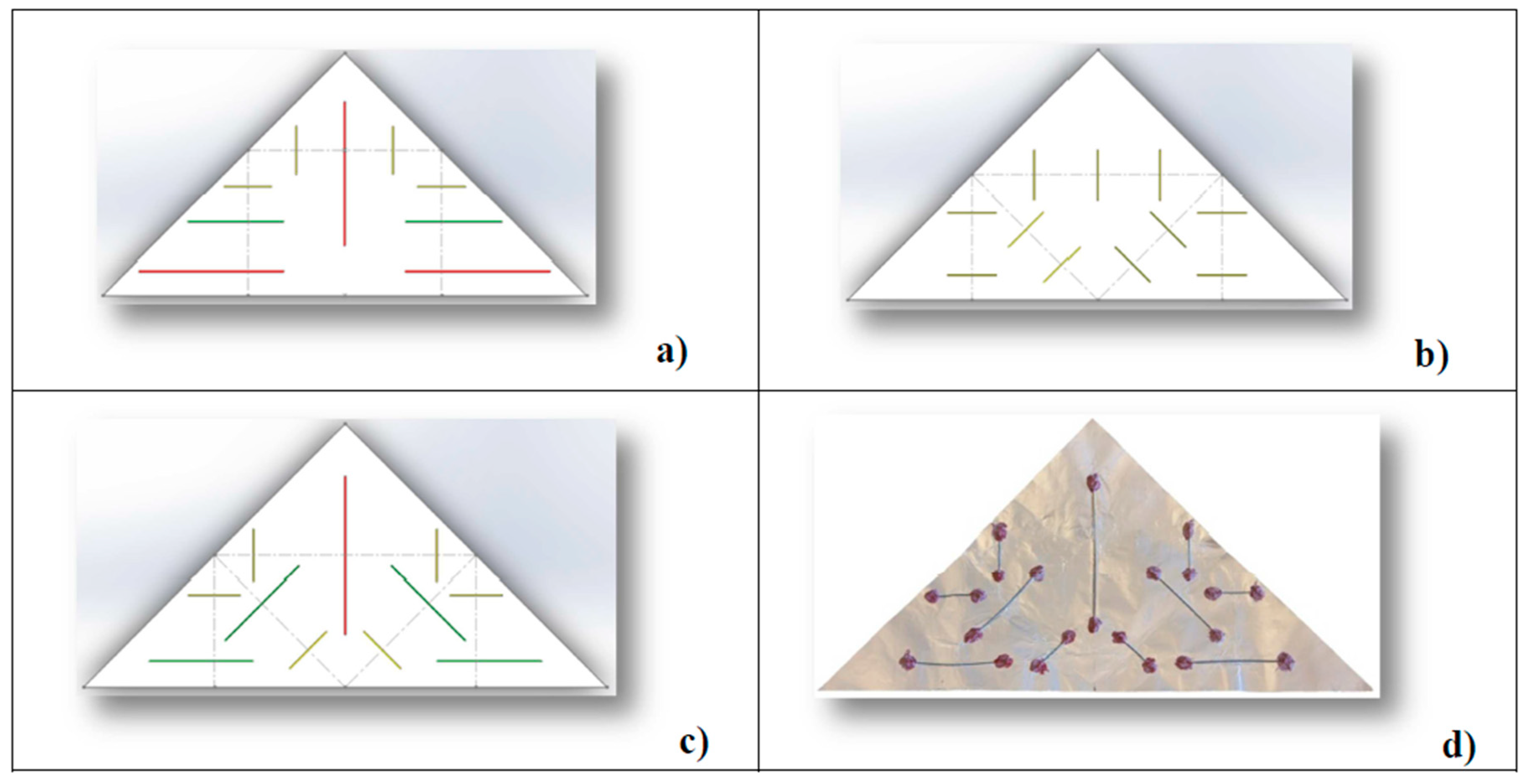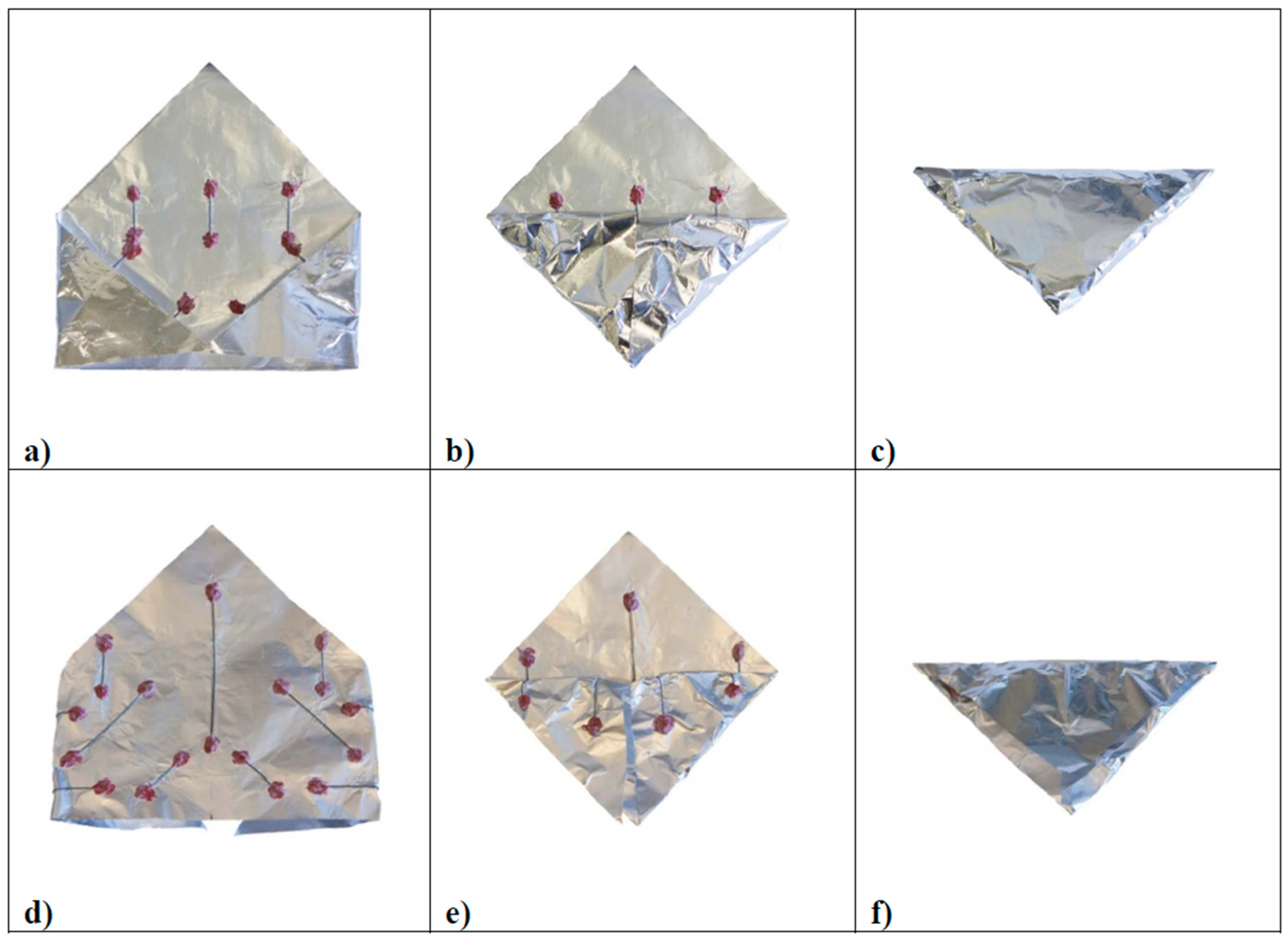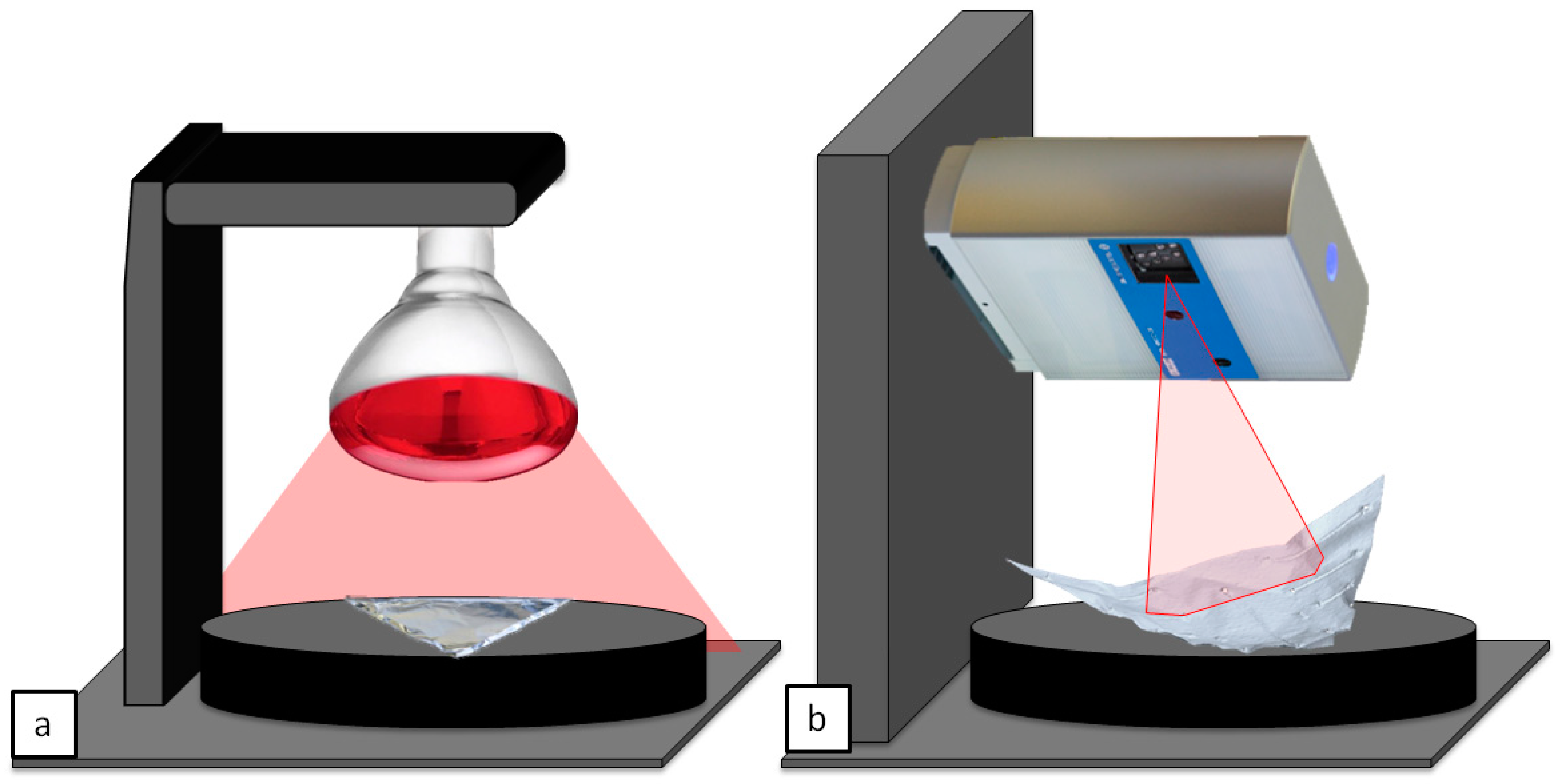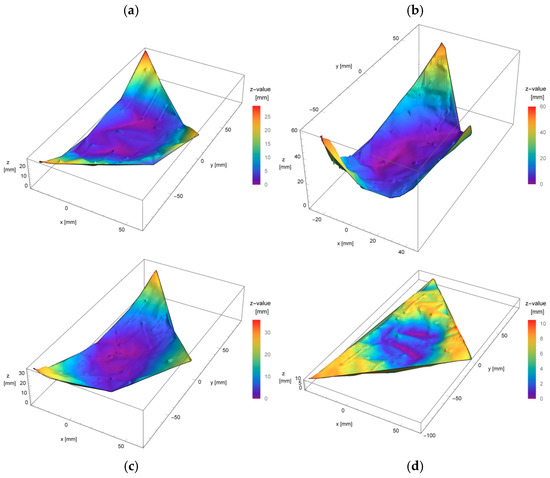 Figure 5. Open layout of the sails after alignment, respectively, in Configuration 1 (a), 2 (b), 3 (c), and 4 (d).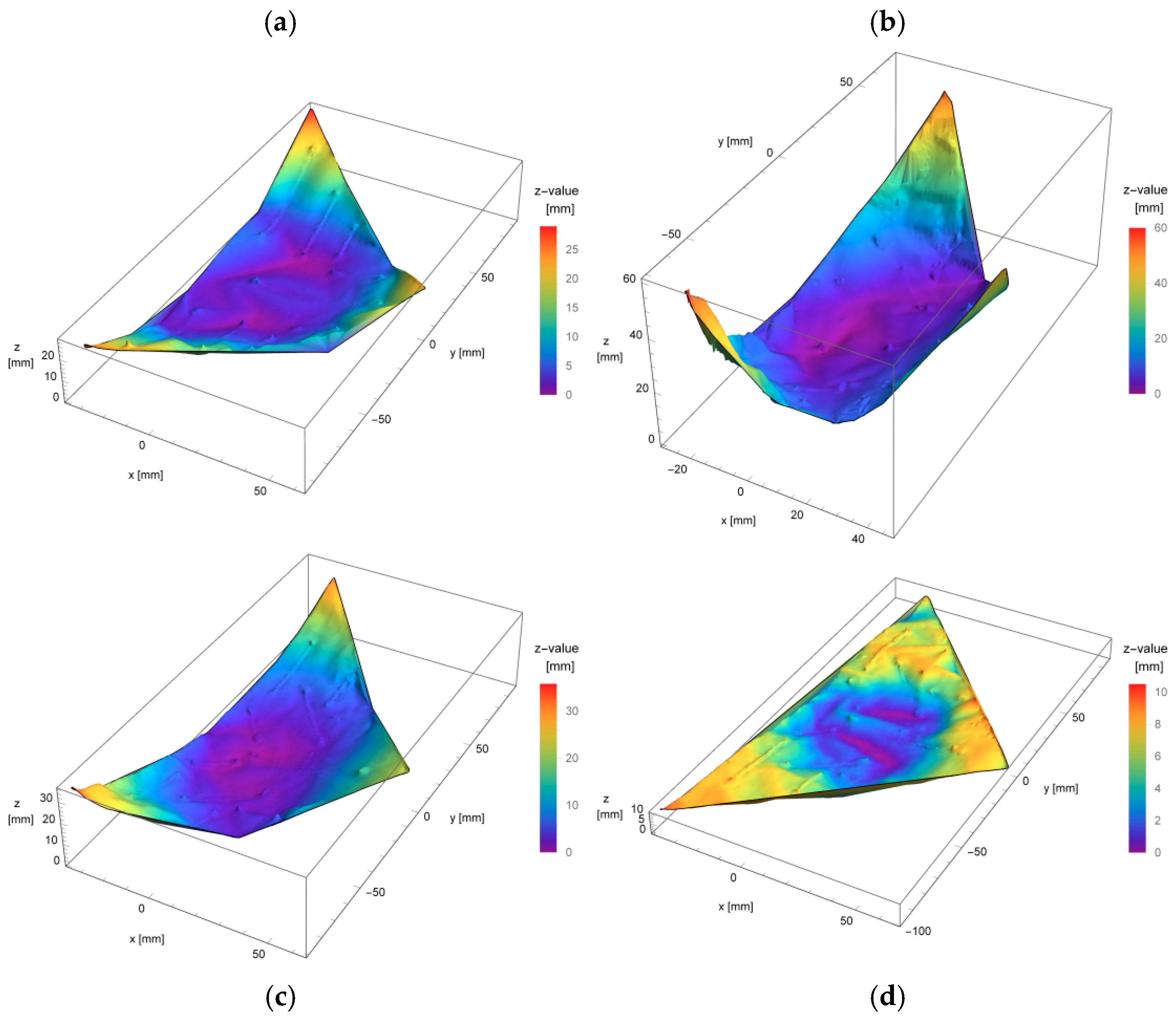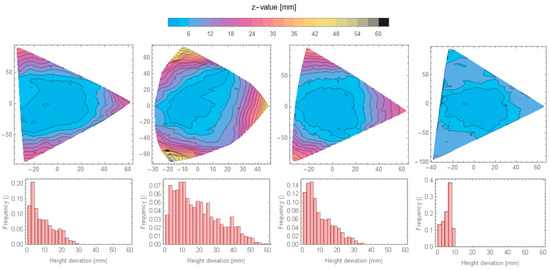 Figure 6. Representation in the same color scale after sails opening: Configurations 1, 2, and 3 lack in complete opening occurs while, in Configuration 4, the sail is mainly flat.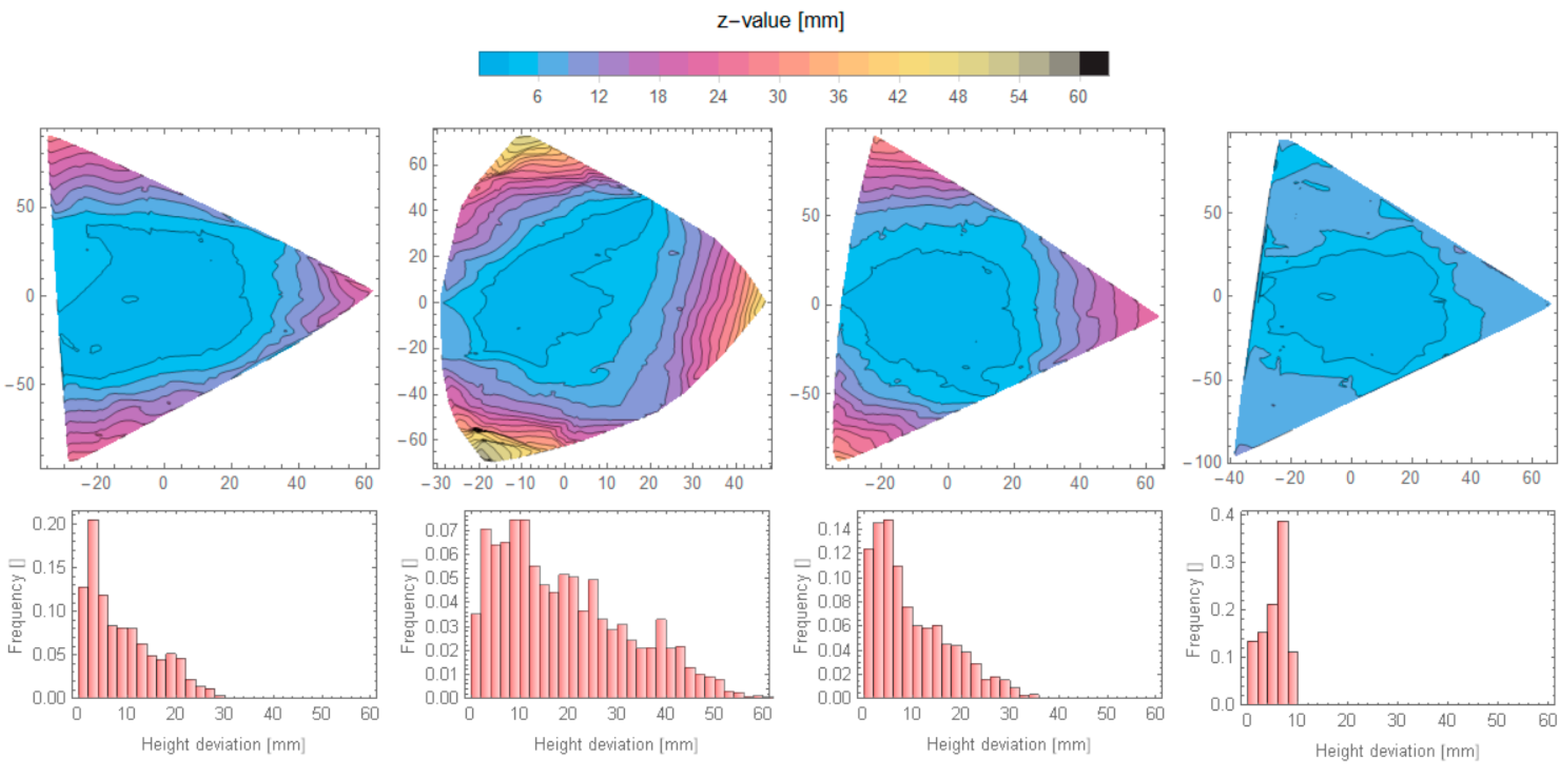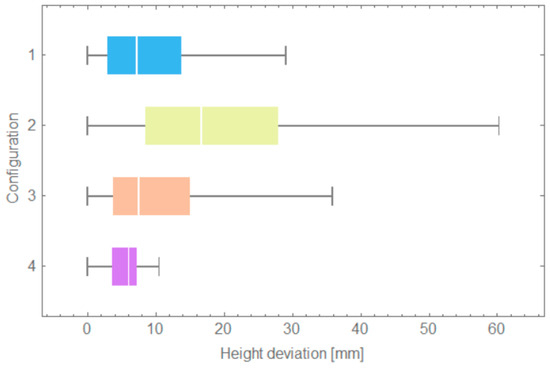 Figure 7. The second configuration has been the worst condition while configuration 1, 3, and 4, despite being characterized by the same median, are deeply different.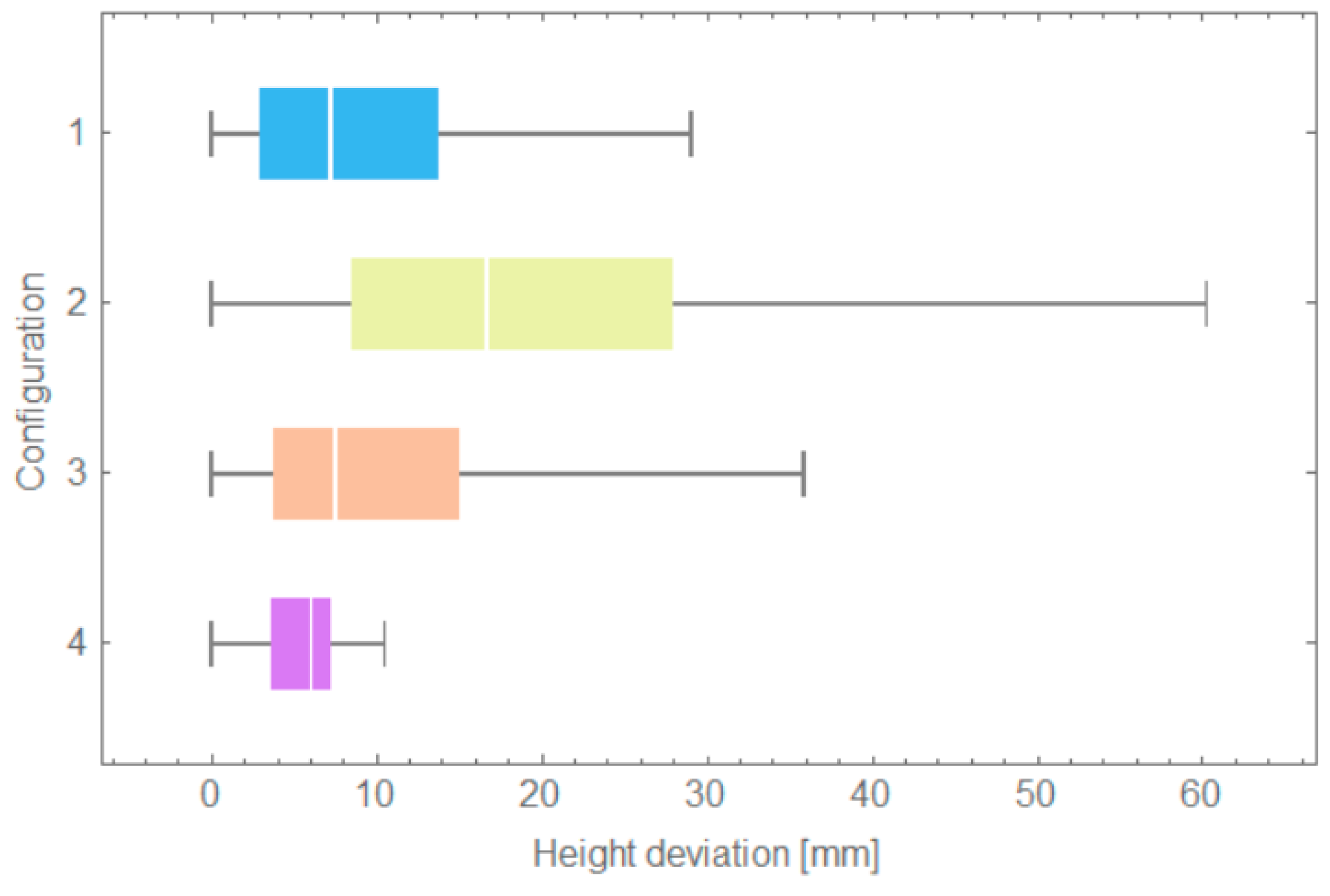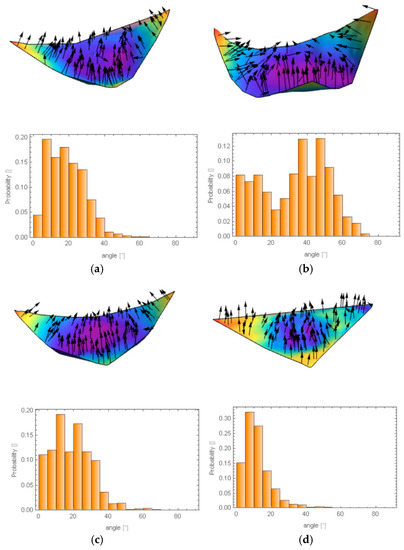 Figure 8. The configurations 1 (a) and 3 (c) have shown similar normal distributions with the main peak at about 10°. In configuration 2 (b), a partial deployment has occurred, half of the distribution with an angle of more than 36°. The best result has been obtained for Configuration 4 (d): the 80% of the normal distributions have shown an inclination less than 16° with a median at 10.5°.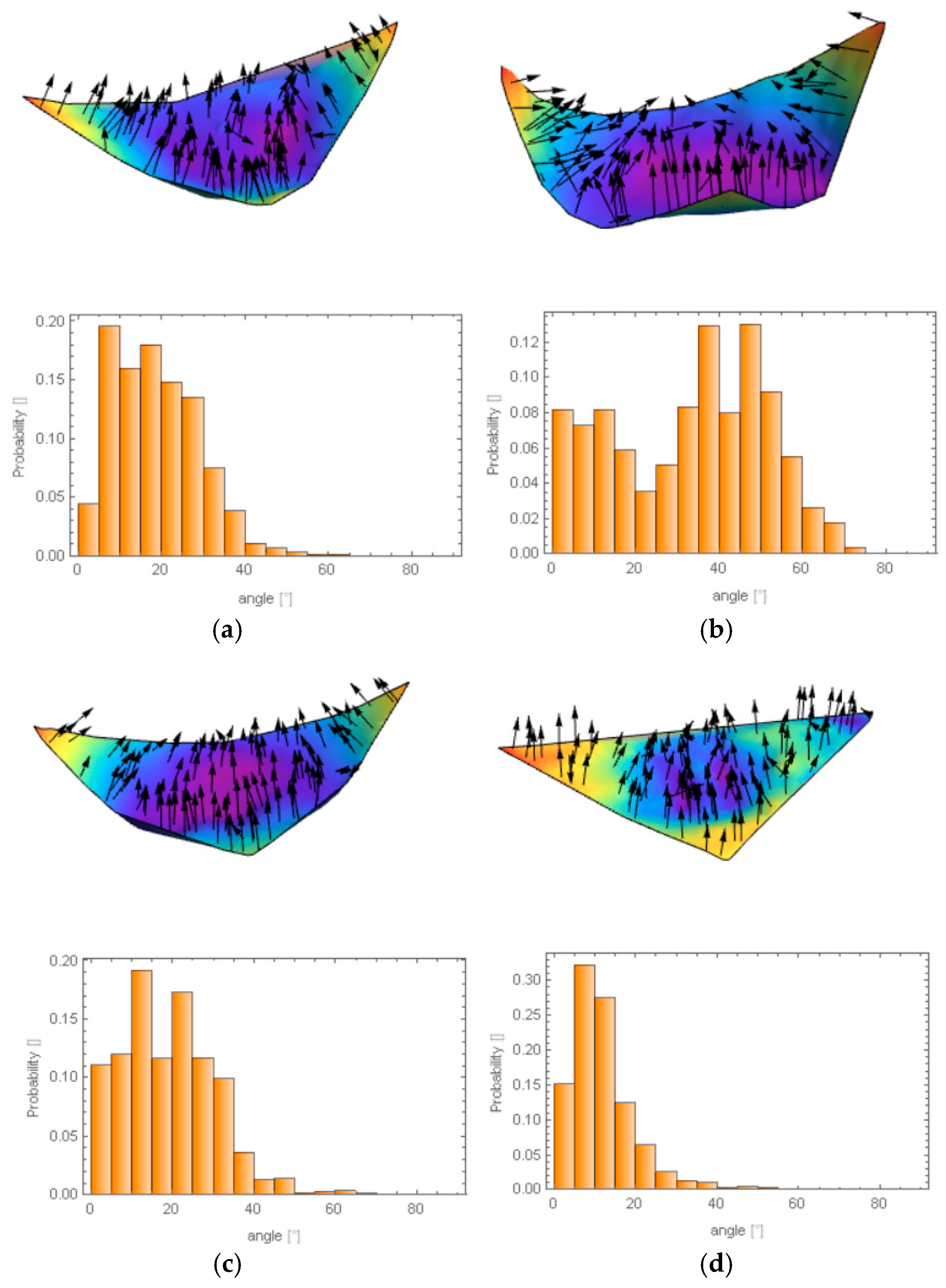 © 2019 by the authors. Licensee MDPI, Basel, Switzerland. This article is an open access article distributed under the terms and conditions of the Creative Commons Attribution (CC BY) license (http://creativecommons.org/licenses/by/4.0/).