Nonlinear Dynamic Modeling of Langevin-Type Piezoelectric Transducers†
1
Centro Universitario de Paysandú, Universidad de la República, Ruta 3, Km 363, CP 60000, Paysandú, Uruguay
2
Pusonics SL., Pico Mulhacen 34, Arganda del Rey, Madrid, CP 28500, Spain
3
Mectron S.p.A, Carasco, CP 16042, GE, Italy
4
Grupo de Ultrasonidos de Potencia, CSIC, Serrano 144, CP 28006-Madrid, Spain
5
Instituto de Física, Universidade de São Paulo, CP 66318, 05314-970, São Paulo, Brazil
6
Departamento de Engenharia Mecatrônica e de Sistemas Mecânicos, Universidade de São Paulo, Av. Prof. Mello Moraes 2231, São Paulo, CP 66318, Brazil
*
Author to whom correspondence should be addressed.
†
This is an extended version of conference, Pérez, N.; Cardoni, A.; Cerisola, N.; Riera, E.; Andrade, M.A.B.; Adamowski, J.C. Nonlinear Modeling of Langevin Transducers Using the Rayleigh Law in the Piezoelectric Ceramics. In Proceedings of the 2013 International Congress on Ultrasonics, Singapore, 2–5 May 2013.
Academic Editor: Delbert Tesar
Received: 1 June 2015 / Revised: 2 September 2015 / Accepted: 22 October 2015 / Published: 18 November 2015
Abstract
Langevin transducers are employed in several applications, such as power ultrasound systems, naval hydrophones, and high-displacement actuators. Nonlinear effects can influence their performance, especially at high vibration amplitude levels. These nonlinear effects produce variations in the resonant frequency, harmonics of the excitation frequency, in addition to loss of symmetry in the frequency response and "frequency domain hysteresis". In this context, this paper presents a simplified nonlinear dynamic model of power ultrasound transducers requiring only two parameters for simulating the most relevant nonlinear effects. One parameter reproduces the changes in the resonance frequency and the other introduces the dependence of the frequency response on the history of the system. The piezoelectric constitutive equations are extended by a linear dependence of the elastic constant on the mechanical displacement amplitude. For introducing the frequency hysteresis, the elastic constant is computed by combining the current value of the mechanical amplitude with the previous state amplitude. The model developed in this work is applied for predicting the dynamic responses of a 26 kHz ultrasonic transducer. The comparison of theoretical and experimental responses, obtained at several input voltages around the tuned frequency, shows a good agreement, indicating that the model can accurately describe the transducer nonlinear behavior.
View Full-Text
►

▼

Figures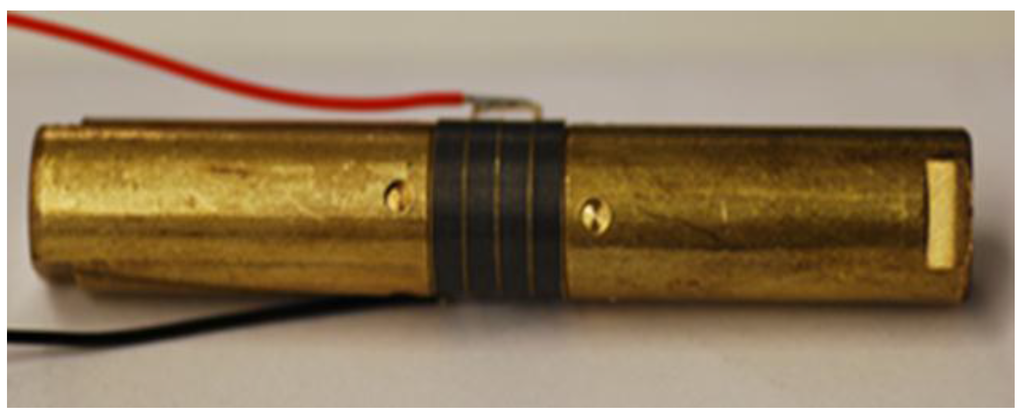 Figure 1
This is an open access article distributed under the
Creative Commons Attribution License
which permits unrestricted use, distribution, and reproduction in any medium, provided the original work is properly cited (CC BY 4.0).

Share & Cite This Article
MDPI and ACS Style
Alvarez, N.P.; Cardoni, A.; Cerisola, N.; Riera, E.; Andrade, M.A.B.; Adamowski, J.C. Nonlinear Dynamic Modeling of Langevin-Type Piezoelectric Transducers. Actuators 2015, 4, 255-266.
Related Articles
Comments
[Return to top]