Open Access This article is
freely available
re-usable
Article
Staphylococcus aureus
Regulator Sigma B is Important to Develop Chronic Infections in Hematogenous Murine Osteomyelitis Model
Institute of Medical Microbiology, Jena University Hospital, Jena 07747, Germany
*
Author to whom correspondence should be addressed.
Received: 27 June 2017 / Accepted: 12 July 2017 / Published: 15 July 2017
Abstract
:
Staphylococcus aureus
is a major pathogen causing bone infections that can become chronic and difficult to treat. Recently, we described the mechanism employed by
S. aureus
to switch to small colony variants (SCVs) and trigger intracellular bacterial persistence through the global stress regulator SigB. Here, we studied the role of SigB in the formation of chronic osteomyelitis. We used a murine hematogenous osteomyelitis model, where the mice were infected via the tail vein and subsequently developed chronic osteomyelitis. Mice were infected with
S. aureus
LS1, LS1Δ
sigB
and LS1Δ
sigB
complemented and kidney and bone tissues were analyzed six weeks after infection.
S. aureus
LS1Δ
sigB
formed a high rate of abscesses in kidneys, but the bacterial loads and the weight loss of the animals were lower in comparison with animals infected with the wild type and the complemented strain, indicating a more rapid and efficient bacterial clearing by the host immune system. Moreover, the
sigB
-mutant was not able to form SCV phenotypes either in kidney or in bone tissue. Our results demonstrate that staphylococcal SigB is important to avoid bacterial elimination by the host immune response, establish a bone infection and mediate bacterial adaptation (SCV-formation) for persistent infections
Keywords:
sigB
; osteomyelitis; abscess; SCVs
Author Contributions
L.T. Designed the experiments, analyzed the data, prepared the figures and wrote the manuscript. J.G. performed the experiments. B.T. contributed to writing the manuscript and corrected the final version.
Conflicts of Interest
The authors declare no conflict of interest.
Figure 1.
SigB
is necessary for persistence of
S. aureus
in bone and kidney tissues. Bacterial persistence of LS1, Δ
sigB
and Δ
sigB
complemented was analyzed in a murine chronic osteomyelitis model 6 weeks p.i. Bones (
A
) and kidneys (
B
) were homogenized and plated on agar plates for counting the CFUs on the following day. The results represent the means ± SD and were analyzed by ANOVA test and Turkey's as multicomparison test.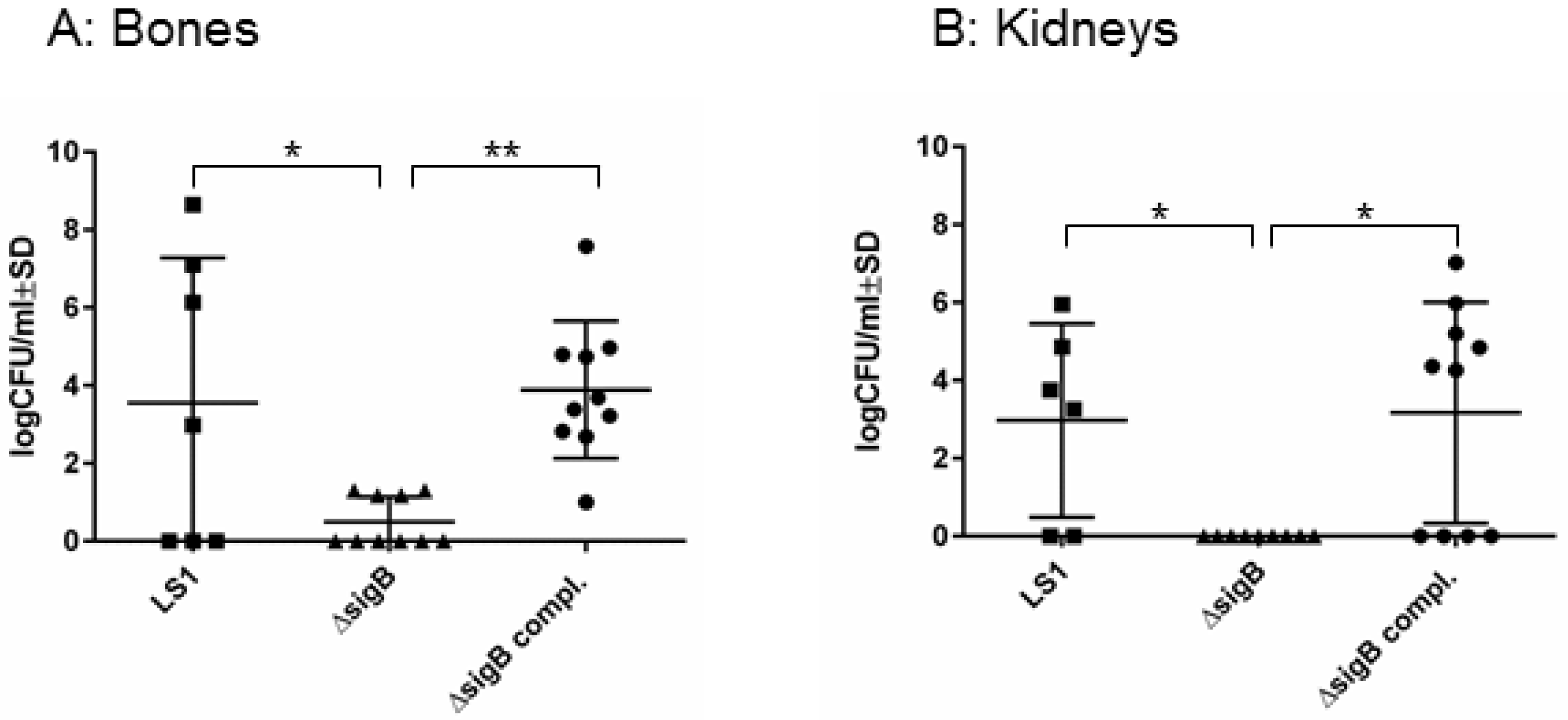 Figure 2.
The Δ
sigB
mutant does not form SCV phenotypes. The phenotypic diversity was analyzed on blood agar plate after 48 and 72 h of incubation. The percentage of small and very small (SCV) phenotypes (all colonies with a diameter <0.6 mm with size <5 and <10-fold smaller than those of the wild-type phenotypes, respectively) recovered (between 200 and 500 colonies examined in each sample) were determined after 6 weeks p.i. from homogenized bones (
A
) and kidneys (
B
) infected with LS1, Δ
sigB
and Δ
sigB
complemented strains. The values represent the means ± SD and were analyzed by ANOVA and Turkey's test for multiple comparison.
C
) Photographs of recovered colonies were performed after infection of C57/Bl6 mice with strains LS1, LS1∆
sigB
or LS1∆
sigB
compl.
Figure 3.
The absence of
sigB
in
S. aureus
induced abscess formation in kidneys and early recovery of the infected animals. Mice were infected via tail vein with LS1, Δ
sigB
and Δ
sigB
complemented strains. (
A
) The body weights of surviving mice were monitored for 21 days and recorded at each time point. Here we represent the difference between the day 0 immediately after infection and 7 days post infection. The PBS group showed almost no change in weight. In contrast, mice in the LS1 and Δ
sigB
complemented strains group showed a significant decrease in body weight during the 7-day period in comparison with PBS and Δ
sigB
groups (
p
< 0.05). There was no significant difference in body weight between the Δ
sigB
and PBS groups (
p
> 0.05). One-way analyses of variance (ANOVA) followed by the Tukey test were used to compare multiple groups. (
B
) The photographs of recovered kidney after 6 weeks post infection are shown. The arrows indicate the localization of abscess. The amount of abscess was estimated by eye observation.

Table 1. Survival rate for each strain. The survival rate was calculated in percentage taking in consideration that the initial bacterial inoculum was in log = 6.67 CFU/mL (this amount was taken as 100%).
Strain
Bone
Kidney
LS1
54.3%
43.6%
LS1Δ

sigB

7.26%
0%
LS1Δ

sigB

complemented
55.7%
46.4%

© 2017 by the authors. Licensee MDPI, Basel, Switzerland. This article is an open access article distributed under the terms and conditions of the Creative Commons Attribution (CC BY) license (http://creativecommons.org/licenses/by/4.0/).